Market Snapshot
Movies/cinema, television, music, publishing, radio, the internet, advertising, and gaming are all key sub-areas of the entertainment and media market. Broadcasting, publishing, and the internet are examples of media outlets for mass communication. Entertainment is commonly connected with video, audio, and gaming, among other things. Advertisements, broadcast rights, intellectual property rights, ticket sales, and public and private funding are just a few of the revenue-generating segments in the entertainment and media business. Latest industrial advances such as wireless, mobile, gadgets, digitization, 5G, cloud storage, consumer analytics, and social media platforms are currently transforming the entertainment and media sector.
The media &entertainment (M&E) business is changing, with the old and the new coexisting. Over the previous decade, it has been renovated by interactivity, digitization, various platforms, various devices, and globalization of services-based landscape. The industryis widely diversified and has witnessed a transformation in terms of technology and applications in recent years. This transformation has led the global entertainment &media enterprises to offer innovative content and effective distribution models to stay ahead in the highly competitive market. Movies/Cinema, Television, Music, Publishing, Radio, Internet, Advertising, and Gaming are just a few of the categories that make up the M&E industry.
Furthermore, trends and drivers differ across sub-categories, countries, and consumer segments for each of the segments. This distinguishes the media & entertainment vertical since numerous sub-verticals compete, complement, and unite to meet the worldwide demand for entertainment and information. Major players in the entertainment & media market are continuallystriving to develop strategies that enable them to combine high-quality content and distribute it to offer enhanced user experience in terms of content discovery and appealingprices to attract more and more consumers. The media & entertainment industry is significantly aided by digital tools and platformsthat enable efficient content production, distribution, and content, revolutionizing market growth. Key factors contributing to the market growth are increasing penetration of smartphones, growing e-sports sector, rising demand for on-demand and live streaming of music and videos, and growing investments by key players to develop augmented reality and virtual reality platforms. Other factors influencing the market growth are an increasing number of television subscriptions, a growing number of radio listeners, a rapidly growing video game market, outdoor advertising, and rising social media penetration among consumers.
The global entertainment & media market is expected to expand at 8.9% CAGR, with 5,099.2 million in 2030 during the forecast period.
COVID-19 Analysis
The outbreak of COVID-19 across the globe has severely impacted various industry verticals, including entertainment &media. For instance, according to the Indian analytics company CRISIL Limited, the Indian entertainment & media industry is expected to register asignificant slump in the revenues collected by the players in the industry mainly due to negligible content creation activities such as shootings, which are canceled due to pandemic situation and rapid spread of the virus. As the virus began to affect the economy negatively, marketing was one of the first areas where firms cut costs. Budgets are being reduced at an alarming rate. While a larger portion of the industry faces challenges conducting business operations, over-the-top (OTT) media services are expected to report higher revenues due to the large number of workforces forced to stay at home during the lockdown. Factors attributing to the demand for OTT platforms include the constantly rising need for online communications services across digital platforms, including mobiles, laptops, tablets, and desktops. Furthermore, the rapid penetration of the internet and increasing smartphone users is rapidly increasing as the products and services reach their affordability to individuals. The novel coronavirus outbreak has had a considerable impact on several sectors worldwide, including the music & entertainment business.
Public meetings have been prohibited, and theatres, music festivals, plays, and concerts have been closed or canceled indefinitely due to the deployment of lockdowns across several countries. The media & entertainment industry is facing unique challenges during this unprecedented situation worldwide. Some of these include changing consumer preferences on the content, rapid fall in content creation, government restrictions, postponement or termination of live concerts and events, declining advertising expenditure by companies, decreased working capital, and fall in marketing activities. Furthermore, production units are facing severe pressure due to delays in release dates of movies and other contents, shutting down of theatres, and the stoppage of production activities.
Market Dynamics
Driver
INCREASING POPULARITY OF VIDEO GAMES AND E-SPORTS
The e-sports segment of the media and entertainment industry has seen a meteoric rise over the last ten years. This rise can be attributed to the increasing popularity of video games played across devices such as smartphones, laptops, desktops, and gaming consoles. E-sports tournaments have also gained increased popularity, with prize pools of certain tournaments rivaling some of the biggest events in traditional sports. For instance, the Dota 2 International, which began in 2013 with the highest ever prize pool in the e-sports segment of USD 1.3 million, currently has a total prize pool of USD 34.3 million, surpassing the prize pools of conventional sporting tournaments such as the golfing US Open and the Tour de France, which had prize pools of USD 12 million and USD 2 million, respectively. The Dota 2 International 2020, which was supposed to take place in August 2020 but was postponed to August 2021 due to COVID-19, hasa prize pool of USD 40 million, of which USD 38 million came from contributions from gamers all over the world through its yearly battle pass compendium. Such events have attracted larger audiences, such as the 2020 League of Legends (LOL) world championship, which attracted over 3.8 million viewers, putting it on par with huge sporting events such as the 2018 Super Bowl.
Restraint
INCREASING PIRACY IN DIGITAL MEDIA
Piracy of content has been a serious issue for the entertainment & media industry for a long time, fueled by the increasing commercialization of the internet. Ithas affected different industry segments ranging from stock photography to music and film and video games. Easy access to the Internet has enabled individuals to easily pirate copyrighted content as it allows for anonymous communication and provides increased access to the content. The availability of digital content has been one of the biggest causes of piracy around the world. Unavailability of media due to different release dates, region formats, location blocks, rarity, and lack of distribution tools has further pushed individuals toward illegally accessing content. These factors, coupled with high costs and user unwillingness to pay for freely available content, have further helpedthe rise of digital media piracy. The inability of internet service providers (ISPs) to completely block torrent websites that offer pirated content has further aggravated the losses faced by entertainment and media companies. The piracy of digital content primarily hurts the sales of content providers. For example, according to the digital piracy authority, MUSO TNT, online film piracy in India increased by 62% in March 2020 compared to February 2020. Piracy of films surged by 41% in the US, 43% in the UK, 50% in Spain, and 66% in Italy. During the shutdown, small creators have been hit harder by piracy by video streaming sites. Due to the lack of a box office to determine the worth of a film, filmmakers and video-on-demand(VoD) providers are likely to work on a revenue-sharing basis in some situations, splitting income based on how well the film performs on the OTT platform. Piracy of these services has robbed them of a significant portion of their revenue. Hence, digital content piracy is expected to hamper the growth of the global entertainment & media market during the forecast period.
OPPORTUNITY
EMERGING OPPORTUNITIES WITH 5G DEPLOYMENT
The rising demand for more efficient and faster mobile networks from end users has aided the overall demand for 5G network connectivity and its development. Several companies, such as AT&T (US) and Verizon (US), have established 5G test sites in cities such as Dallas, Atlanta, Sacramento, and Los Angeles in the US. 5G technology is anticipated to be commercially deployed in the US by 2022. Governments in countries such as India have started various initiatives such as the 5G India Forum (5GIF) to speed up deployment. The introduction of 5G technology is predicted to change the entertainment & media industry dramatically. It will be ten times quicker than 4G technology, making the process of downloading videos, audio, and gaming content from the internet nearly instantaneous. The technology is also expected to improve the user experience on all platforms, including gaming consoles, smartphones, computers, and smart TVs. 5G is expected to open the door to augmented and virtual reality apps and a whole new channel for reaching consumers. Gaming will likely be at the forefront of 5G-driven innovation. Mobile cloud gaming is also expected to benefit from fast responsiveness and high-resolution, real-time streaming.
The introduction of 5G will enable live streaming of 4K videos, which will improve the user experience for both users and content broadcasters. It will enable more devices to connect to content delivery networks, improving the overall content distribution process. Due to the implementation of 5G, the better user experience of video streaming platforms, gaming platforms, and mobile gaming platforms is likely to attract more advertisers, marketers, and brands, creating lucrative opportunities for stakeholders in the global entertainment & media market.
Entertainment & Media Market, 2020–2030 (USD Billion)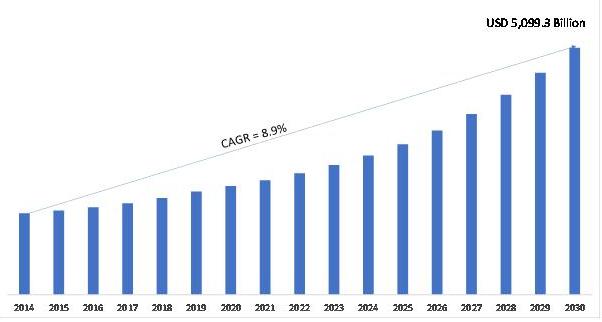 Source: MRFR Analysis

Regional Analysis
Geographically, the global entertainment & media market has been segmented into North America, Europe, Middle East & Africa, and South America.
North America is expected to be the largest market for entertainment & media during the forecast period. The entertainment & media market in North America is expanding with the increasing investments by key market players such as Comcast Corporation, The Walt Disney Company, Google LLC, Facebook Inc., Warner Media LLC, Viacom Inc., and Time Inc. The region is a global hub for media and entertainment offerings, including social media, sports, arts, theater, video games, film and television, music, and publishing. Furthermore, Hollywood, the American Film Industry, generates billions of dollars in revenue every year, contributing to the regional market growth. Additionally, the media & entertainment industry makes money from vital news broadcasting services offered by various media enterprises acrossthe US, Canada, and Mexico. Moreover, consumers are spending a lot on the adoptionof smartphones, smart devices such as digital assistants, smart speakers, IoT-enabled devices,and the internet to entertain themselves and enjoy their free time. North America is expected to witness increased demand for video games, online video streaming services such as YouTube, Amazon's Prime Video, Netflix, and several other books and magazines platforms in the coming years. The future of the media & entertainment industry in North America is expected to be driven by the rising adoption of high-speed Internet, cloud storage, digital technologies, social media platforms, and strong distribution of multi-lingual content across the region. Among the countries, the US accounts for the largest market share, followed by Canada and Mexico.
Europe is expected to continue holding the second position in the entertainment and media market. The European market for entertainment & media is categorized into Germany, the UK, France, Italy, Russia, Spain, and the Rest of Europe. However, the rising penetration of the internet across European nations is one of the significant factors contributing to the market's growth in this region. Western Europe, including countries such as the UK, Germany, Spain, France, and others, holds a substantial market for radio broadcasters. By delivering a variety of quality content to consumers, the media sector contributes heavily to the European economy and holds immense potential for growth in the coming years. Growing access to the Internet in countries such as Russia, Denmark, Italy, and Sweden drives the video and entertainment industry across this region. The film and television industry across the region also generates billions of dollars of revenue, promoting the country's market growth. Furthermore, music and radio are revenue-generating segments in the entertainment industry in Europe. Radio listeners have significantly increased in recent years, promoting radio-based advertising in the region. In addition, consumers are looking for on-demand and live music videos over smartphones, tablets, and TVs. Among the European countries, the UK, Germany, France, Italy, and Spain have witnessed rapid growth in OTT subscriptions for streaming videos related to news, sports, fitness, lifestyle, films, and music. The region also witnesses growth in the consumers of print media such as newspapers and magazines, fostering the media & entertainment industry in the region. Further, there is a rise in the number of printed books and digital e-books published every year. Another major factor that drives the market growth in Europe is the growing demand for video games for entertainment purposes, presenting exciting opportunities for key players to invest.
The Asia-Pacific region is expected to be the third-largest market for the global entertainment and media market. The Chinese market is expected to be the highest revenue-generating country owing to the heavy investments by the country's government and allowing foreign companies to invest in magazines and local newspapers to increase the country's share in the overall entertainment & media market. However, the emergence of a new culture and the development of new media content hamper market growth as China has stringent regulations regarding the censorship rules of Chinese cultural content. Nevertheless, the Chinese market has significant growth potential for the market as the consumers in the country primarily seek high-quality entertainment content, prompting businesses to introduce innovative models to sustain and gain a competitive edge in the market. For instance, LeEco, a Chinese company, introduced a video portal that offers video content to its customers and innovated its free-of-charge business model. In addition, the Chinese companies are building strategies to market their entertainment and media products such as films and video games overseas that help the country's entertainment & media market expand on a global level and gain a significant market share. The major players in the market focus on partnerships and alliances; for instance, companies such as China Media partnered with DreamWorks Animation SKG, which uses computer animation technology and creativity integrated with Chinese media elements to expand its global reach. Whereas the Japanese entertainment & media market is growing at a fast pace since the digital media industry of the country is one of the fastest-growing ones among other Asia-Pacific countries. This growth results from using search engines and social media platforms by the country's large population. Yahoo acts as a leading player for entertainment and media in Japan as it is the most widely used search engine, even ahead of Google in the country. The music industry in Japan is the leading industry in Asia-Pacific due to the highest sales of music products. Japan is the only country in the world having the physical presence of Tower Records, a leading CD retailer in Japan. Around 85% of the music sold in the country is in the form of CDs, which makes Japan the second largest market for music in the world. Furthermore, to capture a large audience for music, Japanese companies partner with social media companies to increase their reach.
Companies Covered
The key players of the global Entertainment & media market are News Corporation (US), Advance (US), iHeartMedia Inc. (US), Discovery, Inc. (US), Warner Media, LLC. (US), Verizon Communications Inc. (US), Alphabet Inc. (US), The Walt Disney Company (US), Baidu, Inc. (China), Grupo Globo (Brazil), Comcast Corporation (US), Facebook Inc. (US), Bertelsmann SE & Co. KGaA (Germany), Viacom, Inc. (US), and Hasbro Inc. (US).
Key Developments
In June 2021, Disney Plus partnered with Xbox Game Pass to form a partnership for gamers playing on Xbox Series X, Xbox Series S, and all of Microsoft's legacy Xbox One consoles. Sky TV has shown how two paid-for entertainment services can work and be packaged together to save users money in its Netflix on Sky Q bundles, so we might be about to see something similar.
In May 2021, Google launched its global product called News Showcase in India. Launched in October 2020, News Showcase is a global vehicle to pay news publishers for their content online. It also allows partnering publishers to curate content and provide limited access to paywalled stories for users.
In May 2021, News Corporation concluded its announced acquisition of Houghton Mifflin Harcourt's HMHC Books & Media segment for USD 349 million in cash. The acquired Books & Media business will be operated by News Corporation's subsidiary, HarperCollins Publishers.
Market Segmentation
By Type —Book & Magazine, Films, Social Media, Music & Theaters, Animation, Gaming & Gambling, OutdoorAdvertising, Radio Broadcasting, Amusement Park/Facilities, Sports, Toys, and Art.
By Application –Wired and Wireless
Report Scope:
Report Attribute/Metric
Details
Market Size
5,099.2 million
CAGR
8.9% (2019-2030)
Base Year
2019
Forecast Period
2020-2027
Historical Data
2018
Forecast Units
Value (USD Billion)
Report Coverage
Revenue Forecast, Competitive Landscape, Growth Factors, and Trends
Segments Covered
By Type, Application,
Geographies Covered
North America, Europe, Asia-Pacific, and Rest of the World (RoW)
Key Vendors
News Corporation (US), Advance (US), iHeartMedia Inc. (US), Discovery Inc. (US), Warner Media LLC (US), Verizon (US), Alphabet (US), Disney (US), Baidu Inc. (China), Grupo Globo (Brazil), Comcast Corporation (US), Factbook Inc. (US), Bertelsmann SE & Co. KGaA (Germany), Viacom (US), Hasbro (US), and Mattel (US).
Key Market Opportunities
Artificial intelligence is expected to impact the gaming sector with consumers demanding enhanced gaming experience will present an opportunity for key players to invest. \r\n
However, controlling piracy and proper enforcement of copyright laws remains a restraint for the market players.
Key Market Drivers
The growing digitalization drives the growth of smartphones and video games in the region, which is thereby expected to fuel the growth of the regional market.
Speak to Analyst
Ask for Customization
Frequently Asked Questions (FAQ) :
---