Market Scenario
Over the past decade, the airline industry has been tremendously influenced by copious changes in technology. Airline technology now can not only transport travelers from one destination to another but can also provide an entertaining travel experience, tailored to meet the requirements of the passengers. In recent years, there has been an increase in the use of personal devices for availing in-flight entertainment service, and according to IATA Global Passenger Survey, nearly half of North Asian passengers prefer to use their own devices for viewing digital content rather than the embedded equipment. When comparing with the seatback in-flight entertainment display systems, personal devices are considered more beneficial by both passengers and airlines.
In-flight entertainment refers to entertainment that is targeted at potential consumers, onboard an aircraft, to enhance their flying experience. It entails entertainment in the form of movies, e-books, videos, games, and others. With technological advancements in the satellite as well as air-to-ground network, onboard connectivity is gaining significance in aircraft, and nowadays it has become a necessity rather than a luxury. An increase in the number of aircraft deliveries and growing passenger traffic are some of the macro factors driving the in-flight entertainment market. The Global In-Flight Entertainment Market is estimated to register a CAGR of over 13.07% during the forecast period of 2019 to 2025.
Segmentation of the Global In-flight Entertainment Market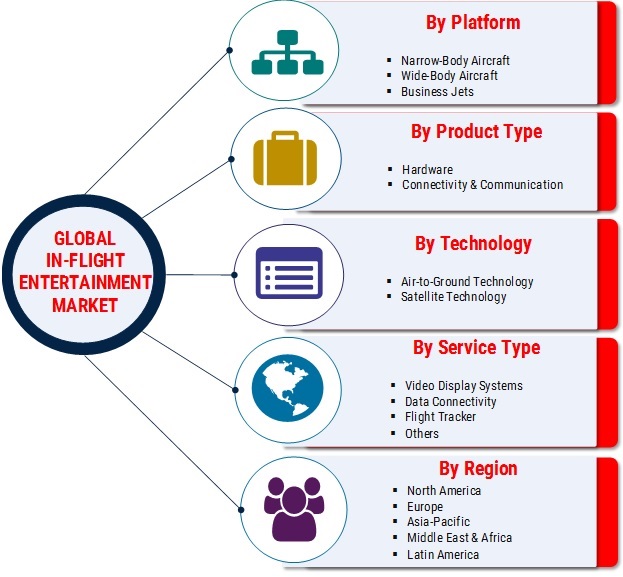 The in-flight entertainment market has been segmented based on platform, product type, technology, service type, and region. Based on platform, the market has been segmented into a narrow-body aircraft, wide-body aircraft, and business jets. The narrow-body aircraft segment is expected to witness the highest CAGR during the forecast period. The rise in the number of low-cost carriers is one of the key factors expected to propel the growth of the in-flight entertainments market. Some primary narrow-body aircraft such as Airbus A318, A319, A320, and A321; Boeing B727s and B737s have line-fitted in-flight entertainment systems.
Based on product type, the market has been segregated into hardware and connectivity & communication. The hardware segment is expected to be the largest segment in the review period. The hardware segment of the IFE market comprises mostly the tangible aspects associated with IFEC systems, such as monitors, switch panels, and others. It covers both portable hardware, such as dockable seat display unit, removable storage unit, and others, as well as non-portable hardware, such as embedded seatback unit, seat electronic box, and others.
Based on technology, the market has been divided into air-to-ground technology and satellite technology. The air-to-ground technology segment is expected to be the largest in the forecast period. The Air-to-Ground (ATG) communication technology is predominantly used in the U.S. Gogo, and SmartSky Networks are the leading players offering ATG services. ATG utilizes a network of ground-based mobile towers to relay signals to the antennas located on an aircraft. It is more suitable for regional routes and has various benefits, such as low equipment cost and fast installation, among others. The satellite technology segment is expected to grow at a high CAGR during the forecast period.
Based on the region, the market has been bifurcated into North America, Europe, Asia-Pacific, Middle East & Africa, and Latin America. North America is expected to dominate the market in the forecast period due to the sheer presence of major in-flight entertainment companies such as Global Eagle, Panasonic Avionics Corporation, and Gogo combined with the availability of sophisticated technologies to deliver in-flight solutions through various platforms results in the dominance of this region. Europe is the second-largest market due to the increase in several aircraft deliveries along with air passenger traffic in countries, such as Germany, France, and Spain. Asia-Pacific region is the fastest-growing region in the in-flight entertainment market.
Key Players
The key players in the global in-flight entertainment market are FDS Avionics Corp (US), Global Eagle Entertainment Inc. (US), Gogo Inc. (US), Honeywell International Inc. (US), Inmarsat PLC (UK), Lufthansa Systems (Germany), Panasonic Avionics Corporation (US), Collins Aerospace (US), SITAONAIR (Switzerland), Thales Group (France), Viasat Inc. (US), and Zodiac Aerospace (France).
Research Methodology
The market values and forecast are derived using the Market Research Future (MRFR) research methodology, which includes secondary research, primary interviews, data triangulation, and validation from an in-house data repository and statistical modeling tools.
In this process, data is collected from various secondary sources, including annual reports, SEC filings, journals, government associations, aerospace & defense magazines, white papers, corporate presentations, company websites, and paid databases.
In this process, both the demand- and supply-side parties are interviewed to extract facts and insights into the market forecast, production, trends, and projected market growth. Industry stakeholders such as CEOs, VPs, directors, and marketing executives across the value chain are approached to obtain key information.
Key Insights



Regional/Country Trends and Forecast: Detailed analysis of the market in North America, Europe, Asia-Pacific, Middle East & Africa, and Latin America, along with key countries in each region






Market Dynamics Intelligence: Market drivers, opportunities, trends, restraints, Porter's five forces, supply chain, and value chain analysis






Competitive Intelligence: Market share analysis, financial analysis, product benchmarking, and strategic developments including joint ventures, product launches, and mergers & acquisitions



Report Customization
MRFR offers report customization to valued customers. Below are the options available for customization:
In-depth profiling of additional market players (3 to 4 companies)
Detailed analysis of a country-level market and related segments as per the report scope (subject to data availability)
Intended Audience



Aircraft manufacturers




In-flight entertainment (IFE) service providers




In-flight entertainment (IFE) system manufactures




In-flight entertainment (IFE) system distributors




Sub-component suppliers




Technology providers



Frequently Asked Questions (FAQ) :
---