Global EHR-EMR information, by Type (emergency care, perioperative care, mobile applications for doctors and nurse, others), by Mode of Delivery (on-premise and cloud based) - Forecast to 2023
Study Objectives:
The main objective of this research is to provide information about EHR-EMR market which includes types and mode of delivery. It also provides detailed analysis of the market structure along with forecast for the next seven years of various segments and sub-segments of the EHR-EMR market. Analysis of this market by Price Analysis, Supply Chain Analysis, Porters Five Force`s, etc. is also an important objective of this research. Research is done with respect to four main geographies namely Americas, Europe, Asia Pacific & Middle East & Africa and their countries. Another objective is to provide data based on segments and sub-segments. Moreover, the report also provides overview of key market players and analyzes competitive developments such as joint ventures, strategic alliances, mergers and acquisitions that have taken place, new product developments along with research and developments about the global EHR-EMR market.
Market Scenario
Electronic health records is a collection and storage of patient information electronically. This enables the healthcare provider to obtain data from anywhere and provide emergency care whenever needed. This revolution in healthcare IT has brought a positive change in healthcare management. Information technology helps to maintain patient information electronically that can be used as and when required. EHR-EMR market is growing due to an increase in the number of patients getting admitted in hospitals, increasing volume of medical records, replacement of paper records by electronic records, easy healthcare delivery and maintaining quality of health-records. This innovations in healthcare IT also favors the growth of the EHR-EMR market. However, high cost of software solutions may act a restrain to this market's growth. Global EHR-EMR market is expected to reach USD 120 billion in 2023 from its previous worth of USD 70 billion in 2016 by growing at the CAGR of approximately 10.9% during the forecast period 2017-2023.
Figure 1: Research Methodology for EHR-EMR Market, by Region, 2016:

Source: Press Release, Company presentation, annual reports
Segmentation
Global EHR-EMR market has been segmented on the basis of types which includes emergency care, perioperative care, mobile applications for doctors and nurses and others. Mobile applications for doctors and nurses are available on iOS and android platform. Other types include wound care and patient engagement. On the basis of mode of delivery, the market is segmented into on-premise and cloud based.
Figure 2: Market Synopsis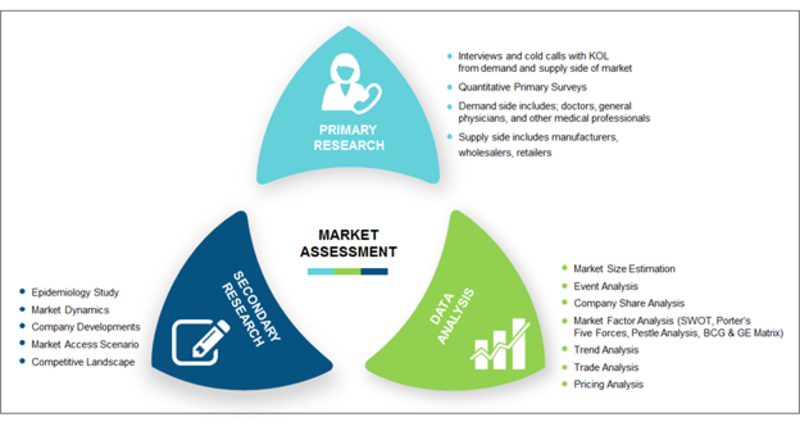 Sources: Press Release, presentation, company website, annual reports, government records, journals expert interview.
Intended Audience



Healthcare IT companies




Healthcare companies




Contract research organizations (CROs)




Research and development (R&D) companies




Academic medical institutes and universities



Regional Analysis:
Globally, EHR-EMR market consists of four regions namely Americas, Europe, Asia Pacific and Middle East & Africa. America is the largest market. Increasing importance of EHR-EMR, concentration of major market players and increase in number of services in specialty & super specialty hospitals boosts the growth of this market in North America. Europe is the second largest market owing to extensive use of healthcare IT for patient engagement and administration. The fastest growth of this market is in Asia Pacific region, which can be attributed to the growing emphasis of medical records to be presented as an evidence in the court of law. The market shows steady but positive growth in Middle East & Africa, owing to an increasing demand of software solutions in hospitals.
Key Players
Cerner Corporation (U.S), Epic Systems Corporation (U.S), Allscripts (U.S), QSI Management, LLC (U.S), General Electric Company (U.S), eClinicalWorks (U.S), McKesson Corporation (U.S), Greenway Health, LLC (U.S)
The report of EHR-EMR market by Market Research Future comprises of extensive primary research along with detailed analysis of qualitative as well as quantitative aspects by various industry experts and key opinion leaders to gain a deeper insight of the market and industry performance. The report gives a clear picture of current market scenario, past as well as projected market size in terms of value and volume, technological advancement, macro economical and governing factors in the market. The report provides detail information about and strategies used by top key players in the industry. It also gives a broad study of the market's different segments and regions.
Table of Content


1. Report Prologue


2. Market Introduction


2.1 Definition


2.2 Scope of the Study


2.2.1 Research Objective


2.2.2 Assumptions


2.2.3 Limitations


3. Research Methodology


3.1 Introduction


3.2 Primary Research


3.3 Secondary research


3.4 Market Size Estimation


4. Market Dynamics


4.1 Drivers


4.2 Restrains


4.3 Opportunities


4.4 Challenges


4.5 Macroeconomic Indicators


4.6 Technology Trends & Assessment


5. Market Factor Analysis


5.1 Porters Five Forces Analysis


5.1.1 Bargaining Power of Suppliers


5.1.2 Bargaining Power of Buyers


5.1.3 Threat of New Entrants


5.1.4 Threat of Substitutes


5.1.5 Intensity of Rivalry


5.2 Value Chain Analysis


5.3 Investment Feasibility Analysis


5.4 Pricing Analysis


6. Global EHR-EMR Market, by Type


6.1 Introduction


6.2 Emergency Care


6.2.1 Market Estimates & Forecast, 2017-2023


6.3 Perioperative Care


6.3.1 Market Estimates & Forecast, 2017-2023


6.4 Mobile Applications for Doctors and Nurse


6.4.1 Market Estimates & Forecast, 2017-2023


7. Global EHR-EMR Market, by Mode of Delivery


7.1 Introduction


7.2 On Premise


7.2.1 Market Estimates & Forecast, 2017-2023


7.3 Cloud Based


7.3.1 Market Estimates & Forecast, 2017-2023


8. Global EHR-EMR Market, by Region


8.1 Introduction


8.2 Americas


8.2.1 North America


8.2.1.1 US


8.2.1.1 Canada


8.2.2 South America


8.3 Europe


8.3.1 Western Europe


8.3.1.1 Germany


8.3.1.2 France


8.3.1.3 UK


8.3.1.4 Italy


8.3.1.5 Spain


8.3.1.6 Rest of Western Europe


8.3.2 Eastern Europe


8.4 Asia Pacific


8.4.1 Japan


8.4.2 China


8.4.3 India


8.4.4 Australia


8.4.5 Republic of Korea


8.4.6 Rest of Asia Pacific


8.5 The Middle East & Africa


8.5.1 United Arab Emirates


8.5.2 Saudi Arabia


8.5.3 Oman


8.5.4 Kuwait


8.5.5 Qatar


8.5.6 Rest of the Middle East & Africa


9 Company Landscape


9.1 Introduction


9.2 Market Share Analysis


9.3 Key Development & Strategies


10.3.1 Key Developments


10 Company Profiles


10.1 Cerner Corporation


10.1.1 Company Overview


10.1.2 Product Overview


10.1.3 Financials


10.1.4 SWOT Analysis


10.2 Epic Systems Corporation


10.2.1 Company Overview


10.2.2 Product Overview


10.2.3 Financial Overview


10.2.4 Key Developments


10.2.5 SWOT Analysis


10.3 Allscripts


10.3.1 Company Overview


10.3.2 Product Overview


10.3.3 Financial Overview


10.3.4 Key Development


10.3.5 SWOT Analysis


10.4 QSI Management


10.4.1 Company Overview


10.4.2 Product/Business Segment Overview


10.4.3 Financial Overview


10.4.4 Key Development


10.4.5 SWOT Analysis


10.5 General Electric Company


10.5.1 Company Overview


10.5.2 Product Overview


10.5.3 Financial overview


10.5.4 Key Developments


10.6 eClinicalWorks


10.6.1 Company Overview


10.6.2 Product Overview


10.6.3 Financial overview


10.6.4 Key Developments


10.7 McKesson Corporation


10.7.1 Company Overview


10.7.2 Product Overview


10.7.3 Financial overview


10.7.4 Key Developments


10.8 Others


11 MRFR Conclusion


11.1 Key Findings


11.1.1 From CEO's View Point


11.1.2 Unmet Needs of the Market


11.2 Key Companies to Watch


11.3 Prediction of Healthcare IT Industry


12 Appendix
LIST OF TABLES


Table 1 EHR-EMR Industry Synopsis, 2017-2023


Table 2 Global EHR-EMR Market Estimates and Forecast, 2017-2023, (USD Million)


Table 3 Global EHR-EMR Market by Region, 2017-2023, (USD Million)


Table 4 Global EHR-EMR Market by Type, 2017-2023, (USD Million)


Table 5 Global EHR-EMR Market by Mode of Delivery, 2017-2023, (USD Million)


Table 6 North America EHR-EMR Market by Type, 2017-2023, (USD Million)


Table 7 North America EHR-EMR Market by Mode of Delivery, 2017-2023, (USD Million)


Table 8 US EHR-EMR Market by Type, 2017-2023, (USD Million)


Table 9 US EHR-EMR Market by Mode of Delivery, 2017-2023, (USD Million)


Table 11 Canada EHR-EMR Market by Type, 2017-2023, (USD Million)


Table 12 Canada EHR-EMR Market by Mode of Delivery, 2017-2023, (USD Million)


Table 13 South America EHR-EMR Market by Type, 2017-2023, (USD Million)


Table 14 South America EHR-EMR Market by Mode of Delivery, 2017-2023, (USD Million)


Table 15 Europe EHR-EMR Market by Type, 2017-2023, (USD Million)


Table 16 Europe EHR-EMR Market by Mode of Delivery, 2017-2023, (USD Million)


Table 17 Western Europe EHR-EMR Market by Type, 2017-2023, (USD Million)


Table 18 Western Europe EHR-EMR Market by Mode of Delivery, 2017-2023, (USD Million)


Table 19 Eastern Europe EHR-EMR Market by Type, 2017-2023, (USD Million)


Table 20 Eastern Europe EHR-EMR Market by Mode of Delivery, 2017-2023, (USD Million)


Table 21 Asia Pacific EHR-EMR Market by Type, 2017-2023, (USD Million)


Table 22 Asia Pacific EHR-EMR Market by Mode of Delivery, 2017-2023, (USD Million)


Table 23 Middle East & Africa EHR-EMR Market by Type, 2017-2023, (USD Million)


Table 24 Middle East & Africa EHR-EMR Market by Mode of Delivery, 2017-2023, (USD Million)
LIST OF FIGURES


Figure 1 Research Process


Figure 2 Segmentation for Global EHR-EMR Market


Figure 3 Segmentation Market Dynamics for EHR-EMR Market


Figure 4 Global EHR-EMR Market Share, by Type, 2016


Figure 5 Global EHR-EMR Market Share, by Mode of Delivery, 2016


Figure 6 Global EHR-EMR Market Share, by Region, 2016


Figure 7 North America EHR-EMR Market Share, by Country, 2016


Figure 8 Europe EHR-EMR Market Share, by Country, 2016


Figure 9 Asia Pacific EHR-EMR Market Share, by Country, 2016


Figure 10 Middle East & Africa EHR-EMR Market Share, by Country, 2016


Figure 11 Global EHR-EMR Market: Company Share Analysis, 2016 (%)


Figure 12 Cerner Corporation: Key Financials


Figure 13 Cerner Corporation: Segmental Revenue


Figure 14 Cerner Corporation: Geographical Revenue


Figure 15 Epic Systems Corporation: Key Financials


Figure 16 Epic Systems Corporation: Segmental Revenue


Figure 17 Epic Systems Corporation: Geographical Revenue


Figure 18 Allscripts: Key Financials


Figure 19 Allscripts: Segmental Revenue


Figure 20 Allscripts: Geographical Revenue


Figure 21 Google: Key Financials


Figure 22 Google: Segmental Revenue


Figure 23 Google: Geographical Revenue


Figure 24 Cynosure, Inc.: Key Financials


Figure 25 Cynosure, Inc.: Segmental Revenue


Figure 26 Cynosure, Inc.: Geographical Revenue


Figure 27 Sensimed SA: Key Financials


Figure 28 Sensimed SA: Segmental Revenue


Figure 29 Sensimed SA: Geographical Revenue


Figure 30 Cutera, Inc.: Key Financials


Figure 31 Cutera, Inc.: Segmental Revenue


Figure 32 Cutera, Inc.: Geographical Revenue