Synopsis of Crack Tooth Syndrome Market:
Market Scenario:
Cracked tooth syndrome (CTS) also called as cracked cusp syndrome, split tooth syndrome or incomplete fracture of posterior teeth is a dental condition characterised by a fractured but unbroken tooth. The American Association of Endodontists (AAE) define cracked tooth as a crack extending from the occlusal surface of the tooth apically without separation of the two segments. The symptoms of CTS inlcude sharp pain when biting with the affected tooth, excruciating rebound pain when biting force is increased or released, and sensitivity to temperature. Irreversible pulpitis, pulpal necrosis and periapical periodontitis may develop if the crack propagates into the pulp.
Some of the the demographic drivers of the global CTS market include increasing geriatric population, growing awareness, and rise in risk factors generating demand such as consumption of fat and sugar rich foods and others. According to estimates of American Dental Association, approximate 52.3% of adults visited the dentist every six months, and 15.4% per year, in 2015. Thus, a large market for CTS is easily comprehended. The growing risk factors and cause of CTS such as previous dental restorative procedures, occlusal factors, anatomical considerations, trauma, and others is driving a large demand. About 37.9 % people had atleast one cracked tooth in their lifetime, with the first permanent molars being the most common affected.
Technical drivers of the market include development of stronger, biocompatible and bio absorbable materials with better osteo-integration properties, development of silicon dental adhesives, CAD/CAM technology and others. Aesthetically better materials resembling natural teeth has generated larger demand for cosmetic dentistry.
High cost of treatment dental implants, coupled with poor reimbursements reflected by high out-of-pocket costs is hampering the market. According to the FDI World Dental Federation, estimates out-of-pocket costs represent approximate 55 % of total dental care spending, with comparative figures for general health care amounting to just 20 %. CTS have very variable symptoms and is notoriously difficult to diagnose.
Endodontic treatment of cracked teeth have a relatively high failure rate of 14.5 % over a two years period, which is another restraint of the market.
The global CTS market is valued at USD 3.5 billion in 2016, which is expected to reach to USD 4.96 billion in 2027 at a CAGR of 6.0 %.

Study objectives:



To provide detail analysis of the market structure along with estimated future growth forecast for the next 6 years about various segments and sub-segments of the global crack tooth syndrome market.




To provide insights about factors affecting the market growth.




To analyze the global crack tooth syndrome market based on various factors - price analysis, supply chain analysis, Porters Five Force Analysis etc.




To provide past and estimated future revenue of the market's segments and sub-segments with respect to four main geographies and their countries - Americas, Europe, Asia-Pacific along with Middle East & Africa.




To provide country level analysis of the market with respect to the current market size and future growth prospect.




To provide country level analysis of the market's segments which includes by products, and by application.




To provide overview of key players and their strategic profiling in the market, comprehensively analyzing their core competencies and drawing a competitive landscape of the market.




To track and analyze developments which are competitive in nature such as joint ventures, strategic alliances, mergers and acquisitions, new disease developments along with research and developments currently taking place in the global crack tooth syndrome market.



Research methodology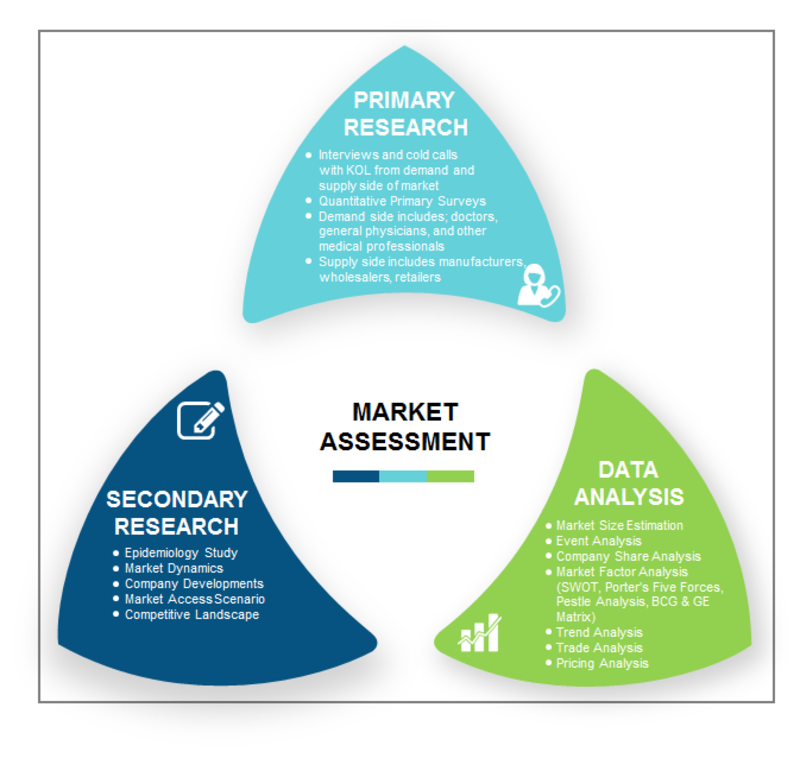 Figure 1 Global Crack Tooth Syndrome Market by Treatment, 2016 (% Market Share)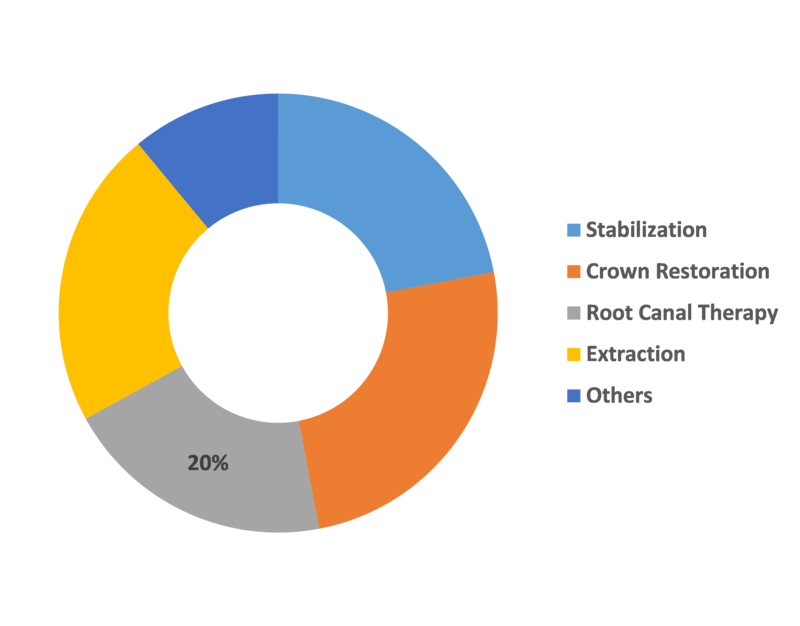 Segments:
The global CTS market is segmented based on diagnosis, types, drug class, treatment, devices, and regions.
Based on diagnosis, the market is segmented into clinical examination, dye test, X-ray, transillumination, radiograph, and others.
Based on types, the market is segmented into completely fractured teeth, and incompletely fractured. The completely fractured teeth segment id further segregated into obliquely directed and vertically directed. The incompletely fractured teeth segment is further segregated into oblique and vertical.
Based on drug class, this market is segmented into pain killers, anti-biotic, and others.
Based on treatment, this market is segmented into stabilization, crown restoration, root canal therapy, extraction, and others.
Based on devices, this market is segmented into implants, adhesives, expendables, and others.
Based on the regions, the market has been segmented as North America, Europe, Asia Pacific Middle East and Africa and rest of the world.
Regional analysis
North America led by the U.S. accounts for the largest market share of the global CTS treatment market followed by Europe. The European market expected to be led by the Germany owing to its large medical device industry.
However, these markets are stagnant, and there is a definite shift towards the Asia Pacific regions led by India and China. The Asia Pacific will be the fastest growing market, and the growth will be driven by China, and India as these nations have huge population and the low cost of CTS treatment. The Middle East and Africa is likely to generate moderate growth owing to poor socio-economic conditions in the African continent.
Key Vendors Operating in the Global Crack tooth syndrome Market:
Some of the dominant vendors operating in the report are Institut Straumann AG, Henry Schein, Inc., Zimmer Biomet, Ivoclar Vivadent AG, 3M, Nobel Biocare, Osstem Prosthetics, DENTSPLY Sirona, CAMLOG Biotechnologies AG Planmeca OY, and others.
The report for Global Crack tooth syndrome Market by Market Research Future comprises of extensive primary research along with the detail analysis of qualitative as well as quantitative aspects by various industry experts, key opinion leaders to gain a deeper insight of the market and industry performance. The report gives a clear picture of current market scenario, which includes past and estimated future market size with respect to value and volume, technological advancement, macro economical and governing factors in the market. The report provides detail information about and strategies used by top key players in the industry. The report also gives a broad study of the different market segments and regions.
Intended Audience



Global crack tooth syndrome providers, manufacturers & suppliers




Research and development (R&D) companies




Market research and consulting service providers




Academic institutes and universities



Frequently Asked Questions (FAQ) :
---