Cosmetic Bottle Packaging Market Synopsis
Cosmetic Bottle Packaging Market has seen steady growth of 4.5% CAGR in the last few years.
Cosmetic bottle packaging market, estimated at about USD 39 billion at the retail level, is a highly attractive segment of the consumer products space.
The development of new and diversified packaging styles, and high potential in emerging economies provides huge growth opportunities for personal care products, create exciting opportunities within the packaging industry. Moreover, innovation in packaging plays a major role in driving the growth of cosmetic bottle packaging market. Vibrant shades of blue and yellow, color-coding, and a wide range of shapes, sizes and materials are now defining packaging for even basic skin care necessities. Innovation in appearance of convenient sprays and compressed sizes has also altered the look on store shelves, with familiar products in unfamiliar packages which have been quickly welcomed by consumers throughout the world. Recently companies have been spending more on packaging innovation than production cost. They are adopting active packaging and intelligent packaging so as to enhance the performance of the packaging technique.
Key Players:
The key players of global cosmetic bottle packaging market include Amcor Ltd. (Australia), Albea Group (Luxembourg), CCL Industries (Canada), Sonoco Products Company (U.S.), Sinclair & Rush, Inc. (U.S.), Essel Propack Ltd (India), Huhtamaki (Finland), Montebello Packaging (Canada), World Wide Packaging LLC (U.S.), Unette Corporation (U.S.) and others.
A new trend is research and development being carried out by packaging manufacturers with focus on lucrative locations for production and short-distance supply to reduce costs. Cosmetic bottle packaging market is expected to flourish during the forecast period due to the major drives such as focus on high-quality products, changing lifestyle of consumers. Advancement in packaging technologies and availability of personal care products in innovative designs, such as pumps, sprays, sticks, pen type, and rollers balls also boost the market growth.
The cosmetic bottle packaging market is undergoing various changes with rise in the number of stock keeping units, acceleration of technological innovation, and shift in competitive power. These changes evolve customer expectations. Regionally, global personal care market has been segmented into the four major regions of North America, Europe, Asia Pacific and RoW.
Cosmetic Bottle Packaging Market, By Segment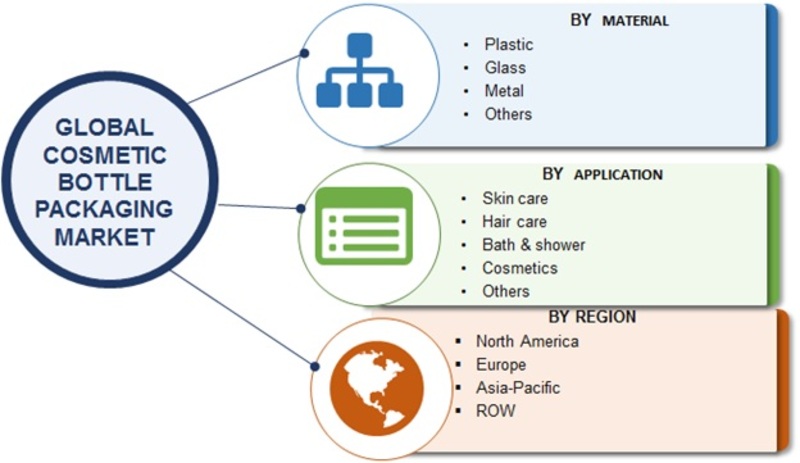 Regional Analysis
On the basis of regions, Asia Pacific accounted for majority of the market share; will continue to dominate the market in the forecast period. Rapid economic growth and increase in disposable income resulted in changing lifestyle patterns in emerging countries, such as China, India, and Brazil. China cosmetic bottle packaging market is expected to have new growth opportunities over the coming years. Improving disposable income, rising information, and changing standard of living have augmented the demand for cosmetic bottle packaging products, positively impacting the cosmetic bottle packaging market.
Extensive research in this market has brought to light that expansion is the key strategy adopted by the major players in the global cosmetic bottle packaging market. This strategy is widely adopted to spread their geographical presence and achieve operational efficiencies.
The report for Global Cosmetic Bottle Packaging Market of Market Research Future comprises of extensive primary research along with the detailed analysis of qualitative as well as quantitative aspects by various industry experts, key opinion leaders to gain the deeper insight of the market and industry performance. The report gives the clear picture of current market scenario which includes historical and projected market size in terms of value and volume, technological advancement, macro economical and governing factors in the market. The report provides details information and strategies of the top key players in the industry. The report also gives a broad study of the different market segments and regions.
Report Scope:
Report Attribute/Metric
Details
Market Size
2027: Significant Value
CAGR
4.5% CAGR (2020-2027)
Base Year
2019
Forecast Period
2020-2027
Historical Data
2018
Forecast Units
Value (USD Billion)
Report Coverage
Revenue Forecast, Competitive Landscape, Growth Factors, and Trends
Segments Covered
Material, and Application
Geographies Covered
North America, Europe, Asia-Pacific, and Rest of the World (RoW)
Key Vendors
Amcor Ltd. (Australia), Albea Group (Luxembourg), CCL Industries (Canada), Sonoco Products Company (U.S.), Sinclair & Rush, Inc. (U.S.), Essel Propack Ltd (India), Huhtamaki (Finland), Montebello Packaging (Canada), World Wide Packaging LLC (U.S.), Unette Corporation (U.S.)
Key Market Opportunities
Development of new and diversified packaging styles
High potential in emerging economies
Key Market Drivers
Focus on high-quality products
Changing lifestyle of consumers
Frequently Asked Questions (FAQ) :
---