Global Construction Stone Market Information by Type (Construction Aggregates and Natural Stones), By Application (Public Infrastructure, Commercial Infrastructure and Residential Infrastructure) and By Region – Forecast To 2023
Market Synopsis of Global Construction Stone Market:
Construction stones have been considered as one of the popular building material since olden days due to their availability in abundance from natural rocks. Construction stone possesses properties such as high strength and durability, which enables them to be an important constituent of the construction sector.
The major factor driving the global construction stone market is the rise in demand for residential, commercial and public infrastructure all over the world. The preference of natural stones and construction aggregates over other materials, is also driving the growth of the global construction stone market. However, the growth of this market is expected to be restrained by huge fluctuations in the prices of the raw materials depending upon their availability and increase in number of other modern substitute material, which possess high reinforcement properties.
The Global Construction Stone Market is expected to grow with 9% CAGR during the forecast period.
Study Objectives of Global Construction Stone Market:



To provide detailed analysis of the market structure along with forecast for the next five years of the various segments and sub-segments of the global distribution feeder protection system




To provide insights about factors affecting the market growth




To analyze the global distribution feeder protection system market based on various tools such as Supply Chain Analysis, and Porter's Five Forces Analysis




To provide historical and forecast revenue of the market segments and sub-segments with respect to regions and their respective key countries




To provide country level analysis of the market with respect to the current market size and future prospective




To provide country level analysis of the market for segments by material type, product, application and region




To provide strategic profiling of key players in the market, comprehensively analyzing their core competencies, and drawing a competitive landscape for the market




To track and analyze competitive developments such as joint ventures, strategic alliances, mergers and acquisitions, new product developments, and research and developments in the distribution feeder protection system market



Segmentation: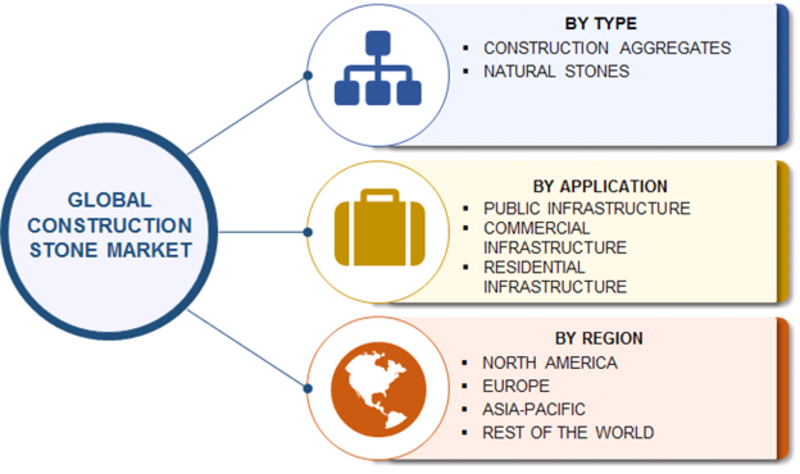 Regional Analysis of Global Construction Stone Market:
The Asia-Pacific region is the fastest growing region for the global construction stone market, owing to escalating disposable incomes and the flourishing construction industry. Also urbanization and the industrialization in the developing nations, are driving the growth of the Asia-Pacific region. The North America and Europe region has also been a major contributor in construction stone markets growth, which is further driving the growth of the market in respective nations.

Key Players:
The key players of global construction stone market are AbleGroup (Malaysia), Benchmark Building Supplies Ltd (U.K), Caesarstone Ltd (Israel), Cosentino Group S.A. (Spain), OJSC LSR Group (Russia), Dakota Granite Co. (U.S), Daltile (U.S), Duracite (U.S.), Marazzi Group S.r.l (Italy), Precision Countertops (U.S), Vangura Surfaces Products (U.S) and others.
Target Audience:



Manufactures




Raw Materials Suppliers




Aftermarket suppliers




Research Institute / Education Institute




Potential Investors




Key executive (CEO and COO) and strategy growth manager



Product Analysis:
Additional Information:



Regulatory Landscape




Pricing Analysis



Geographic Analysis:
Company Information:



Profiling of 11 key market players




In-depth analysis including SWOT analysis, and strategy information of related to report title




Competitive landscape including emerging trends adopted by major companies



The report for Global Construction Stone Market of Market Research Future comprises of extensive primary research along with the detailed analysis of qualitative as well as quantitative aspects by various industry experts, key opinion leaders to gain the deeper insight of the market and industry performance. The report gives the clear picture of current market scenario which includes historical and projected market size in terms of value and volume, technological advancement, macro economical and governing factors in the market. The report provides details information and strategies of the top key players in the industry. The report also gives a broad study of the different market segments and regions.
Table of Contents
1 Executive Summary


2 Research Methodology


2.1 Scope of the Study


2.1.1 Definition


2.1.2 Research Objective


2.1.3 Assumptions


2.1.4 Limitations


2.2 Research Process


2.2.1 Primary Research


2.2.2 Secondary Research


2.3 Market size Estimation


2.4 Forecast Model
3 Market Dynamics


3.1 Market Drivers


3.2 Market Inhibitors


3.3 Supply/Value Chain Analysis


3.4 Porter's Five Forces Analysis


4 Global Construction Stone Market, By Type


4.1 Introduction


4.2 Construction Aggregates


4.3 Natural Stones


5 Global Construction Stone Market, By Application


5.1 Introduction


5.2 Public Infrastructure


5.3 Commercial Infrastructure


5.4 Residential Infrastructure


6 Regional Market Analysis


6.1 Introduction


6.2 North America


6.2.1 U.S.


6.2.2 Canada


6.3 Europe


6.3.1 U.K


6.3.2 France


6.3.3 Germany


6.3.4 Spain


6.3.5 Rest of Europe


6.4 Asia-Pacific


6.4.1 China


6.4.2 Japan


6.4.3 India


6.4.4 Rest of Asia-Pacific


6.5 Rest of the World


7 Competitive Analysis


7.1 Introduction


7.2 Competitive Scenario


7.2.1 Market Share Analysis


7.2.2 Market Development Analysis


7.2.3 Type/Service Benchmarking


7.3 Ablegroup Berhad (Malaysia)


7.3.1 Overview


7.3.2 Type/Service Offering


7.3.3 Strategy


7.4 Benchmark Building Supplies (U.K)


7.4.1 Overview


7.4.2 Type/Service Offering


7.4.3 Strategy


7.5 Caesarstone Ltd (Israel)


7.5.1 Overview


7.5.2 Type/Service Offering


7.5.3 Strategy


7.6 Cosentino Group (Spain)


7.6.1 Overview


7.6.2 Type/Service Offering


7.6.3 Strategy


7.7 OJSC LSR Group (Russia)


7.7.1 Overview


7.7.2 Type/Service Offering


7.7.3 Strategy


7.8 Dakota Granite Co (U.S)


7.8.1 Overview


7.8.2 Type/Service Offering


7.8.3 Strategy


7.9 Daltile (U.S)


7.9.1 Overview


7.9.2 Type/Service Offering


7.9.3 Strategy


7.10 Duracite (U.S.)


7.10.1 Overview


7.10.2 Type/Service Offering


7.10.3 Strategy


7.11 Marazzi Group S.r.l (Italy)


7.11.1 Overview


7.11.2 Type/Service Offering


7.11.3 Strategy


7.12 Precision Countertops (U.S)


7.12.1 Overview


7.12.2 Type/Service Offering


7.12.3 Strategy


7.13 Vangura Surfaces Products (U.S)


7.13.1 Overview


7.13.2 Type/Service Offering


7.13.3 Strategy
LIST OF TABLES
TABLE 1 GLOBAL CONSTRUCTION STONE MARKET, BY TYPE


TABLE 2 GLOBAL CONSTRUCTION STONE MARKET, BY APPLICATION


TABLE 3 GLOBAL CONSTRUCTION STONE MARKET, BY REGIONS


TABLE 4 NORTH AMERICA CONSTRUCTION STONE MARKET, BY COUNTRY


TABLE 5 NORTH AMERICA CONSTRUCTION STONE MARKET, BY TYPE


TABLE 6 NORTH AMERICA CONSTRUCTION STONE MARKET, BY APPLICATION


TABLE 7 U.S. CONSTRUCTION STONE MARKET, BY TYPE


TABLE 8 U.S. CONSTRUCTION STONE MARKET, BY APPLICATION


TABLE 9 CANADA CONSTRUCTION STONE MARKET, BY TYPE


TABLE 10 CANADA CONSTRUCTION STONE MARKET, BY APPLICATION


TABLE 11 EUROPE CONSTRUCTION STONE MARKET, BY COUNTRY


TABLE 12 EUROPE CONSTRUCTION STONE MARKET, BY TYPE


TABLE 13 EUROPE CONSTRUCTION STONE MARKET, BY APPLICATION


TABLE 14 GERMANY CONSTRUCTION STONE MARKET, BY TYPE


TABLE 15 GERMANY CONSTRUCTION STONE MARKET, BY APPLICATION


TABLE 16 FRANCE CONSTRUCTION STONE MARKET, BY TYPE


TABLE 17 FRANCE CONSTRUCTION STONE MARKET, BY APPLICATION


TABLE 18 U.K. CONSTRUCTION STONE MARKET, BY TYPE


TABLE 19 U.K. CONSTRUCTION STONE MARKET, BY APPLICATION


TABLE 20 REST OF EUROPE CONSTRUCTION STONE MARKET, BY TYPE


TABLE 21 REST OF EUROPE CONSTRUCTION STONE MARKET, BY APPLICATION


TABLE 22 ASIA-PACIFIC CONSTRUCTION STONE MARKET, BY COUNTRY


TABLE 23 ASIA-PACIFIC CONSTRUCTION STONE MARKET, BY TYPE


TABLE 24 ASIA-PACIFIC CONSTRUCTION STONE MARKET, BY APPLICATION


TABLE 25 ROW CONSTRUCTION STONE MARKET, BY TYPE


TABLE 26 ROW CONSTRUCTION STONE MARKET, BY APPLICATION  
LIST OF FIGURES
FIGURE 1 RESEARCH TYPE


FIGURE 2 GLOBAL CONSTRUCTION STONE MARKET: BY TYPE (%)


FIGURE 3 GLOBAL CONSTRUCTION STONE MARKET: BY APPLICATION (%)


FIGURE 4 GLOBAL CONSTRUCTION STONE MARKET: BY REGION


FIGURE 5 NORTH AMERICA CONSTRUCTION STONE MARKET, BY TYPE (%)


FIGURE 6 NORTH AMERICA CONSTRUCTION STONE MARKET, BY APPLICATION (%)


FIGURE 7 EUROPE CONSTRUCTION STONE MARKET, BY TYPE (%)


FIGURE 8 EUROPE CONSTRUCTION STONE MARKET, BY APPLICATION (%)


FIGURE 9 ASIA-PACIFIC CONSTRUCTION STONE MARKET, BY TYPE (%)


FIGURE 10 ASIA-PACIFIC CONSTRUCTION STONE MARKET, BY APPLICATION (%)


FIGURE 11 ROW CONSTRUCTION STONE MARKET, BY TYPE (%)


FIGURE 12 ROW CONSTRUCTION STONE MARKET, BY APPLICATION (%)