The Global Commercial Pharmaceutical Analytics Market is expected to register 20.0% CAGR and is anticipated to reach USD 9,308.4 Million by 2027.
Analytics is a tool for the mining of massive amounts of scattered data, processing the data to align it into useful information. This processed data can then be used in various processes. Analytics eases the workload in an organization and enables it to maintain an efficient workflow. Analytics can be implemented through multiple software services provided over web-based/client-based model and on-premise model. The pharmaceutical industry is witnessing a change as analytics is playing a pivotal role in helping the pharmaceutical and life-science industries in terms of sophistication of process and resulting business impact they create. While the adoption of analytics in the pharmaceutical industry is relatively new, third-party analytic business services are proliferating and are likely to grow even faster with increasing adoption rate in the future.
The growing adoption of new technologies and analytical tools, regulation of R&D productivity, the growing trend of the big data advertisement in pharma sector and increasing usage of analytical tools in streamlining the business process are the major drivers propelling market growth. However, the lack of skilled professionals and the conservative nature of the healthcare industry constrain the growth of the market.
Market Dynamics
More than 40% of the world's population now have access to the internet. Internet is a vast space for people to source their data and get the desired information. More than 80% of the population with internet access search for the information about the disease and its treatment, drugs acting on it. People are becoming aware of online pharmaceutical information pools, which has created an enormous space for the pharmaceutical companies to broadcast their product information and pricing as well as their applications. It has become a great way of advertising without having to use physical media. Digital advertising is becoming very popular as it is proactive, with real time analysis, and, also, reaches wider audience.
Moreover, the recent explosive uptake of smartphones has also impacted hugely on the advertising media. Digital advertising uses analytical tools, including big data, which is helping the pharmaceutical companies in marketing their products and reaching a specific consumer pool, enhancing their business and increasing revenue opportunities. The increasing advertising opportunities expected to support the growth of the global commercial pharmaceutical analytics market.
Global Commercial Pharmaceutical Analytics Market Size, by Application, 2016 (USD Million)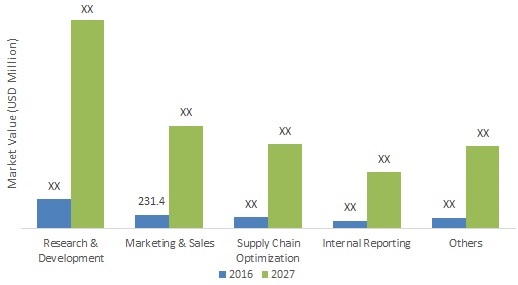 Source: MRFR Analysis
Segmentation
The global commercial pharmaceutical analytics market has been segmented into type, application, deployment, components, and end user.
Based on type, the global market has been segmented into descriptive analytics, predictive analytics, and prescriptive analytics. Based on application, the global market has been segmented into R&D, marketing & sales, supply chain optimization, and internal reporting. The marketing & sales segment accounted for a market value of USD 231.4 million in 2016. Based on Deployment, the global market has been divided on-premise and web-based/cloud-based. Based on components, the global market is divided into software and services.
Key Players
The prominent players in the global commercial pharmaceutical analytics market are Tata Consultancy Services Limited, IBM, ORACLE, Wipro, CitiusTech Inc., International Business Machines Corporation, Northwest Analytics, Inc., SCIO HEALTH ANALYTICS, Statistical Analysis System, TAKE Solutions Ltd, and TRINITY PHARMA SOLUTIONS.
Some of the key strategies followed by the players operating in the global commercial pharmaceutical analytics market are innovation, product development, acquisition, and expansion.
Asia-Pacific Commercial Pharmaceutical Analytics Market Share, by Country, 2016 (%)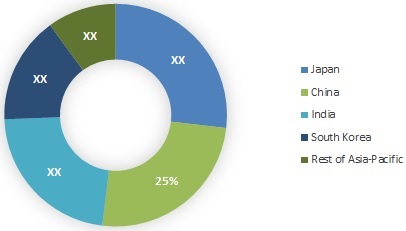 Source: MRFR Analysis
Regional Analysis
The global commercial pharmaceutical analytics market, based on region, is segmented into the Americas, Europe, Asia-Pacific, and the Middle East & Africa. The Americas is estimated to dominate the global commercial pharmaceutical analytics market during the forecast period. This is attributed to the dominating the commercial pharmaceutical analytics market in this region as it has deployed several commercial pharmaceutical analytics solutions and its application in various segments. The market for commercial pharmaceutical analytics in Europe is expected to be the second-largest during the forecast period. Due to the increasing demand of the pharmaceutical analytics technology, which widely utilizes the information for quantitative and subjective analysis, is experiencing an industry change from volume-based medicine and reimbursement to esteem-based medications and reimbursement. Additionally, the companies operating in the market are increasingly focusing on mergers and acquisitions, which is expected to support market growth during the forecast period. Asia-Pacific is estimated to be the fastest-growing market due to the presence of developing countries in this region that are adopting newer technologies for ease of work. The market for commercial pharmaceutical analytics in India offers high growth opportunities owing to the rising awareness of applications of new pharmaceutical analytics in untapped markets. Moreover, in Asia-Pacific, China accounted for a market share of 25% in 2016. The market in the Middle East & Africa is expected to witness steady growth due to limited access to healthcare facilities.
Key Updates


In June 2016, IBM Corp agreed to manage Blackboard Inc.'s datacenters




In June 2016, Pfizer selected Oracle Health Science for providing its cloud service and Oracle Siebel clinical trial management solutions to help manage and monitor its clinical trials.




June 2016, Chilmark Research incorporated SCIO Health Analytics in its organizations, driving the transition to 'Total Active Risk' model that enhanced patient outcomes and cut operational expenses.


Market Segmentation
Global Commercial Pharmaceutical Analytics Market, by Type



Descriptive Analytics




Predictive Analytics




Prescriptive Analytics



Global Commercial Pharmaceutical Analytics Market, by Application
Global Commercial Pharmaceutical Analytics Market, by Deployment



On-Premise




Web-Based/Cloud-Based



Global Commercial Pharmaceutical Analytics Market, by Components
Global Commercial Pharmaceutical Analytics Market, by Region



Americas







North America







Latin America











Europe







Western Europe







Germany




UK




France




Italy




Spain




Rest of Western Europe









Eastern Europe











Asia-Pacific







China




Japan




India




Australia




South Korea




Rest of Asia-Pacific








Available Additional Customizations


Additional Companies





Allscripts




Microsoft




Fuzzy Logix INC




Cerner Corporation








Challenges in the Global Commercial Pharmaceutical Analytics Market


Intended Audience



Medical device manufacturers and distributors




Government research organizations




Hospitals and clinics




Regulatory agencies




Pharmaceutical companies



Frequently Asked Questions (FAQ) :
---