Market Synopsis of Global Central Pontine Myelinolysis Market
Market scenario
Central Pontine Myelinolysis (CPM), also known as osmotic demyelination syndrome or central pontine demyelination, is a neurological disorder caused by severe damage of the myelin sheath of neurons. CPM mostly affects the pons area of the brain and is characterized by acute paralysis, difficulty swallowing (dysphagia), difficulty speaking (dysarthria), and other neurological symptoms. These neurological symptoms are manifested into nausea and vomiting, disturbed consciousness, gait changes, confusion, headache, seizures etc. Serious progressive neurological symptoms are the progressive development of spastic tetraparesis, pseudobulbar palsy etc.
The causes of CPM are, rapid correction of low blood sodium levels (hyponatremia) affected by severe liver disease, liver transplant, alcoholism, severe burns, malnutrition, anorexia, severe electrolyte disorders, AIDS, hyperemesis gravidarum, anorexia nervosa, hematopoietic stem cell transplantation, Wernicke encephalopathy etc. The market drivers for central pontine myelinolysis market are increase in the risk factors such as hyponatremia cases, increasing screening and penetration of healthcare, growing income and healthcare expenditure etc. The market restraints are poor cure rates of central pontine myelinolysis, treatment, high cost of treatment etc.
The global CPM market is expected to reach US$ 2.2 billion by 2023, and the market is projected to grow at a CAGR of ~ 5.5 % during the forecast period 2017-2023.
Research Methodology: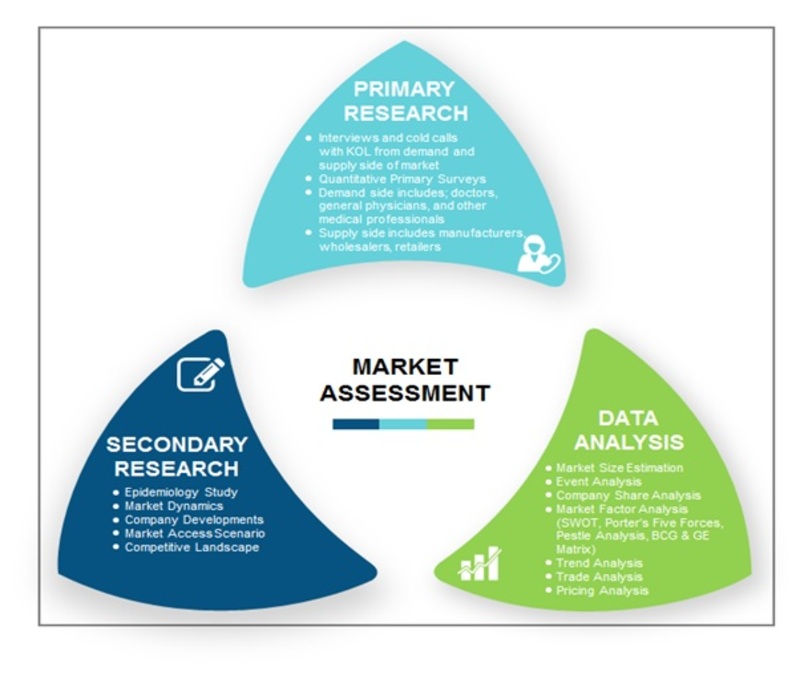 Sources: Mayo Clinic, Healthline Media, U.S. Department of Health and Human Services MRFR Analysis
Intended Audience



Global central pontine myelinolysis treatment manufacturers & suppliers




Research and development (R&D) companies




Hospitals and clinics




Academic institutes and universities



Figure 1
Global Central Pontine Myelinolysis Market by Diagnosis, 2016 (% market share)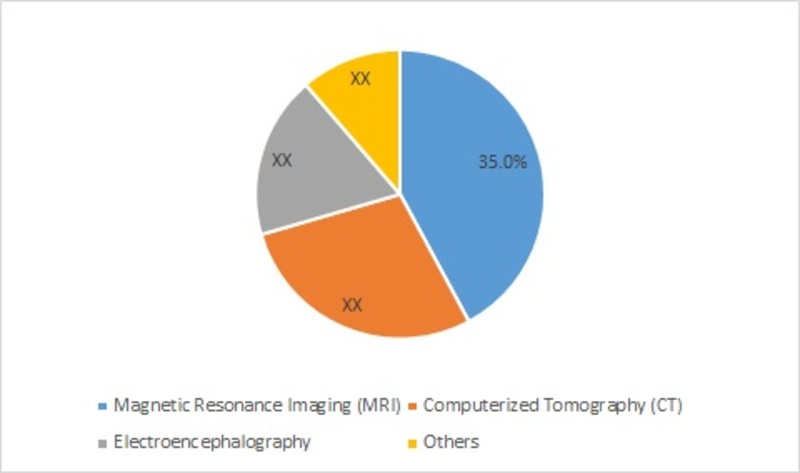 Segments:
The global central pontine myelinolysis market has been segmented on the basis of diagnosis, treatment, and end users.
Based on diagnosis, the market has been segmented as magnetic resonance imaging (MRI), computerized tomography (CT), electroencephalography and others.
Based on treatment, the market has been segmented as vitamin supplementation, electrolyte mainainence and others.
Based on the end users, the market has been segmented as hospitals & clinics, academic and research and others.
Regional analysis:
The Americas account for a significant market share owing to extensive use of medications and high expenditure on the health care driven by the increasing incidence of related diseases and clinical conditions that can cause CPM. Additionally, the fastest uptake of new drugs in the US drives the central pontine myelinolysis market. Also, concentration of major research companies and hospitals in the developed countries of this region is adding fuel to the market growth. The large expenditure on the US healthcare, accounting to 16% of GDP, also cruises the sale of central pontine myelinolysis treatment.
Europe is the second largest market in the world due to high income and healthcare penetration. Europe is led by nations such as Germany and France. UK is expected to be the fastest growing market.
Asia Pacific region is expected to grow rapidly and China and India are likely to lead this market due to fast growing healthcare sector during the forecast period.
Gulf nations such as Saudi Arabia and the UAE are estimated to drive the Middle East & African market. The African region is expected to witness a moderate growth owing to poor economic and political conditions and poor healthcare development.
Key Players in the Global Central Pontine Myelinolysis Market
Some of key players profiled in the report are Fujifilm Holdings Corporation, GE Healthcare, Siemens Healthcare GmbH, Philips Healthcare (Koninklijke Philips N.V.), Shimadzu Corporation, Toshiba Medical Systems Corporation, Carestream Health, Hitachi Medical Corporation and others.
The report for Global Central Pontine Myelinolysis market by Market Research Future comprises of extensive primary research along with the detailed analysis of qualitative as well as quantitative aspects by various industry experts, key opinion leaders to gain a deeper insight of the market and industry performance. The report gives a clear picture of the current market scenario which includes past and estimated future market size with respect to value and volume, technological advancement, macro economical and governing factors in the market. The report provides detail information about and strategies used by top key players in the industry. The report also gives a broad study of the different market segments and regions.
Frequently Asked Questions (FAQ) :
---
Table of Contents
1. Introduction

1.1 Definition

1.2 Scope of Study

1.2.1 Research Objective

1.2.2 Assumptions & Limitations

1.2.2.1 Assumptions

1.2.2.2 Limitations

1.3 Market Structure

2. Research Methodology

2.1 Research Process

2.2 Primary Research

2.3 Secondary Research

3. Market dynamics

3.1 Drivers

3.2 Restraints

3.3 Opportunities

3.4 Macroeconomic Indicators

4. Market factor analysis

4.1 Porters Five Forces Model

4.2 Bargaining Power of Suppliers

4.3 Bargaining Power of Buyers

4.4 Threat of New Entrants

4.5 Threat of Substitutes

4.6 Intensity of Rivalry

5. Global Central Pontine Myelinolysis Market, by Diagnosis

5.1 Introduction

5.2 Magnetic Resonance Imaging (MRI)

5.3 Computerized Tomography (CT)

5.4 Electroencephalography

5.5 Others

6. Global Central Pontine Myelinolysis Market, by Treatment

6.1 Introduction

6.2 Vitamin Supplementation

6.3 Electrolyte Mainainence

6.4 Others

7. Global Central Pontine Myelinolysis Market, by End Users

7.1 Introduction

7.2 Hospitals & Clinics

7.3 Academic and Research

7.4 Others

8. Global Central Pontine Myelinolysis Market, by Region

8.1 North America

8.1.1 Introduction

8.2 Europe

8.2.1 Introduction

8.3 Asia Pacific

8.3.1 Introduction

8.4 Middle East & Africa

8.4.1 Introduction

9. Competitive landscape

9.1 Major Strategies Adopted by Market Players

9.1.1 Strategic Partnership

9.1.2 Merger & Acquisition

10. Company profile

10.1 Fujifilm Holdings

10.1.1 Overview

10.1.2 Product Overview

10.1.3 Financials

10.1.4 Key Developments

10.2 GE Healthcare

10.2.1 Overview

10.2.2 Product Overview

10.2.3 Financials

10.2.4 Key Developments

10.3 Siemens Healthcare

10.3.1 Overview

10.3.2 Product Overview

10.3.3 Financials

10.3.4 Key Development

10.4 Janssen Pharmaceuticals

10.4.1 Overview

10.4.2 Product Overview

10.4.3 Financials

10.4.3 Key Development

10.5 Philips Healthcare

10.5.1 Overview

10.5.2 Product Overview

10.5.3 Financials

10.5.3 Key Development

10.6 Shimadzu Corporation

10.6.1 Overview

10.6.2 Product Overview

10.6.3 Financials

10.6.3 Key Development

10.7 Toshiba Medical Systems Corporation

10.7.1 Overview

10.7.2 Product Overview

10.7.3 Financials

10.7.3 Key Development

10.8 Carestream Health

10.8.1 Overview

10.8.2 Product Overview

10.8.3 Financials

10.8.3 Key Development

10.9 Hitachi Medical Corporation

10.9.1 Overview

10.9.2 Product Overview

10.9.3 Financials

10.9.3 Key Development

10.10 Others

10.10.1 Overview

10.10.2 Product Overview

10.10.3 Financials

10.10.3 Key Development

11. Conclusion

11.1 Key Findings

11.1.1 From CEO's Viewpoint

11.1.2 Unmet Needs of The Market

11.2 Key Companies to Watch

11.3 Prediction of Central Pontine Myelinolysis Industry

12. Appendix