Cement Tiles Market Synopsis:
The Cement tiles market is expected to reach at CAGR of ~4.12% between 2017 and 2023.

Cement tiles, are handmade colorful tiles, used for roofing and floor coverings, have been the best material of choice in last few decades for in residential and non-residential infrastructure. Due to their availability in various shapes, sizes, textures, colors and glazing options, they are increasingly being used in residential, commercial as well as industrial buildings. They can be used anywhere, including floors, walls, fireplace surrounds, pools and patios and building façades. The lightweight, ultra-thin with anti-bacterial properties are becoming an excellent choice for hotels, hospitals, pharmaceutical industries, where hygiene is a primary concern. They are modern enhancements in construction. Technology in construction industry is advancing. Thus, it has been forecast that modern technology in accordance with advance manufacturing technique will certainly bring a wider scope in the technological trends for cement tiles. The global cement tiles market is expected to be driven by their high demand in construction, owing to the unmatched properties.
Cement Tiles are also known as hydraulic tiles and concrete tiles. However, it is the hard tile surface covering, and other characteristics that may make them unsuitable in certain locations. Moreover, they require a significant expenditure of energy and carbon dioxide to be manufactured, which act as barriers for the growth of the market.
The global cement tiles market is a very dynamic market, and is expected to witness high growth over the forecast period. Focus on construction and infrastructural development makes cement popular among manufacturers. Due to this, there is sustained growth in housing sector, government emphasis on infrastructure, and exceeding demand in cement industry, which results in improved efficiency, transportation and logistics. Tiles are inorganic, non-metallic materials that are made by the infusion of intense heat. Factors such as durability, and ease of maintenance of ceramic tiles, increasing popularity and the rise in the number of hospitals, laboratories, and residential buildings.
The Key Players of global cement tiles market includes Lafarge (France), GranitiFiandre S.p.A. (Italy), Ultra Tile (India), Ross Roof Group (New Zealand), Harmouch (Egypt), Avente Tile (U.S.), Villa Lagoon Tile (U.S.), Vande Hey Raleigh Mfg., Inc. (U.S.), Boral (U.S.), and Uni-Group (U.S.)

Cement Tiles Market-By Segment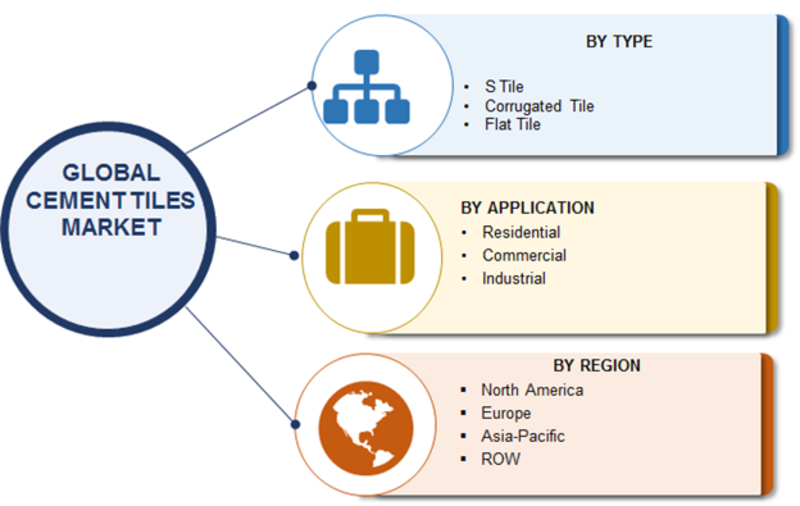 Regional Analysis
Market Research Future analysis shows that the global market of cement tiles is estimated to grow at USD XX billion by the end of year 2023. In terms of geography, Asia Pacific accounted for a major market share, will continue to dominate the market in the forecast period. This is because of the growth in construction industry, and rapidly rising urban population. Moreover, Governments' focusing on housing and infrastructure development, with initiatives such as rural employment guarantee, and low cost housing in urban & rural area under schemes, fuel the cement market demand. .
The report for Global Cement Tiles Market of Market Research Future comprises of extensive primary research along with the detailed analysis of qualitative as well as quantitative aspects by various industry experts, key opinion leaders to gain the deeper insight of the market and industry performance. The report gives the clear picture of current market scenario which includes historical and projected market size in terms of value and volume, technological advancement, macro economical and governing factors in the market. The report provides details information and strategies of the top key players in the industry. The report also gives a broad study of the different market segments and regions.
Report Scope:
Report Attribute/Metric
Details
Market Size
2027: Significant Value
CAGR
4.12% CAGR (2020-2027)
Base Year
2019
Forecast Period
2020-2027
Historical Data
2018
Forecast Units
Value (USD Million)
Report Coverage
Revenue Forecast, Competitive Landscape, Growth Factors, and Trends
Segments Covered
by Technology, by Application, by Material
Geographies Covered
North America, Europe, Asia-Pacific, and Rest of the World (RoW)
Key Vendors
Lafarge (France), GranitiFiandre S.p.A. (Italy), Ultra Tile (India), Ross Roof Group (New Zealand), Harmouch (Egypt), Avente Tile (U.S.), Villa Lagoon Tile (U.S.), Vande Hey Raleigh Mfg., Inc. (U.S.), Boral (U.S.), and Uni-Group (U.S.)
Key Market Opportunities
Fastest growth in construction industry
Increased popularity of such systems
Key Market Drivers
The lightweight
Ultra-thin
Anti-bacterial properties
Frequently Asked Questions (FAQ) :
---