Market Snapshot
Blockchain is a distributed, decentralized, immutable ledger used to store encrypted data. Artificial intelligence enables analytics and decision making from the data collected. Blockchains enhance machine learning capability and enable artificial intelligence to create and trade financial products. It enables secure storage and data sharing. Blockchain AI is combined to analyze and generate insights from data to generate value. The increasing need for data monetization as it enables blockchain and AI technologies for smaller companies is anticipated to boost the demand for blockchain AI. Moreover, the rising adoption of cloud-based technologies and the Internet of Things (IoT) is creating an opportunity for blockchain AI solution providers. Blockchain AI provides enhanced data security, increases trust in robotic decisions, helps in collective decision-making, and decentralizes intelligence. Blockchain AI provides a decentralized and scalable environment to the various platforms, devices, and applications and allows the connected devices to enhance security and operational efficiency in the ecosystems. A growing number of government initiatives for the adoption of Blockchain AI across the world in various industries are factors expected to create significant opportunities for players operating in the market during the forecast period. However, the limited number of blockchain AI experts is expected to hamper the market growth during the forecast period.
Impact of COVID-19
The blockchain AI market has been significantly affected by the escalating COVID-19 situation across the world. The global economy is facing unprecedented challenges from the COVID-19 crisis, affecting millions due to severely impacted health, family, and poor financial conditions. For instance, in March 2020, the World Health Organization (WHO) announced the COVID-19 as a global pandemic resulting in several countries under lockdown. The outbreak of COVID-19 has resulted in minimized business activities since governments across the globe have enforced lockdowns, due to which dependence on online businesses has grown significantly to provide necessary services to consumers. This factor has increased the need for blockchain AI as it provides security and robustness to the data. Combining the blockchain and AI has enabled the end-users to make their systems efficient. It simplifies business processes, affording transparency and immutability, and increasing focus on operational efficiency. This has created an opportunity for the vendors operating in the global blockchain AI market during the pandemic situation.
Synopsis
Global Blockchain AI Market has been segmented based on Technology, Component, Applications, Deployment Mode, Organization Size, Vertical, and Region.
Based on Technology, the blockchain AI market has been segmented into machine learning, natural language processing, context-aware computing, and computer vision.
Based on component, the blockchain AI market has been segmented into Platform/Tools and Services. The service segment is subdivided into consulting, system integration and deployment, and support and maintenance.
Based on applications, the blockchain AI market has been segmented into smart contracts, payment and settlement, data security, data sharing/communication, asset tracking and management, logistics and supply chain management, business process optimization, and other.
Based on deployment mode, the blockchain AI market has been segmented into cloud and on-premise.
Based on organization size, the blockchain AI market has been segmented into large enterprises and SMEs
Based on vertical, the blockchain AI market has been segmented into BFSI, telecom & IT, healthcare & life science, manufacturing, media & entertainment, automotive, and others.
Regional Analysis
Geographically, the Global Blockchain AI Market has been segmented into Asia-Pacific, North America, Europe, the Middle East & Africa, and South America
North America held the largest share in the blockchain AI market, followed by Asia-Pacific and Europe; it is expected to continue to retain its dominance until the end of the forecast period. North America is one of the key markets for blockchain and AT technologies. The US accounted for the largest market share, followed by Canada and Mexico. The US holds an attractive market share in North America as significant companies such as Figure Technologies, Ai-Blockchain, and AlphaNetworks register a notable emergence in the region. Asia-Pacific holds the highest CAGR during the forecast period. The region comprises major economies, such as Japan, China, and Singapore, which are likely to witness high growth rates in the blockchain AI market.
Companies Covered
The Key Players of the Global Blockchain AI Market are Fetch.ai (UK), Figure Technologies (US), LiveEdu (UK), Cyware Labs (US), Core Scientific (US), NetObjex (US), Ai-Blockchain (US), AlphaNetworks (US), Bext360 (US), Blackbird.AI (US), Synapse AI (US), Talla (US), Verisart (US), VIA (US), Vytalyx (US), Wealthblock.AI (US), BurstIQ (US), Chainhaus (US), CoinGenius (US), Neurochain Tech (France), Numerai (US), Computable (US), Finalze (US), Gainfy (US), Hannah Systems (US), Mobs (US), SingularityNET (Netherlands), Stowk (US), and Workdone (US).
Key Developments
In June 2020, NetObjex acquired VitalGrid to expand its digital transformation product and service offerings. This acquisition enabled it to offer enterprise clients strategic insights and parlay them into implementations in digital automation by leveraging technologies such as IoT, AI, and blockchains.
In January 2019, NetObjex launched a new IoT-AI-Blockchain gateway device at the Consumer Electronics Show. This product enables developers to build and develop serious enterprise-grade applications with IoT and blockchain capabilities out of the box.
In July 2018, AlphaNetworks introduced a new AI, blockchain-based video infrastructure. This infrastructure delivers higher customer engagement and conversions through its proof of engagement (PoE) algorithm, which accurately monitors and reports real interaction with content, giving media creators and advertisers deeper insights into audience behavior.
Global Blockchain AI Market, 2018–2026 (USD Million)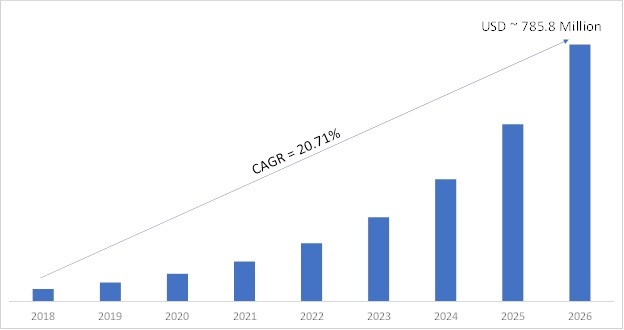 Key Questions Addressed by the Report



What was the historic market size (2018)?




Which segmentation (technology/component/applications/deployment mode/organization size/vertical) are driving the market?




What will be the growth rate by 2026?




Who are the key players in this market?




What are the strategies adopted by key players?