Global Bifold Doors Market Information by Material (Wood, Aluminum, PVC, and others), by Application (Residential, and Non-residential) and Region - Forecast to 2023
Market Synopsis of Bifold Doors Market
Bifold doors market is seen expanding at staggering rate due to growth in the end-use application industry, especially residential construction industry. The demand for such doors is highly application based and relies on the developments and investment in the real-estate sector. Furthermore, increasing investment by foreign investors in the construction industry of Asia-pacific region, particularly in countries such as India, Indonesia, and others have augmented the demand for such doors in the region. The market is expected to show high growth rate in coming time due to the investment by manufacturers in order to introduce various materials in the manufacturing of doors along with introduction of smart glass and automation in such bifold door systems.
The market has been segmented on the basis of material into wood, aluminum, PVC, and others. The PVC bifold doors has gained popularity in last many years due to the changing consumer preferences and cost-effectiveness of the material when compared to wood and metal. The global bifold doors market is expected to grow at approximately 5% CAGR during the forecast period.
Study Objectives of Bifold Doors Market



To provide detailed analysis of the market structure along with forecast for the next 6 years of various segments and sub-segments of the Global bifold doors market




To provide insights about factors affecting the market growth




To analyze the Global bifold doors market based on various factors- price analysis, supply chain analysis, porters five force analysis etc.




To provide historical and forecast revenue of the market segments and sub-segments with respect to four main geographies and their countries- North America, Europe, APAC, and Rest of the World (ROW)




To provide country level analysis of the market with respect to the current market size and future prospective




To provide country level analysis of the market for segment by material, packaging, application, and regions




To provide strategic profiling of the key players in the market, comprehensively analyzing their core competencies, and drawing a competitive landscape for the market




To track and analyze competitive developments such as joint ventures, strategic alliances, mergers and acquisitions, new product developments, and research and developments in the Global bifold doors market



Segmentation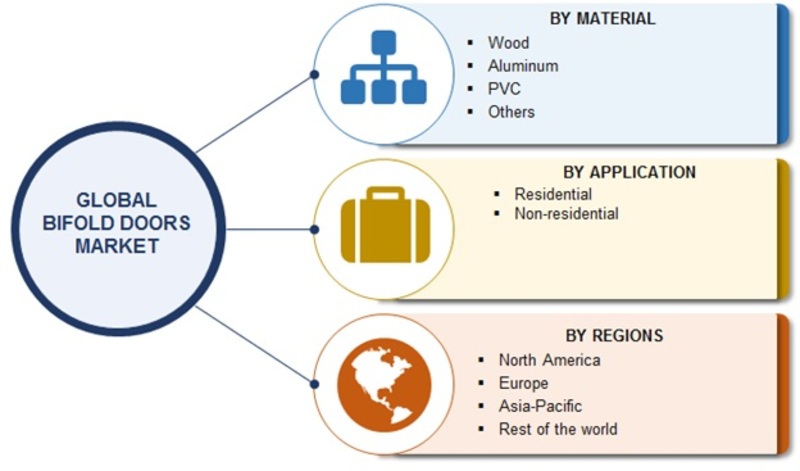 Regional Analysis of Global Bifold Doors Market
APAC is expected to lead the market with the largest market share and fastest growing market. The region has witnessed growth in building & construction activities along with various supportive policies and regulations which encourages real-estate development in the countries of China, India and Indonesia. This has fueled the growth of the Bifold Doors market. Also, due to rapid urbanization and increasing disposable income in the APAC countries, there is seen an increase in the aesthetic values in construction, which leads to the demand for such doors in the interiors of the construction both in commercial and residential spaces.
Market Size of Bifold Doors by Regions (USD Billion)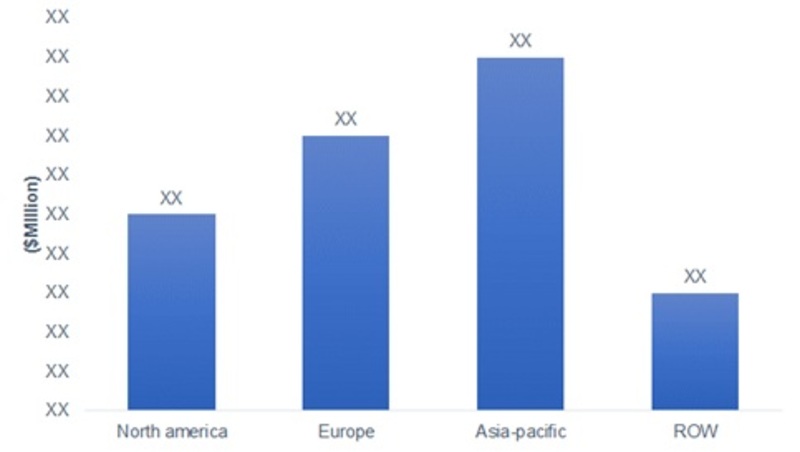 Key Players
The key players of global bifold doors market report include- Andersen Corporation, JELD-WEN Inc., Pella Corporation, Ply Gem Industries Inc., AG Millworks, Associated Windows & Conservatories, ATIS Group, AWM Building Maintenance Ltd., Cascade Windows Inc., and Brennan Enterprises Inc.
Target Audience



Manufactures




Raw Materials Suppliers




Aftermarket suppliers




Research Institute / Education Institute




Potential Investors




Key executive (CEO and COO) and strategy growth manager



Product Analysis
Additional Information



Regulatory Landscape




Pricing Analysis




Macroeconomic Indicators



Geographic Analysis
Company Information



Profiling of 10 key market players




In-depth analysis including SWOT analysis, and strategy information of related to report title




Competitive landscape including emerging trends adopted by major companies



The report for Global Bifold Doors Market of Market Research Future comprises of extensive primary research along with the detailed analysis of qualitative as well as quantitative aspects by various industry experts, key opinion leaders to gain the deeper insight of the market and industry performance. The report gives the clear picture of current market scenario which includes historical and projected market size in terms of value and volume, technological advancement, macro economical and governing factors in the market. The report provides details information and strategies of the top key players in the industry. The report also gives a broad study of the different market segments and regions.
Table of Contents
1 Executive Summary
2 Research Methodology


2.1 Scope of the Study


2.1.1 Definition


2.1.2 Research Objective


2.1.3 Assumptions


2.1.4 Limitations


2.2 Research Process


2.2.1 Primary Research


2.2.2 Secondary Research


2.3 Market size Estimation


2.4 Forecast Model
3 Market Dynamics


3.1 Market Drivers


3.2 Market Inhibitors


3.3 Supply/Value Chain Analysis


3.4 Porter's Five Forces Analysis
4 Global Bifold Doors Market, By Material


4.1 Introduction


4.2 Wood


4.3 PVC


4.4 Aluminum


4.5 Others
5 Global Bifold Doors Market, By Application


5.1 Introduction


5.2 Residential


5.3 Non-residential
6 Regional Market Analysis


6.1 Introduction


6.2 North America


6.2.1 U.S.


6.2.2 Canada


6.3 Europe


6.3.1 U.K


6.3.2 France


6.3.3 Germany


6.3.4 Spain


6.3.5 Rest of Europe


6.4 Asia-Pacific


6.4.1 China


6.4.2 Japan


6.4.3 India


6.4.4 Rest of Asia-Pacific


6.5 Rest of the World
7 Competitive Analysis


7.1 Introduction


7.2 Competitive Scenario


7.2.1 Market Share Analysis


7.2.2 Market Development Analysis


7.2.3 Material/Service Benchmarking


7.3 Andersen Corporation


7.3.1 Overview


7.3.2 Material/Service Offering


7.3.3 Strategy


7.4 JELD-WEN Inc.


7.4.1 Overview


7.4.2 Material/Service Offering


7.4.3 Strategy


7.5 Pella Corporation


7.5.1 Overview


7.5.2 Material/Service Offering


7.5.3 Strategy


7.6 Ply Gem Industries Inc.


7.6.1 Overview


7.6.2 Material/Service Offering


7.6.3 Strategy


7.7 AG Millworks


7.7.1 Overview


7.7.2 Material/Service Offering


7.7.3 Strategy


7.8 Associated Windows & Conservatories


7.8.1 Overview


7.8.2 Material/Service Offering


7.8.3 Strategy


7.9 ATIS Group


7.9.1 Overview


7.9.2 Material/Service Offering


7.9.3 Strategy


7.10 AWM Building Maintenance Ltd.


7.10.1 Overview


7.10.2 Material/Service Offering


7.10.3 Strategy


7.11 Cascade Windows Inc.


7.11.1 Overview


7.11.2 Material/Service Offering


7.11.3 Strategy


7.12 Brennan Enterprises Inc.


7.12.1 Overview


7.12.2 Material/Service Offering


7.12.3 Strategy


LIST OF TABLES
TABLE 1 GLOBAL BIFOLD DOORS MARKET, BY MATERIAL


TABLE 2 GLOBAL BIFOLD DOORS MARKET, BY APPLICATION


TABLE 3 GLOBAL BIFOLD DOORS MARKET, BY REGIONS


TABLE 4 NORTH AMERICA BIFOLD DOORS MARKET, BY COUNTRY


TABLE 5 NORTH AMERICA BIFOLD DOORS MARKET, BY MATERIAL


TABLE 6 NORTH AMERICA BIFOLD DOORS MARKET, BY APPLICATION


TABLE 7 U.S. BIFOLD DOORS MARKET, BY MATERIAL


TABLE 8 U.S. BIFOLD DOORS MARKET, BY APPLICATION


TABLE 9 CANADA BIFOLD DOORS MARKET, BY MATERIAL


TABLE 10 CANADA BIFOLD DOORS MARKET, BY APPLICATION


TABLE 11 EUROPE BIFOLD DOORS MARKET, BY COUNTRY


TABLE 12 EUROPE BIFOLD DOORS MARKET, BY MATERIAL


TABLE 13 EUROPE BIFOLD DOORS MARKET, BY APPLICATION


TABLE 14 GERMANY BIFOLD DOORS MARKET, BY MATERIAL


TABLE 15 GERMANY BIFOLD DOORS MARKET, BY APPLICATION


TABLE 16 FRANCE BIFOLD DOORS MARKET, BY MATERIAL


TABLE 17 FRANCE BIFOLD DOORS MARKET, BY APPLICATION


TABLE 18 U.K. BIFOLD DOORS MARKET, BY MATERIAL


TABLE 19 U.K. BIFOLD DOORS MARKET, BY APPLICATION


TABLE 20 REST OF EUROPE BIFOLD DOORS MARKET, BY MATERIAL


TABLE 21 REST OF EUROPE BIFOLD DOORS MARKET, BY APPLICATION


TABLE 22 ASIA-PACIFIC BIFOLD DOORS MARKET, BY COUNTRY


TABLE 23 ASIA-PACIFIC BIFOLD DOORS MARKET, BY MATERIAL


TABLE 24 ASIA-PACIFIC BIFOLD DOORS MARKET, BY APPLICATION


TABLE 25 ROW BIFOLD DOORS MARKET, BY MATERIAL


TABLE 26 ROW BIFOLD DOORS MARKET, BY APPLICATION  
LIST OF FIGURES
FIGURE 1 RESEARCH MATERIAL


FIGURE 2 GLOBAL BIFOLD DOORS MARKET: BY MATERIAL (%)


FIGURE 3 GLOBAL BIFOLD DOORS MARKET: BY APPLICATION (%)


FIGURE 4 GLOBAL BIFOLD DOORS MARKET: BY REGION


FIGURE 5 NORTH AMERICA BIFOLD DOORS MARKET, BY MATERIAL (%)


FIGURE 6 NORTH AMERICA BIFOLD DOORS MARKET, BY APPLICATION (%)


FIGURE 7 EUROPE BIFOLD DOORS MARKET, BY MATERIAL (%)


FIGURE 8 EUROPE BIFOLD DOORS MARKET, BY APPLICATION (%)


FIGURE 9 ASIA-PACIFIC BIFOLD DOORS MARKET, BY MATERIAL (%)


FIGURE 10 ASIA-PACIFIC BIFOLD DOORS MARKET, BY APPLICATION (%)


FIGURE 11 ROW BIFOLD DOORS MARKET, BY MATERIAL (%)


FIGURE 12 ROW BIFOLD DOORS MARKET, BY APPLICATION (%)