Avian Influenza Vaccine Market Overview
Avian Influenza Vaccine Market is expected to register a CAGR of 7.25% to reach USD 735.22 Million by 2025. Avian influenza, also known as bird flu, is a viral infection that spreads from bird to bird and can infect other animals or humans also. There are different strains of avian influenza, causing the infection, but H5V1 is the most common virus strain affecting poultry animals.
Market Dynamics
The increasing strategic agreements are expected to drive market growth during the study period. For instance, in February 2018, the NC State College of Veterinary Medicine and Ceva Santé Animale, an animal health company, based in France, collaborated on a distance learning project providing certification in poultry health management for veterinarians in Latin America. Moreover, the increasing public & private initiatives by the government as well as non-government organizations for research & development are also anticipated to drive the market growth.
Avian Influenza Vaccine Market, by Strain, 2018 & 2025 (USD Million)

Source: MRFR Analysis
Segmentation
The Avian Influenza Vaccine Market has been segmented by strain and application. The market, based on strain, has been bifurcated into H5, H7, and H9. Based on application, the avian influenza vaccine market has been chicken, turkey, and goose & duck.
Africa Avian Influenza Vaccine Market Share, 2018 (%)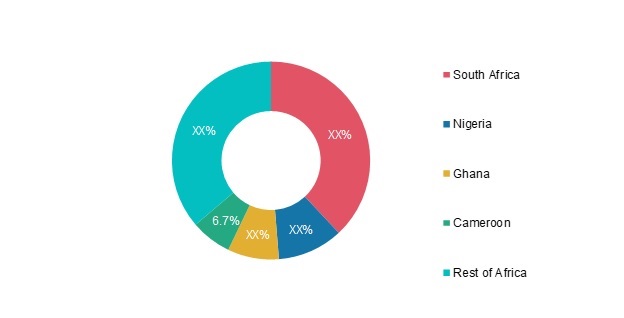 Source: MRFR Analysis
Regional Analysis
The Avian Influenza Vaccine Market, based on region, has been divided into the APAC & Middle East, Europe, Americas, and Africa.
The APAC & Middle East is likely to dominate the avian influenza vaccine market. This can be attributed to the increasing production of poultry birds and the rise in avian influenza outbreaks in the region. According to a recent report from the Foreign Agricultural Service/USDA, China recorded 13,800 thousand metric tons of chicken meat production in 2019. Furthermore, various government initiatives for rapid and effective response efforts to emergent zoonotic influenza viruses are also expected to drive market growth.
The European market for the avian influenza vaccine is estimated to be the second-largest during the review period. The growing dependence on poultry as the key source of protein in the diet in this region is expected to boost the growth of the regional market. According to the European Commission, the European Union (EU) produced 15.2 million tons of poultry meat in 2018. Additionally, increasing the production of veterinary products and improved animal husbandry practices in Germany and Poland are further fueling market growth.
Americas is estimated to demonstrate significant market growth owing to the growing meat & poultry industry, the increasing expenditure on animal health, and the presence of a large number of veterinary hospitals in the region. According to the North American Meat Institute, the US exported 3.7 million metric tons (MT) of poultry and poultry variety meats in 2017. The value was estimated at USD 4.5 billion. Moreover, growing government support for creating awareness on avian influenza viruses and improving efficiency for the avian influenza vaccine is also positively affecting the market growth.
Key Players
The Prominent Players in the Avian Influenza Vaccine Market are Boehringer Ingelheim International GmbH (Germany), Guangdong Wenshi Dahuanong Biotechnology Co., Ltd (China), Ceva (US), Yebio Bioengineering Co., Ltd (China), Zoetis (US), FATRO S.P.A. (Italy), CAVAC (South Korea), Tianjin Ringpu Bio-Technology Co., Ltd (China), PT Japfa Comfeed Indonesia Tbk (Indonesia), Chengdu Tech-bank Biological Products Co., Ltd (China), Merck Animal Health (US), Medion (Indonesia), Avimex Animal Health (Mexico), JOVAC (Jordan), and QYH BIOTECH COMPANY LIMITED (China). Some of the key strategies followed by players operating in the avian influenza vaccine market were collaborations, acquisition, product approval & launch, and expansion.



In October 2019

, Ceva and ProBioGen AG signed an exclusive license agreement for the manufacture of vectorized poultry vaccines using ProBioGen's proprietary AGE1.CR technology.






In October 2018

, Boehringer Ingelheim announced the opening of its biological research and development site in France. It invested USD 80.45 million (EUR 70 million) for maintaining its leading position in veterinary vaccines.






In August 2017

, Merck Animal Health announced the plans to purchase a new manufacturing facility in Austria. With this purchase, the company was intended to expand its global vaccine manufacturing capacity.






In March 2016

, Zoetis announced that the US Department of Agriculture (USDA) granted the company a conditional license for Avian Influenza Vaccine, H5N1 Subtype, and Killed Virus.



Market Segmentation
Avian Influenza Vaccine Market, by Strain
Avian Influenza Vaccine Market, by Application



Chicken




Turkey




Duck & Goose



Avian Influenza Vaccine Market, by Region



APAC & Middle East







Europe







Germany




Bulgaria




Poland




Hungary




Ukraine




Czech Republic




Rest of Europe









Americas







US




Brazil




Mexico




Argentina




Columbia




Rest of the Americas









Africa







South Africa




Nigeria




Ghana




Cameroon




Rest of Africa








Available Additional Customizations



Challenges in the Avian Influenza Vaccine Market




Investment Opportunities in the Avian Influenza Vaccine Market



Intended Audience



Pharmaceutical companies




Biotechnology companies




Contract research organizations




Research & development organizations




Academic institutes



Report Scope:
Report Attribute/Metric
Details
Market Size
2025: USD 735.22 Million
2027: Significant Value
CAGR
7.25% (2018-2025)
Base Year
2019
Forecast Period
2020-2027
Historical Data
2018
Forecast Units
Value (USD Million)
Report Coverage
Revenue Forecast, Competitive Landscape, Growth Factors, and Trends
Segments Covered
Strain, Application
Geographies Covered
North America, Europe, Asia-Pacific, and Rest of the World (RoW)
Key Vendors
Boehringer Ingelheim International GmbH (Germany), Guangdong Wenshi Dahuanong Biotechnology Co., Ltd (China), Ceva (US), Yebio Bioengineering Co., Ltd (China), Zoetis (US), FATRO S.P.A. (Italy), CAVAC (South Korea), Tianjin Ringpu Bio-Technology Co., Ltd (China), PT Japfa Comfeed Indonesia Tbk (Indonesia), Chengdu Tech-bank Biological Products Co., Ltd (China), Merck Animal Health (US), Medion (Indonesia), Avimex Animal Health (Mexico), JOVAC (Jordan), and QYH BIOTECH COMPANY LIMITED (China).
Key Market Opportunities
New product launches and R&D Amongst major key Players
Key Market Drivers
Increasing strategic agreements
Increasing public & private initiatives for research & development