Market Overview
An automotive sunroof is mounted on vehicles to improve their appearance and prevent wind noise. It is an adjustable glass panel on the automotive roof that can be operated manually or automatically, depending on the vehicle type. Additionally, automotive sunroofs come in various types, such as in-built and panoramic, which offer natural light, improved ventilation, and open-air driving. Moreover, the automotive sunroofs can either be fixed or sliding, opaque or transparent, and can even feature a visor block that blocks the light from the passenger cabin.
The global automotive sunroof market for value is estimated to register 8.96% CAGR during the forecast period of 2018–2023. During that time, its valuation can grow from USD 7,475.6 million in 2017 to USD 12,447.0 million by 2023. Market Research Future's (MRFR) detailed report on the market has its focus on segments, drivers, and competitive analysis of the entire market. This could offer an insight into the future market demography and enable market players to plan their strategies accordingly.
Increase in demand for lightweight and impact-resistant sunroof is expected to drive innovations and developments in the global market by the major manufacturers. Manufacturers such as Webasto Group, Inteva Products, and Inalfa Roof Systems Group B.V. are highly investing in the research and development of automotive sunroof technologies, especially sunroof. For instance, the Webasto Group recently developed a sunroof glass by using polycarbonate as a raw material to manufacture sunroof, which made the glass more toughened, impact-resistant, and effective. Manufacturers are further investing to improve the technology of switchable glazing, ambient lighting, and solar panels in sunroofs. Hence, such investments are expected to influence the demand for advanced sunroof equipped with innovative technology during the forecast period. Additionally, features such as transparency and 3D formability can be obtained by integrating additional light sources and sensors in polycarbonate as compared to glass. The penetration of conventional technology is very high in developing regions due to their low cost and easy availability. Automotive sunroof manufacturing companies have started investing in development activities to reduce weight and increase the strength to improve the conventional automotive sunroof. However, such developments are at a primary stage and are expected to increase by the end of the forecast period with the increasing market penetration. Thus, the impact of innovation and developments in sunroof technology on automotive sunroof market is expected to shift from moderate to high during the forecast period.
However, the low penetration in the entry-level vehicles and high manufacturing cost of sunroofs increases the overall cost of a vehicle. The sunroof includes various components, such as rain sensor, console controller, unbreakable glass panels, which are comparatively higher in cost. Furthermore, continuous technological advancements in sunroof systems, to improve the operational efficiency, requires a huge investment in research and development and, in turn, increases the cost of sunroof systems, leading to an increase in the price of automobiles, which further hinder the growth of the global automotive sunroof industry.
Regional Analysis
Automotive sunroof market by region is segmented into North America, Europe, Asia-Pacific, and the rest of the world. Europe is expected to hold the largest share in the global market during the forecast period with 33.40% share, followed by Asia-Pacific and North America with shares of 28.36% and 28.26%, respectively. In Europe, Germany was the largest market in 2017 and was valued at USD 1,263 million. The growth of the automotive sunroof market in Europe can be attributed to the increasing demand for premium vehicles and the increasing consumer preference towards comfort features have resulted in the rising adoption of sunroofs in passenger vehicles all over the region.
Increase in demand for premium vehicles and SUVs is expected to drive the global automotive sunroof market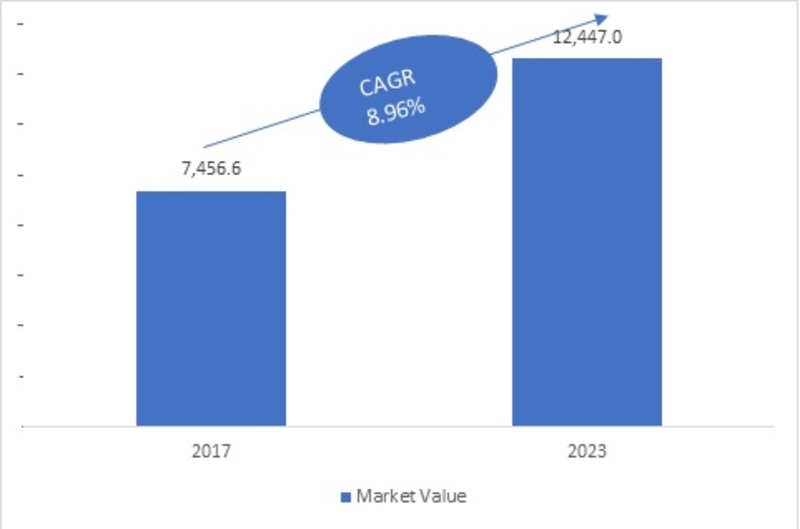 Source: MRFR Analysis
Segment Analysis
The global automotive sunroof market has been segmented based on type, application, sales channel, and region. On the basis of type, the market is classified into inbuilt sunroof, spoiler sunroof, panoramic sunroof, pop-up sunroof, and others. The inbuilt sunroof segment is expected to dominate the automotive sunroof market in 2017 and further led the market during the forecast period. Moreover, increase in the technological advancements in inbuilt sunroofs, such as press and hold operation, venting, auto-close system, auto-retract system, along with soft touch operations are anticipated to increase the popularity of inbuilt sunroofs in the near future.
Companies Covered
The key players of the global automotive sunroof Market are Webasto Group, Inalfa Roof Systems Group B.V., Inteva Products, Yachiyo Industry Co. Ltd, and Magna International Inc., Johnan Manufacturing Inc., Wuhu Mosentek Automobile Technology Co., Ltd, Aisin Seiki Co. Ltd, Wuxi Ming Fang AutoMobile Parts Industry Co., Ltd, and Zhejiang Wanchao Electric Co., Ltd.
Key Developments



In March 2018, Webasto inaugurated its production unit of roof systems in Guangzhou, China. The facility is working to develop core technologies for sunroof, as well as research and development for the solar sunroof. The production plant has the annual production capacity of 1.6 million sunroofs.




In January 2018, BorgWarner provided advanced electro-hydraulically actuated Automotive Sunroof (AWD) coupling for the new Volkswagen Crafter. The coupling is lightweight and compact and offers high torque accuracy for improved fuel economy as well as enhanced stability, traction and handling on a variety of terrains.




In September 2017, Inteva Products inaugurated its new manufacturing facility in Mexico. The new facility has 300,000-square-foot area and produced interior systems, roof systems, closure systems, motors, and electronics.




In June 2017, Magna International Inc. produced 275,000 soft-top convertible roofs for the Fiat 500C. The convertible roofs are produced at Tychy, Poland. The convertible roof has premium, dual-layer multi-position power-retractable cloth top that can be operated at vehicle speeds of up to 50 miles, per hour.



Type



Inbuilt Sunroof




Spoiler Sunroof




Panoramic Sunroof




Pop-Up Sunroof




Others



Application



SUV




Sedan




Hatchback




Others



Sales Channel
Region
North America
Europe



Germany




UK




France




Italy




Rest of Europe



Asia-Pacific



China




Japan




India




Rest of Asia-Pacific



Rest of the World (RoW)



Latin America




Middle East & Africa



Key Questions Addressed in the Report



What was the historic market size (2017)?




Which segment (Type/Rated Current/End-Use) is driving the market?




What will be the growth rate by 2023?




How are the key players in this market?




What have been the strategies adopted by key players?



Frequently Asked Questions (FAQ) :
---