Automotive Structural Sheet Market Scenario
Automotive structural sheet metal market has witnessed a significant surge, mainly due to the current hype regarding the mobility services, autonomous, driving, digitization and electric powertrains, dominating the automotive industry. With the current boom in automotive production, across the globe the automotive chassis and exterior account for a major share, leading to the development of the automotive structural sheet metal market. Weight reduction in vehicles, is another major trend in the market that is expected to boost the demand, with manufacturers opting for lightweight materials to ensure reduction in emission rates. With major manufacturers and suppliers in the automotive industry competing at global level, the intensity of competition within the automotive industry, has increased. Such intense competition is pushing various manufacturers and suppliers, across the supply chain to develop high quality structural sheet metal to acquire greater market share.
Fluctuating cost of steel is expected to be a major retraining factor in the automotive structural sheet metal market. The increasing demand for steel is directly proportional to the increasing demand for automobiles, across the globe. Raw materials are the biggest cost driver for the automotive industry with approximately 22% of an automaker's operational costs depending on steel.
Regional Analysis
The Asia Pacific automotive structural sheet metal market is currently, growing. Rapidly rising vehicle production in this region, is one of the primary driving factors. Improving infrastructure in this region combined with improving living standards have, positively impacted the automotive industry, as a whole. Additionally a global shift has been witnessed, with Asia Pacific region proving lucrative for major manufacturers in the market, in the form of tax cuts and government subsidies. Availability of cheap labor in this region, has also been a key factor in the automotive structural sheet metal market. China is the key growth driver, as its body safety structures are expected to be adapted to European standards, including wider use of hot stamping components for structural components.
North America and Europe are the other two leading regions, due to the established automotive industry. Existence of major manufacturers in this region, is also a key driver for the automotive structural sheet metal industry. Heavy investment in research and development enable manufacturers in this region to develop new techniques and products to tap into the future market trends. A key trend in this region has been the development of the lightweight material to tackle the problem of high emission rates.
The automotive industry is in the nascent stage in the Middle East and South America. The market for automotive structural sheet metal is expected to register steady growth during the forecast period. These regions are expected to have opportunities in the future, with many automotive and sheet metal manufacturers pumping investments to capitalize on the abundant demand.
The key players of global Automotive Structural Sheet Metal market are Associated Materials LLC(U.S.), ABC Sheet Metal(U.S.), A&E Manufacturing Company(U.S.), ATAS International Inc(U.S.), BlueScope Steel Limited(Australia), Bud Industries Inc(U.S.), General Sheet Metal Works Inc(U.S.), NCI Building Systems(U.S.), Inc., Nucor Corporation(U.S.), United States Steel Corporation(U.S.), Alcoa Inc(U.S.), Wise Alloys LLC(U.S.), Noble Industries(U.S.), Autoline Industries Ltd(India) and Prototek(India). In 2016, these companies accounted for a share of XX% of the global market.

Market Segmentation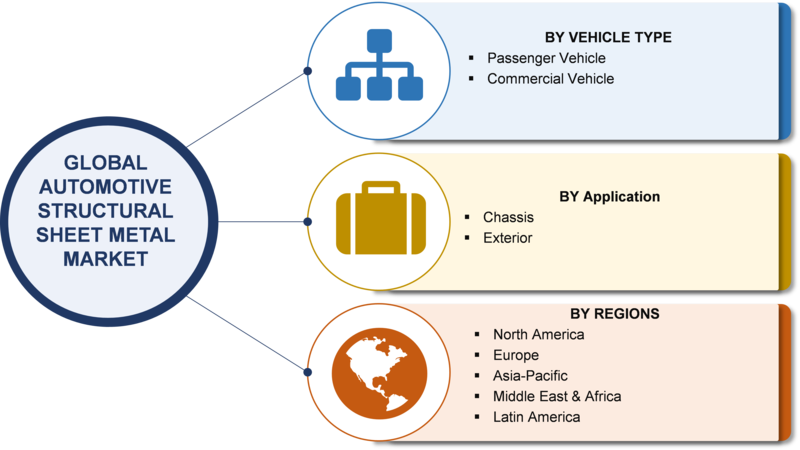 Key Players
Intended Audience



Distributer & Supplier companies




End Users




Consultants and Investment bankers




Government as well as Independent Regulatory Authorities



Product Analysis
Additional Information



Regulatory Landscape




Pricing Analysis




Macroeconomic Indicators



Geographic Analysis
Company Information



Profiling of 10 key market players




In-depth analysis including SWOT analysis, and strategy information of related to report title




Competitive landscape including emerging trends adopted by major companies



The report for Global Automotive Structural Sheet Metal Market of Market Research Future comprises of extensive primary research along with the detailed analysis of qualitative as well as quantitative aspects by various industry experts, key opinion leaders to gain the deeper insight of the market and industry performance. The report gives the clear picture of current market scenario which includes historical and projected market size in terms of value, technological advancement, macro economical and governing factors in the market. The report provides details information and strategies of the top key players in the industry. The report also gives a broad study of the different market segments and regions.
Report Scope:
Report Attribute/Metric
Details
Market Size
2027: Significant Value
CAGR
2027: Substantial CAGR
Base Year
2019
Forecast Period
2020-2027
Historical Data
2018
Forecast Units
Value (USD Million)
Report Coverage
Revenue Forecast, Competitive Landscape, Growth Factors, and Trends
Segments Covered
Application and Vehicle Type
Geographies Covered
North America, Europe, Asia-Pacific, and Rest of the World (RoW)
Key Vendors
Associated Materials LLC(U.S.), ABC Sheet Metal(U.S.), A&E Manufacturing Company(U.S.), ATAS International Inc(U.S.), BlueScope Steel Limited(Australia), Bud Industries Inc(U.S.), General Sheet Metal Works Inc(U.S.), NCI Building Systems(U.S.), Inc., Nucor Corporation(U.S.), United States Steel Corporation(U.S.), Alcoa Inc(U.S.), Wise Alloys LLC(U.S.), Noble Industries(U.S.), Autoline Industries Ltd(India) and Prototek(India)
Key Market Opportunities
Improving living standards have, positively impacted the automotive industry
Key Market Drivers
Rapidly rising vehicle production in this region
Improving infrastructure in this region