Asia-Pacific Glaucoma Treatment Market Information, by Disease Indication (Closed Angle Glaucoma (CAG), Open Angle Glaucoma (OAG), Secondary Glaucoma, Congenital Glaucoma and Other), Drug class (Prostaglandin Analogs (PGAs), Alpha Agonist, Beta Blockers, Cholinergic Drugs, Carbonic Anhydrase Inhibitors, and Others), Surgery (Laser Iridotomy, Laser Trabeculoplasty, Aqueous Shunt Surgery and Peripheral Iridectomy) and by End Users (Hospitals and Home Users) - Forecast till 2023
Market Synopsis of Asia-Pacific Glaucoma Treatment Market:
Market Scenario:
Glaucoma is a disease characterized by fluid builds up in the front part of your eye which results in damages to the eye's optic nerve which may lead to blindness if left untreated. Open angle glaucoma (OAG) is the most common type of glaucoma followed by closed angle glaucoma (CAG) and these two account for greater than 50% of glaucoma cases. According to World Health Organization (WHO) estimates, Glaucoma is the second most common cause of blindness worldwide after cataract.
The market for glaucoma is increasing at an impressive rate primarily driven by the growing number of geriatrics. Older population has higher risk of developing glaucoma although other age groups may be affected. Other high risk groups include diabetics and those with a family history of glaucoma. The other market driving factors are increasing awareness, growing healthcare expenditure and screening etc.
The product development strategies have been very impressive with the surgery option. The last decade has seen impressive additions to the surgery options such as laser therapy, photodynamic therapy etc. The market constraints are excellent efficacy and efficiency of present drugs especially prostaglandin analogs and carbonic anhydrase inhibitors, which has set the bar for a new therapy extremely high and the loss of patent protection on the major drugs used to treat glaucoma.
Taking all factors into consideration, we expect the Asia Pacific glaucoma treatment market to reach around $ 888.94 million in 2023 from $576.0 million in 2017, by the end of the forecast period at a CAGR of ~ 7.5 %. While the glaucoma drug market will grow by a flat CAGR of 2.1% the glaucoma surgery market is poised for an explosive CAGR of 18.5 %.
Study Objectives Asia-Pacific Glaucoma Treatment Market:



To provide detail analysis of the market structure along with forecast for the next 6 years of the various segments and sub-segments of the Asia Pacific glaucoma treatment market




To provide insights about factors affecting the market growth




To analyze the market based on various factors- price analysis, supply chain analysis, porters five force analysis etc.




To provide historical and forecast revenue of the market segments and sub-segments for Asia-Pacific glaucoma treatment market




To provide country level analysis of the market with respect to the current market size and future prospective




To provide country level analysis of the market for segments by disease indication, drug class, surgery, end users and other sub segments.




To provide overview of key players and their strategic profiling in the market, comprehensively analyzing their core competencies, and drawing a competitive landscape for the market




To track and analyze competitive developments such as joint ventures, strategic alliances, mergers and acquisitions, new product developments, and research and developments.



Asia-Pacific Glaucoma Treatment Market Share, by End Users, 2016 (%):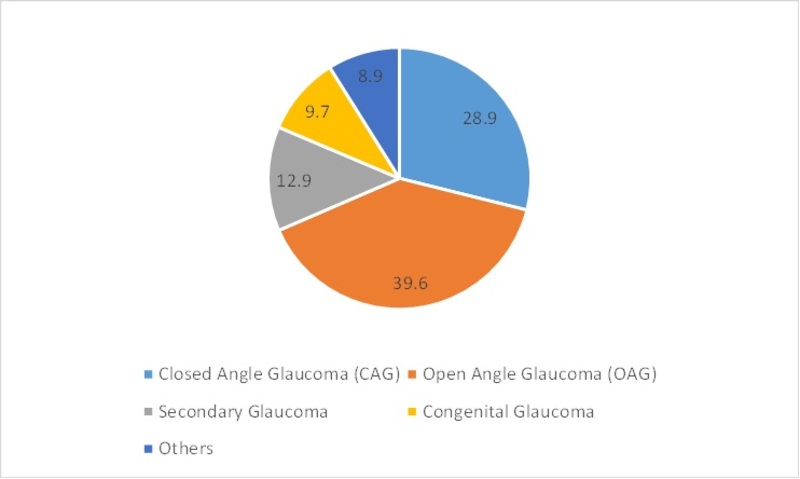 Intended Audience



Glaucoma Diagnostics Manufacturers

and Suppliers




Glaucoma Drugs Manufacturers and Suppliers




Private Research Laboratories




Research and Development (R&D) Companies




Market Research and Consulting Service Providers




Government Research Laboratories




Contract Manufacturing Organizations



Key Players for Asia-Pacific Glaucoma Treatment Market:
Some of the key players in this market are: Novartis AG, Pfizer Inc., Allergan, Merck & Co., Ocular Therapeutix Inc, pSivida Corp, Icon Bioscience Inc, Amorphex Therapeutics LLC., Ellex, Quantel, Lumenis, and Lightmed among others.
Segments:
Asia-Pacific Glaucoma Treatment Market has been segmented on the basis of disease indication which comprises Closed Angle Glaucoma (CAG), open angle glaucoma (OAG), secondary glaucoma, congenital glaucoma and other. On the basis of drug class; market is segmented into prostaglandin analogs (PGAS), alpha agonist, beta blockers, cholinergic drugs, carbonic anhydrase inhibitors, and others. On the basis of surgery; market is segmented into laser iridotomy, laser trabeculoplasty, aqueous shunt surgery and peripheral iridectomy. On the basis of end users; market is segmented into hospitals and home users.
Regional Analysis of Asia-Pacific Glaucoma Treatment Market:
The healthcare sector of Asia Pacific varies immensely by countries. However the Asia Pacific region has lower public sector expenditure and most treatments involve out of pocket expenditure. Further the eye care has been a neglected segment especially in the poor countries of Asia Pacific region. Japan and South Korea are the leading markets while China will be the fastest growing due to rising healthcare expenditure and faster economic growth. Also the presence of strong generics especially in nations like India will lead to volume growth of anti-glaucoma drugs. The surgery market however will see fastest growth in Japan as compared to developing parts of Asia Pacific.
The report for Asia-Pacific Glaucoma Treatment Market of Market Research Future comprises extensive primary research along with the detail analysis of qualitative as well as quantitative aspects by various industry experts, key opinion leaders to gain the deeper insight of the market and industry performance. The report gives the clear picture of current market scenario which includes historical and projected market size in terms of value and volume, technological advancement, macro economical and governing factors in the market. The report provides detail information and strategies of the top key players in the industry. The report also gives a broad study of the different markets segments and regions.
Table of Contents


1 Introduction

1.1 Definition

1.2 Scope of Study

1.3 Research Objective

1.4 Assumptions & Limitations

1.5 Market Structure:

2 Research Methodology

2.1 Research Process

2.2 Primary Research

2.3 Secondary Research

3 Market Dynamics

3.1 Drivers

3.2 Restraints

3.3 Opportunities

3.4 Challenges

3.5 Macroeconomic Indicators

4 Market Factor Analysis

4.1 Porter's five forces model

4.1.1 Bargaining Power of suppliers

4.1.2 Bargaining Power of Customer

4.1.3 Intensity of Competitor's

4.1.4 Threat of New Entrants

5 Asia-Pacific Glaucoma Treatment Market, by Disease Indication

5.1 Introduction

5.1.1 Closed Angle Glaucoma (CAG)

5.1.2 Open Angle Glaucoma (OAG)

5.1.3 Secondary Glaucoma

5.1.4 Congenital Glaucoma

5.1.5 Other

6 Asia-Pacific Glaucoma Treatment Market, by Drug class

6.1 Introduction

6.1.1 Prostaglandin Analogs (PGAs)

6.1.2 Alpha Agonist

6.1.3 Beta Blockers

6.1.4 Cholinergic Drugs

6.1.5 Carbonic Anhydrase Inhibitors

6.1.6 Others

7 Asia-Pacific Glaucoma Treatment Market, by Surgery

7.1 Introduction

7.1.1 Laser Iridotomy

7.1.3 Laser Trabeculoplasty

7.1.4 Aqueous Shunt Surgery

7.1.5 Peripheral Iridectomy

8 Asia-Pacific Glaucoma Treatment Market, by End Users

8.1 Introduction

8.1.1 Hospitals

8.1.3 Home Users

9 Africa Medical Devices Market, by Country

9.1 Introduction

9.2 Japan

9.3 China

9.4 India

9.5 Australia

9.6 Kazakhstan

9.7 Rest of Asia Pacific

10 Company Landscape

10.1 Introduction

10.1.1 Mergers Acquisitions

10.1.2 Collaborations

10.1.3 Release/New Product Launches

10.1.4 Other (Expansion, Updates, Partnership)

11 Company Profile

11.1 Novartis AG

11.1.1 Company Overview

11.1.2 Product/Business Segment Overview

11.1.3 Financials

11.1.4 Key Developments

11.1.5 SWOT Analysis

11.2 Pfizer Inc.

11.2.1 Overview

11.2.2 Product/Business Segment Overview

11.2.3 Financials

11.2.4 Key Developments

11.2.5 SWOT Analysis

11.3 Allergan

11.3.1 Overview

11.3.2 Product/Business Segment Overview

11.3.3 Financials

11.3.4 Key Developments

11.3.5 SWOT Analysis

11.4 Merck & Co.

11.4.1 Overview

11.4.2 Product/Business Segment Overview

11.4.3 Financials

11.4.4 Key Developments

11.4.5 SWOT Analysis

11.5 Ocular Therapeutix Inc

11.5.1 Overview

11.5.2 Product/Business Segment Overview

11.5.3 Financials

11.5.4 Key Developments

11.5.5 SWOT Analysis

11.6 pSivida Corp

11.6.1 Overview

11.6.2 Product/Business Segment Overview

11.6.3 Financials

11.6.4 Key Developments

11.6.5 SWOT Analysis

11.7 Icon Bioscience Inc.

11.7.1 Overview

11.7.2 Product/Business Segment Overview

11.7.3 Financials

11.7.4 Key Developments

11.7.5 SWOT Analysis

11.8 Amorphex Therapeutics LLC.

11.8.1 Overview

11.8.2 Product/Business Segment Overview

11.8.3 Financials

11.8.4 Key Developments

11.8.5 SWOT Analysis

11.9 Ellex

11.9.1 Overview

11.9.2 Product/Business Segment Overview

11.9.3 Financials

11.9.4 Key Developments

11.9.5 SWOT Analysis

11.10 Quantel

11.10.1 Overview

11.10.2 Product/Business Segment Overview

11.10.3 Financials

11.10.4 Key Developments

11.10.5 SWOT Analysis

11.11 Lumenis

11.11.1 Overview

11.11.2 Product/Business Segment Overview

11.11.3 Financials

11.11.4 Key Developments

11.11.5 SWOT Analysis

11.12 Lightmed

11.12.1 Overview

11.12.2 Product/Business Segment Overview

11.12.3 Financials

11.12.4 Key Developments

11.12.5 SWOT Analysis

11.13 Others

12 Appendix


List of Tables

TABLE 1 ASIA-PACIFIC GLAUCOMA TREATMENT MARKET, 2013-2022 (USD MILLION)

TABLE 2 ASIA-PACIFIC GLAUCOMA TREATMENT MARKET, BY DISEASE INDICATION, 2013-2022 (USD MILLION)

TABLE 3 ASIA-PACIFIC GLAUCOMA TREATMENT MARKET, BY DRUG CLASS, 2013-2022 (USD MILLION)

TABLE 4 ASIA-PACIFIC GLAUCOMA TREATMENT MARKET, BY SURGERY, 2013-2022 (USD MILLION)

TABLE 5 ASIA-PACIFIC GLAUCOMA TREATMENT MARKET, BY END USERS, 2013-2022 (USD MILLION)

TABLE 6 ASIA-PACIFIC GLAUCOMA TREATMENT MARKET, BY REGION, 2013-2022 (USD MILLION)


List of Figures
FIGURE 1 RESEARCH PROCESS

FIGURE 2 PORTERS FIVE FORCES MODEL

FIGURE 3 ASIA-PACIFIC GLAUCOMA TREATMENT MARKET, BY DISEASE INDICATION

FIGURE 4 ASIA-PACIFIC GLAUCOMA TREATMENT MARKET, BY DRUG CLASS

FIGURE 5 ASIA-PACIFIC GLAUCOMA TREATMENT MARKET, BY SURGERY

FIGURE 6 ASIA-PACIFIC GLAUCOMA TREATMENT MARKET, BY END USERS

FIGURE 7 ASIA-PACIFIC GLAUCOMA TREATMENT MARKET, BY REGION

FIGURE 8 ASIA-PACIFIC GLAUCOMA TREATMENT MARKET: COMPANY SHARE ANALYSIS, 2015 (%)