Market Scenario: Diabetes is the metabolic disease where there is increase in blood sugar level. Increase in blood sugar level is due less or no insulin secretion by body. Diabetes is now a days becoming a major problem in many countries. Increasing prevalence of diabetes, government initiatives are the major driving factor for the market. Introduction of diabetic pen has help diabetic patient to administer insulin at their home itself. Asia Pacific is the fastest growing market for the diabetic pen. Asia Pacific diabetic pen market is expected to grow at CAGR of ~ 7% during forecasted period 2017-2023. India and China has the major share of the market. Study Objectives Asia Pacific Diabetes Pen Market Research Report


To provide detailed analysis of the market structure along with forecast for the next 6 years of the various segments and sub-segments of the

Asia Pacific Diabetes Pen Market.




To provide the detail information about drivers and factors restraining the market growth.



To analyze

Asia Pacific Diabetes Pen Market

based on various factors- price analysis, supply chain analysis, porters five force analysis etc.


To provide historical and forecast revenue of the market segments and sub-segments with respect to Asia-Pacific region and their countries- India, Japan, China, Australia, Republic of Korea and Rest of

Asia Pacific.



To provide the trends and opportunities in

Asia Pacific Diabetes Pen Market

.



To provide country level analysis of the market with respect to the current market size and future prospective




To provide overview of key players and their strategic profiling in the market, comprehensively analyzing their core competencies, and drawing a competitive landscape for the market



Figure 1:- Market Synopsis of Diabetes Pen Market by Devices, 2016 (%):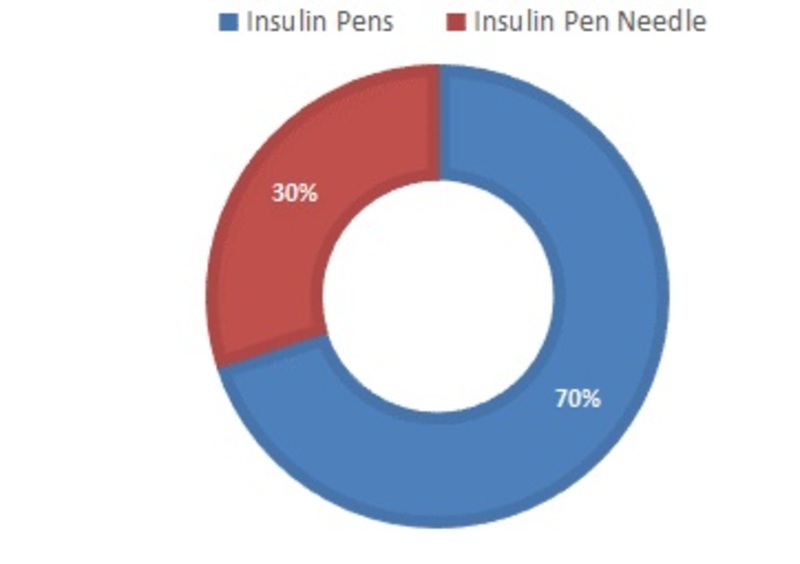 Key Players for Asia Pacific Diabetes Pen market Roche Diagnostics, AstraZeneca plc., Johnson & Johnson, Abbott Laboratories, Biocon Ltd., Dexcom, Inc. (U.S.), Becton-Dickinson, Owen Mumford Ltd., Jiangsu Delfu Co., Novo Nordisk A/S, Ypsomed AG, Medtronic plc, and Tandem Diabetes Care, Inc. Eli Lilly and Company, Sanofi S.A., and Wockhardt Ltd. Segmentation



Asia Pacific Diabetes Pen market has been segmented on the basis of-




By product used which includes Insulin Pens and Insulin Pen Needle




On the basis of usage which includes reusable pens and disposable pens




On the basis of distribution channel which include Hospital Pharmacy, Retail Pharmacy, Online Sales, and Diabetes Clinics




On the basis of End user they are Hospital, clinics and Others



On the basis of region they are India, Japan, China, Australia, Republic of Korea and Rest of

Asia Pacific.



Regional Analysis On regional basis Asia Pacific is segmented into India, Japan, China, Australia, Republic of Korea and Rest of Asia Pacific. Asia Pacific is the fastest growing market in the world due to increase in the diabetic population and new research and development in the field of diabetic devices. India and China is the most populated countries where there is the major chances of increasing the diabetic population. Total diabetic population of India and China in 2012 is 61 million and 90 million respectively.
The report for Asia Pacific Diabetes Pen market of Market Research Future comprises of extensive primary research along with the detailed analysis of qualitative as well as quantitative aspects by various industry experts, key opinion leaders to gain the deeper insight of the market and industry performance. The report gives the clear picture of current market scenario which includes historical and projected market size in terms of value and volume, technological advancement, macro economical and governing factors in the market. The report provides details information and strategies of the top key players in the industry. The report also gives a broad study of the different markets segments and regions. Intended Audience



Diabetes Pen Suppliers




Diabetes Pen manufacturers




Research and Development (R&D) Companies




Medical Research Laboratories




Academic Medical Institutes and Universities



BRIEF TOC

1. Report Prologue

2. Introduction

2.1 Definition

2.2 Scope of the Study

2.2.1 Research Objective

2.2.2 Assumptions

2.2.3 Limitations

2.3 Market Structure

2.4. Market Segmentation

3. Research Methodology

3.1 Research Process

3.2 Primary Research

3.3 Secondary Research

3.4 Market Size Estimation

3.5 Forecast Model

4. Market Dynamics

4.1 Drivers

4.2 Restraints

4.3 Opportunities

4.4 Mega Trends

4.5 Macroeconomic Indicators

5. Market Factor Analysis

5.1 Value Chain Analysis

5.2 Porter's Five Forces

5.3 Demand & Supply: Gap analysis

5.4 Pricing Analysis

5.5 Investment Opportunity Analysis

5.6 Merger and Acquisition Landscape

5.7 UP-Coming trends in Asia Pacific Diabetes Pen Market

5.7.1 Market trends

5.7.2 Technological trends

6. Asia Pacific Diabetes Pen Market by product type

6.1 Insulin Pens

6.2 Insulin Pen Needle

7. Asia Pacific Diabetes Pen Market by usage

7.1 Reusable pens

7.2 Disposable pens

8. Asia Pacific Diabetes Pen Market by End User

8.1 Hospital Pharmacy

8.2 Retail Pharmacy

8.3 Online Sales

8.4 Diabetes Clinics

9. Asia Pacific Diabetes Pen Market by End User

9.1 Hospital

9.2 Clinics

9.3 Others

10. Asia Pacific Diabetes Pen Market by Region

10.1 Introduction

10.1.1 Asia

10.1.1.1 Japan

10.1.1.2 China

10.1.1.3 India

10.1.1.4 Australia

10.1.1.5 Republic of Korea

10.1.1.5 Rest of Asia-Pacific

11 Competitive Landscape

12 Company Profile

12.1 Roche Diagnostics

12.1.1 Overview

12.1.2 Product/Business Segment Overview

12.1.3 Financial Updates

12.1.4 Key Developments

12.2 AstraZeneca plc.

12.2.1 Overview

12.2.2 Product/Business Segment Overview

12.2.3 Financial Updates

12.2.4 Key Developments

12.3 Johnson & Johnson

12.3.1 Overview

12.3.2 Product/Business Segment Overview

12.3.3 Financial Updates

12.3.4 Key Developments

12.4 Abbott Laboratories

12.4.1 Overview

12.4.2 Product/Business Segment Overview

12.4.3 Financial Updates

12.4.4 Key Developments

12.5 Dexcom

12.5.1 Overview

12.5.2 Product/Business Segment Overview

12.5.3 Financial Updates

12.5.4 Key Developments

12.6 Other