Application Delivery Network Market Synopsis:
The combination of wide area network optimization and application delivery control is termed as application delivery network. The application delivery network is an integral part of data center networking, where it is used to manage and monitor the network performance and traffic. In recent times, the pattern regarding the network traffic accumulation has changed by a huge margin. This change is majorly due to higher usage of internet-based applications and transmission of media content over the network, like videos, and audios. A large proportion of network traffic is due to the growing consumer demands for high-quality videos, by either the mobile internet or broadband connection.
Application delivery network is often associated with traffic management, which sometimes also known as web switch or content switch. These applications are designed to shred off the load from a single server by distributing the traffic over different servers, at different locations. This feature of application delivery network is largely adopted in cloud computing, data analytics, and secured enterprise networks. As the size of enterprises increase, with additional technological benefits, companies are facing a challenge to increase the efficiency and productivity, without compromising on the operating location. More and more investments are being done to ensure a fast and safe response towards the changing business needs of the enterprises. This lets the enterprises to optimize and managing the network data flow. In addition to security and optimality, application delivery network also helps in greater mobility and security for large enterprises having distributed work locations.
Application Delivery Network Market Segmentation:



On the basis of product, the market is segmented into controllers, application safety equipment, and application gateways.




On the basis of organization size, the market is segmented into small and medium enterprises, and large enterprises.




On the basis of Industry vertical, the market is segmented into media and entertainment, education, banking and financial services, government, retail and others.




On the basis of region, the market is segmented into North America, Europe, Asia Pacific and the rest of the world.



Application Delivery Network Market Regional Analysis:
North America is held the largest market share in 2016 and is expected to dominate the market during the forecast period. A major factor defining the growth of North America region is faster and quicker adoption of growing networking technologies. Additionally, there is a huge concentration of enterprises located in the U.S. which is further fueling the growth of network deployments in application delivery network market. In addition to this, various small and medium enterprises are trying to adopt similar technologies as that of large enterprises in order to reinforce their global presence. Europe is likely to grow at a steady pace as the market comprises matured economies like the U.K and Germany.
Asia Pacific does not hold much of the market share, but this region is expected to grow at a fast rate due to presence of emerging countries like Japan, India, China, and Australia which are adopting the networking applications.
Global Application Delivery Network Market, USD Billion: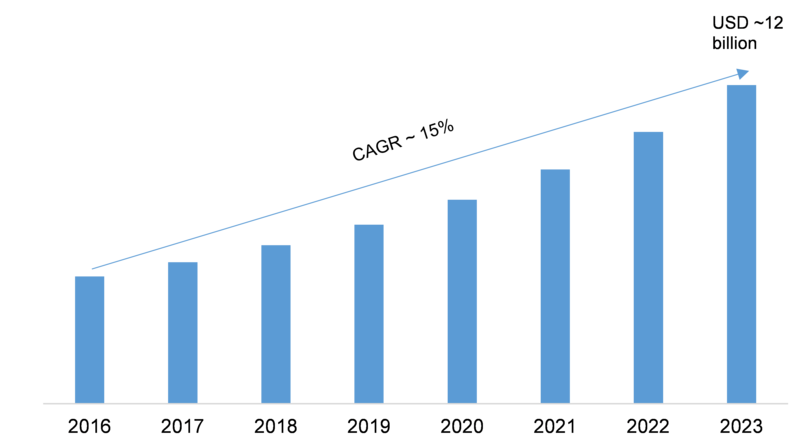 Source: MRFR Analysis
Application Delivery Network Market Key Players:
Some of the key players in the Application Delivery Network market comprise of Array Networks (U.S.), Silver Peak Systems (U.S.), Riverbed Technology, Inc (U.S.), A10 Networks, Inc. (U.S.), Akamai Technologies, Inc (U.S.), Alcatel-Lucent S.A. (France), Barracuda Networks, Inc. (U.S.), Blue Coat Systems Inc. (U.S.), Brocade Communications Systems, Inc (U.S.), Citrix Systems, Inc. (U.S.), Cisco Systems, Inc. (U.S.), F5 Networks, Inc. (U.S.), Fortinet, Inc. (U.S.), Internap Corporation (U.S.), Juniper Networks, Inc. (U.S.), Limelight Networks (U.S.), Nortel Networks Corporation (Canada), Radware (Israel), Sun Microsystems (U.S.)
The prominent players constantly keep innovating and investing in research and development in order to present a cost-effective portfolio. There have been recent mergers and acquisitions among the key players, where the business entities expect to strengthen their reach to customers.
Intended Audience:



Application Delivery Network services providers




IT providers




Software vendors




Retail vendors




Cloud service providers




Local/Government Agencies




Cloud Infrastructure Agencies




Value-added Resellers




Research Firms



Report Scope:
| Report Attribute/Metric | Details |
| --- | --- |
| Market Size | 2027: Significant Value |
| CAGR | Substantial CAGR |
| Base Year | 2019 |
| Forecast Period | 2020-2027 |
| Historical Data | 2018 |
| Forecast Units | Value (USD Million) |
| Report Coverage | Revenue Forecast, Competitive Landscape, Growth Factors, and Trends |
| Segments Covered | Organization Size |
| Geographies Covered | North America, Europe, Asia-Pacific, and Rest of the World (RoW) |
| Key Vendors | Array Networks (U.S.), Silver Peak Systems (U.S.), Riverbed Technology, Inc (U.S.), A10 Networks, Inc. (U.S.), Akamai Technologies, Inc (U.S.), Alcatel-Lucent S.A. (France), Barracuda Networks, Inc. (U.S.), Blue Coat Systems Inc. (U.S.), Brocade Communications Systems, Inc (U.S.), Citrix Systems, Inc. (U.S.), Cisco Systems, Inc. (U.S.), F5 Networks, Inc. (U.S.), Fortinet, Inc. (U.S.), Internap Corporation (U.S.), Juniper Networks, Inc. (U.S.), Limelight Networks (U.S.), Nortel Networks Corporation (Canada), Radware (Israel), Sun Microsystems (U.S.) |
| Key Market Opportunities | A large proportion of network traffic is due to the growing consumer demands for high-quality videos, by either the mobile internet or broadband connection. |
| Key Market Drivers | A major factor defining the growth of North America region is faster and quicker adoption of growing networking technologies. |
Speak to Analyst
Ask for Customization
Frequently Asked Questions (FAQ) :
---