Market Scenario
The term 'biometric' is derived from the Greek word "bios", which means life, and "metron", which means measure. In a broader sense, biometrics can be defined as the measurement of body characteristics, or in other words, biological statistics. Criminal prosecution, forensics and police records have used pictures, body height, and fingerprints for a long time; however, the invention of automated technologies to measure and evaluate physical or behavioral characteristics of living organisms has given the word a second meaning. The term "biometric technologies" refers to automated methods of recognizing a person based on physiological or behavioral characteristics.
Although the modern biometric technology is a recent phenomenon, it has increasingly influenced the security industry markets. Increase in international terrorism is evidenced by growing numbers of threats and attacks across the world. To prevent and fight terrorism, governments and authorities are seeking to issue more secure identification documents, protect airports and monitor public places; and biometric technologies have a significant role to play in this.
Since biometric methods take advantage of mostly unchangeable characteristics, they are more reliable than other methods of authorization, such as PIN codes and magnet stripe cards, that are based on knowledge or possession. Moreover, biometric characteristics can neither be stolen nor transferred. Due to these factors, airports are looking forward to replacing their older and time taking processes of collecting and maintaining passenger data, with newer, more reliable, fast and more secure biometrics equipment.
By components, the airport biometrics market is further segmented into hardware and software. In the case of the hardware segment, biometric sensor market can be segmented into capacitive sensors, thermal sensors, optical sensors, ultrasound sensors, and electric sensors. Owing to factors such as multiple applications, low cost, and wide responsiveness, optical sensors have the largest share in the airport biometrics market.
On the basis of technology, in the physical characteristics sub-segment, the fingerprint reader is the most attractive segment in the biometric market, followed by facial recognition. Rising security concerns for identity theft and rising demand for data security have positively impacted demand for biometric sensors used in fingerprint and facial scanning. Previously, fingerprint scan involved the end-user placing his/her finger on a paper or a platen surface, which often rendered degraded images due to improper finger placement, slippage, smearing, skin deformation, and wear and tear of the device. This led to several inconsistencies in the authentication process, leading to unauthorized access. However, the latest technological developments have led to the touchless sensing technology that generates a 3D fingerprint scan to overcome the problems faced by the traditional fingerprint recognition system. This touchless fingerprint technology is interoperable with legacy devices to provide high-quality images. Furthermore, to make 3D fingerprint images operational with current automated fingerprint identification system, a simulated rolling procedure was introduced. The procedure of unwraps 3D fingerprint images into 2D fingerprint images that are comparable with legacy rolled fingerprints.
The market is also catching on to the advancements in biometrics technology. In Aruba for example, facial IDs are already in place for KLM passengers flying to Amsterdam; at LAX Airport in Los Angeles, Lufthansa recently gave passengers the choice of getting on the flight without showing a boarding pass, if passenger agreed to submit their biometric scans.
Airport kiosk evolution is encouraging the passenger to choose self-service for minimizing the cycle time at the airport. SITA's check-in kiosks were first introduced by Air Alaska to improve the experience of passengers by reducing queuing, and to test the advantage for self-service. A few years later, the first common-use self-service kiosks were put into service at Toronto Pearson International Airport. At present, thousands of kiosks provide services in airports across the world. Los Angeles Airport is trialing an advanced biometric self-boarding solution by Vision-Box to clear travelers flying out of the US in an interface which requires lesser human intervention and is quicker and more secure at the same time. The new passenger flow solution allows travelers to board their aircraft in just a few seconds simply by looking into a high-resolution face capture system at the flow-control gateway. The system deployed by Vision-Box captures a live, high-quality image of the traveler's unique biometric facial traits, for US Customs and airport Protection to match it against the passenger's file containing the digital facial token captured during the initial immigration processing. After assuring the identity and eligibility of the passenger on that specific flight, the gateway opens, and the traveler can swiftly board the aircraft. The project was developed in a partnership between LAX and Vision-Box and was supported by US Customs and airport Protection Agency under the umbrella of the US Biometric Exit trial program. British Airways was the first airline to begin expediting boarding procedures using the new contactless technology.
Segmentation of the global airport biometrics market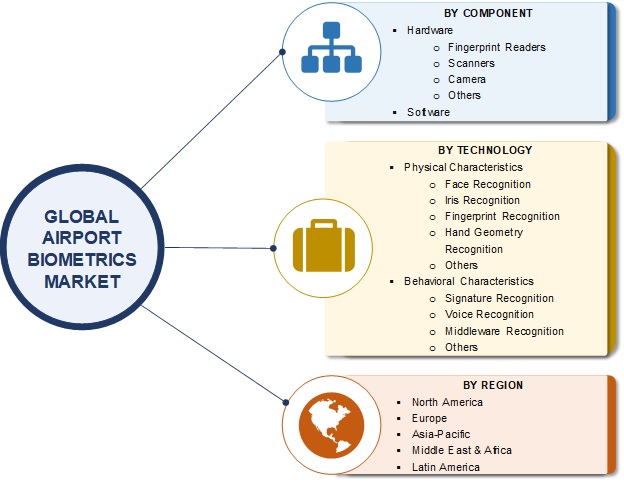 The rising concerns over internal and external security are expected to drive the airport biometrics market over the forecast period; though, the high cost of biometrics may be a. Technological developments, such as multimodal biometrics technology, will provide new growth opportunities for the airport biometrics market over the forecast period.
North America and Europe have made airport security extremely stringent and a priority for many governments. Fingerprint recognition solutions are the most preferred solutions for verification of passengers. The application of biometric solutions allows airport representatives to monitor passengers more efficiently, as the chances for errors are minimized. Besides, fingerprint recognition solutions also provide complete information about the passengers entering and departing the airport, and this data can be used to track terror suspects. As the governments around the world are looking to counter terrorist attacks, the demand for biometric solutions for adoption at airports will increase significantly over the next few years.
Key Players
The key players in the global airport biometrics market are Safran (France), NEC Corporation (Japan), Fujitsu (Japan), Aware, Inc. (US), 3M Cogent, Inc. (US), Bio-Key International, Inc. (US), Precise Biometrics AB (Sweden), secunet Security Networks AG (Germany), Thales Group (France), Cognitec Systems GmbH (Germany), Crossmatch (US), Fulcrum Biometrics, LLC, (US), and Daon (US).
Research Methodology
The market values and forecasts are derived using MRFR research methodology, which includes secondary research, primary interviews, data triangulation, and validation from an in-house data repository and statistical modeling tools.
In this process, data is collected from various secondary sources, including annual reports, SEC filings, journals, government associations, aerospace & defense magazines, white papers, corporate presentations, company websites, and paid databases.
In this process, both the demand- and supply-side parties are interviewed to extract facts and insights into the market forecast, production, trends, and projected market growth. Industry stakeholders such as CEOs, VPs, directors, and marketing executives across the value chain are approached to obtain key information.
Key Insights



Regional/Country Trends and Forecast: Detailed analysis of the market in North America, Asia-Pacific, Europe, the Middle East & Africa, and Latin America, along with key countries in each region






Market Dynamics Intelligence: Market drivers, opportunities, trends, restraints, Porter's five forces, supply chain, and value chain analysis






Competitive Intelligence: Market share analysis, financial analysis, product benchmarking, and strategic developments including joint ventures, product launches, and mergers & acquisitions



Report Customization
MRFR offers report customization to valued customers. Below are the options available for customization:
In-depth profiling of additional market players (3 to 4 companies)
Detailed analysis of a country-level market and related segments as per the report scope (subject to data availability)
Intended Audience



Airforce authorities



Aircraft component manufacturers



Component providers




Regulatory bodies




Government authorities




Research institutes




Regulatory bodies



Frequently Asked Questions (FAQ) :
---
1. EXECUTIVE SUMMARY

1.1. Market Attractiveness Analysis

1.1.1. Global Airport Biometrics Market, By Component

1.1.2. Global Airport Biometrics Market, By Technology

1.1.3. Global Airport Biometrics Market, By Region

2. MARKET INTRODUCTION

2.1. Market Definition

2.2. Scope of the Study

2.3. Market Structure

2.4. Key Buying Criteria

2.5. Market Factor Indicator Analysis

3. RESEARCH METHODOLOGY

3.1. Research Process

3.2. Primary Research

3.3. Secondary Research

3.4. Market Size Estimation

3.5. Forecast Model

3.6. List of Assumptions

4. MARKET INSIGHTS

5. MARKET DYNAMICS

5.1. Introduction

5.2. Drivers

5.2.1. Rising Investments in Agile and Smart Airport Concepts

5.2.2. Increasing Development of Airports by Developing Countries

5.3. Restraints

5.3.1. Vulnerability to Cybersecurity Threats

5.4. Opportunities

5.4.1. Energy and Process Optimization

5.5. Market/Technological Trends

5.5.1. Airport AI-Enhanced Biometrics

5.6. Patent Trends

5.7. Regulatory Landscape/Standards

6. MARKET FACTOR ANALYSIS

6.1. Value Chain/Supply Chain Analysis

6.1.1. R&D

6.1.2. Manufacturing

6.1.3. Distribution & Sales

6.1.4. Post-Sales Monitoring

6.2. Porter's Five Forces Analysis

6.2.1. Threat of New Entrants

6.2.2. Bargaining Power of Buyers

6.2.3. Threat of Substitutes

6.2.4. Segment Rivalry

6.2.5. Bargaining Power of Supplies

7. GLOBAL AIRPORT BIOMETRICS MARKET, BY COMPONENT

7.1. Introduction

7.2. Hardware

7.2.1. Fingerprint Readers

7.2.2. Scanners

7.2.3. Camera

7.2.4. Others

7.3. Software

8. GLOBAL AIRPORT BIOMETRICS MARKET, BY TECHNOLOGY

8.1. Introduction

8.2. Physical Characteristics

8.2.1. Face Recognition

8.2.2. Iris Recognition

8.2.3. Fingerprint Recognition

8.2.4. Hand Geometry Recognition

8.2.5. Others (Ear, DNA)

8.3. Behavioral Characteristics

8.3.1. Signature Recognition

8.3.2. Voice Recognition

8.3.3. Middleware Recognition

8.3.4. Others (Keystroke, Handwriting)

9. GLOBAL AIRPORT BIOMETRICS MARKET, BY REGION

9.1. Introduction

9.2. North America

9.2.1. US

9.2.2. Canada

9.3. Europe

9.3.1. UK

9.3.2. Germany

9.3.3. France

9.3.4. Russia

9.3.5. Italy

9.3.6. Rest of Europe

9.4. Asia-Pacific

9.4.1. China

9.4.2. Japan

9.4.3. India

9.4.4. Australia

9.4.5. Singapore

9.4.6. Rest of Asia-Pacific

9.5. Middle East & Africa

9.5.1. Saudi Arabia

9.5.2. UAE

9.5.3. Israel

9.5.4. Rest of Middle East & Africa

9.6. Latin America

9.6.1. Brazil

9.6.2. Rest of Latin America

10. COMPETITIVE LANDSCAPE

10.1. Competitive Overview

10.2. Competitor Dashboard

10.3. Major Growth Strategy in the Global Airport Biometrics Market

10.4. Competitive Benchmarking

10.5. Market Share Analysis

10.6. Leading Player in terms of Number of Developments in Global Airport Biometrics Market

10.7. Key Developments & Growth Strategies

10.7.1. New Product Launch/Component Deployment

10.7.2. Merger & Acquisition

10.7.3. Joint Ventures

11. COMPANY PROFILES

(Company overview, financial updates, products & service offered, key developments, and SWOT analysis to be provided)

11.1. Key Market Players

11.1.1. NEC Corporation

11.1.2. Vision-Box

11.1.3. Thales Group

11.1.4. SITA

11.1.5. Panasonic Corporation

11.2. Other Prominent Players

11.2.1. Aware, Inc.

11.2.2. FUJITSU

11.2.3. Safran

11.2.4. Gemalto

11.2.5. BIO-key

11.2.6. Precise Biometrics AB

11.2.7. secunet Security Networks AG

11.2.8. Cognitec Systems GmbH

11.2.9. Crossmatch

11.2.10. Daon

12. CASE STUDIES

13. APPENDIX

13.1. References

13.2. Related Reports

13.3. List of Abbreviation

LIST OF TABLES

Table 1 Global Airport Biometrics Application Market, by Region, 2020-2027

Table 2 North America: Airport Biometrics Application Market, by Country, 2020-2027

Table 3 Europe: Airport Biometrics Application Market, by Country, 2020-2027

Table 4 Asia-Pacific: Airport Biometrics Application Market, by Country, 2020-2027

Table 5 Middle East & Africa: Airport Biometrics Application Market, by Country, 2020-2027

Table 6 Latin America: Airport Biometrics Application Market, by Country, 2020-2027

Table 7 Global Airport Biometrics Market, by Region, 2020-2027

Table 8 Global Airport Biometrics Market, by Component, 2020-2027

Table 9 Global Airport Biometrics Market, by Technology, 2020-2027

Table 10 North America: Airport Biometrics Market, by Country, 2020-2027

Table 11 North America: Airport Biometrics Market, by Component, 2020-2027

Table 12 North America: Airport Biometrics Market, by Technology, 2020-2027

Table 13 Europe: Airport Biometrics Market, by Country, 2020-2027

Table 14 Europe: Airport Biometrics Market, by Component, 2020-2027

Table 15 Europe: Airport Biometrics Market, by Technology, 2020-2027

Table 16 Asia-Pacific: Airport Biometrics Market, by Country, 2020-2027

Table 17 Asia-Pacific: Airport Biometrics Market, by Component, 2020-2027

Table 18 Asia-Pacific: Airport Biometrics Market, by Technology, 2020-2027

Table 19 Middle East & Africa: Airport Biometrics Market, by Country, 2020-2027

Table 20 Middle East & Africa: Airport Biometrics Market, by Component, 2020-2027

Table 21 Middle East & Africa: Airport Biometrics Market, by Technology, 2020-2027

Table 22 Latin America: Airport Biometrics Market, by Country, 2020-2027

Table 23 Latin America: Airport Biometrics Market, by Component, 2020-2027

Table 24 Latin America: Airport Biometrics Market, by Technology, 2020-2027

LIST OF FIGURES

FIGURE 1 Research Process of MRFR

FIGURE 2 Top-Down & Bottom-Up Approaches

FIGURE 3 Market Dynamics

FIGURE 4 Impact Analysis: Market Drivers

FIGURE 5 Impact Analysis: Market Restraints

FIGURE 6 Porter's Five Forces Analysis

FIGURE 7 Value Chain Analysis

FIGURE 8 Global Airport Biometrics Market Share, by Component, 2020 (%)

FIGURE 9 Global Airport Biometrics Market, by Component, 2020-2027 (USD Million)

FIGURE 10 Global Airport Biometrics Market Share, by Technology, 2020 (%)

FIGURE 11 Global Airport Biometrics Market, by Technology, 2020-2027 (USD Million)

FIGURE 12 Global Airport Biometrics Market Share, by Region, 2020 (%)

FIGURE 13 Global Airport Biometrics Market, by Region, 2020-2027 (USD Million)

FIGURE 14 North America: Airport Biometrics Market Share, 2020 (%)

FIGURE 15 North America: Airport Biometrics Market, by Country, 2020-2027 (USD Million)

FIGURE 16 Europe: Airport Biometrics Market Share, 2020 (%)

FIGURE 17 Europe: Airport Biometrics Market, by Country, 2020-2027 (USD Million)

FIGURE 18 Asia-Pacific: Airport Biometrics Market Share, 2020 (%)

FIGURE 19 Asia-Pacific: Airport Biometrics Market, by Country, 2020-2027 (USD Million)

FIGURE 20 Middle East & Africa: Airport Biometrics Market Share, 2020 (%)

FIGURE 21 Middle East & Africa: Airport Biometrics Market, by Region, 2020-2027 (USD Million)

FIGURE 22 Latin America: Airport Biometrics Market Share, 2020 (%)

FIGURE 23 Latin America: Airport Biometrics Market, by Region, 2020-2027 (USD Million)