Styrenic Polymers Market Information: Analysis, Trends & Forecast to 2022
Styrenic polymers are group of polymers that are produced by the polymerization of styrene monomers and other chemical compounds which include butadiene, acrylonitrile, and others. Styrenic polymers include, ABS (Acrylonitrile Butadiene Styrene), polystyrene, SAN (Styrene Acrylo Nitrile), SBR (Styrene Butadiene Rubber), Unsaturated Polyester Resin (UPR), and other polymers. Among all these polymers, polystyrene is the most prominent polymer, owing to its vast number of applications. Moreover, it is estimated to be one of the widely used thermoplastic polymer after polyurethane, polyethylene, and polyvinyl chloride. Polystyrene is primarily available in three forms namely, high impact polystyrene (HIPS), crystal polystyrene (GPPS), and expanded polystyrene (EPS). Its thermal insulation and moisture resistant characteristics stimulates its use in the packaging application in food & beverages industry. Likewise, owing to its shock absorbing properties it is also broadly used for storage and transportation of brittle items such as electronic equipment, chemicals, and pharmaceuticals.
ABS is another important styrenic polymer, which is prominently used in electronics & electrical, automotive, and construction industry. Apart from ABS and polystyrene, SAN, SBR, unsaturated polymers find applications in food & beverage packaging, automotive, construction, and electronics and electrical industries. Styrene which is the crucial raw material required for the styrenic polymer production is known to be a disadvantaged raw material owing to the high cost and relatively low accessibility. The high cost of the raw material that contributes to increasing pricing pressure among the manufacturers along with the high requirements from the consumers has resulted in the increasing consolidation activity in the global market. The production and consumption of ABS in the global market is significantly dominated by the Asia Pacific market with China accounting for 29% in the overall consumption in 2015. China is anticipated to be the high volume high growth market throughout the forecast period.
Styrenic Polymer Market Dynamics
The styrenic polymers market is anticipated to be driven by factors such as, increasing demand in food & beverages packaging owing characteristics such as high transparent and toughness, and increasing automotive production. Food & beverage industry highly rely on polymer industry for the packaging application. Transparent packaging is a primary requirement by the food & beverage industry players. As styrenic polymers such as styrene butadiene has superior transparent and toughness characteristics as compared to the other alternative packaging materials, the demand for such material is rising across the region. Asia Pacific is one of the leading food & beverage market with dominant market share and high growth rate. The increasing food & beverage demand along with the increasing concerns for safety and hygiene is anticipated to drive the styrenic polymer demand in the food & beverage industry. Moreover, the penetration of plastic materials in the automotive industry owing to the growing trend of lightweighting is rising. Additionally, the automotive production in the region is anticipated to witness higher growth rates in near future. Consequently, rising penetration along with the increasing automotive production is anticipated to further boost the market growth over the forecast period. Along with these factors, the growing trend of miniaturization in the industry, which has created opportunity for high temperature resistant plastic materials in the market which will spur market growth in near future.
However, the availability of low cost natural and synthetic alternatives, raw price volatility are estimated to be major restraints in the market growth. For instance, polystyrene which is mainly used in the food & beverage industry has numerous biodegradable alternatives in the market. Likewise, ABS is also being replaced in number of applications owing availability of low cost alternatives in the market.

Styrenic Polymer: Market segmentation
For the purpose of this study, Market Research Future has segmented the global styrenic polymer market into product types and end users.
By Product Type:



Polystyrene




Acrylonitrile Butadiene Styrene (ABS)




Styrene Acrylo Nitrile




Styrene Butadiene Rubber




Unsaturated Polyester Resin




Others



By Application:
Styrenic Polymer: Regional/ Country wise Analysis
China is estimated to be the leading producer and consumer in Asia Pacific styrenic polymer market, followed by Japan, India and Republic of Korea. Styrenic polymer market in China and India is anticipated to grow at fastest space, owing to increasing manufacturing and growing industrialization in those countries. Moreover, owing to huge electronics & electronics industry based in Japan, it is a prominent consumer of polystyrene in the Asia Pacific market.
Styrenic Polymers Market: Trade Analysis
Owing to increasing location of suppliers and increasing market penetration across the globe, the global citric market trade has been increasing and is anticipated to follow the trend. China is estimated to be the leading exporter in the region in 2015. Moreover, it is a prominent producer of acrylonitrile Butadiene Styrene and polystyrene and is estimated to account for more than 65% in the overall exports in 2015. Japan is another prominent exporter of styrenic polymer after China. In terms of volume, Japan exported approximately 293 KT styrenic polymers in 2015.
Asia Pacific Styrenic Polymer Trade, by Country (2015)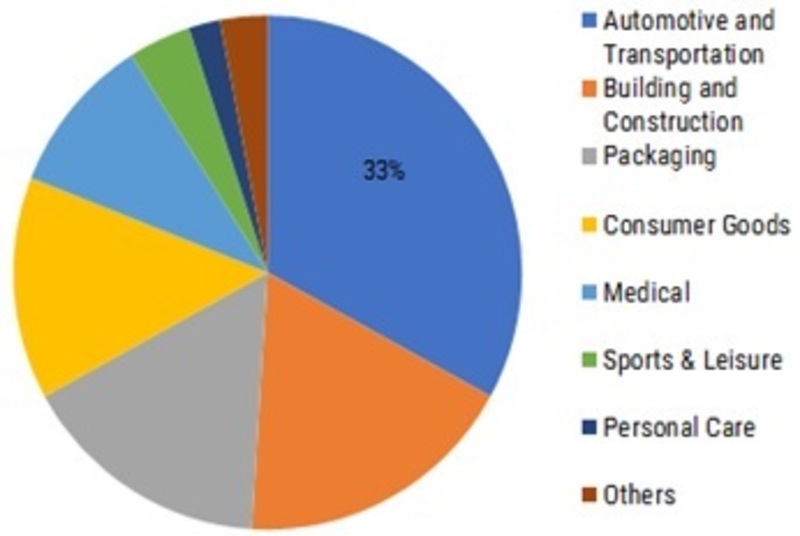 Styrenic Polymer: Prominent Market Players
Various key players present in global styrenic polymer market include The Dow Chemical Company, FOSTER Engineering Pte Ltd, Barito Pacific, Techno Polymer, LG Chem, Formosa Plastics Group, Chi Mei Corp
About Market Research Future (MRFR) Analysis and Reports
Market Research Future introduces about the Asia Pacific styrenic polymer market during the forecast period 2014-2022 which mainly includes the growth drivers, trends and restrains and how the market will grow in the future across the region. In this report, Market Research Future has focused on the current market scenario which includes market segmentation, market dynamics, trade analysis and competitive landscape along with company profiles.
Every report of Market Research Future comprises of extensive primary research along with the detailed analysis of qualitative as well as quantitative aspects by various industry experts, key opinion leaders to gain the deeper insight of the market and industry performance. The report gives the clear picture of current market scenario which includes historical and projected market size in terms of value and volume, technological advancement, macro economical and governing factors in the market. The report provides details information and strategies of the top key players in the industry. The report also gives a broad study of the different market segments and regions.