Wireline Logging Services Market Scenario
Wireline logging services market is expected to grow at USD 9.06 Billion, 3.52% CAGR during the forecast period.
Rising horizontal wells, high demand for real time logging, and new technologies in the shale gas exploration are some of the factors driving the global wireline logging services market. Since the all-time decline of the oil & gas industry in the year 2016, field services activities have rebounded and are expected to grow at an average rate of 4% by 2021. Moreover, the exploitation of shale resources in the US, have raised the demand for high specification rigs in order to enable drilling of long horizontal wells. In Asia-Pacific, almost 50 oil & gas fields with collective resources of 4 Bboe in Southeast Asia are expected to be approved for development between 2019 and 2020. Such developments in North America and Asia-Pacific are likely to drive the market of wireline logging services.
The global wireline logging services market is projected to grow at a significant growth rate during the forecast period due to a potential increase in recoverable resources and increased exploration and production in the developing regions, including Asia-Pacific and the Middle East & Africa. Currently, natural gas is considered the transitional fuel and has industrial, marine, and transportation, and other applications. Being an integral part of drilling and exploration activities, the demand for wireline logging services will increase with the growth of exploration activities.
Key Players
The key players of global wireline logging services market are Baker Hughes, a GE company, Casedhole Solutions, Expro International Group Holdings Ltd, Halliburton, Nabors industries ltd., Oilserv, Pioneer Energy Services, Superior Energy Services, Schlumberger, and Weatherford International Inc.
Market Segmentation
The global wireline logging services market has been segmented based on hole type, wireline type, and region. On the basis of hole type, the market has been segmented into cased hole type and open hole type. The open hole type segment dominates the market due to its common use as a logging method because the measurements are not obstructed, and it can be done during or after the well drilling.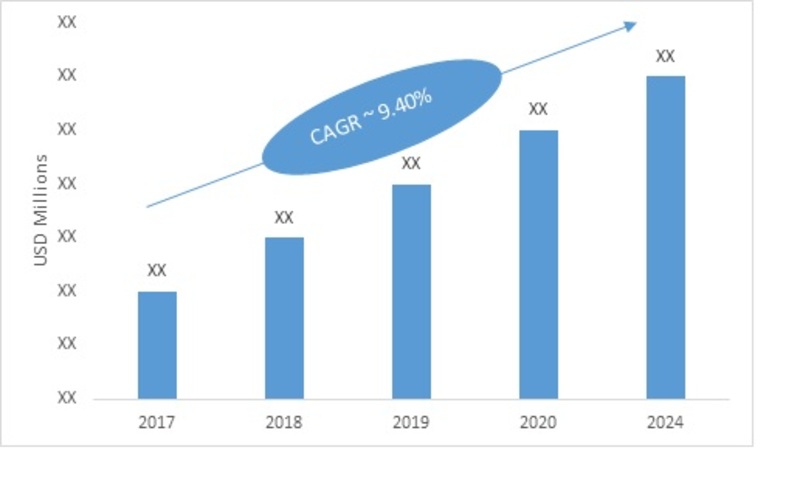 Global Wireline Logging Services Market
Global wireline logging services market is expected to witness a significant growth rate during the forecast period due to an increase in crude oil production, worldwide. For instance, Russia has a very large production of crude oil and gas due to the recent developments in exploration and production of both conventional and unconventional resources. Also, drilling and completion activities require a specialized set of technologies for drilling and well construction and completion in order to accommodate higher production rates. Such factors will drive the wireline logging services market.
Wireline logging is a process involving the use of electric instruments in order to measure the properties of a formation, while taking the decisions regarding the drilling and production operations. Additionally, wireline logging services involve large fleet of logging trucks, offshore units. Logging tools, and pressure control equipment provide a wide variety of open-hole and cased-hole logging services. Also, wireline logging services include analyzing the actionable wireline data and flawless service execution from early field exploration to mature-field production. By using various kinds of proprietary technologies and conveyance systems, many oilfield operators are able to access the productivity, diagnose downhole issues, design an efficient completion, and inform infill drilling programs.
There are various equipment and resources involved in the entire process of wireline logging services. Such equipment and resources include dual purpose wireline logging units and logging tools, wireline tractors, production logging, electro magnetic thickness, non-explosive setting tools, non-explosive cutters & tubing punchers, mechanical cutters, TCP, wireline & coiled tubing perforation, and HT logging tools for geothermal wells.
Report Scope:
Report Attribute/Metric
Details
Market Size
USD 9.06 Billion
CAGR
3.52% CAGR (2020-2027)
Base Year
2019
Forecast Period
2020-2027
Historical Data
2018
Forecast Units
Value (USD Million)
Report Coverage
Revenue Forecast, Competitive Landscape, Growth Factors, and Trends
Segments Covered
Hole Type and Wireline Type
Geographies Covered
North America, Europe, Asia-Pacific, and Rest of the World (RoW)
Key Vendors
Baker Hughes, a GE company, Casedhole Solutions, Expro International Group Holdings Ltd, Halliburton, Nabors industries ltd., Oilserv, Pioneer Energy Services, Superior Energy Services, Schlumberger, and Weatherford International Inc
Key Market Opportunities
New product launches and R&D amongst major key players
Key Market Drivers
Rising horizontal wells
High demand for real time logging
New technologies in the shale gas exploration
Frequently Asked Questions (FAQ) :
---