Wind Tower Market Scenario:
Wind Tower Market is projected to be worth USD 51.31 Billion by 2027, registering a CAGR of 9.82% during the forecast period (2021 - 2027), The market was valued at USD 26.95 Billion in 2020.
Renewable energy can be produced from a wide variety of sources including wind, solar, hydro, tidal, geothermal, and biomass. By using more renewables to meet its energy needs, many countries try to lower their dependence on imported fossil fuels and make its energy production more sustainable. The renewable energy industry also drives technological innovation and employment towards growth.
As a proven source of clean and affordable energy, wind resources clearly have a vital role to play in realizing these goals. With proper planning and mitigation measures, it is possible to construct offshore/ onshore wind without damaging the environment. The market for wind towers, which forms a major part of a wind turbine system both cost wise and size wise, is directly related to the market for wind turbines. The shift towards clean renewable energy is the main driver for the wind energy market, and therefore the turbine tower market.
The growth in this sector is due to the increasing demand for clean and reliable energy to reduce the global carbon emissions, and to maintain ecological balance by generating electricity through renewable resources. However, high initial capital cost of projects with high maintenance cost and logistics issues, can hinder the wind tower market. Global Wind tower market has a very broad market in recent years. MRFR analysts have predicted that wind tower market is about to grow at a rapid pace. Moreover, the economic growth with emissions reduction have given the growth, momentum.
Different types of wind towers are used for the efficient generation of wind energy. Tubular steel towers, concrete towers, lattice towers and hybrid towers are used for large wind turbines. Whereas, guyed pole towers are used for small wind turbines. Wind tower being one of the most important parts of a wind turbine would cost 25% to 30% of the total cost of wind turbine. Wind towers are specially designed for different applications. Wind towers are manufactured for both, onshore wind turbine and offshore wind turbine.
Geographically, Asia Pacific is a major revenue generator to the global wind market, where China, Japan and India are considered the prominent countries owing to the demand for electricity, rapid urbanization and technological advancements. Investments in wind towers are based on the nacelle and turbine. The strength and stability of a wind tower is influenced by the material and weight. The market is primarily influenced by the design of a wind tower. Thus, wind towers for onshore applications are decidedly different from towers meant for offshore use.
Key Players:
The key players of global wind tower market are Suzlon Energy Limited (India), Enercon GmbH (Germany), CS Wind Corporation (South Korea), General Electric (U.S.), Siemens AG (Germany), Trinity Structural Towers, Inc. (U.S.) , Vestas Wind Systems A/S (Denmark), Valmont Industries, Inc. (U.S.), Ambau (Germany), and Broadwind Energy (U.S.).
Market Segmentation: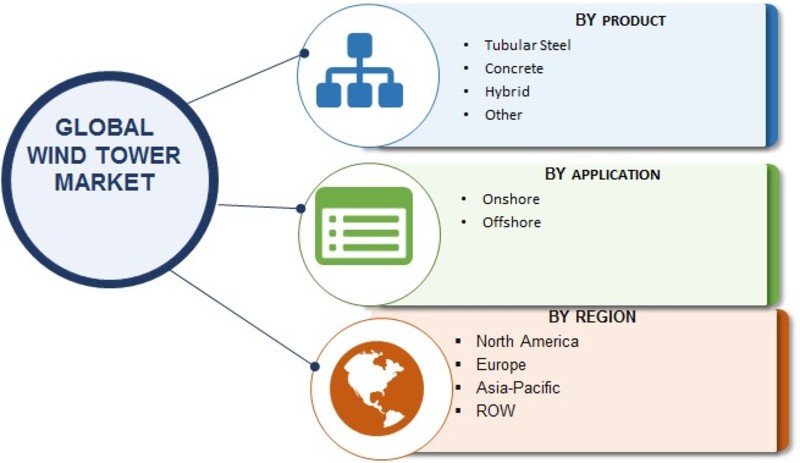 Global Wind tower Market:
Currently, the wind energy is in the growth stage. This is due to the increase in demand for power, global initiatives to use more renewable, non-conventional energy sources, and the global need to restrict carbon emission. European governments and the EU, as a whole, have supported wind projects with favourable incentives, as part of their carbon emission reduction goals. Europe region is currently the leading in wind tower market, and is followed by North America.
Asia Pacific is expected to grow during the forecast period due to many reasons. Increasing wind power generation capacity, stringent environmental regulations for emissions from burning conventional fuel, increasing demand of larger blades, and increased government support for wind power projects, are some of them. Currently, China has the largest number of wind energy projects under planning and construction phase, which is followed by Japan and South Korea.
Extensive research in this market has brought to light that contract is a key strategy adopted, extensively, by the players to spread their geographical presence and achieve operational efficiencies. Agreements & Partnerships, are also major strategies adopted by the major players in the global Wind tower market. This strategy is widely adopted to increase the number of offerings to the customer.
The report for Global Wind Tower Market of Market Research Future comprises of extensive primary research along with the detailed analysis of qualitative as well as quantitative aspects by various industry experts, key opinion leaders to gain the deeper insight of the market and industry performance. The report gives the clear picture of current market scenario which includes historical and projected market size in terms of value, technological advancement, macro economical and governing factors in the market. The report provides details information and strategies of the top key players in the industry. The report also gives a broad study of the different market segments and regions.
Report Scope:
| Report Attribute/Metric | Details |
| --- | --- |
| Market Size | 2027: USD 51.31 Billion |
| CAGR | 9.82%.CAGR (2020-2027) |
| Base Year | 2019 |
| Forecast Period | 2020-2027 |
| Historical Data | 2018 |
| Forecast Units | Value (USD Billion) |
| Report Coverage | Revenue Forecast, Competitive Landscape, Growth Factors, and Trends |
| Segments Covered | Product and application |
| Geographies Covered | North America, Europe, Asia-Pacific, and Rest of the World (RoW) |
| Key Vendors | Suzlon Energy Limited (India), Enercon GmbH (Germany), CS Wind Corporation (South Korea), General Electric (U.S.), Siemens AG (Germany), Trinity Structural Towers, Inc. (U.S.) , Vestas Wind Systems A/S (Denmark), Valmont Industries, Inc. (U.S.), Ambau (Germany), and Broadwind Energy (U.S.). |
| Key Market Opportunities | New product launches and R&D Amongst major key Players |
| Key Market Drivers | Shift towards clean renewable energy |
Speak to Analyst
Ask for Customization
Frequently Asked Questions (FAQ) :
---