Global Virtual Classroom Market, By Type (Teleconferencing, World Wide Web), By Service (Managed Service, Professional Service), By Deployment (Cloud, On-Premise), By Application (IT & Telecommunication, Professional Services) - Forecast 2023

Market Synopsis of Virtual Classroom Market:
Market Scenario:
The virtual classroom market has been segmented into teleconferencing, world wide web, combination of teleconferencing and world wide web. Teleconferencing enables enterprises and educational institutes to reduce travel time and enhance productivity. It enhances productivity by allowing distant employees to communicate with their colleagues at company headquarters. The companies are able to conduct long distance meeting and make strategic decision. Teleconferencing systems that comprise of dial-in access facilities and toll-free service that helps employees by scheduling meetings on short notice.


Asia‐Pacific region is expected to be the fastest growing market due to the high adoption of virtual classroom techniques in developing countries.


The emerging trend in virtual classroom market is its portability and scalable learning across employees and students is boosting the market. BrainCert; one of the major player in virtual classroom market offers web-based HTML5 virtual classroom. Brainer is one of the leading player in virtual classroom market that offers Elan named virtual classroom software. The systems also offer content library for learning materials. The system can be accessed from mobile devices and remote desktop.


Virtual classroom can be defined as an e-learning environment where users can learn, interact, communicate, view and discuss presentation through numerous virtual classroom softwares, teleconferencing and web based accessed. The upcoming revolution in education system is replacing traditional classroom and learning methods. The implementation of information technology is driving the virtual classroom market. Educational institutes are adopting advanced teaching methods and tools which includes white boards, projectors and smart notebooks. Coordination between hardware provider, software innovator and education material provider is making learning easy for students and remote distant employees. The key drivers of virtual classroom market is increasing number of mobile learning applications and professional expertise with technology and digital learning are anticipated to drive the virtual classroom market. The increasing number of mobile phone users and rising popularity of social network is also fuelling the virtual classroom market.

The Virtual Classroom Market is expected to grow at approximately USD 12 Billion by 2023, at 10% of CAGR between 2017 and 2023.

Virtual Classroom Market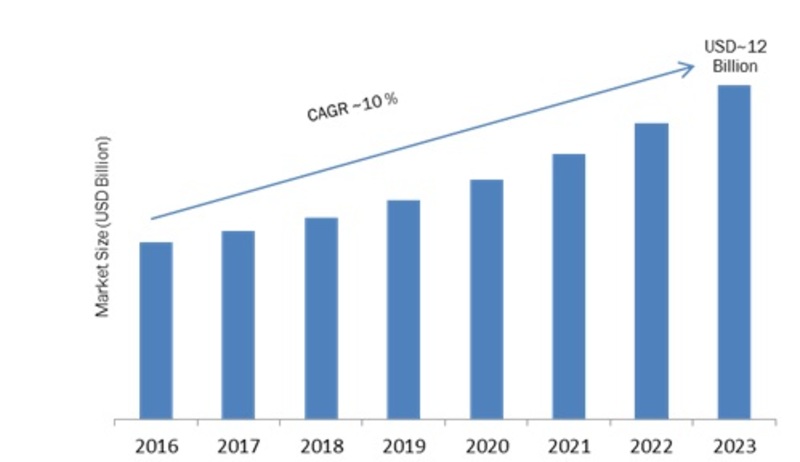 Key Players:
The prominent players in the virtual classroom market are – BrainCert (U.S.), SAP SE (Germany), Docebo (Italy), Saba Software (U.S.), Skyprep (Canada), Oracle Corporation (U.S.), Edvance360 (U.S.), Brainier (U.S.), Bluevolt (U.S.), Canvas (U.S.) among others.

Segments:
Virtual classroom market for segment on the basis of type, service, deployment, application and organization size.
Virtual Classroom Market by Type:


Teleconferencing


World Wide Web


Combination of Teleconferencing And World Wide Web



Virtual Classroom Market by Service:


Managed Service


Professional Service



Virtual Classroom Market by Deployment:

Virtual Classroom Market by Application:


Government


Enterprise/Business Education


Professional Services


Healthcare


IT & Telecommunication


School & College



Virtual Classroom Market by Organization Size:


Small and Medium Organization


Large Organization



Intended Audience


Investors and consultants


System Integrators


Government Organizations


Research/Consultancy firms


Technology solution providers


IT Solution Providers


Educational Institutes


TABLE OF CONTENTS


1 MARKET INTRODUCTION


1.1 INTRODUCTION


1.2 SCOPE OF STUDY


1.2.1 RESEARCH OBJECTIVE


1.2.2 ASSUMPTIONS


1.2.3 LIMITATIONS


1.3 MARKET STRUCTURE
2 RESEARCH METHODOLOGY


2.1 RESEARCH TYPE


2.2 PRIMARY RESEARCH


2.3 SECONDARY RESEARCH


2.4 FORECAST MODEL


2.4.1 MARKET DATA COLLECTION, ANALYSIS & FORECAST


2.4.2 MARKET SIZE ESTIMATION
3 MARKET DYNAMICS


3.1 INTRODUCTION


3.2 MARKET DRIVERS


3.3 MARKET CHALLENGES


3.4 MARKET OPPORTUNITIES


3.5 MARKET RESTRAINTS
4 EXECUTIVE SUMMARY
5. MARKET FACTOR ANALYSIS


5.1 PORTER'S FIVE FORCES ANALYSIS


5.2 SUPPLY CHAIN ANALYSIS
6 VIRTUAL CLASSROOM MARKET, BY SEGMENTS


6.1 INTRODUCTION


6.2 MARKET STATISTICS


6.2.1 BY TYPE


6.2.1.1 TELECONFERENCING


6.2.1.2 WORLD WIDE WEB


6.2.1.3 COMBINATION OF TELECONFERENCING AND WORLD WIDE WEB


6.2.2 BY SERVICE


6.2.2.1 MANAGED SERVICES


6.2.2.2 PROFESSIONAL SERVICES


6.2.3 BY DEPLOYMENT


6.2.3.1 CLOUD


6.2.3.2 ON-PREMISE


6.2.4 BY APPLICATION


6.2.4.1 GOVERNMENT


6.2.4.2 ENTERPRISE/BUSINESS EDUCATION


6.2.4.3 IT & TELECOMMUNICATION


6.2.4.4 PROFESSIONAL SERVICES


6.2.4.5 HEALTHCARE


6.2.4.6 SCHOOL & COLLEGE


6.2.5 BY ORGANIZATION SIZE


6.2.5.1 SMALL AND MEDIUM ORGANIZATION


6.2.5.2 LARGE ORGANIZATION


6.2.6 BY GEORGAPHY


6.2.6.1 NORTH AMERICA


6.2.6.2 EUROPE


6.2.6.3 ASIA-PACIFIC


6.2.6.4 REST OF THE WORLD
7 COMPETITIVE ANALYSIS


7.1 MARKET SHARE ANALYSIS


7.2 COMPANY PROFILES


7.2.1 BRAINCERT (U.S.)


7.2.2 SAP SE (GERMANY)


7.2.3 DOCEBO (ITALY)


7.2.4 SABA SOFTWARE (U.S.)


7.2.5 SKYPREP (CANADA)


7.2.6 ORACLE CORPORATION (U.S.)


7.2.7 EDVANCE360 (U.S.)


7.2.8 BRAINIER (U.S.)


7.2.9 BLUEVOLT (U.S.)


7.2.10 INSTRUCTURE (U.S.)


7.2.11 OTHERS
LIST OF TABLES


TABLE 1 VIRTUAL CLASSROOM MARKET, BY TYPE


TABLE 2 VIRTUAL CLASSROOM MARKET, BY SERVICE


TABLE 3 VIRTUAL CLASSROOM MARKET, BY DEPLOYMENT


TABLE 4 VIRTUAL CLASSROOM MARKET, BY APPLICATION


TABLE 5 VIRTUAL CLASSROOM MARKET, BY ORGANIZATION SIZE


TABLE 6 VIRTUAL CLASSROOM MARKET, BY REGION


TABLE 7 NORTH AMERICA VIRTUAL CLASSROOM MARKET, BY TYPE


TABLE 8 NORTH AMERICA VIRTUAL CLASSROOM MARKET, BY SERVICE


TABLE 9 NORTH AMERICA VIRTUAL CLASSROOM MARKET, BY DEPLOYMENT


TABLE 10 NORTH AMERICA VIRTUAL CLASSROOM MARKET, BY APPLICATION


TABLE 11 NORTH AMERICA VIRTUAL CLASSROOM MARKET, BY ORGANIZATION SIZE


TABLE 12 U.S. VIRTUAL CLASSROOM MARKET, BY TYPE


TABLE 13 U.S. VIRTUAL CLASSROOM MARKET, BY SERVICE


TABLE 14 U.S. VIRTUAL CLASSROOM MARKET, BY DEPLOYMENT


TABLE 15 U.S. VIRTUAL CLASSROOM MARKET, BY APPLICATION


TABLE 16 U.S. VIRTUAL CLASSROOM MARKET, BY ORGANIZATION SIZE


TABLE 17 CANADA VIRTUAL CLASSROOM MARKET, BY TYPE


TABLE 18 CANADA VIRTUAL CLASSROOM MARKET, BY SERVICE


TABLE 19 CANADA VIRTUAL CLASSROOM MARKET, BY DEPLOYMENT


TABLE 20 CANADA VIRTUAL CLASSROOM MARKET, BY APPLICATION


TABLE 21 CANADA VIRTUAL CLASSROOM MARKET, BY ORGANIZATION SIZE


TABLE 22 EUROPE VIRTUAL CLASSROOM MARKET, BY TYPE


TABLE 23 EUROPE VIRTUAL CLASSROOM MARKET, BY SERVICE


TABLE 24 EUROPE VIRTUAL CLASSROOM MARKET, BY DEPLOYMENT


TABLE 25 EUROPE VIRTUAL CLASSROOM MARKET, BY APPLICATION
TABLE 26 EUROPE VIRTUAL CLASSROOM MARKET, BY ORGANIZATION SIZE


TABLE 27 GERMANY VIRTUAL CLASSROOM MARKET, BY TYPE


TABLE 28 GERMANY VIRTUAL CLASSROOM MARKET, BY SERVICE


TABLE 29 GERMANY VIRTUAL CLASSROOM MARKET, BY DEPLOYMENT


TABLE 30 GERMANY VIRTUAL CLASSROOM MARKET, BY APPLICATION


TABLE 31 GERMANY VIRTUAL CLASSROOM MARKET, BY ORGANIZATION SIZE


TABLE 32 FRANCE VIRTUAL CLASSROOM MARKET, BY TYPE


TABLE 33 FRANCE VIRTUAL CLASSROOM MARKET, BY SERVICE


TABLE 34 FRANCE VIRTUAL CLASSROOM MARKET, BY DEPLOYMENT


TABLE 35 FRANCE VIRTUAL CLASSROOM MARKET, BY APPLICATOION


TABLE 36 FRANCE VIRTUAL CLASSROOM MARKET, BY ORGANIZATION SIZE


TABLE 37 U.K. VIRTUAL CLASSROOM MARKET, BY TYPE


TABLE 38 U.K. VIRTUAL CLASSROOM MARKET, BY SERVICE


TABLE 39 U.K. VIRTUAL CLASSROOM MARKET, BY DEPLOYMENT


TABLE 40 U.K. VIRTUAL CLASSROOM MARKET, BY APPLICATION


TABLE 41 U.K. VIRTUAL CLASSROOM MARKET, BY ORGANIZATION SIZE


TABLE 42 REST OF EUROPE VIRTUAL CLASSROOM MARKET, BY TYPE


TABLE 43 REST OF EUROPE VIRTUAL CLASSROOM MARKET, BY SERVICE


TABLE 44 REST OF EUROPE VIRTUAL CLASSROOM MARKET, BY DEPLOYMENT


TABLE 45 REST OF EUROPE VIRTUAL CLASSROOM MARKET, BY APPLICATION


TABLE 46 REST OF EUROPE VIRTUAL CLASSROOM MARKET, BY ORGANIZATION SIZE


TABLE 47 ASIA-PACIFIC VIRTUAL CLASSROOM MARKET, BY TYPE


TABLE 48 ASIA-PACIFIC VIRTUAL CLASSROOM MARKET, BY SERVICE


TABLE 49 ASIA-PACIFIC VIRTUAL CLASSROOM MARKET, BY DEPLOYMENT


TABLE 50 ASIA-PACIFIC VIRTUAL CLASSROOM MARKET, BY APPLICATION


TABLE 51 ASIA-PACIFIC VIRTUAL CLASSROOM MARKET, BY ORGANIZATION SIZE


TABLE 52 ROW VIRTUAL CLASSROOM MARKET, BY TYPE


TABLE 53 ROW VIRTUAL CLASSROOM MARKET, BY SERVICE


TABLE 54 ROW VIRTUAL CLASSROOM MARKET, BY DEPLOYMENT


TABLE 55 ROW VIRTUAL CLASSROOM MARKET, BY APPLICATION


TABLE 56 ROW VIRTUAL CLASSROOM MARKET, BY ORGANIZATION SIZE
LIST OF FIGURES


FIGURE 1 RESEARCH TYPE


FIGURE 2 VIRTUAL CLASSROOM MARKET: BY TYPE (%)


FIGURE 3 VIRTUAL CLASSROOM MARKET: BY SERVICE (%)


FIGURE 4 VIRTUAL CLASSROOM MARKET: BY DEPLOYMENT (%)


FIGURE 5 VIRTUAL CLASSROOM MARKET: BY APPLICATION (%)


FIGURE 7 VIRTUAL CLASSROOM MARKET: BY ORGANIZATION SIZE (%)


FIGURE 8 VIRTUAL CLASSROOM MARKET: BY REGION (%)


FIGURE 9 NORTH AMERICA VIRTUAL CLASSROOM MARKET, BY TYPE (%)


FIGURE 10 NORTH AMERICA VIRTUAL CLASSROOM MARKET, BY SERVICE (%)


FIGURE 11 NORTH AMERICA VIRTUAL CLASSROOM MARKET, BY DEPLOYMENT (%)


FIGURE 12 NORTH AMERICA VIRTUAL CLASSROOM MARKET, BY APPLICATION (%)


FIGURE 14 NORTH AMERICA VIRTUAL CLASSROOM MARKET, BY ORGANIZATION SIZE (%)


FIGURE 15 EUROPE VIRTUAL CLASSROOM MARKET, BY TYPE (%)


FIGURE 16 EUROPE VIRTUAL CLASSROOM MARKET, BY SERVICE (%)


FIGURE 17 EUROPE VIRTUAL CLASSROOM MARKET, BY DEPLOYMENT (%)


FIGURE 18 EUROPE VIRTUAL CLASSROOM MARKET, BY APPLICATION (%)


FIGURE 20 EUROPE VIRTUAL CLASSROOM MARKET, BY ORGANIZATION SIZE (%)


FIGURE 21 ASIA-PACIFIC VIRTUAL CLASSROOM MARKET, BY TYPE (%)


FIGURE 22 ASIA-PACIFIC VIRTUAL CLASSROOM MARKET, BY SERVICE (%)


FIGURE 23 ASIA-PACIFIC VIRTUAL CLASSROOM MARKET, BY DEPLOYMENT (%)


FIGURE 24 ASIA-PACIFIC VIRTUAL CLASSROOM MARKET, BY APPLICATION (%)


FIGURE 26 ASIA-PACIFIC VIRTUAL CLASSROOM MARKET, BY ORGANIZATION SIZE (%)


FIGURE 27 ROW VIRTUAL CLASSROOM MARKET, BY TYPE (%)


FIGURE 28 ROW VIRTUAL CLASSROOM MARKET, BY SERVICE (%)


FIGURE 29 ROW VIRTUAL CLASSROOM MARKET, BY DEPLOYMENT (%)


FIGURE 30 ROW VIRTUAL CLASSROOM MARKET, BY APPLICATION (%)


FIGURE 32 ROW VIRTUAL CLASSROOM MARKET, BY ORGANIZATION SIZE (%)