Vacuum Contactor Market Scenario:
Vacuum contactor market is expected to grow at USD 5,773.7 Million and 6.77% CAGR during the forecast period.
The Vacuum Contactor Market is projected to grow at a high rate during the forecast period, due to various factors such as growth in process industries which would increase the demand for vacuum contactors in HVAC system. Similarly, growth in the related markets such as motors, capacitors, switchgear, and transformers would also contribute to the growth of vacuum contactors.
Global market of vacuum contactor has been segmented based on Voltage Rating, application, end-user, and region. Based on applications, the market is classified into six categories, namely, motors, transformers, capacitors, reactors, resistive loads, and other applications such as generators, pumps, variable frequency drive, power transmitter, and switchgears. Motors and transformers hold larger share in the vacuum contactors market due to system reliability for harsh environments. Also, heavy duty cycling of motors require vacuum contactors for reliable starting and control of the motors.
Key Players:
The key players of global vacuum contactor market are General Electric (US), Schneider Electric (France), ABB (Switzerland), Siemens (Germany), Toshiba Corporation (Japan), Eaton Corporation (Ireland), Mitsubishi Electric (Japan), Larsen & Toubro (India), Rockwell Automation (US), and Crompton Greaves (India), among others.
Market Segmentation: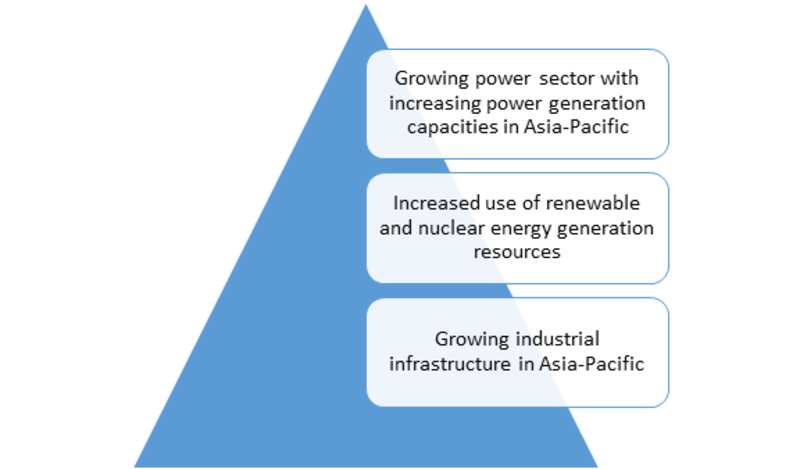 Vacuum contactor is an electrically controlled switch that is used to make or break an electrical circuit with the help of vacuum interrupter, relay and fuse. This switch is typically used in motor starters, switchgear and control gear of medium voltage fast switching devices motor starters, switchgear and control gear of medium voltage fast switching devices. Vacuum contactors are also widely used in HVAC systems since refrigeration, cooling, and ventilation equipment need an AC motor system. Therefore, robust growth in HVAC systems globally would drive the market.
Continuous increase in investment and upgradation in process industries, manufacturing industry, commercial, and large residential complexes that use HVAC systems would drive the market. Counties in Asia present hot climatic conditions along with rise in urbanization which has driven the demand for HVAC products. Additionally, the increasing demand for fast-switching devices is considered to have an equally upshifting effect on the demand for vacuum contactors.
Need for reduction of use of power in machineries would drive the demand for vacuum contactors as it helps to regulate power use to prevent a sudden increase in load in the motor. Therefore, power utilities and other industries are installing vacuum contactors help to reduce the power consumption in their systems and help to protect the equipment that is connected to an electrical network, leading to safety of overall system.
Global vacuum contactor market is expected to witness substantial growth during the forecast period owing to investment in HVAC system, government regulations on energy efficiency, and the use of environmentally friendly refrigerants. Moreover, rising requirement for efficiency of electric equipment in industries would be the key vacuum contactor trend in the market. Asia Pacific is the largest market for vacuum contactor. Rising urbanization and significant development in process industries such as paper & pulp, cement, and metal processing would boost the growth of vacuum contactor. North America is expected to be the second largest market for vacuum contactors during the forecast period. Replacement of aging T&D infrastructure in the US and increasing demand for reliable power is driving the demand for vacuum contactors.
Report Scope:
Report Attribute/Metric
Details
Market Size
2027: 5,773.7 Million Value
CAGR
6.77% CAGR (2020-2027)
Base Year
2019
Forecast Period
2020-2027
Historical Data
2018
Forecast Units
Value (USD Million)
Report Coverage
Revenue Forecast, Competitive Landscape, Growth Factors, and Trends
Segments Covered
Voltage Rating, Application and End-User
Geographies Covered
North America, Europe, Asia-Pacific, and Rest of the World (RoW)
Key Vendors
General Electric (US), Schneider Electric (France), ABB (Switzerland), Siemens (Germany), Toshiba Corporation (Japan), Eaton Corporation (Ireland), Mitsubishi Electric (Japan), Larsen & Toubro (India), Rockwell Automation (US), and Crompton Greaves (India)
Key Market Opportunities
New product launches and R&D amongst major key players
Key Market Drivers
Increase the demand for vacuum contactors in HVAC system
Government regulations on energy efficiency
Use of environmentally friendly refrigerants
Frequently Asked Questions (FAQ) :
---