Market Scenario
An Unmanned Aerial Vehicle (UAV) is an aircraft or an airborne system that is operated remotely by a human operator or autonomously by an onboard computer. Several companies are currently exploring the usage of UAVs (UAVs) for commercial and military purposes. UAVs with cameras are being deployed to inspect oil rigs, monitor agriculture fields and mines, and check on telecom towers. Of late, next-generation industrial UAVs are being dispatched to deliver packages, or support search and rescue operations. An industrial UAV is an essential tool, integrated with data gathering capabilities and almost unlimited mobility.
Furthermore, companies such as Uber and Amazon are planning to use UAVs to improve their market position in transportation and e-commerce industry, respectively. As UAV adoption accelerates, the value will quickly shift from UAV makers to the providers of UAV-related services. This would significantly boost market growth across the globe.
After various successful applications and throughout growth and innovations in the military segment, there have been a significant shift and increase of market dynamics towards the wider use of UAVs in the commercial sector. Government agencies, industries, and other organizations are all actively gauging the prospect for UAVs to create new and innovative business models. For instance, in 2016, the Federal Aviation Administration (FAA) registered nearly 300,000 UAV owners within the first month after it opened its registration site. UAVs nowadays find application in various sectors, including but not limited to, agriculture, disaster response, real estate, education, meteorology, tourism, utilities, construction & mining, maritime, and media. Moreover, companies such as Amazon, UPS, and Google are experimenting with UAVs for home delivery of goods. Of late, UAVs are being largely used in various industrial applications, including aviation, construction, mining, oil & gas, telecom, and logistics. The use of UAVs is driven by their benefits over their conventional manual inspection counterparts. With the rapid advances in technologies, UAVs can detect edge erosion and blade defects of a wind turbine and inspect turbine blade lightning receptors, towers, and nacelles.
Although the UAVs have a number of advantages, these unmanned systems are susceptible to cyber attacks, which can become a potential threat to the market growth. UAVs are vulnerable to hacking because they use unencrypted global positioning system information for navigation. These UAVs are remote controlled and are reliant on external wireless signals. The programming languages used are known to have vulnerabilities, which makes the software easier for hackers and engineers to crack.
Key Players
The key players in the global UAV market are Aero Vironment Inc. (US), DJI (China), Parrot Drones (France), Precisionhawk (US), 3D Robotics (US), Airbus SAS (Netherlands), Boeing (US), General Atomics (US), Lockheed Martin Corporation (US), Northrop Grumman Corporation (US), Textron Inc (US), and Thales Group (US).
Segmentation of the Global UAV Market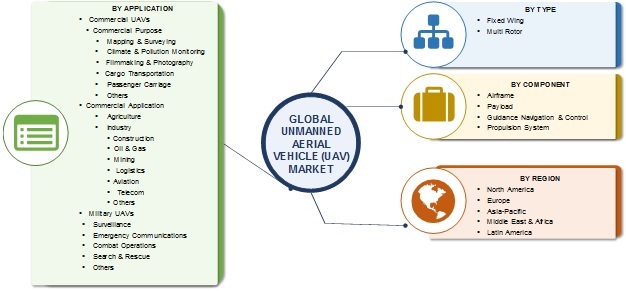 On the basis of type, the market has been segmented into fixed wing and multi rotor. The fixed wing segment accounted for a larger market share in 2018 and is expected to witness a higher CAGR during the forecast period from 2019 to 2028. Fixed wing UAVs provide various advantages such as long endurance, large area coverage, and faster flight speed. As a result, they are widely adopted for surveillance missions.
Based on component, the market has been segmented into airframe, payload, guidance navigation & control, and propulsion system. The airframe segment accounted for the largest market share in 2018. However, the payload segment is expected to grow at the highest CAGR of 24.13% during the forecast period. The payload is the weight a UAV can carry and includes anything other than the ones that aid in flying or hovering. The payload segment typically covers cameras, sensors, and other components. It varies for different applications. For instance, the payload of UAVs used in the military sector is much larger and include weapon systems and missiles.
On the basis of application, the market has been segmented into military and commercial. The commercial segment has been sub-segmented into agriculture and industry. The military segment accounted for a larger market share in 2018. However, the commercial segment is expected to witness a higher CAGR during the forecast period. This segment covers the market for UAVs used for all applications in commercial such as industrial, retail, government agencies, and others. Commercial UAVs are becoming powerful business tools, and huge demand is being observed in construction, agriculture, and infrastructure inspection sectors. Therefore, the segment is expected to propel over the forecast period.
Based on the region, the market has been segmented into North America, Europe, Asia-Pacific, Middle East & Africa, and Latine America. North America is estimated to acquire largest market share in 2018. However, Asia-Pacific is expected to grow at the highest CAGR during the forecast period from 2019 to 2028. The growing territorial conflicts, insurgency, and subsequent demand for unmanned systems for performing ISR missions, target recognition, damage assessment, and related missions. The UAVs are being successfully deployed in combat operations in volatile regions, such as the India-China border, India-Pakistan border, and the South China Sea. Furthermore, the growing adoption of UAVs for commercial applications is also driving the market growth in the region.
Research Methodology
The market values and forecasts are derived using MRFR research methodology, which includes secondary research, primary interviews, data triangulation, and validation from an in-house data repository and statistical modeling tools.
Secondary Research
In this process, data is collected from various secondary sources, including annual reports, SEC filings, journals, government associations, aerospace & defense magazines, white papers, corporate presentations, company websites, and paid databases.
Primary Research
In this process, both the demand- and supply-side parties are interviewed to extract facts and insights into the market forecast, production, trends, and projected market growth. Industry stakeholders such as CEOs, VPs, directors, and marketing executives across the value chain are approached to obtain key information.
Key Insights



Regional/Country Trends and Forecast: Detailed analysis of the market in North America, Asia-Pacific, Europe, the Middle East & Africa, and Latin America, along with key countries in each region






Market Dynamics Intelligence: Market drivers, opportunities, trends, restraints, Porter's five forces, supply chain, and value chain analysis






Competitive Intelligence: Market share analysis, financial analysis, product benchmarking, and strategic developments including joint ventures, product launches, and mergers & acquisitions



Intended Audience