Tobacco Packaging Market Synopsis
Tobacco market is projected to progress at a CAGR of ~3.1%, from USD 14.28 Billion in 2017 to reach USD 16.65 Billion by 2023.
There are a variety of tobacco products such as cigarettes, cigars, E-Cigarette & Smokeless tobacco for chewing or dipping, dissolvable tobacco, pipe, hookah-cigarettes. Growing population, changing lifestyle, and technology advancement are some of the factors that drive the market of tobacco packaging. Another driving factor of the market is equality laws for men and women, which led to a high number of female smokers.
Stressful life, increased workload, and hectic schedule are encouraging the consumption of tobacco. Introduction of smokeless tobacco for chewing or dipping and E-cigarettes are major trends in the global tobacco packaging market. Furthermore, diseases such as mouth cancer, and lung cancer caused by tobacco hinder the growth of the global market. Government and NGO's are organizing anti-tobacco campaigns for raising the awareness of the hazardous effects of tobacco. Also, the World Health Organization (WHO) has also launched many projects such as mAwareness & mSmoke-free to control the consumption of tobacco.
Key Player & Industry News of Global Tobacco Packaging Market
The key players in the global market for tobacco packaging include Amcor Ltd. (Australia), Innovia Films (U.K), WestRock (U.S.), Mondi Group (South Africa), ITC (India), Novelis (U.S.), British American Tobacco (U.K), Sonoco(U.S.), Philip Morris International Inc. (U.S.), and Reynolds American Corporation (U.S.).
Major strategies adopted by key players are joint ventures, divestitures, partnerships, new product launches and mergers. Recently, Amcor has made investments to improve its value proposition for its tobacco packaging customers both, in Europe and the Americas.
Market Segmentation: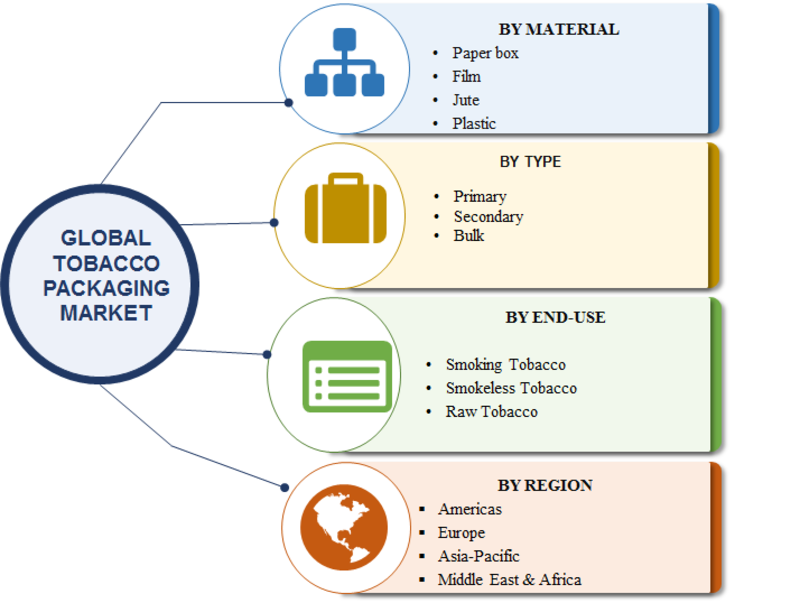 On the basis of materials, global tobacco packaging market is segmented into paper box, film, jute, plastic and others. Materials that are basically used for tobacco packaging include films, boards, cartons, foils, paper, laminates, and membranes. A recent trend shows that manufactures or the packaging industry mainly focus on paper box packaging due to its environment-friendly and cost-effective nature.
Tobacco packaging market is segmented on the basis of types as primary, secondary, and bulk. In 2016, the secondary segment had the largest market share, and is also expected to progress at the highest CAGR in coming years. For primary packaging, materials such as metalized films, polyester & nylon are used. Global tobacco packaging market has been segmented based on end-use into smoking tobacco, smokeless tobacco and raw tobacco. Smokeless tobacco include dipping tobacco, chewing tobacco, snuff, tobacco gum, tobacco gum and other.
Global tobacco packaging market, cigarette production has the largest share as it has become the center of attraction among the youth. Other reasons of growing market of cigarette is increase in consumption of cigarettes in social gatherings, which raise the demand for innovative and attractive cigarette boxes. So, different technologies used for the packaging of tobacco are offset printing, hot-foil stamping, and rotogravure.
Regional Analysis
China, Brazil, India, U.S., Turkey and South Korea are the leading tobacco manufacturing countries due to rapid economic expansion. In 2016, China was a top producer with production of about 2.8 million metric tons of tobacco. The factor driving the market in countries such as China and India are the growing population and increase in the population of youth in these countries. Brazil and Zimbabwe are the countries whose economies are currently dependent on tobacco production. Thus, the rising demand for tobacco products drives the tobacco packaging market. Moreover, the e-cigarette market has grown highly due to the fact that e-cigarettes are less harmful than smoking tobacco. Most part of the world's cigarettes is consumed in the Western Pacific region.
Tobacco is basically prepared from the leaves of the tobacco plant. Tobacco belongs to the genus Nicotiana & nightshade plant family. To prevent it from bacteria, aroma transmission, a right quality of packaging is required. So, packaging plays an important role, as it provides information about product content, ingredient and keeps the product in perfect condition.
The report for Global Tobacco Packaging Market of Market Research Future comprises extensive primary research findings along with the detailed analysis of qualitative and quantitative aspects by various industry experts, key opinion leaders to gain deeper insight into the market and industry performance. The report gives a clear picture of current market scenario, which includes historical and projected market size in terms of value, technological advancement, macro-economic and governing factors in the market. The report provides detailed information and strategies of the top key players in the industry. The report also gives a broad study of the different market segments and regions.
Report Scope:
Report Attribute/Metric
Details
Market Size
2023: USD 16.65 Billion
CAGR
3.1% CAGR (2020-2027)
Base Year
2019
Forecast Period
2020-2027
Historical Data
2018
Forecast Units
Value (USD Billion)
Report Coverage
Revenue Forecast, Competitive Landscape, Growth Factors, and Trends
Segments Covered
Material, Type, and End-Use
Geographies Covered
North America, Europe, Asia-Pacific, and Rest of the World (RoW)
Key Vendors
Amcor Ltd. (Australia), Innovia Films (U.K), WestRock (U.S.), Mondi Group (South Africa), ITC (India), Novelis (U.S.), British American Tobacco (U.K), Sonoco(U.S.), Philip Morris International Inc. (U.S.), and Reynolds American Corporation (U.S.)
Key Market Opportunities
New product launches and R&D amongst major key players
Key Market Drivers
Growing population
Changing lifestyle
Technology advancement
Frequently Asked Questions (FAQ) :
---