Thermoplastic Honeycomb Market Overview

Honeycomb structures are synthesized by integration of small hexagonal hollow cells. These structures provide a material of great strength and low density. The main advantage of hexagonal structure is that it reduces the wastage of material which in turn lowers the cost of production. Depending upon the type thermoplastic material, its honeycomb structure is classified into Polycarbonate Honeycomb and Polypropylene Honeycomb. Thermoplastic Honeycomb structure exhibits some additional properties such as moisture resistance, easy application and customization of sheets into desired shapes. The clarity and transparency of Thermoplastic Honeycomb is useful in lamps and lighting applications. Applications of thermoplastic honeycomb can be found in many industries such as aerospace, automotive, construction, and sports. Apart from this, Thermoplastic Honeycomb are also used in electronic devices due to its insulating property. The LED lighting technology used for decorative and entertainment purpose also makes use of Thermoplastic Honeycomb.

Thermoplastic Honeycomb is environment friendly owing to its 100 % recyclability. The aerospace industry is witnessing constantly growing demand of light weight material for manufacturing. The global market for aerospace composites and core materials is growing at the highest CAGR among all its end use industries, which is expected to propel growth of the Global Thermoplastic Honeycomb Market. Thermoplastic Honeycomb is anticipated to witness growth in demand during the forecast period owing to the sluggish demand of metal honeycomb structure. In addition to this the cost intensive nature of metal honeycomb make Thermoplastic Honeycomb more competitive in numerous applications. The global sports industry is set to grow at higher CAGR of ~7% on account of forthcoming Olympic Games in 2020. Moreover, the constant growth of construction segment around the world is projected to help push the growth of the Global Thermoplastic Honeycomb Market. However, the complex interaction between various damage mechanisms such as shock, abrasion, and low velocity impacts that causes deformation in the structure due to non-elastic behavior of some constituent material. This is expected to negatively impact the growth trajectory of Thermoplastic Honeycomb Market. Nevertheless, endearing researches in a bid to find new advanced elastic constituent materials to overcome this concern may help the market to retain momentum.
Global Thermoplastic Honeycomb Market Share, by End Use Industry 2016 (%):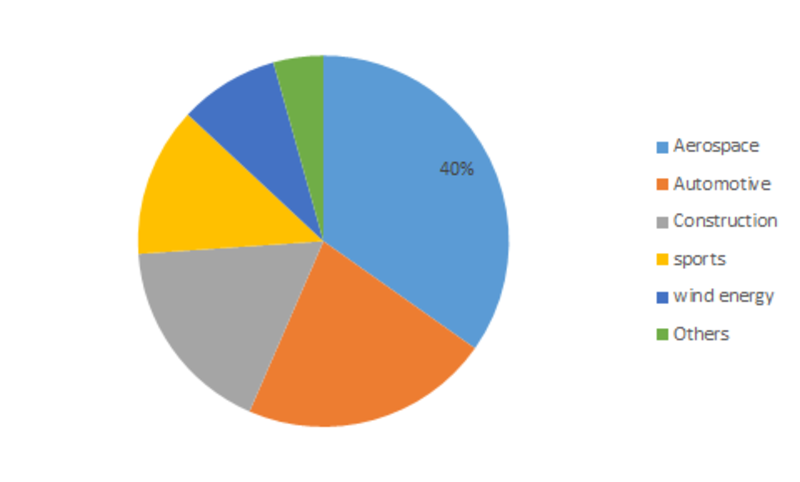 Regional Analysis:
The Global Thermoplastic Honeycomb Market is spanned across five key regions including, Asia Pacific, North America, Europe, Middle East & Africa, and Latin America. Asia Pacific is the fastest growing market among them due to the growing aerospace industry in this region. India and China are growing at the highest CAGR on account of ongoing developments in aerospace and automotive sector in these countries. North America is the second most significant region in the Global Thermoplastic Honeycomb Market. U.S. is the major shareholder of this regional market owing to the growth of established end use industries such as aerospace and sports industry. The U.S. aerospace companies are expected to continue leading the global aerospace market over the forecast period. Europe is one of important regions in the Global Thermoplastic Honeycomb Market. Germany, U.K, and France are the leading markets in this region, which is attributed to the presence of renowned automotive industries. European automotive industry is evolving with the advent of light weight, energy efficient, and electric vehicles. Middle East & Africa is estimated grow at significant CAGR due to upcoming FIFA world cup in 2022, which is to be held at Qatar. This in turn would drive the growth of sports industry in this region which may increase the demand of Thermoplastic Honeycomb. Latin America is currently holding smaller share of the Global Thermoplastic Honeycomb Market. During the forecast period the region is projected to witness moderate growth.
Segmentation:

The Global Thermoplastic Honeycomb Market has been segmented into type, end use industry, and region. On the basis of type, the market is divided into Polypropylene Honeycomb, and Polycarbonate Honeycomb, wherein the use of Polypropylene Honeycomb for making core is the leading segment. Based on end use industry the Global Thermoplastic Honeycomb Market is segmented into aerospace, automotive, construction, sports, wind energy and others. Among these industries, aerospace is holding major share of overall demand of thermoplastic honeycomb. Geographically, the market is divided into five key regions, including Asia Pacific, North America, Europe, Middle East & Africa, and Latin America.
Key Players:
Key players in the Global Thermoplastic Honeycomb Market are Plascore (Germany), Corex Honeycomb (U.K.), EconCore (Belgium), Universal Metaltek (India), Design Composite GmbH (Austria), Nidaplast (France), Tubus Bauer GmbH (Germany) and others.

Industry/ Innovation/ Related News:

July 25, 2019 -EconCore N V (Belgium), a leading manufacturer of honeycomb sandwich panels and parts, announced its partnership with Ultrapolymers Group NV ((Belgium), a leading distributor of rubber and plastics products and DuFor Polyester Specialties (the Netherlands), a leading developer of custom-made polyesters to develop recycled PET thermoplastic honeycomb.
The project to develop a thermoplastic honeycomb core made from recycled PET is funded by the Flemish Government. EconCore offers a worldwide patented process for continuous and cost-effective production of thermoplastic honeycombs whereas, Ultrapolymers and DuFor have extensive knowledge & expertise in processing PET and recycled PET (rPET) polymers.

Intended Audience:



Thermoplastic honeycomb Manufacturers




Traders and distributors of thermoplastic honeycomb




Research and development institutes




Potential investors




Raw material suppliers




Nationalized laboratory



Report Scope:
Report Attribute/Metric
Details
Market Size
2027: Significant value
CAGR
2019–2027: Substantial CAGR
Base Year
2019
Forecast Period
2020-2027
Historical Data
2018
Forecast Units
Value (USD Million)
Report Coverage
Revenue Forecast, Competitive Landscape, Growth Factors, and Trends
Segments Covered
By Type, End-Use Industry and Region
Geographies Covered
North America, Europe, Asia-Pacific, and Rest of the World (RoW)
Key Vendors
Plascore (Germany), Corex Honeycomb (U.K.), EconCore (Belgium), Universal Metaltek (India), Design Composite GmbH (Austria), Nidaplast (France), Tubus Bauer GmbH (Germany) and others.
Key Market Opportunities
Moisture resistance, easy application and customization of sheets into desired shapes.
Key Market Drivers
The sluggish demand of metal honeycomb structure.
The constant growth of construction segment
Frequently Asked Questions (FAQ) :
---
TABLE OF CONTENTS:

1 Executive Summary

2 Scope of the Report

2.1 Market Definition

2.2 Scope of the Study

2.2.1 Research Objectives

2.2.2 Assumptions & Limitations

2.3 Markets Structure

3 Market Research Methodology

3.1 Research Process

3.2 Secondary Research

3.3 Primary Research

3.4 Forecast Model

4 Market Landscape

4.1 Five Forces Analysis

4.1.1 Threat of New Entrants

4.1.2 Bargaining power of buyers

4.1.3 Threat of substitutes

4.1.4 Segment rivalry

4.2 Value Chain/Supply Chain of Global Thermoplastic Honeycomb Market

5 Industry Overview of Global Thermoplastic Honeycomb Market

5.1 Introduction

5.2 Growth Drivers

5.3 Impact analysis

5.4 Market Challenges

5.5 Impact analysis

6 Market Trends

6.1 Introduction

6.2 Growth Trends

6.3 Impact analysis

7. Global Thermoplastic honeycomb Market by Region

8. Global Thermoplastic Honeycomb Market by type (polypropylene honeycomb and polycarbonate honeycomb)

9. Global Thermoplastic Honeycomb Market by end use industry (aerospace, automotive, construction, sports, wind energy and others)

10 Company Landscape

11. Company Profiles

11.1 Plascore

11.1.1 Company Overview

11.1.2 Product/Business Segment Overview

11.1.3 Financial Updates

11.1.4 Key Developments

11.2 Corex Honeycomb

11.2.1 Company Overview

11.2.2 Product/Business Segment Overview

11.2.3 Financial Updates

11.2.4 Key Developments

11.3 EconCore

11.3.1 Company Overview

11.3.2 Product/Business Segment Overview

11.3.3 Financial Updates

11.3.4 Key Developments

11.4 Universal Metaltek

11.4.1 Company Overview

11.4.2 Product/Business Segment Overview

11.4.3 Financial Updates

11.4.4 Key Developments

11.5 Design Composite GmbH

11.5.1 Company Overview

11.5.2 Product/Business Segment Overview

11.5.3 Financial Updates

11.5.4 Key Developments

11.6 Nidaplast

11.6.1 Company Overview

11.6.2 Product/Business Segment Overview

11.6.3 Financial Updates

11.6.4 Key Developments

11.7 Tubus Bauer GmbH

11.7.1 Company Overview

11.7.2 Product/Business Segment Overview

11.7.3 Financial Updates

11.7.4 Key Developments

12 Conclusion

LIST OF TABLES:

Table 1 World Population by Major Regions (2020-2027)

Table 2 Global Thermoplastic honeycomb Market: By Region, 2020-2027

Table 3 North America Thermoplastic honeycomb Market: By Country, 2020-2027

Table 4 Europe Thermoplastic honeycomb Market: By Country, 2020-2027

Table 5 Asia-Pacific Thermoplastic honeycomb Market: By Country, 2020-2027

Table 7 Middle East & Africa Thermoplastic honeycomb Market: By Country, 2020-2027

Table 6 Latin America Thermoplastic honeycomb Market: By Country, 2020-2027

Table 8 Global Thermoplastic honeycomb by End use industry Market: By Regions, 2020-2027

Table 9 North America Thermoplastic honeycomb by End use industry Market: By Country, 2020-2027

Table 10 Europe Thermoplastic honeycomb by End use industry Market: By Country, 2020-2027

Table11 Asia-Pacific Thermoplastic honeycomb by End use industry Market: By Country, 2020-2027

Table13 Middle East & Africa Thermoplastic honeycomb by End use industry Market: By Country, 2020-2027

Table12 Latin America Thermoplastic honeycomb by End use industry Market: By Country, 2020-2027

Table14 North America Thermoplastic honeycomb for Type Market: By Country, 2020-2027

Table13 Europe Thermoplastic honeycomb for Type Market: By Country, 2020-2027

Table14 Asia-Pacific Thermoplastic honeycomb for Type Market: By Country, 2020-2027

Table16 Middle East & Africa Thermoplastic honeycomb for Type Market: By Country, 2020-2027

Table15 Latin America Thermoplastic honeycomb for Type Market: By Country, 2020-2027

Table23 Global End use industry Market: By Region, 2020-2027

Table24 Global Type Market: By Region, 2020-2027

Table25 North America Thermoplastic honeycomb Market, By Country

Table26 North America Thermoplastic honeycomb Market, By End use industry

Table27 North America Thermoplastic honeycomb Market, By Type

Table28 Europe : Thermoplastic honeycomb Market, By Country

Table29 Europe : Thermoplastic honeycomb Market, By End use industry

Table30 Europe : Thermoplastic honeycomb Market, By Type

Table31 Asia-Pacific: Thermoplastic honeycomb Market, By Country

Table32 Asia-Pacific: Thermoplastic honeycomb Market, By End use industry

Table33 Asia-Pacific: Thermoplastic honeycomb Market, By Type

Table34 Middle East & Africa: Thermoplastic honeycomb Market, By Country

Table35 Middle East & Africa Thermoplastic honeycomb Market, By End use industry

Table36 Middle East & Africa: Thermoplastic honeycomb Market, By Type

Table37 Latin America: Thermoplastic honeycomb Market, By Country

Table38 Latin America Thermoplastic honeycomb Market, By End use industry

Table39 Latin America: Thermoplastic honeycomb Market, By Type

LIST OF FIGURES:

FIGURE 1 Global Thermoplastic honeycomb Market segmentation

FIGURE 2 Forecast Methodology

FIGURE 3 Five Forces Analysis of Global Thermoplastic honeycomb Market

FIGURE 4 Value Chain of Global Thermoplastic honeycomb Market

FIGURE 5 Share of Global Thermoplastic honeycomb Market in 2020, by country (in %)

FIGURE 6 Global Thermoplastic honeycomb Market, 2020-2027, (USD billion)

FIGURE 7 Sub-segments of Type

FIGURE 8 Global Thermoplastic honeycomb Market size by type, 2020

FIGURE 9 Share of Global Thermoplastic honeycomb Market by type, 2020-2027

FIGURE 10 Global Thermoplastic honeycomb Market size by End use industry, 2020

FIGURE 11 Share of Global Thermoplastic honeycomb Market by End use industry, 2020-2027