Market Synopsis of

superconductor wire Market
Market Scenario

Superconductor wire conducts electricity with no resistance. Like more familiar conductors such as copper or steel, a superconductor carry a current indefinitely without losing energy. This offers the potential for revolutionary changes in technology and enables higher performance systems that can meet the stringent demands of different power technologies. Reduced energy wastage, improved electrical system efficiency and reduced size and weight of power components and machinery are some of the factors which helps to boom the market of superconductor wire.
Moreover, it is used from energy to healthcare sector. The rising prevalence of a number of cancers patients across the globe and the resulting rise in the demand for MRI tests is expected to be a key factor driving the global superconducting wire market. Whereas, high cost is acting as a major driver for superconductor wire market.
Global Superconductor Wire Market: Segmentation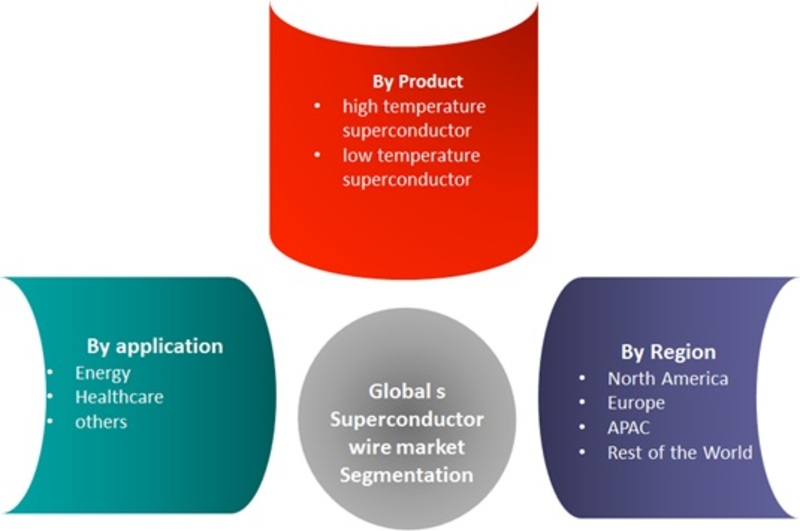 Study Objectives of

superconductor wire markets Market.


To provide detailed analysis of the market structure along with forecast of the various segments and sub-segments of the

superconductor wire

markets Market

.



To provide insights about factors affecting the market growth.


To analyze the superconductor wire markets market based porter's five force analysis etc.


To provide historical and forecast revenue of the market segments and sub-segments with respect to four main geographies and their countries- North America, Europe, Asia, and Rest of the World (ROW)


To provide country level analysis of the market with respect to the current market size and future prospective


To provide country level analysis of the market for segment by, and sub-segments


To provide strategic profiling of key players in the market, comprehensively analyzing their core competencies, and drawing a competitive landscape for the market


To track and analyze competitive developments such as joint ventures, strategic alliances, mergers and acquisitions, new product developments, and research and developments in the Conveyor system.


Regional Analysis

Asia pacific is expected to emerge as a growing region for superconductor wire market due to factors such as continuous expansion of MRI in healthcare sector as well as investment in robust energy storage and transmission technology help to grow the market in APAC region. It is referred as to be the fastest growing market for superconducting material due to the large number of upcoming projects for nuclear reactors in emerging economies such as India and China.
Market Size of Global superconductor wire market by Regions (USD Billion)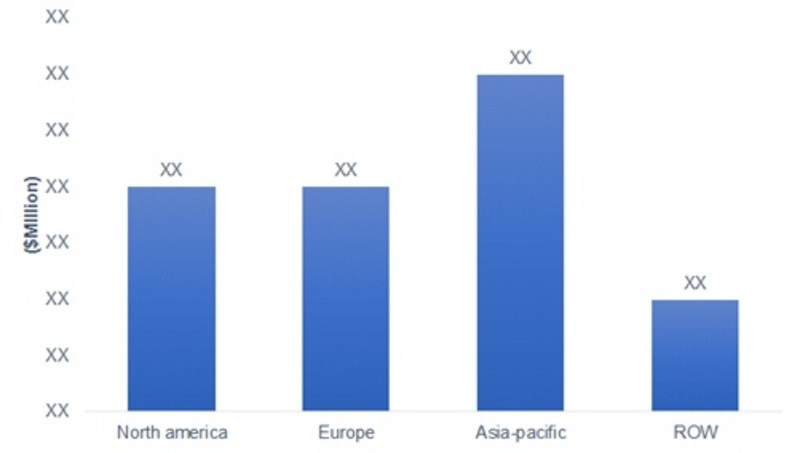 Key Players

The major player operating in the market of Global Superconductor Wire are Hyper Tech Research Inc., Siemens AG, Superconductor Technologies Inc., Metal Oxide Technologies Inc., American Superconductor, Evico GMBH, and Hitachi Ltd.
Target Audience


Organizations


Manufacturer


Research Institute / Education Institute


Potential Investors


Product Analysis
Additional Information



Regulatory Landscape




Pricing Analysis




Macroeconomic Indicators



Geographic Analysis
Company Information



Profiling of 10 key market players




In-depth analysis including SWOT analysis, and strategy information of related to report title




Competitive landscape including emerging trends adopted by major companies



The report for Global Superconductor Wire Market of Market Research Future comprises of extensive primary research along with the detailed analysis of qualitative as well as quantitative aspects by various industry experts, key opinion leaders to gain the deeper insight of the market and industry performance. The report gives the clear picture of current market scenario which includes historical and projected market size in terms of value and volume, technological advancement, macro economical and governing factors in the market. The report provides details information and strategies of the top key players in the industry. The report also gives a broad study of the different market segments and regions.
Report Scope:
Report Attribute/Metric
Details
Market Size
2027: Significant Value
CAGR
2027: Substantial CAGR
Base Year
2019
Forecast Period
2020-2027
Historical Data
2018
Forecast Units
Value (USD Million)
Report Coverage
Revenue Forecast, Competitive Landscape, Growth Factors, and Trends
Segments Covered
Product and Application
Geographies Covered
North America, Europe, Asia-Pacific, and Rest of the World (RoW)
Key Vendors
Hyper Tech Research Inc., Siemens AG, Superconductor Technologies Inc., Metal Oxide Technologies Inc., American Superconductor, Evico GMBH, and Hitachi Ltd.
Key Market Opportunities
New product launches and R&D Amongst major key Players
Key Market Drivers
Rise in the demand for MRI tests
Reduced energy wastage
Improved electrical system efficiency
Frequently Asked Questions (FAQ) :
---
TABLE OF CONTENTS

1 MARKET INTRODUCTION

1.1 INTRODUCTION

1.2 SCOPE OF STUDY

1.2.1 RESEARCH OBJECTIVE

1.2.2 ASSUMPTIONS

1.2.3 LIMITATIONS

1.3 MARKET STRUCTURE:

1.3.1 GLOBAL SUPERCONDUCTOR WIRE MARKET: BY PRODUCT

1.3.2 GLOBAL SUPERCONDUCTOR WIRE MARKET: BY APPLICATION

1.3.3 GLOBAL SUPERCONDUCTOR WIRE MARKET: BY REGION

2 RESEARCH METHODOLOGY

2.1 RESEARCH TYPE

2.2 PRIMARY RESEARCHPT

2.3 SECONDARY RESEARCH

2.4 FORECAST MODEL

2.4.1 MARKET DATA COLLECTION, ANALYSIS & FORECAST

2.4.2 MARKET SIZE ESTIMATION

2.4.3 MARKET CRACKDOWN & DATA TRIANGULATION

3 MARKET DYNAMICS

3.1 INTRODUCTION

3.2 MARKET DRIVERS

3.3 MARKET CHALLENGES

3.4 MARKET OPPORTUNITIES

4 EXECUTIVE SUMMARY

5. MARKET FACTOR ANALYSIS

5.1 PORTER'S FIVE FORCES ANALYSIS

5.2 SUPPLY CHAIN ANALYSIS

6 GLOBAL SUPERCONDUCTOR WIRE MARKET

6.1 INTRODUCTION

6.2 MARKET STATISTICS

6.2.1 BY PRODUCT

6.2.1.1 HIGH TEMPERATURE SUPERCONDUCTOR

6.2.1.2 LOW TEMPERATURE SUPERCONDUCTOR

6.2.2 BY APPLICATION

6.2.2.1 ENERGY

6.2.2.2 HEALTHCARE

6.2.2.3 INDUSTRY

6.2.2.4 OTHERS

6.2.3 BY GEOGRAPHY

6.2.3.1 NORTH AMERICA

6.2.3.2 EUROPE

6.2.3.3 ASIA-PACIFIC

6.2.3.4 REST OF THE WORLD

7 COMPETITIVE ANALYSIS

7.1 MARKET SHARE ANALYSIS

7.2 COMPANY PROFILES

7.2.1 HYPER TECH RESEARCH INC

7.2.2 SIEMENS AG

7.2.3 SUPERCONDUCTOR TECHNOLOGIES INC

7.2.4 METAL OXIDE TECHNOLOGIES INC

7.2.5 AMERICAN SUPERCONDUCTOR

7.2.6 EVICO GMBH

7.2.7 HITACHI LTD.

7.2.8 BRUKER CORPORATION

7.2.9 FURUKAWA ELECTRIC CO

7.2.10 FUJIKURA LTD

7.2.11 OTHERS

List of Tables

TABLE 1 GLOBAL SUPERCONDUCTOR WIRE MARKET, BY PRODUCT

TABLE 2 GLOBAL SUPERCONDUCTOR WIRE MARKET, BY APPLICATION

TABLE 3 GLOBAL SUPERCONDUCTOR WIRE MARKET, BY REGIONS

TABLE 4 NORTH AMERICA SUPERCONDUCTOR WIRE MARKET, BY COUNTRY

TABLE 5 NORTH AMERICA SUPERCONDUCTOR WIRE MARKET, BY PRODUCT

TABLE 6 NORTH AMERICA SUPERCONDUCTOR WIRE MARKET, BY APPLICATION

TABLE 7 U.S. SUPERCONDUCTOR WIRE MARKET, BY PRODUCT

TABLE 8 U.S. SUPERCONDUCTOR WIRE MARKET, BY APPLICATION

TABLE 9 CANADA SUPERCONDUCTOR WIRE MARKET, BY PRODUCT

TABLE 10 CANADA SUPERCONDUCTOR WIRE MARKET, BY APPLICATION

TABLE 11 EUROPE SUPERCONDUCTOR WIRE MARKET, BY COUNTRY

TABLE 12 EUROPE SUPERCONDUCTOR WIRE MARKET, BY PRODUCT

TABLE 13 EUROPE SUPERCONDUCTOR WIRE MARKET, BY APPLICATION

TABLE 14 GERMANY SUPERCONDUCTOR WIRE MARKET, BY PRODUCT

TABLE 25 GERMANY SUPERCONDUCTOR WIRE MARKET, BY APPLICATION

TABLE 16 FRANCE SUPERCONDUCTOR WIRE MARKET, BY PRODUCT

TABLE 17 FRANCE SUPERCONDUCTOR WIRE MARKET, BY APPLICATION

TABLE 18 U.K. SUPERCONDUCTOR WIRE MARKET, BY PRODUCT

TABLE 19 U.K. SUPERCONDUCTOR WIRE MARKET, BY APPLICATION

TABLE 20 U.K. SUPERCONDUCTOR WIRE MARKET, BY INDUSTRY

TABLE 21 U.K. SUPERCONDUCTOR WIRE MARKET, BY INDUSTRY

TABLE 22 REST OF EUROPE SUPERCONDUCTOR WIRE MARKET, BY PRODUCT

TABLE 23 REST OF EUROPE SUPERCONDUCTOR WIRE MARKET, BY APPLICATION

TABLE 24 ASIA-PACIFIC SUPERCONDUCTOR WIRE MARKET, BY COUNTRY

TABLE 25 ASIA-PACIFIC SUPERCONDUCTOR WIRE MARKET, BY PRODUCT

TABLE 26 ASIA-PACIFIC SUPERCONDUCTOR WIRE MARKET, BY APPLICATION

TABLE 27 ASIA-PACIFIC SUPERCONDUCTOR WIRE MARKET, BY INDUSTRY

TABLE 28 MIDDLE EAST & AFRICA SUPERCONDUCTOR WIRE MARKET, BY PRODUCT

TABLE 29 MIDDLE EAST & AFRICA SUPERCONDUCTOR WIRE MARKET, BY APPLICATION

TABLE 30 MIDDLE EAST & AFRICA SUPERCONDUCTOR WIRE MARKET, BY INDUSTRY

List of Figures

FIGURE 1 RESEARCH TYPE

FIGURE 2 GLOBAL SUPERCONDUCTOR WIRE MARKET: BY PRODUCT (%)

FIGURE 3 GLOBAL SUPERCONDUCTOR WIRE MARKET: BY APPLICATION (%)

FIGURE 4 GLOBAL SUPERCONDUCTOR WIRE MARKET: BY REGION

FIGURE 5 NORTH AMERICA SUPERCONDUCTOR WIRE MARKET, BY PRODUCT (%)

FIGURE 6 NORTH AMERICA SUPERCONDUCTOR WIRE MARKET, BY APPLICATION (%)

FIGURE 7 NORTH AMERICA SUPERCONDUCTOR WIRE MARKET, BY COUNTRIES (%)

FIGURE 8 EUROPE SUPERCONDUCTOR WIRE MARKET, BY PRODUCT (%)

FIGURE 9 EUROPE SUPERCONDUCTOR WIRE MARKET, BY APPLICATION (%)

FIGURE 10 EUROPE SUPERCONDUCTOR WIRE MARKET, BY COUNTRIES (%)

FIGURE 11 ASIA-PACIFIC SUPERCONDUCTOR WIRE MARKET, BY PRODUCT (%)

FIGURE 12 ASIA-PACIFIC SUPERCONDUCTOR WIRE MARKET, BY APPLICATION (%)

FIGURE 13 ASIA-PACIFIC SUPERCONDUCTOR WIRE MARKET, BY COUNTRIES (%)

FIGURE 14 ROW SUPERCONDUCTOR WIRE MARKET, BY PRODUCT (%)

FIGURE 15 ROW SUPERCONDUCTOR WIRE MARKET, BY APPLICATION (%)