Global Super Abrasives Market Information: Product Type (Vitrified Diamond, Vitrified CBN, Resin Bond Diamond, Resin Bond CBN, Metal/ Hybrid Bond CBN), Application (Cutting Tools, Tool Industry, Machinery, Electronics/ Smartphones), Region – Forecast Till 2023
Synopsis of Super Abrasives Market:
Super abrasives, one of the hardest abrasives available in the global market, are used for the precision grinding. Offer various useful properties such as high abrasive strength, compression strength, high thermal conductivity, better surface finishing, and longer service life.
The super abrasives market is witnessing high growth due to growing adoption of super abrasives over the conventional abrasives due to the superior properties and durability they offer. Furthermore, extensive demand for super abrasives from various end use industries as medical, automotive, electronics, and others is another factor fueling the growth of the global super abrasives market. These abrasives are extensively used in production and processing of engines, brakes, steering, suspension systems, rubber & tires, windshield glass & mirrors, and other body parts. Additionally, the rising modernization in the automotive industry is a reason for significant demand for high performance customized engines, which is expected to drive the market growth in the automotive sector. Furthermore, various stringent government regulations for protection of environment health and reduction in CO2 emission such as State Environment Protection Act (SEPA) in China, Bharat Stage Emission Standard (BSES) in India, Clean Air Act and Clean Water Act in the U.S., and the European Union regulations under Registration, Evaluation, Authorization of Chemicals (REACH) are expected to fuel the product demand further in the coming years. The changing lifestyle trend coupled with the high disposable income has augmented the demand for these products, thereby, propelling the market growth. However, the high cost of super abrasives may challenge the market growth during the forecast period 2017-2023. Nevertheless, manufacturers have started investing more on research and development to reduce production cost of super abrasives is likely to offer considerable opportunities in coming years. The global super abrasives market was valued at USD 10,024.3 million in 2017 and is expected to reach USD 1.4 billion at a CAGR of 6.57% by the end of forecast period.
Global Super Abrasives Market, by Application, 2017 (%)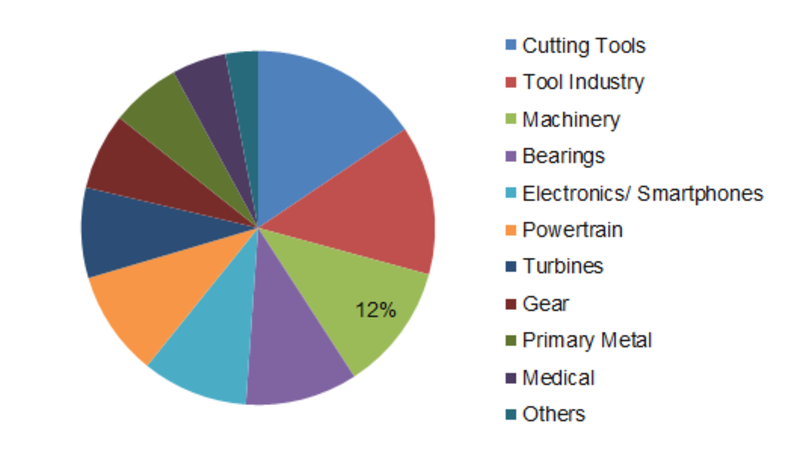 Source: MRFR Analysis
Regional Analysis
Regionally, the super abrasives market is spanned across five regions namely Asia Pacific, North America, Europe, Latin America, and the Middle East & Africa. Asia Pacific emerged as the leading super abrasives market in 2016, which was majorly driven by the increasing demand for durable and efficient automobiles. Asia Pacific region accounted for 58.40% of the overall value share in 2016 and is expected to grow at a healthy CAGR of 7.51% over the forecast period. The increasing production and sales of automotive and consumer goods in China, Japan, and India is the major driver of the regional market.
Europe is the second largest region and was valued at USD 1,006.6 million in 2016 and is projected to grow at a healthy CAGR of 5.39% during the review period 2017-2023.
Segmentation
The super abrasives market is categorized on the basis of product type, application, and region. On the basis of the product type, the market is segmented into vitrified diamond, vitrified CBN, resin bond diamond, resin bond CBN, metal/ hybrid bond CBN, metal/ hybrid bond diamond, electroplated diamond, electroplated CBN, rotary dressers, and stationary dressers.
On the basis of the application, the market is segmented into cutting tools, tool industry, machinery, electronics/ smartphones, bearings, powertrain, turbines, gear, medical, primary metal, and others. Based on the region, the market is segmented into Asia Pacific, Europe, Latin America, North America, and the Middle East & Africa.
Key Players
Some of the key players operating in the global super abrasives market are Saint Gobain (France), 3M (U.S.), Carborundum Universal Limited (France), Noritake (Japan), Meister Abrasives (U.S.), KREBA & RIEDEL (Germany), Tyrolit Schleifmittelwerke Swarovski K.G. (Austria), TOYODA VAN MOPPES LTD. (Tokyo), SUPER ABRASIVES (India), Zhengzhou Hongtuo Super Abrasive Products Co., Ltd (China), VSM Abrasives Corporation (Germany), and others.
Geographic Analysis
The report covers brief analysis of geographical region such as:
Key Findings



Global super abrasives market is projected to reach USD 14,681.1 million by the end of the forecast period at a healthy CAGR




Vitrified diamond product type accounted for the largest value market share of 16.00% in 2016.




Resin Bond Diamond was the second-largest market in 2016, valued at USD 1,325.9 million in 2016; it is projected to grow at a CAGR of 7.11% during the forecast period




Asia Pacific is the largest and fastest growing market across the globe, which accounted for 58.40% share of the global market in 2016.




Saint Gobain is the leading manufacturer of high performance polyamide



Intended Audience



Super abrasives manufacturers




Traders and distributors of super abrasives




Production process industries




Potential investors




Raw material suppliers