Market Scenario:
Companies such Nuance Communications, Inc. (U.S.), Microsoft Corporation (U.S.), Agnitio SL (Spain), VoiceVault (U.S.), VoiceBox Technologies Corp. (U.S), Google Inc. (U.S.) are some of the leading providers of speech recognition solution in the global market. November 22, 2016, Baidu, Inc. has released its speech APIs, which includes facial recognition, optical character recognition, natural language processing, and others. With this APIs, the company is planning to open up an access to its speech technologies, which is a long utterance speech recognition, far-field speech recognition, expressive speech synthesis, and wake word.
The adoption of artificial intelligence and Internet of Things is driving the global speech recognition market. The artificial intelligence-based speech recognition is widely used in the automotive and the healthcare sector. On September 26, 2017, Fluent.ai Inc. released their artificial intelligence based speech recognition solution, which improves recognition reliability and accuracy. This solution is basically a broad-based voice assistant, which includes minimizing privacy concerns for the Internet of Things. Increasing adoption of biometric security in banking and finance sector is boosting the demand for speech recognition technology that improves the customer experience in the automated phone system. It allows the user to interact with technologies in a more secure manner.
The global speech recognition market is segmented into type, technology, verticals, and region. The type is speaker dependent and speaker independent. The technology is segmented into non- artificial intelligence based and artificial intelligence based. The verticals are segmented into military, automotive, healthcare, finance, media & entertainment, government, and others. The market is spanned across regions including North America, Europe, Asia Pacific, and rest of the world.
The regional analysis of speech recognition market is studied for regions such as Asia Pacific (China, Japan, India), North America (the U.S., Mexico, Canada), Europe (the U.K, Germany) and Rest of the World. North America is one of the leading regions across the globe in terms of speech recognition market share. The speech recognition market is growing due to the security application in digital and internet-connected devices, which is boosting the market growth in this region. The speech recognition market in Europe is expected to witness a rapid growth over the forecast period. Whereas, Asia Pacific countries such as China, Japan, and India are an emerging speech recognition market, which is expected to grow at the highest CAGR in the coming years.
The global speech recognition market is expected to reach USD ~16 billion by 2023 at a CAGR of ~16% during the forecast period.
Global Speech Recognition Market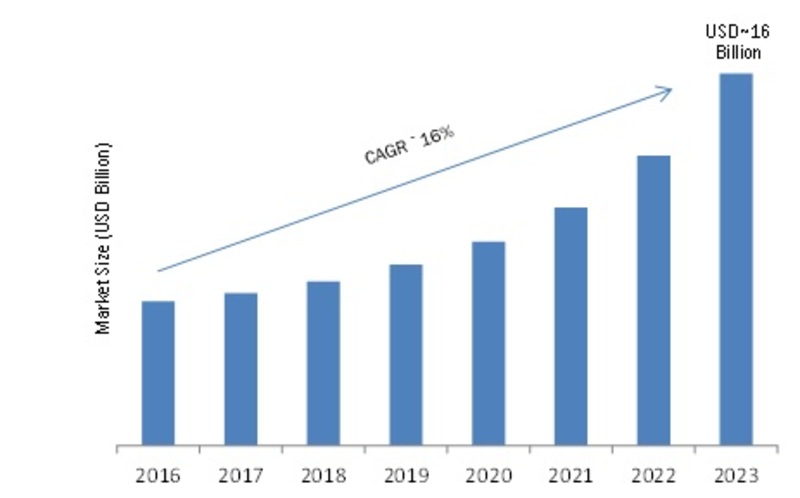 Key Players
Some of the prominent players in the global speech recognition market are Nuance Communications, Inc. (U.S.), Microsoft Corporation (U.S.), Agnitio SL (Spain), VoiceVault (U.S.), VoiceBox Technologies Corp. (U.S.), Google Inc. (U.S.), LumenVox LLC.(U.S), Raytheon BBN Technologies (U.S.), Advanced Voice Recognition Systems (U.S.), Sensory, Inc. (U.S.), ReadSpeaker Holding B.V. (Netherlands), Iflytek Co., Ltd. (China), Acapela Group SA (Belgium), AT&T Inc. (U.S.), Fluent.ai Inc. (Canada) among others. Competitive
Intended Audience



Speech recognition companies




Speech recognition providers




Technical universities




System integrators




Managed Security Service Providers




Professional service providers




Research and development companies




Market research and consulting firms




Solution providers




Technology standards organizations




Technology investors




System Integrators



Frequently Asked Questions (FAQ) :
---