Market Scenario: Voice recognition system market for automotive has been witnessing steady growth over a period of time. The evolution of VR systems to integrated assistant systems is a key factor that is expected to aid in this market growth over the coming years. Increasing demand for safety features in automobiles, stringent government norms and rapidly rising safety awareness among individuals are some of the factors, primarily, driving the voice recognition system market for automotive. Additionally with consumers, increasingly, demanding personalization and prioritizing comfort the market for voice recognition system in automotive is expected to register high growth rate. With the New Car Assessments Program awarding safety ratings based on vehicles safety performance, automotive manufacturers have been increasingly integrating voice recognition system for Automotive in vehicles. Voice recognition system was available only in premium vehicles. However, automobile manufacturers have started integrating these features in entry level vehicles to broaden their customer base, thus propelling the market demand.
Regional Analysis: The market for voice recognition for automotive systems is expected to grow with an increase in demand for automobiles, majorly in North America. There is an immense demand of commercial vehicles in the United States. With the increase in demand for commercial vehicles there has been an increase in demand for Voice Recognition System Market for Automotive. The growth of the North America region is due to the presence of major automotive system manufacturers, which are mainly focusing on key developments such as expansion, mergers & acquisition, product launch and others. Moreover, spending considerable time in Vehicles by the people generates the need for adoption of advanced technologies, such as Voice Recognition System Market for Automotive systems. Owing to all these factors, the growth of the region is expected to grow at a rapid pace.
Asia Pacific market for voice recognition for automotive is one of the other leading markets in voice recognition for the automotive market. The market has been experiencing rapid growth in the last two years owing to the rising sales of passenger cars, emerging economies, shifting of global players and technological advancements. Another major reason behind APAC leading, globally, is that the countries within this region were able to sustain their economies during the global economic crisis of 2008-09. They are capable of showcasing continued growth in automobile production and sales, across the globe. Rising purchasing power of individuals in the Asia Pacific region also welcomes the increase in demand of the market. There has been a significant influx of technology in the Asia Pacific region. Still, the lack of major market players, and underdeveloped automotive infrastructure have resulted in alienating certain geographies, particularly the African and Middle East region.
Market Segmentation: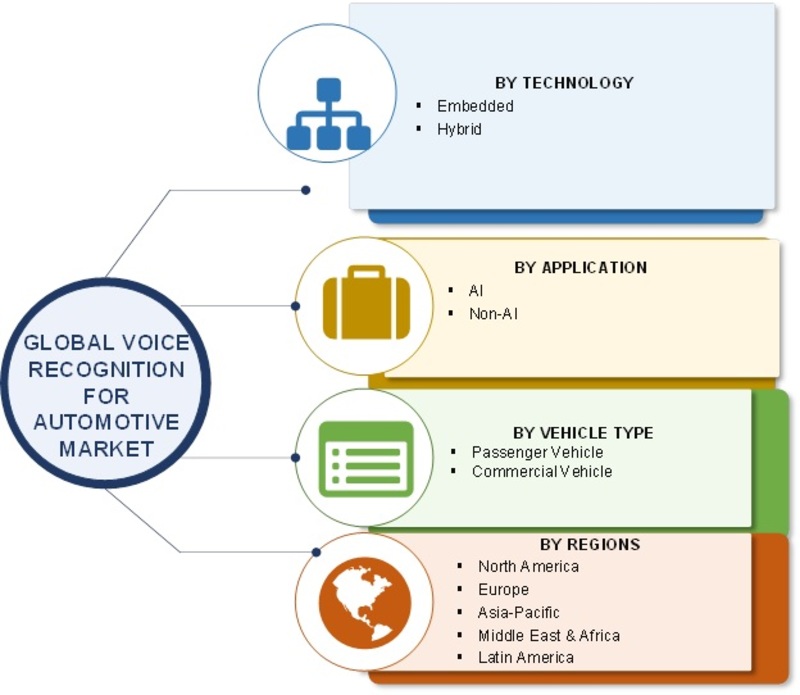 Key Players: The key players of global Voice Recognition System Market for Automotive are Nuance (US), Microsoft (US), Alphabet (US), Harman (US), Apple (US), BMW (Germany), Daimler (Germany), and Ford (US). In 2016, these companies accounted for a share of XX% of the global market.
Intended Audience:



Distributer & Supplier companies




End Users




Consultants and Investment bankers




Government as well as Independent Regulatory Authorities



Product Analysis:


Product matrix which gives a detailed comparison of the market for different recycled product types


Additional Information:


Regulatory Landscape


Pricing Analysis


Macroeconomic Indicators


Geographic Analysis:


Geographical analysis across 15 countries


Company Information:


Profiling of 10 key market players



In-depth analysis including SWOT analysis, and strategy information of related to report title




Competitive landscape including emerging trends adopted by major companies



The report for Global Voice Recognition System Market for Automotive of Market Research Future comprises of extensive primary research along with the detailed analysis of qualitative as well as quantitative aspects by various industry experts, key opinion leaders to gain the deeper insight of the market and industry performance. The report gives the clear picture of current market scenario which includes historical and projected market size in terms of value, technological advancement, macro economical and governing factors in the market. The report provides details information and strategies of the top key players in the industry. The report also gives a broad study of the different market segments and regions.
Frequently Asked Questions (FAQ) :
---
Table of Contents

1 Introduction

1.1 Definition

1.2 Scope of Study

1.3 Research Objective

1.4 Assumptions & Limitations

1.5 Market Structure:

2 Research Vehicle Typeology

2.1 Research Process

2.2 Primary Research

2.3 Secondary Research

3 Market Dynamics

3.1 Drivers

3.2 Restraints

3.3 Opportunities

3.4 Challenges

3.5 Macroeconomic Indicators

4 Market Factor Analysis

4.1 Porter's five forces model

4.1.1 Bargaining Power of suppliers

4.1.2 Bargaining Power of Customer

4.1.3 Intensity of Competitor's

4.1.4 Threat of New Entrants

5 Voice Recognition for Automotive, By Technology

5.1 Introduction

5.1.1 Embedded

5.1.2 Hybrid

6 Voice Recognition for Automotive, By Application

6.1 Introduction

6.1.1 AI

6.1.2 Non-AI

7 Voice Recognition for Automotive, By Vehicle Type

7.1 Introduction

7.1.1 Passenger Vehicle

7.1.2 Commercial Vehicle

8 Voice Recognition for Automotive, By Region

8.1 Introduction

8.1.1 North America

8.1.1.1 US

8.1.1.2 Canada

8.1.2 Europe

8.1.2.1 Germany

8.1.2.2 France

8.1.2.3 UK

8.1.2.4 Italy

8.1.2.5 Spain

8.1.2.6 Rest of Europe

8.1.3 Asia Pacific

8.1.3.1 Japan

8.1.3.2 China

8.1.3.3 India

8.1.3.4 South Korea

8.1.3.5 Rest of Asia Pacific

8.1.4 Middle East & Africa

9 Company Landscape

9.1 Introduction

9.1.1 Mergers Acquisitions

9.1.2 Collaborations

9.1.3 Release/New Product Launches

8.1.4 Other (Expansion, Updates, Partnership)

10 Company Profile

10.1 Nuance

10.1.1 Company Overview

10.1.2 Product/Business Segment Overview

10.1.3 Financials

10.1.4 Key Developments

10.2 Microsoft

10.2.1 Overview

10.2.2 Product/Business Segment Overview

10.2.3 Financials

10.2.4 Key Developments

10.3 Alphabet

10.3.1 Overview

10.3.2 Product/Business Segment Overview

10.3.3 Financials

10.3.4 Key Developments

10.4 Harman

10.4.1 Overview

10.4.2 Product/Business Segment Overview

10.4.3 Financials

10.4.4 Key Developments

10.5 Apple

10.5.1 Overview

10.5.2 Product/Business Segment Overview

10.5.3 Financials

10.5.4 Key Developments

10.6 BMW

10.6.1 Overview

10.6.2 Product/Business Segment Overview

10.6.3 Financials

10.6.4 Key Developments

10.7 Daimler

10.7.1 Overview

10.7.2 Product/Business Segment Overview

10.7.3 Financials

10.7.4 Key Developments

11 Appendix

List of Tables

TABLE 9 EUROPE VOICE RECOGNITION FOR AUTOMOTIVE, BY DRIVE TYPE 2020-2027, (MILLION) 22

TABLE 10 EUROPE VOICE RECOGNITION FOR AUTOMOTIVE, BY DRIVE TYPE 2020-2027, (MILLION) 22

TABLE 11 MIDDLE EAST VOICE RECOGNITION FOR AUTOMOTIVE, BY DRIVE TYPE 2020-2027, (MILLION) 23

TABLE 12 AFRICA VOICE RECOGNITION FOR AUTOMOTIVE, BY DRIVE TYPE, 2020-2027, (MILLION) 23

TABLE 13 EUROPE VOICE RECOGNITION FOR AUTOMOTIVE 2020-2027, ($MILLION) 24

TABLE 14 EUROPE VOICE RECOGNITION FOR AUTOMOTIVE, BY COUNTRY 2020-2027, ($MILLION) 25

TABLE 15 GERMANY VOICE RECOGNITION FOR AUTOMOTIVE, BY VEHICLE TYPE 2020-2027, ($MILLION) 25

TABLE 16 GERMANY VOICE RECOGNITION FOR AUTOMOTIVE, BY DRIVE TYPE 2020-2027, ($MILLION) 26

TABLE 17 FRANCE VOICE RECOGNITION FOR AUTOMOTIVE, BY VEHICLE TYPE 2020-2027, ($MILLION) 26

TABLE 18 FRANCE VOICE RECOGNITION FOR AUTOMOTIVE, BY DRIVE TYPE 2020-2027, ($MILLION) 26

TABLE 19 ITALY VOICE RECOGNITION FOR AUTOMOTIVE, BY VEHICLE TYPE 2020-2027, ($MILLION) 27

TABLE 20 ITALY VOICE RECOGNITION FOR AUTOMOTIVE, BY DRIVE TYPE 2020-2027, ($MILLION) 27

TABLE 21 SPAIN VOICE RECOGNITION FOR AUTOMOTIVE, BY VEHICLE TYPE 2020-2027, ($MILLION) 28

TABLE 22 SPAIN VOICE RECOGNITION FOR AUTOMOTIVE, BY DRIVE TYPE 2020-2027, ($MILLION) 28

TABLE 23 U.K. VOICE RECOGNITION FOR AUTOMOTIVE, BY VEHICLE TYPE 2020-2027, ($MILLION) 29

TABLE 24 U.K. VOICE RECOGNITION FOR AUTOMOTIVE, BY DRIVE TYPE 2020-2027, ($MILLION) 29

TABLE 25 SCANDINAVIA VOICE RECOGNITION FOR AUTOMOTIVE, BY VEHICLE TYPE 2020-2027, ($MILLION) 30

TABLE 26 SCANDINAVIA VOICE RECOGNITION FOR AUTOMOTIVE, BY DRIVE TYPE 2020-2027, ($MILLION) 30

TABLE 27 BENELUX VOICE RECOGNITION FOR AUTOMOTIVE, BY VEHICLE TYPE 2020-2027, ($MILLION) 31

TABLE 28 BENELUX VOICE RECOGNITION FOR AUTOMOTIVE, BY DRIVE TYPE 2020-2027, ($MILLION) 31

TABLE 29 REST OF EUROPE VOICE RECOGNITION FOR AUTOMOTIVE, BY VEHICLE TYPE 2020-2027, ($MILLION) 32

TABLE 30 REST OF EUROPE VOICE RECOGNITION FOR AUTOMOTIVE, BY DRIVE TYPE 2020-2027, ($MILLION) 32

TABLE 31 MIDDLE EAST VOICE RECOGNITION FOR AUTOMOTIVE, BY COUNTRY 2020-2027, ($MILLION) 33

TABLE 32 SAUDI ARABIA VOICE RECOGNITION FOR AUTOMOTIVE, BY VEHICLE TYPE 2020-2027, ($MILLION) 34

TABLE 33 SAUDI ARABIA VOICE RECOGNITION FOR AUTOMOTIVE, BY DRIVE TYPE 2020-2027, ($MILLION) 34

TABLE 34 UAE VOICE RECOGNITION FOR AUTOMOTIVE, BY VEHICLE TYPE 2020-2027, ($MILLION) 35

TABLE 35 UAE VOICE RECOGNITION FOR AUTOMOTIVE, BY DRIVE TYPE 2020-2027, ($MILLION) 35

TABLE 36 KUWAIT VOICE RECOGNITION FOR AUTOMOTIVE, BY VEHICLE TYPE 2020-2027, ($MILLION) 36

TABLE 37 KUWAIT VOICE RECOGNITION FOR AUTOMOTIVE, BY VEHICLE TYPE 2020-2027, ($MILLION) 36

TABLE 38 QATAR VOICE RECOGNITION FOR AUTOMOTIVE, BY VEHICLE TYPE 2020-2027, ($MILLION) 37

TABLE 39 QATAR VOICE RECOGNITION FOR AUTOMOTIVE, BY VEHICLE TYPE 2020-2027, ($MILLION) 37

TABLE 40 REST OF MIDDLE EAST VOICE RECOGNITION FOR AUTOMOTIVE, BY VEHICLE TYPE 2020-2027, ($MILLION) 38

TABLE 41 REST OF MIDDLE EAST VOICE RECOGNITION FOR AUTOMOTIVE, BY VEHICLE TYPE 2020-2027, ($MILLION) 38

TABLE 42 AFRICA VOICE RECOGNITION FOR AUTOMOTIVE, BY COUNTRY 2020-2027, ($MILLION) 39

TABLE 43 SOUTH AFRICA VOICE RECOGNITION FOR AUTOMOTIVE, BY VEHICLE TYPE 2020-2027, ($MILLION) 40

TABLE 44 SOUTH AFRICA VOICE RECOGNITION FOR AUTOMOTIVE, BY VEHICLE TYPE 2020-2027, ($MILLION) 40

TABLE 45 NIGERIA VOICE RECOGNITION FOR AUTOMOTIVE, BY VEHICLE TYPE 2020-2027, ($MILLION) 41

TABLE 46 NIGERIA VOICE RECOGNITION FOR AUTOMOTIVE, BY VEHICLE TYPE 2020-2027, ($MILLION) 41

TABLE 47 ALGERIA VOICE RECOGNITION FOR AUTOMOTIVE, BY VEHICLE TYPE 2020-2027, ($MILLION) 42

TABLE 48 ALGERIA VOICE RECOGNITION FOR AUTOMOTIVE, BY VEHICLE TYPE 2020-2027, ($MILLION) 42

TABLE 49 REST OF AFRICA VOICE RECOGNITION FOR AUTOMOTIVE, BY VEHICLE TYPE 2020-2027, ($MILLION) 43

TABLE 50 REST OF AFRICA VOICE RECOGNITION FOR AUTOMOTIVE, BY VEHICLE TYPE 2020-2027, ($MILLION) 43

List of Figures

FIGURE 1 Supply chain: Voice Recognition System 16

FIGURE 2 Porter's Five Forces Analysis 17