Market Highlights
Specialty Surfactants are surface-active agents used in cleaning, dispersing, emulsifying, wetting, and foaming. Surface-active agents are manufactured using two basic methods, which include oleochemical and synthetic. Oleochemicals are derived from natural vegetable oils, such as seed oils of palm and coconut. Synthetic surfactants are derived from basic petrochemical feedstock, such as ethylene and benzene. The primary function of Specialty Surfactant is in household soaps and detergents as a cleansing agent. Additionally, because of their viscosity and foaming., they are increasingly gaining popularity in numerous applications, such as personal care, food and beverages, oil and gas, and agriculture.
The growing personal care industry in emerging economies is likely to drive the Specialty Surfactant Market during the forecast period. Surfactants are used as ingredients for foaming agents, dispersants, emulsifiers, and solubilizing agents. Specialty Surfactants offer good performance advantages such as synergistic cleaning and cost over traditional commodity products that tend to be harsher on the skin and hair. Owing to these benefits, the demand for Specialty Surfactants is expected to rise in the personal care industry.
The consumption of Specialty Surfactant is increasing in household cleaning, owing to the growing popularity of liquid laundry detergents over powder. specialty surfactants such as alcohol ethoxysulfates, sulfosuccinates, phosphate esters, ethoxylated amines and quaternaries finds wide range of application in various end-use industries such as agriculture, textile and building and construction.
However,
stringent environmental regulations on biodegradability, pollution control, and unfavorable production procedures are the major restraints in to the market growth.
The development of bio-based surfactants is expected to create a sustainable opportunity to gain competitive advantage. For instance, polysaccharide, which are used as an feedstock for manufacturing surfactants, derived from waste fruit peels.
Global Specialty Surfactant Market Share, by Type, 2017 (%):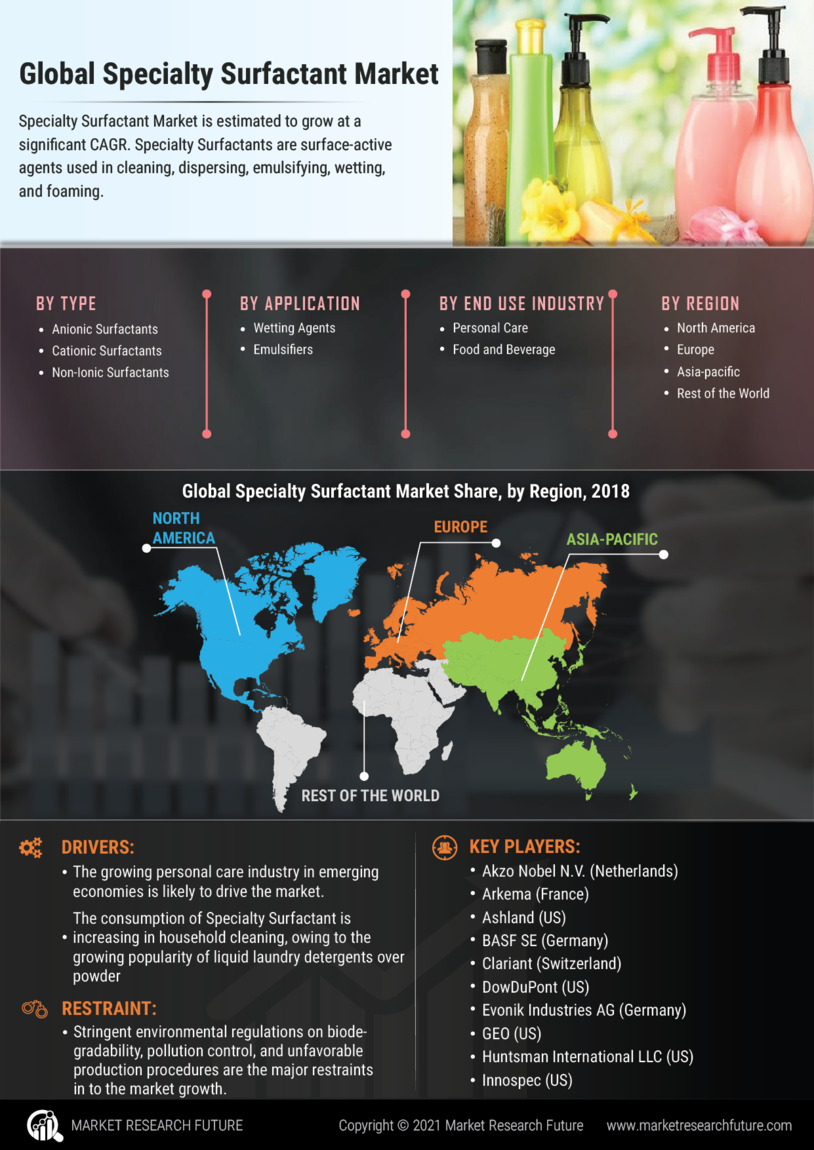 Regional Analysis:
Asia-Pacific accounted for the largest market share in 2017, owing to the healthy growth of the personal care industry. The growing population, specifically in China and India, lies in the ages between 20 and 30 years are the major consumer of cosmetics and personal care products are expected to fuel the demand for specialty surfactant in the region.
North America is another prominent region for Specialty Surfactants due to growing demand for Oleo chemicals that are produced from natural sources, obtained from vegetables or animals. It is less toxic as compared to tradition petroleum-based surfactant. The demand for Oleo Chemicals has increased in various application of the chemical industry, the growing need for sustainable solutions such as bio-based products such as bio-surfactants, bio-lubricants, and biopolymers, are emerging as replacements for petroleum-based products which expected to fuel the demand for oleo-chemicals which in turn will propel the Bio-Based Surfactants in various end-use industries in the US, Canada, and Mexico.
The European market is expected to grow due to the
increasing demand for bio-based surfactant, which is less toxic as compared to petrochemicals. The European consumers are becoming more aware of environmental and sustainability issues in line with personal care products.
The Latin American market is expected to grow at a significant rate during the review period, due to
improving economic improvement which is likely to have a positive effect on industrial growth in the region, specifically in Brazil and Mexico. The market in the Middle East and Africa is expected to exhibit considerable growth in the coming years with increasing applications of Specialty Surfactant in the oil and gas industry for fracturing, drilling, acidization, and Enhanced Oil Recovery (EOR).
Segmentation:
The Global Specialty Surfactant Market has been segmented by Type, Application, End-Use Industry and Region.
Based on Application, the market has been segmented into
wetting agents, emulsifiers, dispersants, foaming agents, stabilizers, and others.
Based on End-Use Industry, the market has been segmented into personal care, food and beverage, oil and gas, agriculture, paints and coatings, and others.
By Region, the market has been categorized as North America, Europe, Asia-Pacific, Latin America, and the Middle East and Africa.
Key Players:
Some of the key players in the Global Specialty Surfactant Market are Akzo Nobel N.V. (Netherlands), Arkema (France), Ashland (US), BASF SE (Germany), Clariant (Switzerland), DowDuPont (US), Evonik Industries AG (Germany), GEO (US), Huntsman International LLC (US), Innospec (US), Libra Speciality Chemicals Limited (UK), Procter & Gamble (US), Pilot Chemical Corp. (US), and Stepan Company (US).
Intended Audience:



Specialty Surfactant Manufacturers




Traders and Distributors of Elastomeric Foam




Research and Development Institutes




Potential investors




Raw material suppliers




Nationalized laboratories



Frequently Asked Questions (FAQ) :
---