Market Snapshot
Global Smart Home and Office Market are expected to register a 14.01% CAGR, exhibiting substantial growth during the forecast period. The market was valued at USD 37.11 Billion in 2018; it is expected to reach USD 92.18 Billion by 2025.
Smart homes are equipped with Internet-connected devices for controlling, automating, and optimizing functions such as temperature, lighting, security, and entertainment. These devices can be remotely controlled, monitored, and accessed by a phone, tablet, computer, or a separate system. A smart office is a workplace that leverages technology to automate routine tasks and helps optimize work. It uses advanced automated systems for various purposes such as lighting, temperature control, hot-desking, smart room booking, indoor navigation, security, and access control systems.
The growing need for energy-efficient buildings, rising concerns regarding safety, security, and public convenience and increasing ownership of internet-enabled smart devices are factors expected to drive the smart home and office market during the forecast period. However, high switching and installation costs and risks of data breaches and device malfunctioning are expected to restrain the market growth during the forecast period. Further, integration with 5G technology and favorable government regulations regarding green building initiatives are expected to act as opportunities for the global smart home and office market during the forecast period.
North America accounted for the largest market value of USD 12,702.8 Million in 2018; the market is expected to register a CAGR of 11.5% during the forecast period.
Global Smart Home and Office Market, By Product (2018 Vs 2025)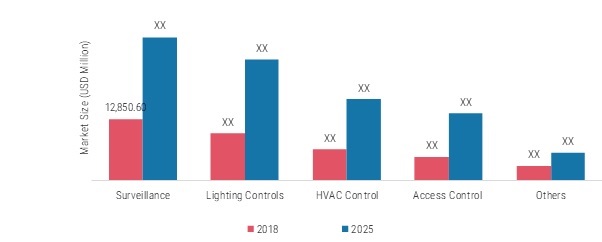 Source: MRFR Analysis
Based on product, the market has been classified as lighting controls (relays, sensors, dimmers, switches, and others), access controls (biometric readers, smart card readers, smart locks, and others), surveillance products (security cameras, storage and monitoring devices, and others), HVAC controls (smart thermostat, sensors, control valves, actuators, dampers, smart vents, and others), and other products (smart smoke detectors, smart meters, and others). The surveillance segment accounted for the larger market share in 2018, with a market value of USD 12,850.6 Million. The lighting control product segment is expected to be the second largest segment during the forecast period. Lighting control systems use lights that use low energy and have high luminous intensity such as LED lights, which consume less space. Access control systems deal with restricting access to the building electronically. Video surveillance systems use surveillance cameras to monitor the premises of smart buildings in real-time. HVAC stands for heating, ventilation, and air-conditioning. HVAC control systems in a smart building use sensors and equipment such as thermal sensors, occupancy sensors, demand control ventilation, variable speed fans, all of which are linked with the building automation systems.
Regional Analysis
The Global Smart Home and Office Market, by region, has been segmented into Asia-Pacific, North America, Europe, and the rest of the world. North America is expected to dominate the smart home and office market during the forecast period due to the increasing number of government initiatives to support smart lighting systems offices and residencies for accelerating the growth of the market in the region.
Companies Covered
The Key Players of Global Smart Home and Office Market are ABB Group(South Korea), Siemens AG(Germany), Samsung Electronics Co. Ltd. (South Korea), Sony Corporation (Japan), Lutron Electronics Co., Inc. (US), Eaton Corporation PLC (Ireland), Johnson Controls International PLC (Ireland), United Technologies Corporation (US), Legrand SA (France), Assa Abloy Group (Sweden), Ingersoll-Rand PLC (Ireland), ADT (US), Crestron Electronics, Inc. (US), Gira Giersiepen GmbH & Co. KG (Germany), Hager Group (Germany), MDT Technologies GmbH (Germany), Schneider Electric SE (France), Robert Bosch GmbH (Germany), and Honeywell International Inc. (US), among others.
Key Developments


In September 2019, ABB showcased new solutions for smart homes. It includes ABB-secure@home, which is an intrusion and alarm system used in residential properties.




In June 2019, Samsung launched a range of smart home devices, including camera, plug, and light bulb. These devices are SmartThings Cam, Wi-fi Smart Plug and SmartThings Smart Bulb which are only available in the US. The prices of these devices are USD 89.99, USD 17.99, and USD 9.99




In December 2018, Siemens started the construction of its new smart campus in the Swiss city of Zug. The campus is equipped with building automation, security, and fire safety technology.




In January 2019, Gentex Corporation launched dimmable glass systems and digital vision technologies for automaker implementation.




In November 2016, Sony Corporation partnered with Bosch Security Systems, a global supplier of security, safety, and communications products and systems, to develop innovative products and solutions in the field of video security applications. Under this partnership, Sony has brought its leading expertise in video image quality and performance, while Bosch added an extensive set of robust video analytics at the edge to interpret data as well as innovative technologies to achieve highly efficient bitrates and minimum storage requirements.


Segmentation


By Product: Lighting Controls (Relays, Sensors, Dimmers, Switches and Others), Access Controls (Biometric Readers, Smart Card Readers, Smart Locks, and Others), Surveillance Products (Security Cameras, Storage And Monitoring Devices and Others), HVAC Controls(Smart Thermostat, Sensors, Control Valves, Actuators, Dampers, Smart Vents, and Others), Other Products (Smart Smoke Detectors, Smart Meters, and Others).




By Standard: KNX, Zigbee, Z-Wave, EnOcean, BacNet, DALI, Wi-Fi and Infrared.




By Application: Smart Home (Renovations, New Construction), Smart Office (Renovations, New Construction).




By Region: North America, Asia-Pacific, Europe and the Middle East and Africa and South America.


Key questions addressed by the report



What was the historic market size (2017)?




Which segmentation (Product / Standard / Application) is driving the market?




What will be the growth rate by 2025?




Who are the key players in this market?




What are the strategies adopted by key players?



Frequently Asked Questions (FAQ) :
---