Skin Graft Market Information: By Graft Type (Autologous, Isogeneic, Allogeneic, Xenogeneic, Prosthetic) By Graft Thickness (Split-Thickness, Full-Thickness, Composite Graft) By Applications (Extensive Wound, Burns, Extensive Skin Loss Due To Infection, Skin Cancers, Others) By Equipment (Dermatome (Knives Dermatomes, Drum Dermatomes, Electric Dermatomes, Air Dermatomes), General Surgical Instruments, Consumables And Others) By End Users (Hospitals And Clinics, Academic And Research, Others) - Global Forecast Till 2023
Market Synopsis of Global Skin Graft Market:
Market scenario:
Skin grafting involves the transplantation of skin graft. The skin in form of a thin section is taken from a healthy part of the body or a full thickness skin graft, which involves slicing a thick entire skin section from the donor section.
The market for skin graft is rising due to factors such as rise in the cases of accidents, burns and surgeries requiring removal of skin. Other factors are skin loss due to infection such as necrotizing fasciitis or purpura fulminans and cancer. The market restraints are complications such as infection, pain and cost of treatment. Considering all these factors the market for skin graft is expected to reach $ 7.5 billion by the end of 2023, this market is projected to growing at a CAGR of ~ 13.5 % during 2017-2023.

Figure 1 Global Skin graft Market by Indications, 2016 (% Market Share)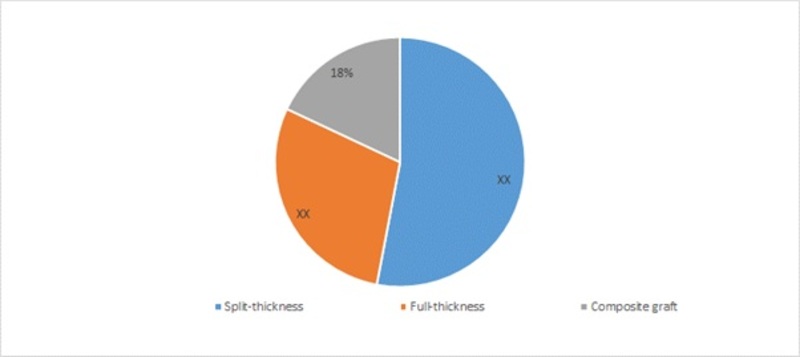 Key Players of Global Skin Graft Market:
Key players profiled in the report are Organogenesis, Inc., Specmed Medical, Stratatech Corp, Tissue Regenix Group PLC, Avita Medical, Convatec Inc, Medrotonic, Coloplast, B.Braun Melsungen, zimmerbiomet, Stratatech Corporation, Zimmer Biomet and others.

Segments:
The global skin graft market is segmented on the basis of graft type, graft thickness and applications. Based on graft type, the market has been segmented as autologous, isogeneic, allogeneic, xenogeneic and prosthetic. Based on the graft thickness, the market has been segmented as split-thickness, full-thickness and composite graft. Based on the applications, the market has been segmented as extensive wound, burns, extensive skin loss due to infection, skin cancers and others. Based on the equipment, the market has been segmented as dermatome (knives dermatomes, drum dermatomes, electric dermatomes, air dermatomes), general surgical instruments, consumables and others. Based on the end users, the market has been segmented as hospitals and clinics, academic and research and others.

Research Methodology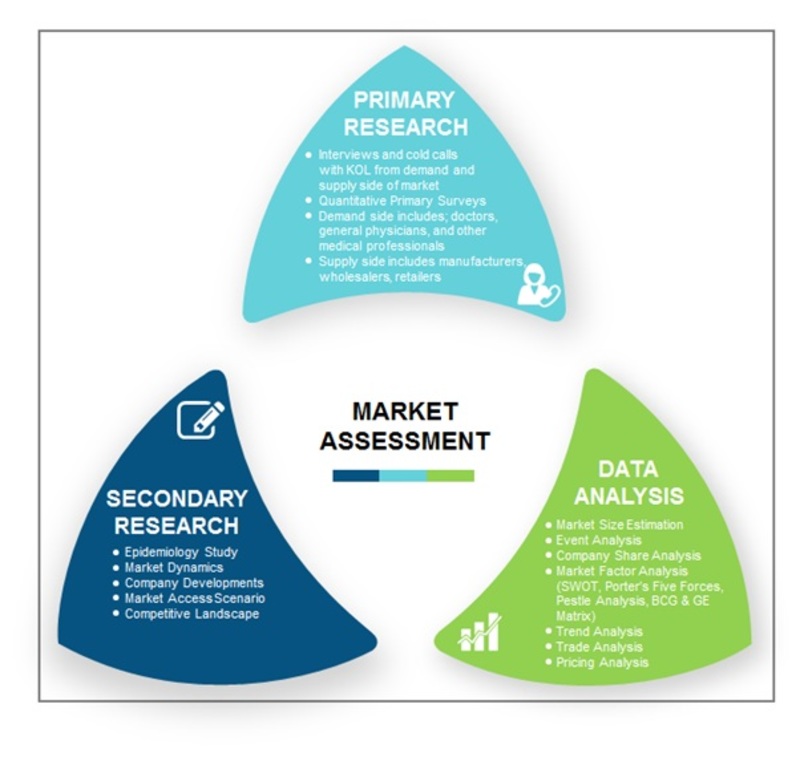 Intended Audience:



Global Skin graft, manufacturers & suppliers




Research and development (R&D) companies




Market research and consulting service providers




Academic institutes and universities



Regional Analysis:
US accounts for the maximum market share due to favorable reimbursement scenario and greater expenditure on healthcare. The faster market uptake of new technology in the US is also an important driver of the market for global skin graft. Europe is the second largest market due to large disposable income and rising awareness. Asia Pacific region is expected to have the most future potential and it is estimated to be led by China and India. The Middle East & Africa market is led by the gulf nations particularly Saudi Arabia and UAE. The regions of Africa are expected to witness a moderate growth due to poor economic and political conditions and poor healthcare penetration.
The report for Global Skin Graft Market by Market Research Future comprises of extensive primary research along with the detailed analysis of qualitative as well as quantitative aspects by various industry experts, key opinion leaders to gain a deeper insight of the market and industry performance. The report gives a clear picture of the current market scenario which includes past and estimated future market size with respect to value and volume, technological advancement, macro economical and governing factors in the market. The report provides detail information about and strategies used by top key players in the industry. The report also gives a broad study of the different market segments and regions.
Table of Contents
1. INTRODUCTION


1.1 DEFINITION


1.2 SCOPE OF STUDY


1.2.1 RESEARCH OBJECTIVE


1.2.2 ASSUMPTIONS & LIMITATIONS


1.2.2.1 ASSUMPTIONS


1.2.2.2 LIMITATIONS


1.3 MARKET STRUCTURE:


2. RESEARCH METHODOLOGY


2.1 RESEARCH PROCESS:


2.2 PRIMARY RESEARCH


2.3 SECONDARY RESEARCH:


3. MARKET DYNAMICS


3.1 DRIVERS


3.2 RESTRAINTS


3.3 OPPORTUNITIES


3.4 MACROECONOMIC INDICATORS


4. MARKET FACTOR ANALYSIS


4.1 PORTERS FIVE FORCES MODEL


4.2 BARGAINING POWER OF SUPPLIERS


4.3 BARGAINING POWER OF BUYERS


4.4 THREAT OF NEW ENTRANTS


4.5 THREAT OF SUBSTITUTES


4.6 INTENSITY OF RIVALRY


5. GLOBAL SKIN GRAFT MARKET, BY GRAFT TYPE


5.1 AUTOLOGOUS


5.2 ISOGENEIC


5.3 ALLOGENEIC


5.4 XENOGENEIC


5.5 PROSTHETIC


6. GLOBAL SKIN GRAFT MARKET, BY GRAFT THICKNESS


6.1 SPLIT-THICKNESS


6.2 FULL-THICKNESS


6.3 COMPOSITE GRAFT


7. GLOBAL SKIN GRAFT MARKET, BY APPLICATIONS


7.1 EXTENSIVE WOUND


7.2 BURNS


7.3 EXTENSIVE SKIN LOSS DUE TO INFECTION


7.4 SKIN CANCERS


7.5 OTHERS


8. GLOBAL SKIN GRAFT MARKET, BY EQUIPMENT


8.1 DERMATOME


8.1.1 KNIVES DERMATOMES


8.1.2 DRUM DERMATOMES


8.1.3 ELECTRIC DERMATOMES


8.1.4 AIR DERMATOMES


8.2 GENERAL SURGICAL INSTRUMENTS


8.3 CONSUMABLES


8.4 OTHERS


9. GLOBAL SKIN GRAFT MARKET, BY END USERS


9.1 HOSPITALS AND CLINICS


9.2 ACADEMIC AND RESEARCH


9.3 OTHERS


10. GLOBAL SKIN GRAFT MARKET, BY REGION


10.1 NORTH AMERICA


10.1.1 INTRODUCTION


10.2 EUROPE


10.2.1 INTRODUCTION


10.3 ASIA-PACIFIC


10.3.1 INTRODUCTION


10.4 MIDDLE EAST & AFRICA


10.4.1 INTRODUCTION


11. COMPETITIVE LANDSCAPE


11.1 MAJOR STRATEGIES ADOPTED BY MARKET PLAYERS


11.1.1 STRATEGIC PARTNERSHIP


11.1.2 MERGER & ACQUISITION


12. COMPANY PROFILE


12.1 ORGANOGENESIS, INC.


12.1.1 OVERVIEW


12.1.2 PRODUCT OVERVIEW


12.1.3 FINANCIALS


12.1.4 KEY DEVELOPMENTS


12.2 SPECMED


12.2.1 OVERVIEW


12.2.2 PRODUCT OVERVIEW


12.2.3 FINANCIALS


12.2.4 KEY DEVELOPMENTS


12.3 STRATATECH CORP.


12.3.1 OVERVIEW


12.3.2 PRODUCT OVERVIEW


12.3.3 FINANCIALS


12.3.4 KEY DEVELOPMENT


12.4 TISSUE REGENIX GROUP PLC


12.4.1 OVERVIEW


12.4.2 PRODUCT OVERVIEW


12.4.3 FINANCIALS


12.4.4 KEY DEVELOPMENTS


12.5 AVITA MEDICAL


12.5.1 OVERVIEW


12.5.2 PRODUCT OVERVIEW


12.5.3 FINANCIALS


12.5.4 KEY DEVELOPMENTS


12.6 CONVATEC INC


12.6.1 OVERVIEW


12.6.2 PRODUCT OVERVIEW


12.6.3 FINANCIALS


12.6.4 KEY DEVELOPMENTS


12.7 MEDROTONIC


12.7.1 OVERVIEW


12.7.2 PRODUCT OVERVIEW


12.7.3 FINANCIALS


12.7.4 KEY DEVELOPMENTS


12.8 COLOPLAST


12.8.1 OVERVIEW


12.8.2 PRODUCT OVERVIEW


12.8.3 FINANCIALS


12.8.4 KEY DEVELOPMENTS


12.9 B.BRAUN MELSUNGEN


12.9.1 OVERVIEW


12.9.2 PRODUCT OVERVIEW


12.9.3 FINANCIALS


12.9.4 KEY DEVELOPMENTS


12.10 ZIMMERBIOMET


12.12.1 OVERVIEW


12.12.2 PRODUCT OVERVIEW


12.12.3 FINANCIALS


12.12.4 KEY DEVELOPMENTS


12.11 OTHERS


13. CONCLUSION


13.1 KEY FINDINGS


13.1.1 FROM CEO'S VIEWPOINT


13.1.2 UNMET NEEDS OF THE MARKET


13.2 KEY COMPANIES TO WATCH


13.3 PREDICTION OF SKIN GRAFT INDUSTRY


14. APPENDIX