Market Snapshot
Global Silicon Wafers Market is expected to record a CAGR of 3.19%, witnessing substantial growth during the forecast period. The market was valued at USD 9,621.5 Million in 2019; it is expected to reach USD 11,889.0 Million by 2025.
Silicon wafers consist of a thin slice of semiconductor material used in integrated circuits and the electronics industry. Integrated circuits are used in various devices like computers, smartphones, gaming devices, and military weapons, among others. These wafers are used for the fabrication of integrated circuits and wafer-based solar cells. Silicon wafers work as the substrate for microelectronic devices and undergo many microfabrication processes. These wafers are responsible for delivering data processing capabilities. Silicon wafers are used in solar cells, integrated circuits, photoelectric cells, smartphones, tablets, smart wear, microchips, transistors, diodes, rectifiers, MEMS fabrication, and other applications.
Asia-Pacific accounted for the largest market share with a market value of USD 4,371.2 million in 2019, followed by North America and Europe. The Asia-Pacific market is also expected to witness the fastest growth during the forecast period.
Global Silicon Wafers Market, By Material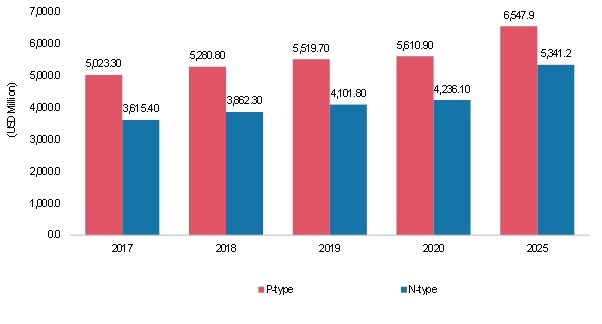 Source: MRFR Analysis
There are two types of silicon wafer materials, namely the N-type and the P-type, which are used in the manufacture of various types of electronic components such as diodes, transistors, integrated circuits, and others. Semiconductors which are doped with the Group V impurity are called the N-type material. The N-type semiconductors have an excess of electrons, which are the charge carriers. These semiconductors are extrinsic and are doped with pentavalent impurity elements such as phosphorus, arsenic, and others, that have 5 electrons in their valence shell. This doping increases the number of electrons, which leads to the conduction of current. The majority of carriers move from the lower potential to the higher potential. Whenever a semiconductor is doped with a Group III impurity, it is called a P-type semiconductor material. A P-type semiconductor is a type of material that has a shortage of electrons. Trivalent impurities such as boron, aluminum, or gallium are added to the semiconductor to impart the current-carrying ability. In this semiconductor material, the electrons move from one empty position to another due to the influence of a potential difference leading the flow of electric current in a single direction. The majority of carriers move from the higher potential to the lower potential in P-type semiconductors.
The increasing demand for silicon wafers in consumer electronics and the miniaturization of semiconductor devices is expected to fuel the growth of the global silicon wafers market during the forecast period. Additionally, technological advancements in consumer electronics are projected to create several opportunities for the providers of silicon wafers in the near future.
Regional Analysis
Global Silicon Wafers Market, by region, has been segmented into North America, Europe, Asia-Pacific, and the rest of the world. Asia-Pacific dominated the global market with a market share of 45.43% in 2019, followed by North America, Europe, and the rest of the world with shares of 24.77%, 24.76%, and 5.04% respectively.
Companies Covered
The Key Players of the Global Silicon Wafers Market include Shin-Etsu Chemical Co., Ltd. (Japan), SK Siltron Co., Ltd. (South Korea), Siltronic AG (Germany), GlobalWafers Co., Ltd. (Taiwan), Wafer World, Inc. (US), Advanced Semiconductor, Inc. (US), Sumco Corporation (Japan), Soitec SA (France), Silicon Materials, Inc. (US), Addison Engineering, Inc. (US) and Virginia Semiconductor, Inc. (US).
Key Developments


In March 2020, SK Siltron completed the acquisition of DuPont's silicon carbide wafer (SiC wafer) unit. This acquisition will help fulfill the demand from consumers and governments for sustainable energy and environmental solutions.




In February 2020, GlobalWafers and GlobalFoundries, a leading specialty foundry, signed an MOU for a long-term supply of 300mm silicon-on-insulator (SOI) wafers.




In September 2019, Soitec SA announced increasing its production capacity for its piezoelectric-on-insulator (POI) substrate to meet its growing demand. The POI substrate is used in 4G/5G surface acoustic wave (SAW) filters, offers built-in temperature compensation, and allows the integration of multiple filters on a single die.




In January 2019, Soitec SA expanded its collaboration with Samsung Foundry to ensure the volume supply of fully depleted silicon-on-insulator (FD-SOI) wafers, providing a solid foundation for both companies to strengthen the FD-SOI supply chain and guarantee high-volume manufacturing for customers.




In August 2017, Shin-Etsu Silicones of America (SESA), a subsidiary of Shin-Etsu Chemical Co., Ltd., expanded the production capacity of its Akron Plant in Ohio. This plant is engaged in the manufacturing and sales of silicone in the US.


Segmentation



By Material: P-type and N-type




By Type: Epitaxial Wafers, Polished Wafers, SOI Wafers, Diffused Wafers, and Annealed Wafers




By Application: Solar Cells, MEMS Fabrication, Integrated Circuits/Microchips, Photoelectric Cells, Transistors/Diodes/Rectifiers, Smartphones/Tablets/Smart Wearables, and Others




By Wafer Size: 300mm, 150mm, 200mm, 450mm, and above




By Region: North America, Europe, Asia-Pacific, and the rest of the world.



Key Questions Addressed by the Report



What was the historic market size (2017)?




Which segmentation (Material/Type/Application/Wafer Size) is driving the market?




What will be the growth rate by 2025?




Who are the key players in this market?




What are the strategies adopted by key players?



Frequently Asked Questions (FAQ) :
---