Market Synopsis of Sensor Hub Market:
Market Scenario:
The Sensor Hub is a microcontroller unit that provides the information and knowledge through different sensors. The global Sensor Hub had the market size $9.87 billion in 2016 and expected to reach at higher level in the forecast period. There are several trend impacting sensor hub markets that includes consumer demand, power management, "always on sensing", algorithm and contextual awareness, cost of components, connectivity and among others. The demand for sensor hubs has processed significantly due to elements used for low-power sensor processing tasks, is booming in recent days. The sensor hub is integrated as a system-on-chip (SoC) and is intended for a broad range of wearable health devices and applications. Likewise, Gyro sensors, hall sensors, proximity sensors, temperature sensor, magnetic sensors and among others are various sensors are widely used in the smartphone. The smartphone processor that connects to the camera's sensors helps to reduce the power consumption. This chip allows the phone to run advanced activity-recognition algorithms which allows users to check their notifications.
The study reveals that a sensor hub has a multiple sensors that uses a multipoint control unit, coprocessor or digital signal processor to compile and process data. These sensors hub market is changing rapidly with the change in the technology. Smart watches will likely follow trends using sensor hubs with a higher penetration of MCU due to tighter power-saving requirements. With the increasing numbers of smart watches penetrating into the market, various sensor hubs have also begun to enter in the wearable-device market. Smartphones, tablets, and other wireless digital devices are including various sensors that provide position, direction, altitude, proximity, and touch-sensing capabilities.
The global The Sensor Hub Market is expected to grow at USD ~$33.77 Billion by 2023, at ~20.9% of CAGR between 2017 and 2023.
Study Objectives of the Sensor Hub Market:



To provide detailed analysis of the market structure along with forecast of the various segments and sub-segments of the

Sensor Hub

market

.




To provide insights about factors affecting the market growth.




To analyze the

Sensor Hub Market

based porter's five force analysis etc.




To provide historical and forecast revenue of the market segments and sub-segments with respect to four main geographies and their countries- North America, Europe, Asia Pacific (APAC), and Rest of the World (ROW).




To provide country level analysis of the market with respect to the current market size and future prospective.




To provide country level analysis of the market for segment on the basis of types, processor type, devices, applications, end users and region.




To provide strategic profiling of key players in the market, comprehensively analyzing their core competencies, and drawing a competitive landscape for the market.




To track and analyze competitive developments such as joint ventures, strategic alliances, mergers and acquisitions, new product developments, and research and developments in the Sensor Hub




Sensor Hub Market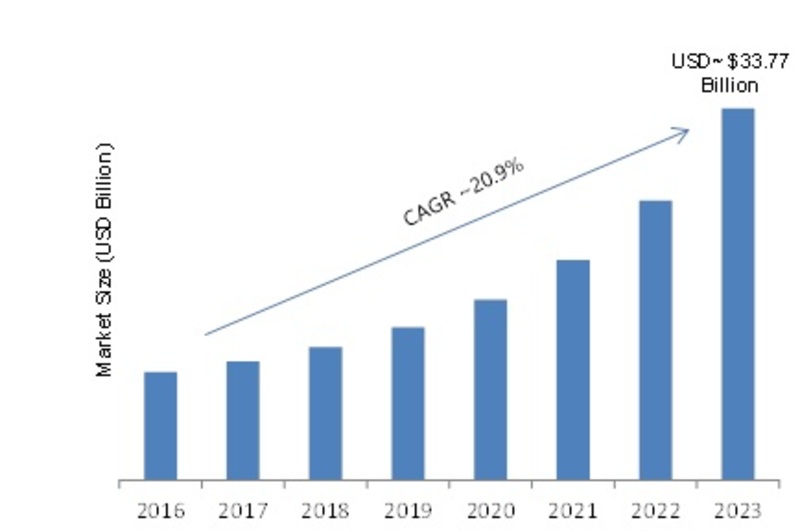 Key Players:
The prominent players in the Sensor Hub Market are –Texas Instruments Inc. (U.S), STMicroelectronics N.V. (Switzerland), NXP .Semiconductors N.V (Netherland), Invensense, Inc. (U.S), Rohm Co. Ltd. (Japan), Intel Corporation (U.S), Infineon Technologies AG (Germany), Memsic, Inc. (US), Microchip Technology Inc. (US), Robert Bosch GmbH (Germany), Analog Devices, Inc.(U.S), Broadcom .Limited (U.S), and Qualcomm Technologies (U.S) among others.
Segments:
The global Sensor Hub market has been segmented on the basis of types, processor type, devices, applications, end users and region.
Sensor Hub Market by Types:



Gyro Sensors




Hall Sensors




Proximity Sensors




Temperature Sensor




Magnetic Sensors




Others



Sensor Hub Market by Processor Type:



Programmable and fixed logic




Application Sensor Processor




Sensor Integrated Microcontroller




Discrete Sensor Processor




Others



Sensor Hub Market by Devices:

Sensor Hub Market by Applications:



Positioning and Navigation




Health and Fitness




Augmented Reality and Gaming




Activity monitoring




Voice command




Gestures navigations




Others



Sensor Hub Market by End Users:



Consumer electronics




Commercial




Healthcare




Media and entertainment




Educations




Automotive




Government & Defense




Telecommunications




Others




Sensor Hub Market by Region:



North America




Europe




United Kingdom




Asia Pacific (APAC)




Rest of the World (ROW)



Regional Analysis:
The regional analysis of Sensor Hub Market is being studied for region such as Asia pacific, North America, U.K, Europe and Rest of the World. IHS Inc. (UK) is leading in this market. Along with this some of the other company including Samsung, Apple and Motorola have already been using sensor hubs in their smartphone. Whereas, HIS Inc. is using Micro-Electro-Mechanical Systems & Sensors for Consumer and Mobile Intelligence Service in their devices. Bluetooth enabled sensor hub has driven the market of Sensor Hub in North America. The iPhone 6, Samsung Galaxy S6, and other high-end smartphones changing from discrete microcontrollers to sensor hubs that are integrated into the application processor. Apple Inc. (U.S) has started using sensor hub into its application processor. The study reveals that Europe region is also showing the good growth as the company like Bosch Sensortec (Germany) is using sensor hub for devices running the Android 6.0 Marshmallow operating system. Asia-Pacific countries like China, Japan and India have shown positive indication in the Sensor Hub Market but will be growing fast in coming time as some of the company including Samsung (South Korea) is also testing alternative approaches to sensor hubs using a Global-Navigation-Satellite-System-integrated sensor hub from Broadcom in its Note 4 and S6 smartphones.
.
Intended Audience



System Security




Original equipment manufacturers (OEMs)




specialize physical Asset management




Government bodies




Sensor hub instrument




Research organizations




Technology investors




Raw material and manufacturing equipment suppliers




Research/Consultancy firms




Analysts and strategic business planners



Frequently Asked Questions (FAQ) :
---
TABLE OF CONTENTS

1 MARKETINTRODUCTION

1.1 INTRODUCTION

1.2 SCOPE OF STUDY

1.2.1 RESEARCH OBJECTIVE

1.2.2 ASSUMPTIONS

1.2.3 LIMITATIONS

1.3 MARKET STRUCTURE:

1.3.1 GLOBAL SENSOR HUB MARKET: BY TYPE

1.3.2 GLOBAL SENSOR HUB MARKET: BY PROCESSOR TYPE

1.3.3 GLOBAL SENSOR HUB MARKET: BY DEVICES

1.3.4 GLOBAL SENSOR HUB MARKET: BY APPLICATIONS

1.3.5 GLOBAL SENSOR HUB MARKET: BY END USER

1.3.6 GLOBAL SENSOR HUB MARKET: BY REGION

2 RESEARCH METHODOLOGY

2.1 RESEARCH TYPE

2.2 PRIMARY RESEARCH

2.3 SECONDARY RESEARCH

2.4 FORECAST MODEL

3 MARKETDYNAMICS

3.1 INTRODUCTION

3.2 MARKET DRIVERS

3.3 MARKET CHALLENGES

3.4 MARKET OPPORTUNITIES

4 EXECUTIVE SUMMARY

5. MARKETFACTOR ANALYSIS

5.1 PORTER'S FIVE FORCES ANALYSIS

5.2 SUPPLY CHAIN ANALYSIS

6 SENSOR HUB MARKET

6.1 INTRODUCTION

6.2 MARKETSTATISTICS

6.2.1 BY TYPE

6.2.1.1 GYRO SENSORS

6.2.1.2 HALL SENSORS

6.2.1.3 PROXIMITY SENSORS

6.2.1.4 TEMPERATURE SENSOR

6.2.1.5 MAGNETIC SENSORS

6.2.1.6 OTHERS

6.2.2 BY PROCESSOR TYPE

6.2.2.1 PROGRAMMABLE AND FIXED LOGIC

6.2.2.2 APPLICATION SENSOR PROCESSOR

6.2.2.3 SENSOR INTEGRATED MICROCONTROLLER

6.2.2.4 DISCRETE SENSOR PROCESSOR

6.2.2.5 OTHERS

6.2.3 BY DEVICES

6.2.3.1 SMART PHONES

6.2.3.2 TABLETS

6.2.3.3 WEARABLE DEVICES

6.2.3.4 IOT AND CONNECTED DEVICES

6.2.3.5 OTHERS

6.2.4 BY APPICATIONS

6.2.4.1 POSITIONING AND NAVIGATION

6.2.4.2 HEALTH AND FITNESS

6.2.4.3 AUGMENTED REALITY AND GAMING

6.2.4.4 ACTIVITY MONITORING

6.2.4.5 VOICE COMMAND

6.2.4.6 GESTURES NEVIGATIONS

6.2.4.7 OTHERS

6.2.5 BY END-USER

6.2.5.1 COMMERCIAL

6.2.5.2 CONSUMER ELECTRONICS

6.2.5.3 HEALTHCARE

6.2.5.4 RETAIL AND WHOLESALE

6.2.5.5 TELECOMMUNICATIONS

6.2.5.6 GOVERNMENT

6.2.5.7 MEDIA AND ENTERTAINMENT

6.2.5.8 EDUCATION

6.2.5.9 OTHERS

6.2.6 BY REGION

6.2.6.1 NORTH AMERICA

6.2.6.2 EUROPE

6.2.6.3 ASIA PACIFIC

6.2.6.4 REST OF THE WORLD

7 COMPANY PROFILES

7.1 TEXAS INSTRUMENTS INC. (U.S)

7.2 NXP .SEMICONDUCTORS N.V (NETHERLAND)

7.3 MICROCHIP APPLICATIONS INC. (US)

7.4 ROHM CO. LTD. (JAPAN),

7.5 INTEL CORPORATION (U.S)

7.6 STMICROELECTRONICS N.V. (SWITZERLAND)

7.7 MEMSIC, INC. (US)

7.8 INVENSENSE, INC. (U.S)

7.9 BROADCOM .LIMITED (U.S)

7.10 QUALCOMM TECHNOLOGIES (U.S)

7.11 ANALOG DEVICES, INC. (U.S)

7.12 ROBERT BOSCH GMBH (GERMANY)

7.13 OTHERS

LIST OF TABLES

TABLE 1 SENSOR HUB MARKET, BY TYPE

TABLE 2 SENSOR HUB MARKET, BY PROCESSOR TYPE

TABLE 3 SENSOR HUB MARKET, BY DEVICES

TABLE 4 SENSOR HUB MARKET, BY APPLICATIONS

TABLE 5 SENSOR HUB MARKET, BY END-USER

TABLE 6 SENSOR HUB MARKET, BY REGIONS

TABLE 7 NORTH AMERICA SENSOR HUB MARKET, BY TYPE

TABLE 8 NORTH AMERICA SENSOR HUB MARKET, BY PROCESSOR TYPE

TABLE 9 NORTH AMERICA SENSOR HUB MARKET, BY DEVICES

TABLE 10 NORTH AMERICA SENSOR HUB MARKET, BY APPLICATIONS

TABLE 11 NORTH AMERICA SENSOR HUB MARKET, BY END USER

TABLE 12 NORTH AMERICA SENSOR HUB MARKET, BY REGION

TABLE 13 U.S. SENSOR HUB MARKET, BY TYPE

TABLE 14 U.S. SENSOR HUB MARKET, BY PROCESSOR TYPE

TABLE 15 U.S. SENSOR HUB MARKET, BY DEVICES

TABLE 16 U.S. SENSOR HUB MARKET, BY APPLICATIONS

TABLE 17 U.S. SENSOR HUB MARKET, BY END-USER

TABLE 18 U.S. SENSOR HUB MARKET, BY REGION

TABLE 19 EUROPE SENSOR HUB MARKET, BY TYPE

TABLE 20 EUROPE SENSOR HUB MARKET, BY PROCESSOR TYPE

TABLE 21 EUROPE SENSOR HUB MARKET, BY DEVICES

TABLE 22 EUROPE SENSOR HUB MARKET, BY APPLICATIONS

TABLE 23 EUROPE SENSOR HUB MARKET, BY END-USER

TABLE 24 EUROPE SENSOR HUB MARKET, BY REGION

TABLE 25 ASIA-PACIFIC SENSOR HUB MARKET, BY TYPE

TABLE 26 ASIA-PACIFIC SENSOR HUB MARKET, BY PROCESSOR TYPE

TABLE 27 ASIA-PACIFIC SENSOR HUB MARKET, DEVICES

TABLE 28 ASIA-PACIFIC SENSOR HUB MARKET, APPLICATIONS

TABLE 29 ASIA-PACIFIC SENSOR HUB MARKET, BY END-USER

TABLE 30 ASIA-PACIFIC SENSOR HUB MARKET, BY REGION

TABLE 31 REST OF WORLD SENSOR HUB MARKET, BY TYPE

TABLE 32 REST OF WORLD SENSOR HUB MARKET, BY PROCESSOR TYPE

TABLE 33 REST OF WORLD SENSOR HUB MARKET, BY DEVICES

TABLE 34 REST OF WORLD SENSOR HUB MARKET, BY APPLICATIONS

TABLE 35 REST OF WORLD SENSOR HUB MARKET, BY END-USER

TABLE 36 REST OF WORLD SENSOR HUB MARKET, BY REGION

LIST OF FIGURES

FIGURE 1 RESEARCH METHODOLOGY

FIGURE 2 SENSOR HUB MARKET: BY TYPE (%)

FIGURE 3 SENSOR HUB MARKET: BY PROCESSOR TYPE (%)

FIGURE 4 SENSOR HUB MARKET: BY DEVICES (%)

FIGURE 5 SENSOR HUB MARKET: BY APPLICATIONS (%)

FIGURE 6 SENSOR HUB MARKET: BY END-USER (%)

FIGURE 7 SENSOR HUB MARKET: BY REGION (%)

FIGURE 8 NORTH AMERICA SENSOR HUB MARKET, BY TYPE (%)

FIGURE 9 NORTH AMERICA SENSOR HUB MARKET, BY PROCESSOR TYPE (%)

FIGURE 10 NORTH AMERICA SENSOR HUB MARKET, BY DEVICES (%)

FIGURE 11 NORTH AMERICA SENSOR HUB MARKET, BY APPLICATIONS (%)

FIGURE 12 NORTH AMERICA SENSOR HUB MARKET, BY END-USER (%)

FIGURE 13 NORTH AMERICA SENSOR HUB MARKET, BY REGION (%)

FIGURE 14 EUROPE SENSOR HUB MARKET, BY TYPE (%)

FIGURE 15 EUROPE SENSOR HUB MARKET, BY PROCESSOR TYPE (%)

FIGURE 16 EUROPE SENSOR HUB MARKET, BY DEVICES (%)

FIGURE 17 EUROPE SENSOR HUB MARKET, BY APPLICATIONS (%)

FIGURE 18 EUROPE SENSOR HUB MARKET, BY END-USER (%)

FIGURE 19 EUROPE SENSOR HUB MARKET, BY REGION (%)

FIGURE 20 ASIA-PACIFIC SENSOR HUB MARKET, BY TYPE (%)

FIGURE 21 ASIA-PACIFIC SENSOR HUB MARKET, BY PROCESSOR TYPE (%)

FIGURE 22 ASIA-PACIFIC SENSOR HUB MARKET, BY DEVICES (%)

FIGURE 23 ASIA-PACIFIC SENSOR HUB MARKET, BY APPLICATIONS (%)

FIGURE 24 ASIA-PACIFIC SENSOR HUB MARKET, BY DEVICES (%)

FIGURE 25 ASIA-PACIFIC SENSOR HUB MARKET, BY END-USER (%)

FIGURE 26 ASIA-PACIFIC SENSOR HUB MARKET, BY REGION (%)

FIGURE 27 ROW SENSOR HUB MARKET, BY TYPE (%)

FIGURE 28 ROW SENSOR HUB MARKET, BY PROCESSOR TYPE (%)

FIGURE 29 ROW SENSOR HUB MARKET, BY DEVICES (%)

FIGURE 30 ROW SENSOR HUB MARKET, BY APPLICATIONS (%)

FIGURE 31 ROW SENSOR HUB MARKET, BY END-USER (%)

FIGURE 32 ROW SENSOR HUB MARKET, BY REGION (%)