Global SCADA Market research report — by Component (PLC, RTU, HMI,), Architecture (hardware, software, services), Deployment type (on-cloud, on-premise), End-Users (oil and gas, power, manufacturing, transport, and chemicals) – Forecast till 2023
Market Synopsis
Supervisory Control and Data Acquisition (SCADA) is a software application which is used for process control. In other words it is a control system which consists of components such as controller network interfaces, software communication equipments, and input/output. SCADA is a centralized system which monitors the entire area and allows operators to change the set point for flow and enable alarm in case of emergency conditions such as increase in temperature or change in the rate of flow.
SCADA systems are capable of communicating with adjacent technical equipment through network links such as profibus, RS-485 and others. Increase in technical developments has led to replacement of network links by Ethernet cables which can standardize communication protocols. SCADA systems are capable of providing remote access to monitoring systems with the help of internet by integrating with web technologies. This helps in monitoring controls in smart phones and tablets.
Assessment of new oil and gas fields and low operational cost of SCADA are the key factors leading to growth for global SCADA market. Increase in demand for reliable power distribution and transmission systems, remote monitoring techniques among various industries are the various factors that are fuelling the market growth. The high initial investments in installation and deployment is hindering the market growth.
Oil & gas plays a major role in global SCADA market. SCADA helps in measuring key performance indicators such as daily production performance calculations for oil wells which helps in increasing the operational profitability. It also helps in collecting and analysing data from new oil plants which is helpful in performance point of view. The SCADA can be easily integrated with the existing platforms such as Microsoft .NET XML which results in saving cost and is easily spreadable across all domains.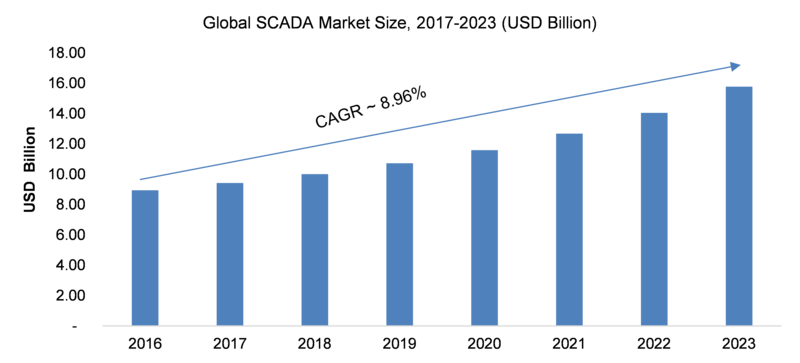 SOURCE: Company websites, Annual Reports, White Papers, MRFR Analysis
The global SCADA market is estimated to reach USD 15.78 Billion at CAGR 8.96% by the end of forecast period 2017 to 2023.
Segmentation
The global SCADA market is segmented on the basis of component, architecture, end-users, and region. On the basis of component, the segment is further classified into programmable logic controller (PLC), Remote Thermal Units (RTU), Human Machine Interface (HMI), communication systems, and many more. On the basis of deployment the segment is classified into on-cloud and on-premise. On the basis of architecture the segment is further classified into hardware architecture, software architecture, and services architecture. The services in SCADA are network system protection, remote maintenance, building management system, and others. The SCADA market is deployed in many areas such as oil & gas, power, manufacturing, transport, chemicals, telecommunications and many more.
Key Findings



Bedrock automation a global leader in scalable and industrial control systems, deployed an application which enables and users to have advantage over Bedrock SCADA platform which is obtained by combining SCADA developers, inductive automation, ICONICS, and TATSOFT.




Red Lion Controls, Inc., which delivers industrial automation, integrated their SCADA platform with RAM industrial routers and cellular RTUs which enhances Industrial Internet of Things (IIoT).



Regional Analysis
Geographically, Asia Pacific dominates the market for global SCADA market and is expected to grow at a rapid rate through the forecast period. Demand for SCADA in industries to implement automation is increasing among developing countries like India and China. Rising demand and deployment in power industry is fuelling the market in this region. North America holds the second place in the global SCADA market. Investments in oil & gas industry and rise in Industrial Internet of Things are driving the market in this region.
Some of the major player operating in the market of Global SCADA are ABB (Sweden), Rockwell Automation (U.S.), Schneider Electric SE (France), Honeywell International Inc. (U.S.), Siemens AG (Germany), Emerson Electric (U.S.), eLynx Technologies (U.S.), Enbase Solutions (U.S.), Globlx (U.S.), Iconics (U.S.), IBM Corporation (U.S.), Mitsubishi Electric Corporation (Japan) among others.
Intended Audience



SCADA distributors and providers




SCADA software package vendors




SCADA component suppliers




Professional service/solution providers




Research organizations and consulting companies




Technology investors




Technology standard organizations



TABLE OF CONTENTS
1 MARKET INTRODUCTION
1.1 INTRODUCTION
1.2 SCOPE OF STUDY
1.2.1 RESEARCH OBJECTIVE
1.2.2 ASSUMPTIONS
1.2.3 LIMITATIONS
1.3 MARKET STRUCTURE:
1.3.1 GLOBAL SCADA MARKET: BY COMPONENT
1.3.2 GLOBAL SCADA MARKET: BY APPLICATION
1.3.3 GLOBAL SCADA MARKET: BY REGION
2 RESEARCH METHODOLOGY
2.1 RESEARCH TYPE
2.2 PRIMARY RESEARCHPT
2.3 SECONDARY RESEARCH
2.4 FORECAST MODEL
2.4.1 MARKET DATA COLLECTION, ANALYSIS & FORECAST
2.4.2 MARKET SIZE ESTIMATION
2.4.3 MARKET CRACKDOWN & DATA TRIANGULATION
3 MARKET DYNAMICS
3.1 INTRODUCTION
3.2 MARKET DRIVERS
3.3 MARKET CHALLENGES
3.4 MARKET OPPORTUNITIES
4 EXECUTIVE SUMMARY
5. MARKET FACTOR ANALYSIS
5.1 PORTER'S FIVE FORCES ANALYSIS
5.2 SUPPLY CHAIN ANALYSIS
6 GLOBAL SCADA MARKET
6.1 INTRODUCTION
6.2 MARKET STATISTICS
6.2.1 BY COMPONENT
6.2.1.1 PLC
6.2.1.2 RTU
6.2.1.3 HMI
6.2.1.4 COMMUNICATION SYSTEM
6.2.1.5 OTHERS
6.2.3 BY APPLICATION
6.2.3.1 OIL & GAS
6.2.3.2 TRANSPORT
6.2.3.3 MANUFACTURING
6.2.3.4 OTHER
6.2.4 BY GEOGRAPHY
6.2.4.1 NORTH AMERICA
6.2.4.2 EUROPE
6.2.4.3 ASIA-PACIFIC
6.2.4.4 REST OF THE WORLD
7 COMPETITIVE ANALYSIS
7.1 MARKET SHARE ANALYSIS
7.2 COMPANY PROFILES
7.2.1 ABB
7.2.2 ROCKWELL AUTOMATION
7.2.3 SCHNEIDER
7.2.4 HONEYWELL
7.2.5 SIEMENS
7.2.6 EMERSON ELECTRIC
7.2.7 ELYNX TECHNOLOGIES
7.2.8 ENBASE SOLUTIONS
7.2.9 GLOBLX
7.2.10 ICONICS
7.2.11 OTHERS
LIST OF TABLES
TABLE 1 GLOBAL SCADA MARKET, BY COMPONENT
TABLE 2 GLOBAL SCADA MARKET, BY APPLICATION
TABLE 3 GLOBAL SCADA MARKET, BY REGIONS
TABLE 4 NORTH AMERICA SCADA MARKET, BY COUNTRY
TABLE 5 NORTH AMERICA SCADA MARKET, BY COMPONENT
TABLE 6 NORTH AMERICA SCADA MARKET, BY APPLICATION
TABLE 7 U.S. SCADA MARKET, BY COMPONENT
TABLE 8 U.S. SCADA MARKET, BY APPLICATION
TABLE 9 CANADA SCADA MARKET, BY COMPONENT
TABLE 10 CANADA SCADA MARKET, BY APPLICATION
TABLE 11 EUROPE SCADA MARKET, BY COUNTRY
TABLE 12 EUROPE SCADA MARKET, BY COMPONENT
TABLE 13 EUROPE SCADA MARKET, BY APPLICATION
TABLE 14 GERMANY SCADA MARKET, BY COMPONENT
TABLE 15 GERMANY SCADA MARKET, BY APPLICATION
TABLE 16 FRANCE SCADA MARKET, BY COMPONENT
TABLE 17 FRANCE SCADA MARKET, BY APPLICATION
TABLE 18 U.K. SCADA MARKET, BY COMPONENT
TABLE 19 U.K. SCADA MARKET, BY APPLICATION
TABLE 20 REST OF EUROPE SCADA MARKET, BY COMPONENT
TABLE 21 REST OF EUROPE SCADA MARKET, BY APPLICATION
TABLE 22 ASIA-PACIFIC SCADA MARKET, BY COUNTRY
TABLE 23 ASIA-PACIFIC SCADA MARKET, BY COMPONENT
TABLE 24 ASIA-PACIFIC SCADA MARKET, BY APPLICATION
TABLE 25 MIDDLE EAST & AFRICA SCADA MARKET, BY COMPONENT
TABLE 26 MIDDLE EAST & AFRICA SCADA MARKET, BY APPLICATION
LIST OF FIGURES
FIGURE 1 RESEARCH TYPE
FIGURE 2 GLOBAL SCADA MARKET: BY COMPONENT (%)
FIGURE 3 GLOBAL SCADA MARKET: BY APPLICATION (%)
FIGURE 4 GLOBAL SCADA MARKET: BY REGION
FIGURE 5 NORTH AMERICA SCADA MARKET, BY COMPONENT (%)
FIGURE 6 NORTH AMERICA SCADA MARKET, BY APPLICATION (%)
FIGURE 7 NORTH AMERICA SCADA MARKET, BY COUNTRIES (%)
FIGURE 8 EUROPE SCADA MARKET, BY COMPONENT (%)
FIGURE 9 EUROPE SCADA MARKET, BY APPLICATION (%)
FIGURE 10 EUROPE SCADA MARKET, BY COUNTRIES (%)
FIGURE 11 ASIA-PACIFIC SCADA MARKET, BY COMPONENT (%)
FIGURE 12 ASIA-PACIFIC SCADA MARKET, BY APPLICATION (%)
FIGURE 13 ASIA-PACIFIC SCADA MARKET, BY COUNTRIES (%)
FIGURE 14 ROW SCADA MARKET, BY COMPONENT (%)
FIGURE 15 ROW SCADA MARKET, BY APPLICATION (%)