Global Runtime Application Self-Protection Market Research Report: By Component (Solution, Service), Deployment (On-Premise, On-Demand), Organization Size (SME, Large Enterprise), Application (Government, Banking, Healthcare) – Forecast till 2022
Market Synopsis
RASP is a technology that runs on a server and boosts in when an application runs. It is designed to detect attacks on an application in real time. When an application begins to run, RASP can protect it from malicious input or behavior by analyzing both the app's behavior and the context of that behavior. By using the app to continuously monitor its own behavior, attacks can be identified and mitigated immediately without human intervention.
RASP provides a detailed view into the actions of the system, such as insight into application configuration, logic, event flows, and data. This helps to improve security accuracy by detecting and preventing attacks. With self-protecting data, the data remains protected throughout, from the time the data is created to the time it is destroyed, and everything in between. The self-protecting data helps organizations meet some regulatory requirements. Furthermore, if the self-protected data is stolen, hackers cannot read or use the data.
An advantage of RASP is it can secure a system once an attacker has penetrated perimeter defenses. It has insight into application logic, configuration, and data event flows. RASP can prevent attacks with high accuracy. It can distinguish between actual attacks and legitimate requests for information, which reduces false positives and allows network defenders to spend more of their time combating real problems and less time chasing digital security dead ends.
On the downside, application performance can take a hit when RASP is deployed, although how much of a hit is a source of debate between critics and advocates of the technology. The self-protecting process can slow down an app, as can the dynamic nature of RASP. If that latency becomes apparent to users, it will certainly generate grousing within an organization.
Segmentation
The market for global runtime application self-protection market is segmented on the basis of component, deployment, organization size, vertical and region. On the basis of the component, the segment is further segmented into solution and services. The solution segment consists of web applications, mobile applications, and others. The services segment consists of professional services and managed services. On basis of the deployment, the segment is further classified into on-premise and on-demand. On the basis of the organization size, the segment is further classified into small and medium enterprises and large enterprises. Runtime application self-protection market covers a wide area of application areas such as BFSI, IT and telecommunications, government, healthcare, retail, manufacturing, and many more.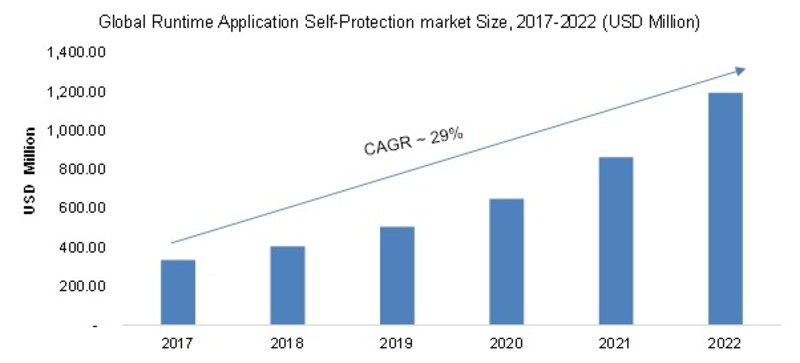 The global runtime application self-protection market is estimated to grow at 29% CAGR through the forecast period.
Key Findings



Prevoty, the leader in runtime application self-protection (RASP) recently announced its latest version of Prevoty RASP, including major breakthroughs making Prevoty the first and only completely autonomous solution for runtime application self-protection.




Avocado Systems, the Silicon Valley innovator of next-gen application security for data centers and clouds, introduced its new approach to deterministic Runtime Application Self-Protection (RASP). Avocado's vRASP solution protects runtime applications deterministically from existing and emerging threats and eliminates the many false-positives created by current solutions.



Regional Analysis
North America leads the market for global runtime application self-protection market. The cybersecurity threats to the North American countries and heavy investment in making the application safe is driving the market of Runtime Application Self-Protection. Furthermore, rapid economic growth in the developing countries, along with improved regulatory reforms and economic stability is driving the runtime application self-protection market growth in Asia Pacific region. In Latin America, SMEs as well as large enterprises, belonging to a range of verticals, such as Banking, Financial Services, and Insurance (BFSI); government and defense; and IT and telecommunications, are expected to increase their investments in runtime application self-protection solutions and services.
Some of the key players are- Veracode (U.S.), Waratek (Ireland), Cigital, Inc. (U.S.), Wipro (India), Optiv Inc (U.S), Hewlett-Packard (U.S.), WhiteHat Security (U.S.), VASCO Data Security International, Inc. (U.S.), IMMUNIO (Canada), Prevoty (U.S.), Promon AS (Norway) among others.
Intended Audience



Government agencies




Runtime Application Self Protection vendors




Independent software vendors




Consulting firms




System integrators




Value-Added Resellers (VARs)




Information Technology (IT) security agencies




Managed Security Service Providers (MSSPs)



TABLE OF CONTENTS

1 Executive Summary

2 Scope of the Report

2.1 Market Definition

2.2 Scope of the Study

2.2.1 Research Objectives

2.2.2 Assumptions & Limitations

2.3 Markets Structure

3 Market Research Methodology

3.1 Research Process

3.2 Secondary Research

3.3 Primary Research

3.4 Forecast Model

4 Market Landscape

4.1 Porter's Five Forces Analysis

4.1.1 Threat of New Entrants

4.1.2 Bargaining power of buyers

4.1.3 Threat of substitutes

4.1.4 Segment rivalry

4.2 Value Chain/Supply Chain of Global Runtime Application Self-Protection Market

5 Industry Overview of Global Runtime Application Self-Protection Market

5.1 Introduction

5.2 Growth Drivers

5.3 Impact analysis

5.4 Market Challenges

6 Market Trends

6.1 Introduction

6.2 Growth Trends

6.3 Impact analysis

7. Global Runtime Application Self-Protection Market by Component

7.1 Introduction

7.2 Solution

7.2.1 Market Estimates & Forecast, 2017-2022

7.2.2 Market Estimates & Forecast by Region, 2017-2022

7.3 Services

7.3.1 Market Estimates & Forecast, 2017-2022

7.3.2 Market Estimates & Forecast by Region, 2017-2022
8. Global Runtime Application Self-Protection Market by Deployment Model

8.1 Introduction

8.2 On-Premise

8.2.1 Market Estimates & Forecast, 2017-2022

8.2.2 Market Estimates & Forecast by Region, 2017-2022

8.3 On-Cloud

8.3.1 Market Estimates & Forecast, 2017-2022

8.3.2 Market Estimates & Forecast by Region, 2017-2022

9. Global Runtime Application Self-Protection Market by Organization Size

9.1 Introduction

9.2 Small and Medium Enterprises (SME)

9.2.1 Market Estimates & Forecast, 2017-2022

9.2.2 Market Estimates & Forecast by Region, 2017-2022

9.3 Large Enterprises

9.3.1 Market Estimates & Forecast, 2017-2022

9.3.2 Market Estimates & Forecast by Region, 2017-2022


10. Global Runtime Application Self-Protection Market by Application

10.1 Introduction

10.2 Government

10.2.1 Market Estimates & Forecast, 2017-2022

10.2.2 Market Estimates & Forecast by Region, 2017-2022

10.3 BFSI

10.3.1 Market Estimates & Forecast, 2017-2022

10.3.2 Market Estimates & Forecast by Region, 2017-2022

10.4 Healthcare

10.4.1 Market Estimates & Forecast, 2017-2022

10.4.2 Market Estimates & Forecast by Region, 2017-2022

10.5 Others

10.5.1 Market Estimates & Forecast, 2017-2022

10.5.2 Market Estimates & Forecast by Region, 2017-2022


11. Global Runtime Application Self-Protection Market by Region

11.1 Introduction

11.2 North America

11.2.1 Market Estimates & Forecast, 2017-2022

11.2.2 Market Estimates & Forecast by Component, 2017-2022

11.2.3 Market Estimates & Forecast by Deployment Model, 2017-2022

11.2.4 Market Estimates & Forecast by Application, 2017-2022

11.2.5 Market Estimates & Forecast by Organization Size, 2017-2022

11.2.6 U.S.

11.2.6.1 Market Estimates & Forecast, 2017-2022

11.2.6.2 Market Estimates & Forecast by Component, 2017-2022

11.2.6.3 Market Estimates & Forecast by Deployment Model, 2017-2022

11.2.6.4 Market Estimates & Forecast by Application, 2017-2022

11.2.6.5 Market Estimates & Forecast by Organization Size, 2017-2022
11.2.7 Mexico

11.2.7.1 Market Estimates & Forecast, 2017-2022

11.2.7.2 Market Estimates & Forecast by Component, 2017-2022

11.2.7.3 Market Estimates & Forecast by Deployment Model, 2017-2022

11.2.7.4 Market Estimates & Forecast by Application, 2017-2022

11.2.7.5 Market Estimates & Forecast by Organization Size, 2017-2022
11.2.8 Canada

11.2.8.1 Market Estimates & Forecast, 2017-2022

11.2.8.2 Market Estimates & Forecast by Component, 2017-2022

11.2.8.3 Market Estimates & Forecast by Deployment Model, 2017-2022

11.2.8.4 Market Estimates & Forecast by Application, 2017-2022

11.2.8.5 Market Estimates & Forecast by Organization Size, 2017-2022
11.3 Europe

11.3.1 Market Estimates & Forecast, 2017-2022

11.3.2 Market Estimates & Forecast by Component, 2017-2022

11.3.3 Market Estimates & Forecast by Deployment Model, 2017-2022

11.3.4 Market Estimates & Forecast by Application, 2017-2022

11.3.5 Market Estimates & Forecast by Organization Size, 2017-2022

11.3.6 Germany

11.3.6.1 Market Estimates & Forecast, 2017-2022

11.3.6.2 Market Estimates & Forecast by Component, 2017-2022

11.3.6.3 Market Estimates & Forecast by Deployment Model, 2017-2022

11.3.6.4 Market Estimates & Forecast by Application, 2017-2022

11.3.6.5 Market Estimates & Forecast by Organization Size, 2017-2022
11.3.7. France

11.3.7.1 Market Estimates & Forecast, 2017-2022

11.3.7.2 Market Estimates & Forecast by Component, 2017-2022

11.3.7.3 Market Estimates & Forecast by Deployment Model, 2017-2022

11.3.7.4 Market Estimates & Forecast by Application, 2017-2022

11.3.7.5 Market Estimates & Forecast by Organization Size, 2017-2022
11.3.8 Italy

11.3.8.1 Market Estimates & Forecast, 2017-2022

11.3.8.2 Market Estimates & Forecast by Component, 2017-2022

11.3.8.3 Market Estimates & Forecast by Deployment Model, 2017-2022

11.3.8.4 Market Estimates & Forecast by Application, 2017-2022

11.3.8.5 Market Estimates & Forecast by Organization Size, 2017-2022
11.3.9 Spain

11.3.9.1 Market Estimates & Forecast, 2017-2022

11.3.9.2 Market Estimates & Forecast by Component, 2017-2022

11.3.9.3 Market Estimates & Forecast by Deployment Model, 2017-2022

11.3.9.4 Market Estimates & Forecast by Application, 2017-2022

11.3.9.5 Market Estimates & Forecast by Organization Size, 2017-2022
11.3.10 U.K

11.3.10.1 Market Estimates & Forecast, 2017-2022

11.3.10.2 Market Estimates & Forecast by Component, 2017-2022

11.3.10.3 Market Estimates & Forecast by Deployment Model, 2017-2022

11.3.10.4 Market Estimates & Forecast by Application, 2017-2022

11.3.10.5 Market Estimates & Forecast by Organization Size, 2017-2022
11.4 Asia Pacific

11.4.1 Market Estimates & Forecast, 2017-2022

11.4.2 Market Estimates & Forecast by Component, 2017-2022

11.4.3 Market Estimates & Forecast by Deployment Model, 2017-2022

11.4.4 Market Estimates & Forecast by Application, 2017-2022

11.4.5 Market Estimates & Forecast by Organization Size, 2017-2022

11.4.6 China

11.4.6.1 Market Estimates & Forecast, 2017-2022

11.4.6.2 Market Estimates & Forecast by Component, 2017-2022

11.4.6.3 Market Estimates & Forecast by Deployment Model, 2017-2022

11.4.6.4 Market Estimates & Forecast by Application, 2017-2022

11.4.6.5 Market Estimates & Forecast by Organization Size, 2017-2022
11.4.7 India

11.4.7.1 Market Estimates & Forecast, 2017-2022

11.4.7.2 Market Estimates & Forecast by Component, 2017-2022

11.4.7.3 Market Estimates & Forecast by Deployment Model, 2017-2022

11.4.7.4 Market Estimates & Forecast by Application, 2017-2022

11.4.7.5 Market Estimates & Forecast by Organization Size, 2017-2022

11.4.8 Japan

11.4.8.1 Market Estimates & Forecast, 2017-2022

11.4.8.2 Market Estimates & Forecast by Component, 2017-2022

11.4.8.3 Market Estimates & Forecast by Deployment Model, 2017-2022

11.4.8.4 Market Estimates & Forecast by Application, 2017-2022

11.4.8.5 Market Estimates & Forecast by Organization Size, 2017-2022

11.4.9 Rest of Asia Pacific

11.4.9.1 Market Estimates & Forecast, 2017-2022

11.4.9.2 Market Estimates & Forecast by Component, 2017-2022

11.4.9.3 Market Estimates & Forecast by Deployment Model, 2017-2022

11.4.9.4 Market Estimates & Forecast by Application, 2017-2022

11.4.9.5 Market Estimates & Forecast by Organization Size, 2017-2022
11.5 Rest of the world

11.5.1 Market Estimates & Forecast, 2017-2022

11.5.2 Market Estimates & Forecast by Component, 2017-2022

11.5.3 Market Estimates & Forecast by Deployment Model, 2017-2022

11.5.4 Market Estimates & Forecast by Application, 2017-2022

11.5.5 Market Estimates & Forecast by Organization Size, 2017-2022

11.5.6 The Middle East & Africa

11.5.6.1 Market Estimates & Forecast, 2017-2022

11.5.6.2 Market Estimates & Forecast by Component, 2017-2022

11.5.6.3 Market Estimates & Forecast by Deployment Model, 2017-2022

11.5.6.4 Market Estimates & Forecast by Application, 2017-2022

11.5.6.5 Market Estimates & Forecast by Organization Size, 2017-2022
11.5.7 Latin Countries

11.5.7.1 Market Estimates & Forecast, 2017-2022

11.5.7.2 Market Estimates & Forecast by Component, 2017-2022

11.5.7.3 Market Estimates & Forecast by Deployment Model, 2017-2022

11.5.7.4 Market Estimates & Forecast by Application, 2017-2022

11.5.7.5 Market Estimates & Forecast by Organization Size, 2017-2022
12. Company Landscape

13. Company Profiles

13.1 Veracode (U.S.)

13.1.1 Company Overview

13.1.2 Deployment Model/Business Segment Overview

13.1.3 Financial Updates

13.1.4 Key Developments

13.2 Waratek (Ireland)

13.2.1 Company Overview

13.2.2 Deployment Model/Business Segment Overview

13.2.3 Financial Updates

13.2.4 Key Developments

13.3 Cigital, Inc. (U.S.)

13.3.1 Company Overview

13.3.2 Deployment Model/Business Segment Overview

13.3.3 Financial Updates

13.3.4 Key Developments

13.4 Optiv Inc (U.S)

13.4.1 Company Overview

13.4.2 Deployment Model/Business Segment Overview

13.4.3 Financial Updates

13.4.4 Key Developments

13.5 Hewlett-Packard (U.S.)

13.5.1 Company Overview

13.5.2 Deployment Model/Business Segment Overview

13.5.3 Financial Updates

13.5.4 Key Developments

13.6 WhiteHat Security (U.S.)

13.6.1 Company Overview

13.6.2 Deployment Model/Business Segment Overview

13.6.3 Financial Updates

13.6.4 Key Developments

13.7 VASCO Data Security International, Inc. (U.S.)

13.7.1 Company Overview

13.7.2 Deployment Model/Business Segment Overview

13.7.3 Financial Updates

13.7.4 Key Developments

13.8 IMMUNIO (Canada)

13.8.1 Company Overview

13.8.2 Deployment Model/Business Segment Overview

13.8.3 Financial Updates

13.8.4 Key Developments

13.9 Prevoty (U.S.)

13.9.1 Company Overview

13.9.2 Deployment Model/Business Segment Overview

13.9.3 Financial Updates

13.9.4 Key Developments

13.10 Promon AS (Norway)

13.10.1 Company Overview

13.10.2 Deployment Model/Business Segment Overview

13.10.3 Financial Updates

13.10.4 Key Developments
14 Conclusion

 



LIST OF TABLES
Table 1 Global Runtime Application Self-Protection Market: By Region, 2017-2022

Table 2 North America Runtime Application Self-Protection Market: By Country, 2017-2022

Table 3 Europe Runtime Application Self-Protection Market: By Country, 2017-2022

Table 4 Asia-Pacific Runtime Application Self-Protection Market: By Country, 2017-2022

Table 5 Middle East & Africa Runtime Application Self-Protection Market: By Country, 2017-2022

Table 6 Latin America Runtime Application Self-Protection Market: By Country, 2017-2022

Table 7 Global Runtime Application Self-Protection by Component Market: By Regions, 2017-2022

Table 8 North America Runtime Application Self-Protection by Component Market: By Country, 2017-2022

Table 9 Europe Runtime Application Self-Protection by Component Market: By Country, 2017-2022

Table10 Asia-Pacific Runtime Application Self-Protection by Component Market: By Country, 2017-2022

Table11 Middle East & Africa Runtime Application Self-Protection by Component Market: By Country, 2017-2022

Table12 Latin America Runtime Application Self-Protection by Component Market: By Country, 2017-2022

Table13 Global Runtime Application Self-Protection by Deployment Model Market: By Regions, 2017-2022

Table14 North America Runtime Application Self-Protection by Deployment Model Market: By Country, 2017-2022

Table15 Europe Runtime Application Self-Protection by Deployment Model Market: By Country, 2017-2022

Table16 Asia-Pacific Runtime Application Self-Protection by Deployment Model Market: By Country, 2017-2022

Table17 Middle East & Africa Runtime Application Self-Protection by Deployment Model Market: By Country, 2017-2022

Table18 Latin America Runtime Application Self-Protection by Deployment Model Market: By Country, 2017-2022

Table19 North America Runtime Application Self-Protection for Form Market: By Country, 2017-2022

Table20 Europe Runtime Application Self-Protection for Form Market: By Country, 2017-2022

Table21 Asia-Pacific Runtime Application Self-Protection for Form Market: By Country, 2017-2022

Table22 Middle East & Africa Runtime Application Self-Protection for Form Market: By Country, 2017-2022

Table23 Latin America Runtime Application Self-Protection for Form Market: By Country, 2017-2022

Table24 Global Component Market: By Region, 2017-2022

Table25 North America Runtime Application Self-Protection Market, By Country

Table26 North America Runtime Application Self-Protection Market, By Component

Table27 North America Runtime Application Self-Protection Market, By Deployment Model

Table28 North America Runtime Application Self-Protection Market, By Application

Table29 North America Runtime Application Self-Protection Market, By Organization Size

Table30 Europe: Runtime Application Self-Protection Market, By Country

Table31 Europe: Runtime Application Self-Protection Market, By Component

Table 32 Europe: Runtime Application Self-Protection Market, By Deployment Model

Table33Europe Runtime Application Self-Protection Market, By Application

Table34 Runtime Application Self-Protection Market, By Organization Size

Table35 Asia-Pacific: Runtime Application Self-Protection Market, By Country

Table36 Asia-Pacific: Runtime Application Self-Protection Market, By Component

Table 37 Asia-Pacific: Runtime Application Self-Protection Market, By Deployment Model

Table38 Asia-Pacific Runtime Application Self-Protection Market, By Application

Table39 Asia-Pacific Runtime Application Self-Protection Market, By Organization Size

Table40 Middle East & Africa: Runtime Application Self-Protection Market, By Country

Table41 Middle East & Africa Runtime Application Self-Protection Market, By Component

Table42 Middle East & Africa: Runtime Application Self-Protection Market, By Deployment Model

Table43 Middle East & Africa Runtime Application Self-Protection Market, By Application

Table44 Middle East & Africa Runtime Application Self-Protection Market, By Organization Size

Table45 Latin America: Runtime Application Self-Protection Market, By Country

Table46 Latin America Runtime Application Self-Protection Market, By Component

Table47 Latin America: Runtime Application Self-Protection Market, By Deployment Model

Table48 Latin America Runtime Application Self-Protection Market, By Application

Table49 Latin America Runtime Application Self-Protection Market, By Product

Table50 Latin America Runtime Application Self-Protection Market, By Organization Size


LIST OF FIGURES
FIGURE 1 Global Runtime Application Self-Protection Market segmentation

FIGURE 2 Forecast Methodology

FIGURE 3 Five Forces Analysis of Global Runtime Application Self-Protection Market

FIGURE 4 Value Chain of Global Runtime Application Self-Protection Market

FIGURE 5 Share of Global Runtime Application Self-Protection Market in 2017, by country (in %)

FIGURE 6 Global Runtime Application Self-Protection Market, 2017-2022,

FIGURE 7 Sub segments of Component

FIGURE 8 Global Runtime Application Self-Protection Market size by Component, 2017

FIGURE 9 Share of Global Runtime Application Self-Protection Market by Component, 2017 TO 2022

FIGURE 10 Global Runtime Application Self-Protection Market size by Deployment Model, 2017 TO 2022

FIGURE 11 Share of Global Runtime Application Self-Protection Market by Deployment Model, 2017 TO 2022

FIGURE 12 Global Runtime Application Self-Protection Market size by Application, 2017 TO 2022

FIGURE 13 Share of Global Runtime Application Self-Protection Market by Application, 2017 TO 2022

FIGURE 14 Global Runtime Application Self-Protection Market size by Organization Size, 2017 TO 2022

FIGURE 15 Share of Global Runtime Application Self-Protection Market by Organization Size, 2017 TO 2022