Market Synopsis
Global Rugged Servers Market is estimated to reach USD 656.2 Million by 2026, registering a CAGR of 6.7% during the forecast period of 2020–2026.
Rugged servers are designed to operate in extremely harsh environments and conditions. Military, industrial, and commercial professionals choose rugged servers for high-performance computing and high-capacity data storage in a rugged, all-aluminum package able to withstand some of the roughest terrains and toughest applications. Rugged servers are designed for use in primarily manufacturing or production-related applications. This could include anything from a factory computer that helps separate products on an assembly line to any number of projects relating to the medical, telecommunications or aviation industries. Some of the factors influencing the growth of rugged servers across the forecast period include rising adoption for industrial IoT, and increasing demand for rugged servers by military, industrial, and power sectors. The market has also gained momentum owing to a significant shift of manufacturing industries towards digitization. However, the initial costs incurred in the deployment of these servers and concerns regarding data security at remote locations might hamper the market growth over the forecast period.
Industry News


In February 2021, Crystal Group, Inc., has developed autonomous vehicle (AV) compute systems for industrial and military applications. The servers are equipped to handle the harsh and unpredictable operating challenges inherent to edge environments so as to deliver the critical combination of robust compute power with hardened physical assets.




In February 2021, Tyto Athene, LLC has partnered with Tellabs, leading provider of Passive Optical Network (PON) solutions, to develop the ACUITY LAN Solution. The ACUITY LAN is an edge solution that leverages Tellabs OLAN to ensure network readiness in a two person carry form-factor. ACUITY LAN provides a network that is easy to transport, set-up, tear down, power-on and provide a multitude of services.




In January 2021, Trenton Systems has partnered with NGD Systems to develop ruggedized, high-capacity computational storage drives (CSDs) offering a significant performance boost to real-time, mission-critical artificial intelligence (AI) and machine learning (ML) systems at the edge.




In October 2020, Crystal Group Inc. has launched three rugged computer servers -- the RS4105L22 4U GPU server, RS1.532L21X2F twin server, and Crystal Group FORCE RS2606. These rugged servers are designed for ultra-high intelligence, surveillance, and reconnaissance (ISR) performance. Independently, each server delivers powerful performance, and when combined, these servers form an integrated system for real-time high-speed sensor data collection, computation, and daily hot-swappable data extraction.


Segmentation
Global Rugged Servers Market has been segmented based on Component, Type, Capacity, Application, and Region.
By component, the market has been segmented into hardware, software, and services.
By type, the market has been segmented into dedicated and standard.
By capacity, the market has been segmented into <256 GB, 256GB-512GB, 512GB-1TB, and >1TB.
By application, the market has been segmented into military & defense, industrial, IT & telecommunication, aerospace, energy & power, and others.
By region, the market has been segmented into North America, Europe, Asia-Pacific, and the rest of the world.
Global Rugged Servers Market, 2018–2026 (USD Million)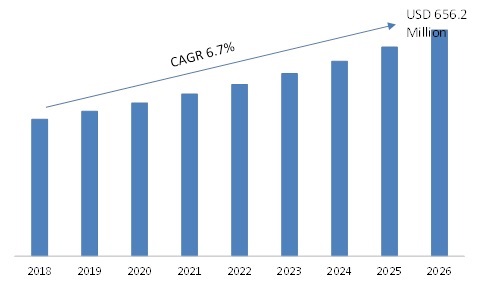 Source: MRFR Analysis
Regional Analysis
Global Rugged Servers Market is estimated to grow at a significant rate during the forecast period from 2020 to 2026. The geographic analysis of rugged servers has been conducted for North America (the US, Canada, and Mexico), Europe (the UK, Germany, France, Spain, Italy, and the rest of Europe), Asia-Pacific (China, Japan, India, and the rest of Asia-Pacific), and the rest of the world (the Middle East and Africa and South America). Among these regions, North America has dominated the global market in 2019 and is expected to maintain its dominance throughout the forecast period. On the other hand, the Asia-Pacific region is expected to witness the fastest growth during the forecast period. Growing demand for smart energy solutions coupled with the influx of industrial IoT across this region is expected to fuel the market in this region.
Key Players
MRFR recognizes the Key Players in the Global Rugged Servers Market. These include Dell Technologies (US), Mercury Systems (US), Siemens AG (Germany), Core Systems (Switzerland), Crystal Group (Hong Kong), CP Technologies (US), Symmatrix (Singapore), Systel (US), Trenton Systems (Georgia), ACME Portable Machines (US), Amity Technologies (India), Beltronic IPC AG (Switzerland), Elma Electronic (Switzerland), General Micro Systems (US), Getac (Taiwan), Kontron S&T (Germany), MPL AG (Switzerland), NCS Technologies, Inc. (US), One Stop Systems (US), Portwell, Inc. (Taiwan), Superlogics (US), TP Group PLC (UK), Trans Pacific Technologies, Inc. (US), and ZMicro (US). These players focus on innovation and thus, invest in research and development to present a cost-effective product portfolio. There have been recent mergers and acquisitions among the key players, a strategy the business entities leverage to strengthen their reach to the customers.
Intended Audience



Investors and Consultants




Government Organizations




Research/Consultancy Firms




Manufacturers




Safety Providers




Industries



Report Scope:
Report Attribute/Metric
Details
Market Size
USD 656.2 Million
CAGR
6.7%% (2020-2026)
Base Year
2019
Forecast Period
2020-2027
Historical Data
2018
Forecast Units
Value (USD Million)
Report Coverage
Revenue Forecast, Competitive Landscape, Growth Factors, and Trends
Segments Covered
Component, Type, Application and Region
Geographies Covered
North America, Europe, Asia-Pacific, and Rest of the World (RoW)
Key Vendors
Dell Technologies (US), Mercury Systems (US), Siemens AG (Germany), Core Systems (Switzerland), Crystal Group (Hong Kong), CP Technologies (US), Symmatrix (Singapore), Systel (US), Trenton Systems (Georgia), ACME Portable Machines (US), Amity Technologies (India), Beltronic IPC AG (Switzerland), Elma Electronic (Switzerland), General Micro Systems (US), Getac (Taiwan), Kontron S&T (Germany), MPL AG (Switzerland), NCS Technologies, Inc. (US), One Stop Systems (US), Portwell, Inc. (Taiwan), Superlogics (US), TP Group PLC (UK), Trans Pacific Technologies, Inc. (US), and ZMicro (US)
Key Market Opportunities
Significant shift of manufacturing industries towards digitization
Key Market Drivers
Rising adoption for industrial IoT
Increasing demand for rugged servers by military