Global Pressure Vessel Market Information Report by Material (Steel Alloys, Other Alloys, Composites), by Product (Boilers, Nuclear Reactors, Separators, Others), by Application (Oil & Gas, Chemical, Power Generation & Others) and by Region - Global Forecast To 2023
Market Scenario:
Pressure vessels are manufactured according to standard regulations and their applications. As pressure vessels are widely used for storing liquids and gases at high pressure, the high internal pressure bearing capacity of the pressure vessel acts is the main feature driving pressure vessel market. Highly reactive chemical compounds need a proper medium for transportation, which modern pressure vessels provides it, as design parameters such as safe operating pressure & temperature, safety factor and corrosion allowance accounts for it. The current manufacturing techniques under intensive R&D, nondestructive testing and under the guidelines of government, have reduced the pressure vessel related accidents.
The Pressure Vessel Market is expected to grow over the CAGR of around 6% during the period 2017 to 2023.
The major drivers of the global pressure vessel market is the growing need for energy around the world. Boilers, the dominant type of pressure vessel in current global market are used in various energy generation procedures, which is expected to support their demand in coming years. The growing attention towards the renewable energy sector has also promoted the pressure vessel market immensely. Due to the growing scarcity of natural fuels, more attention is given to the renewable energy resources, which is benefitting the growth of pressure vessel market. The customizability of pressure vessels is another key driver for the global pressure vessel market. On the other hand, the drop in mining activities is expected to restrain the pressure vessels market to a certain degree. Pressure vessels need large amount of metal, since they need to safeguard with a barrier thick enough to contain even highly reactive and potentially destructive materials. Thus, the decrease in the mining of metals is expected to restrain the pressure vessels industry.
Study Objectives of Global Pressure Vessel Market:



provide detailed analysis of the market structure along with forecast for the next five years of the various segments and sub-segments of the global pressure vessel




To provide insights about factors affecting the market growth




To analyze the global pressure vessel market based on various tools such as Supply Chain Analysis, and Porter's Five Forces Analysis




To provide historical and forecast revenue of the market segments and sub-segments with respect to regions and their respective key countries




To provide country level analysis of the market with respect to the current market size and future prospective




To provide country level analysis of the market for segments by material type, product, application and region




To provide strategic profiling of key players in the market, comprehensively analyzing their core competencies, and drawing a competitive landscape for the market




To track and analyze competitive developments such as joint ventures, strategic alliances, mergers and acquisitions, new product developments, and research and developments in the global pressure vessel market.



Market Segmentation: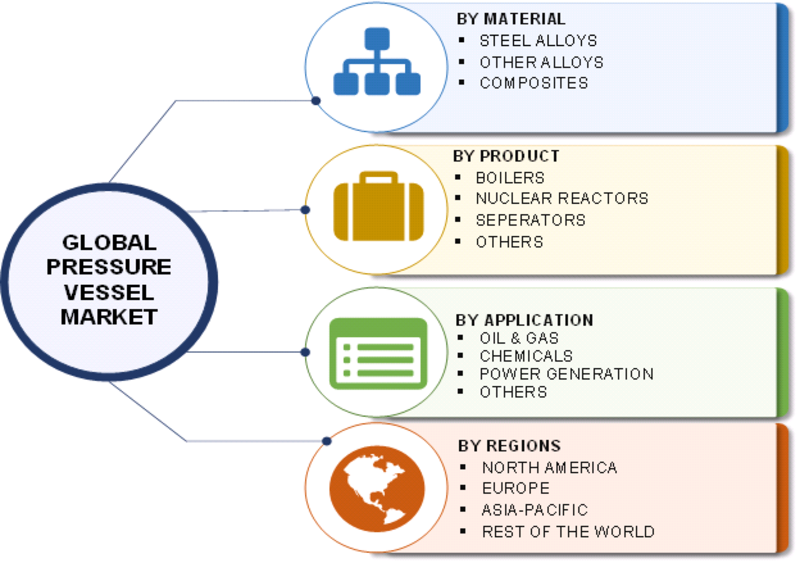 Regional Analysis:
Currently, Asia-Pacific region is expected to grow rapidly. The rapid expansion of the power sector in the region, the growing operation of nuclear power, and the increasing demand from the chemicals industry caters for the growth of pressure vessels market in Asia-Pacific region. The expected expansion of urban and industrial infrastructure in the region in the coming years will ensure gradual demand for electricity. This will drive the demand for pressure vessels in the region, as they are essential in most conventional power generation procedures.
Key Players:
The key players of Global Pressure Vessel Market are Babcock and Wilcox Enterprises, Inc. (U.S.A), Doosan Heavy Industries & Construction Co., Ltd. (South Korea), Mitsubishi Heavy Industries Ltd. (Japan), Bharat Heavy Electricals Limited. (India), Larsen & Toubro Limited. (India), Dongfang Electric Machinery Co., Ltd. (China), General Electric Co (U.S.A), Halvorsen (Norway), IHI Corporation (Japan), Pressure Vessels (India), Samuel Pressure Vessel Group. (U.S.A), Westinghouse Electric Company LLC. (U.S.A) and others.
Intended Audience:



Distributer & Supplier companies




End Users




Consultants and Investment bankers




Government as well as Independent Regulatory Authorities



Product Analysis:
Additional Information:



Regulatory Landscape




Pricing Analysis




Macroeconomic Indicators



Geographic Analysis:
Company Information:



Profiling of 12 key market players




In-depth analysis including SWOT analysis, and strategy information of related to report title




Competitive landscape including emerging trends adopted by major companies



The report for Global Pressure Vessel of Market Research Future comprises of extensive primary research along with the detailed analysis of qualitative as well as quantitative aspects by various industry experts, key opinion leaders to gain the deeper insight of the market and industry performance. The report gives the clear picture of current market scenario which includes historical and projected market size in terms of value, technological advancement, macro economical and governing factors in the market. The report provides details information and strategies of the top key players in the industry. The report also gives a broad study of the different market segments and regions.
Table of Contents
1 Executive Summary


2 Research Methodology


2.1 Scope of the Study


2.1.1 Definition


2.1.2 Research Objective


2.1.3 Assumptions


2.1.4 Litations


2.2 Research Process


2.2.1 Primary Research


2.2.2 Secondary Research


2.3 Market size Estimation


2.4 Forecast Model


3 Market Dynamics


3.1 Market Drivers


3.2 Market Inhibitors


3.3 Supply/Value Chain Analysis


3.4 Porter's Five Forces Analysis


4 Global Pressure Vessel Market, By Material


4.1 Introduction


4.2 Steel Alloys


4.3 Other Alloys


4.4 Composites


5 Global Pressure Vessel Market, By Product


5.1 Introduction


5.2 Boilers


5.3 Nuclear Reactors


5.4 Separators


5.5 Others


6 Global Pressure Vessel Market, By Application


6.1 Introduction


6.2. Oil & Gas


6.3. Chemical


6.4. Power Generation


6.5. Others
7 Regional Market Analysis


7.1 Introduction


7.2 North America


7.2.1 U.S.


7.2.2 Canada


7.3 Europe


7.3.1 U.K.


7.3.2 France


7.3.3 Germany


7.3.4 Rest of Europe


7.4 Asia-Pacific


7.4.1 China


7.4.2 Japan


7.4.3 India


7.4.4 Rest of Asia-Pacific


7.5 Rest of the World


8 Competitive Analysis


8.1 Introduction


8.2 Competitive Scenario


8.2.1 Market Share Analysis


8.2.2 Market Development Analysis


8.2.3 Product/Service Benchmarking


8.3 Babcock and Wilcox Enterprises, Inc. (U.S.A)


8.3.1 Overview


8.3.2 Product/Service Offering


8.3.3 Strategy


8.4 Doosan Heavy Industries & Construction (South Korea)


8.4.1 Overview


8.4.2 Product/Service Offering


8.4.3 Strategy


8.5 Mitsubishi Heavy Industries Ltd. (Japan)


8.5.1 Overview


8.5.2 Product/Service Offering


8.5.3 Strategy


8.6 Bharat Heavy Electricals Limited. (India)


8.6.1 Overview


8.6.2 Product/Service Offering


8.6.3 Strategy


8.7 Larsen & Toubro Limited. (India)


8.7.1 Overview


8.7.2 Product/Service Offering


8.7.3 Strategy


8.8 Dongfang Electric Machinery Co., Ltd. (China)


8.8.1 Overview


8.8.2 Product/Service Offering


8.8.3 Strategy


8.9 General Electric (U.S.A)


8.9.1 Overview


8.9.2 Product/Service Offering


8.9.3 Strategy


8.10 Halvorsen (Norway),


8.10.1 Overview


8.10.2 Product/Service Offering


8.10.3 Strategy


8.11 IHI Corporation (Japan),


8.11.1 Overview


8.11.2 Product/Service Offering


8.11.3 Strategy


8.12 Pressure Vessels (India)


8.12.1 Overview


8.12.2 Product/Service Offering


8.12.3 Strategy


8.13 Samuel Pressure Vessel Group. (U.S.A)


8.13.1 Overview


8.13.2 Product/Service Offering


8.13.3 Strategy


8.14 Westinghouse Electric Company LLC. (U.S.A)


8.14.1 Overview


8.14.2 Product/Service Offering


8.14.3 Strategy
LIST OF TABLES
TABLE 1 GLOBAL PRESSURE VESSEL MARKET, BY MATERIAL


TABLE 2 GLOBAL PRESSURE VESSEL MARKET, BY PRODUCT


TABLE 3 GLOBAL PRESSURE VESSEL MARKET, BY APPLICATION


TABLE 4 GLOBAL PRESSURE VESSEL MARKET, BY REGIONS


TABLE 5 NORTH AMERICA PRESSURE VESSEL MARKET, BY MATERIAL


TABLE 6 NORTH AMERICA PRESSURE VESSEL MARKET, BY PRODUCT


TABLE 7 NORTH AMERICA PRESSURE VESSEL MARKET, BY APPLICATION


TABLE 8 U.S. PRESSURE VESSEL MARKET, BY MATERIAL


TABLE 9 U.S. PRESSURE VESSEL MARKET, BY PRODUCT


TABLE 10 U.S. PRESSURE VESSEL MARKET, BY APPLICATION


TABLE 11 CANADA PRESSURE VESSEL MARKET, BY MATERIAL


TABLE 12 CANADA PRESSURE VESSEL MARKET, BY PRODUCT


TABLE 13 CANADA PRESSURE VESSEL MARKET, BY APPLICATION


TABLE 14 EUROPE PRESSURE VESSEL MARKET, BY MATERIAL


TABLE 15 EUROPE PRESSURE VESSEL MARKET, BY PRODUCT


TABLE 16 EUROPE PRESSURE VESSEL MARKET, BY APPLICATION


TABLE 17 GERMANY PRESSURE VESSEL MARKET, BY MATERIAL


TABLE 18 GERMANY PRESSURE VESSEL MARKET, BY PRODUCT


TABLE 19 GERMANY PRESSURE VESSEL MARKET, BY APPLICATION


TABLE 20 FRANCE PRESSURE VESSEL MARKET, BY MATERIAL


TABLE 21 FRANCE PRESSURE VESSEL MARKET, BY PRODUCT


TABLE 22 FRANCE PRESSURE VESSEL MARKET, BY APPLICATION


TABLE 23 U.K. PRESSURE VESSEL MARKET, BY MATERIAL


TABLE 24 U.K. PRESSURE VESSEL MARKET, BY PRODUCT


TABLE 25 U.K. PRESSURE VESSEL MARKET, BY APPLICATION


TABLE 26 REST OF EUROPE PRESSURE VESSEL MARKET, BY MATERIAL


TABLE 27 REST OF EUROPE PRESSURE VESSEL MARKET, BY PRODUCT


TABLE 28 REST OF EUROPE PRESSURE VESSEL MARKET, BY APPLICATION


TABLE 29 ASIA-PACIFIC PRESSURE VESSEL MARKET, BY MATERIAL


TABLE 30 ASIA-PACIFIC PRESSURE VESSEL MARKET, BY PRODUCT


TABLE 31 ASIA-PACIFIC PRESSURE VESSEL MARKET, BY APPLICATION


TABLE 32 ROW PRESSURE VESSEL MARKET, BY MATERIAL


TABLE 33 ROW PRESSURE VESSEL MARKET, BY PRODUCT


TABLE 34 ROW PRESSURE VESSEL MARKET, BY APPLICATION 
LIST OF FIGURES
FIGURE 1 RESEARCH PRODUCT


FIGURE 2 GLOBAL PRESSURE VESSEL MARKET: BY MATERIAL (%)


FIGURE 3 GLOBAL PRESSURE VESSEL MARKET: BY PRODUCT (%)


FIGURE 4 GLOBAL PRESSURE VESSEL MARKET: BY APPLICATION (%)


FIGURE 5 GLOBAL PRESSURE VESSEL MARKET: BY REGION


FIGURE 6 NORTH AMERICA PRESSURE VESSEL MARKET, BY MATERIAL (%)


FIGURE 7 NORTH AMERICA PRESSURE VESSEL MARKET, BY PRODUCT (%)


FIGURE 8 NORTH AMERICA PRESSURE VESSEL MARKET, BY APPLICATION (%)


FIGURE 9 EUROPE PRESSURE VESSEL MARKET, BY MATERIAL (%)


FIGURE 10 EUROPE PRESSURE VESSEL MARKET, BY PRODUCT (%)


FIGURE 11 EUROPE PRESSURE VESSEL MARKET, BY APPLICATION (%)


FIGURE 12 ASIA-PACIFIC PRESSURE VESSEL MARKET, BY MATERIAL (%)


FIGURE 13 ASIA-PACIFIC PRESSURE VESSEL MARKET, BY PRODUCT (%)


FIGURE 14 ASIA-PACIFIC PRESSURE VESSEL MARKET, BY APPLICATION (%)


FIGURE 15 ROW PRESSURE VESSEL MARKET, BY MATERIAL (%)


FIGURE 16 ROW PRESSURE VESSEL MARKET, BY PRODUCT (%)


FIGURE 17 ROW PRESSURE VESSEL MARKET, BY APPLICATION (%)