Practice Analytics Market Scenario
Practice Analytics can be defined as the capability to evaluate and examine the state of a practice in a business, it is also a tool that is essential to support and produce a business. Practice analytics is an easy to use report writing and business intellect tool that can be utilized by directors, managers, providers and support staff. In practice analytics, analysing data in detail and summarizing it, preparing reports and presentation graphics, along with generating data files for exports to other applications are major driving factors responsible for growth of practice analytics market. Increasing in SaaS (Software as a Service) based analysis and SQL database which is a more demanding database language will also boost the growth of practice analytics market.
Analysing the data is too time consuming which may hamper the growth of practice analytics market.
The practice analytics market is expected to grow at a CAGR of 11.5% during forecasted period of 2017-2023.
Intended Audience



Government and Independent Research Laboratories




Government and Independent Regulatory Authorities




Academic Medical Institutes and Universities



Figure 1- Global Practice Analytics Market Share, by Type of Modules, 2016 (%)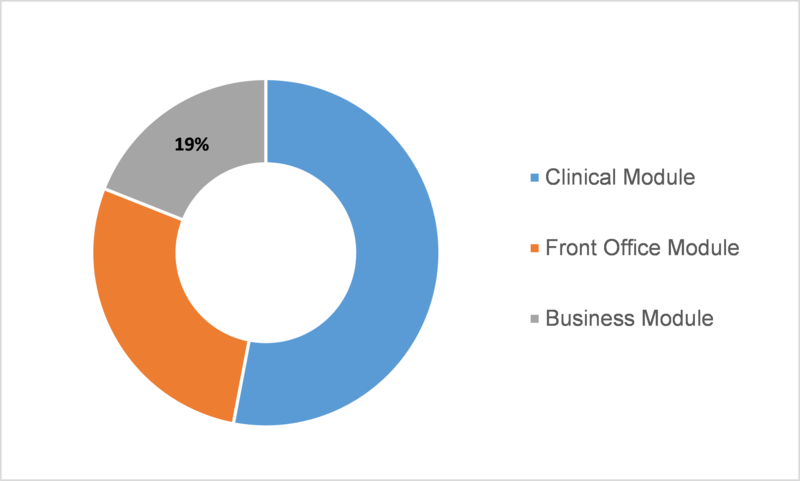 Sources: Annual reports, press release, white paper, company presentation
Segmentation
Practice analytics market is segmented by its module type and on the basis of application. On the basis of module type, Practice analytics market is segmented in to clinical module, front office module, and business module. On the basis of application, Practice analytics market is segmented into standard reports, graphical user interface design, SQL database and others.
Market Assessment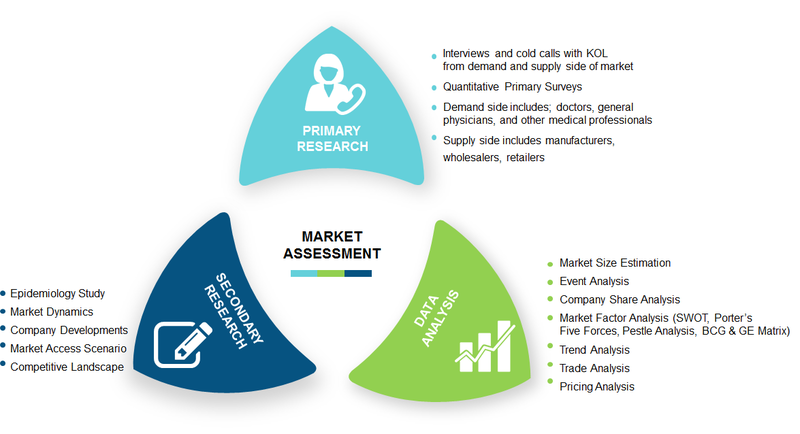 Annual reports, World Health Organization (WHO), White paper, Company Presentation
Regional Analysis
On regional basis, the practice analytics market is segmented into America, Europe, Asia Pacific and Middle East & Africa. America commands the largest market due to remarkable use of information technology in healthcare industries. Increasing industrialization and increase in development in IT industries have driven the growth of practice analytics market.
Europe is second largest market for practice analytics market followed by Asia Pacific. This is due to availability of funds for research and development activities and the growing emphasis on software based techniques in healthcare industries.
Asia Pacific shows the fastest growth of practice analytics market due to an increase in investment in IT industries along with research and development taking place in the healthcare IT industry. Particularly, India and China are expected to be an emerging and fastest growing practise analytics market.
Middle East and Africa has the lowest practice analytics market due to lack of technical knowledge and poor medical facilities.
Key Players for Practice Analytics Market
Some of the key players in this practice analytics market are Accenture (US), AGS Health, Inc. (India), Practice Analytics (US), Greenway Health, LLC (US), MediSys (US), Cardinal Health (US), McKesson Corporation (US), Harris digiChart (US), Meditab (US), UroGPO (US), Global Health Management Services (US), IBM and KNIME (Switzerland).
Report Scope:
Report Attribute/Metric
Details
Market Size
2027: Significant Value
CAGR
11.5% (2017-2023)
Base Year
2019
Forecast Period
2020-2027
Historical Data
2018
Forecast Units
Value (USD Million)
Report Coverage
Revenue Forecast, Competitive Landscape, Growth Factors, and Trends
Segments Covered
Module Type, Application
Geographies Covered
North America, Europe, Asia-Pacific, and Rest of the World (RoW)
Key Vendors
Accenture (US), AGS Health, Inc. (India), Practice Analytics (US), Greenway Health, LLC (US), MediSys (US), Cardinal Health (US), McKesson Corporation (US), Harris digiChart (US), Meditab (US), UroGPO (US), Global Health Management Services (US), IBM and KNIME (Switzerland)
Key Market Opportunities
New product launches and R&D Amongst major key Players
Key Market Drivers
Increasing use of information technology in healthcare industries
Rising industrialization followed by the development of IT industries
Table of Contents

1 Report Prologue

2 Market Introduction

2.1 Introduction

2.2 Scope of Study

2.3 Research Objective

2.4 Assumptions & Limitations

2.4.1 Assumptions

2.4.2 Limitations

3 Research Methodology

3.1 Research Process

3.2 Primary Research

3.3 Secondary Research

4 Market Dynamics

4.1 Drivers

4.2 Restraints

5 Market Factor Analysis

5.1 Porter's Five Forces Model

5.1.1 Bargaining Power of Suppliers

5.1.2 Bargaining Power of Buyers

5.1.3 Threat of New Entrants

5.1.4 Threat of Substitutes

5.1.5 Intensity of Rivalry

5.2 Supply Chain Analysis

6. Global Practice Analytics Market, by Type of Module

6.1 Clinical Module

6.2 Front Office Module

6.3 Business Module

7. Global Practice Analytics Market, by Applications

7.1 Standard reports

7.2 Graphical user interface design

7.3 SQL Database

7.4 Others

8. Global Practice Analytics Market, by Region

8.1 Introduction

8.2 America

8.2.1 North America

8.2.1.1 US

8.2.1.2 Canada

8.2.2 South America

8.3 Europe

8.3.1 Western Europe

8.3.1.1 Germany

8.3.1.2 UK

8.3.1.3 France

8.3.1.4 Italy

8.3.1.5 Spain

8.3.1.6 Rest of Western Europe

8.3.2 Eastern Europe

8.4 Asia Pacific

8.4.1 Japan

8.4.2 China

8.4.3 India

8.4.4 Australia

8.4.5 Republic of Korea

8.4.6 Rest of Asia Pacific

8.5 Middle East & Africa

8.5.1 United Arab Emirates

8.5.2 Saudi Arabia

8.5.3 Oman

8.5.4 Kuwait

8.5.5 Qatar

8.5.6 Rest of Middle East & Africa

9 Competitive Landscape

9.1 Cost of Products

9.2 Production Capacity of Major Players

10 Company Profile

10.1 Accenture

10.1.1 Overview

10.1.2 Product/Business Segment Overview

10.1.3 Financial Updates

10.1.4 Key Developments

10.2 Practice Analytics

10.2.1 Overview

10.2.2 Product/Business Segment Overview

10.2.3 Financial Updates

10.2.4 Key Developments

10.3 AGS Health

10.3.1 Overview

10.3.2 Product/Business Segment Overview

10.3.3 Financial Updates

10.3.4 Key Development

10.4 Greenway Health

10.4.1 Overview

10.4.2 Product/Business Segment Overview

10.4.3 Financial Updates

10.4.4 Key Development

10.5 Medisys

10.5.1 Overview

10.5.2 Product/Business Segment Overview

10.5.3 Financial Updates

10.5.4 Key Developments

10.6 Cardinal Health

10.6.1 Overview

10.6.2 Product/Business Segment Overview

10.6.3 Financial Updates

10.6.4 Key Developments

10.7 Mckesson

10.7.1 Overview

10.7.2 Product/Business Segment Overview

10.7.3 Financial Updates

10.7.4 Key Developments

10.8 DigiChart

10.8.1 Overview

10.8.2 Product/Business Segment Overview

10.8.3 Financial Updates

10.8.4 Key Developments

10.9 Meditab

10.9.1 Overview

10.9.2 Product/Business Segment Overview

10.9.3 Financial Updates

10.9.4 Key Developments

10.10 Others

11 Conclusion

11.1 Key Findings

11.1.1 From CEO's Viewpoint

11.1.2 Unmet Needs of the Market

11.2 Key Companies to Watch

11.3 Prediction of Healthcare IT Industry

12 Appendix

LIST OF TABLES

Table 1 Practice Analytics Industry Synopsis, 2020–2027

Table 2 Global Practice Analytics Market Estimates & Forecast, 2020–2027, (USD Million)

Table 3 Global Practice Analytics Market, by Region, 2020–2027, (USD Million)

Table 4 Global Practice Analytics Market, by Type of Module, 2020–2027, (USD Million)

Table 5 Global Practice Analytics Market, by Application, 2020–2027, (USD Million)

Table 6 North America Practice Analytics Market, by Type of Module, 2020–2027, (USD Million)

Table 7 North America Practice Analytics Market, by Application, 2020–2027, (USD Million)

Table 8 U.S. Practice Analytics Market, by Type of Module, 2020–2027, (USD Million)

Table 9 U.S. Practice Analytics Market, by Application, 2020–2027, (USD Million)

Table 10 Canada Practice Analytics Market, by Type of Module, 2020–2027, (USD Million)

Table 11 Canada Practice Analytics Market, by Application, 2020–2027, (USD Million)

Table 12 South America Practice Analytics Market, by Type of Module, 2020–2027, (USD Million)

Table 13 South America Practice Analytics Market, by Application, 2020–2027, (USD Million)

Table 14 Europe Practice Analytics Market, by Type of Module, 2020–2027, (USD Million)

Table 15 Europe Practice Analytics Market, by Application, 2020–2027, (USD Million)

Table 16 Western Europe Practice Analytics Market, by Type of Module, 2020–2027, (USD Million)

Table 17 Western Europe Practice Analytics Market, by Application, 2020–2027, (USD Million)

Table 18 Eastern Europe Practice Analytics Market, by Type of Module, 2020–2027, (USD Million)

Table 19 Eastern Europe Practice Analytics Market, by Application, 2020–2027, (USD Million)

Table 20 Asia Pacific Practice Analytics Market, by Type of Module, 2020–2027, (USD Million)

Table 21 Asia Pacific Practice Analytics Market, by Application, 2020–2027, (USD Million)

Table 22 Middle East & Africa Practice Analytics Market, by Type of Module, 2020–2027, (USD Million)

Table 23 Middle East & Africa Practice Analytics Market, by Application, 2020–2027, (USD Million) 

LIST OF FIGURES

Figure 1 Research Process

Figure 2 Segmentation for Global Practice Analytics Market

Figure 3 Segmentation Market Dynamics for Practice Analytics Market

Figure 4 Global Practice Analytics Market Share, by Type of Module 2020

Figure 5 Global Practice Analytics Market Share, by Application, 2020

Figure 6 Global Practice Analytics Market Share, by Region, 2020

Figure 7 North America Practice Analytics Market Share, by Country, 2020

Figure 8 Europe Practice Analytics Market Share, by Country, 2020

Figure 9 Asia Pacific Practice Analytics Market Share, by Country, 2020

Figure 10 Middle East & Africa Practice Analytics Market Share, by Country, 2020

Figure 11 Global Practice Analytics Market: Company Share Analysis, 2020 (%)