Power over Ethernet Market, By

Types (Power Sourcing Equipment Controllers & ICs, Powered Device Controllers & ICs), By Power to Port (Up to 15.4W, Up to 30W, Up to 60W, and Up to 100W), by Application (Security & Access Control, Connectivity, LED Lighting & Control, Infotainment, and Others), by End User (Residential, Commercial, and Industrial)- Forecast 2016-2022
Market Synopsis of Power over Ethernet Market
Market Scenario:
Power over Ethernet (POE) is a technology which enables the transfer of the electric signals with data over paired ethernet cables and allows the transfer of electric power with data over the same power cable to the POE enabled devices. Factors such as low maintenance, low cost, less downtime, easy installation among others are some of the technological factors which makes it more advanced than traditional network power cables. The rising energy cost and adoption of POE in the commercial sectors are expected to surge the market over period of time.
The market of Power over Ethernet has been segmented on the basis of types, power to port, applications and end users. By types, powered device controller & ICs is expected to dominate market and to grow at the highest rate over the time. The main factors supporting this growth is increasing demand for PD controller products such as IP cameras, wireless access point and POE enabled devices. POE controller provides equipment safety by enabling safe delivery of power without any damage to cable as well as device.
The factors such as control over device, cost efficiency, efficient monitoring and flexible network architectures in various application segments has contributed to enhanced growth of the market. High adoption of the VoIP technology and rising demand for network security cameras are anticipated to drive the demand of power over Ethernet market as these devices are placed at the higher place on the wall where power is provided with the POE power cables.
The Global Power over Ethernet market is expected to grow at CAGR of 13% and estimated to reach at market size of US ~$1 billion by the end of forecast period.
Study Objectives of Power over Ethernet Market.



To provide detailed analysis of the market structure along with forecast of the various segments and sub-segments of the Power over Ethernet Market.




To provide insights about factors affecting the market growth.




To analyze the Power over Ethernet Market based porter's five force analysis etc.




To provide historical and forecast revenue of the market segments and sub-segments with respect to four main geographies and their countries- North America, Europe, Asia, and Rest of the World (ROW)




To provide country level analysis of the market with respect to the current market size and future prospective




To provide country level analysis of the market for segment by type, power to port, application end user and sub-segments




To provide strategic profiling of key players in the market, comprehensively analyzing their core competencies, and drawing a competitive landscape for the market




To track and analyze competitive developments such as joint ventures, strategic alliances, mergers and acquisitions, new product developments, and research and developments in the Power over Ethernet.



Global Power over Ethernet Market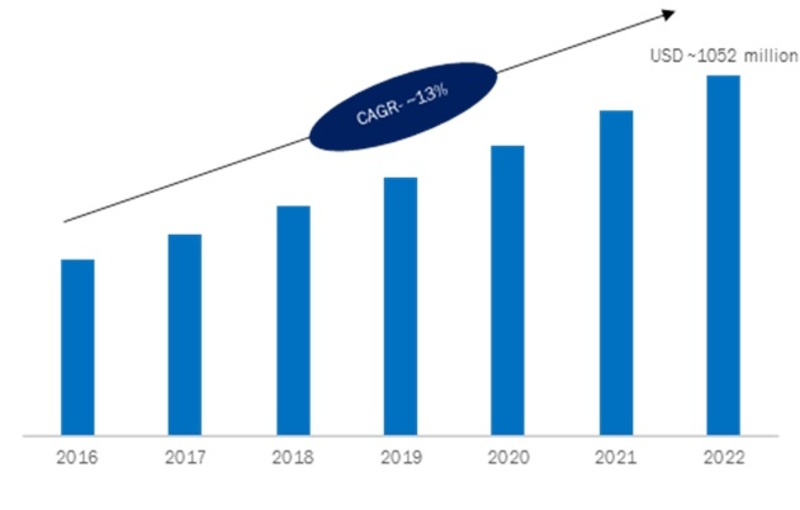 Intended Audience



Distributors and traders




POE device manufacturers




Communication network providers




Government




Mobile based financial service providers and distributors




Research Institutes & Universities



Key Players
The major players operating in the market of Power over Ethernet are Axis Communications AB (Sweden), Maxim Integrated Products, Inc. (U.S.), Texas Instruments, Inc. (U.S.), STMicroelectronics N.V. (Switzerland), Linear Technology Corp. (U.S.), Broadcom Ltd. (U.S.), Microsemi Corp. (U.S.), ON Semiconductor (U.S.), Silicon Laboratories, Inc. (U.S.), and Monolithic Power Systems, Inc. (U.S.), and, among others.
Segments:
The Power over Ethernet market has been segmented on the basis of-
By Types - Power Sourcing Equipment Controllers & ICs, Powered Device Controllers & ICs.
By Power to Port - Up to 15.4W, Up to 30W, Up to 60W, and Up to 100W
By Application - Security & Access Control, Connectivity, LED Lighting & Control, Infotainment, and Others
By End User - Residential, Commercial, and Industrial
Regional Analysis
North America is dominating the market of Power over ethernet. Presence of global players in this region gives North America a competitive advantage over other regions. Rich presence of IT and Telecom industry and increasing demand for POE controller and ICs are helping the North America Power over Ethernet Market. Europe is also showing steady growth in the market of Power over ethernet. Countries such as U.K., Germany, are some of the major contributors in the revenue of Power over Ethernet due to the growing healthcare and automotive industry. Asia-Pacific stands as third biggest market due to the growing IT industry in India, China and Japan. China as a manufacturing hub is adopting POE in various industries.
TABLE OF CONTENTS
1 MARKET INTRODUCTION
1.1 INTRODUCTION
1.2 SCOPE OF STUDY
1.2.1 RESEARCH OBJECTIVE
1.2.2 ASSUMPTIONS
1.2.3 LIMITATIONS
1.3 MARKET STRUCTURE:
1.3.1 GLOBAL POWER OVER ETHERNET MARKET: BY TYPES
1.3.2 GLOBAL POWER OVER ETHERNET MARKET: BY POWER TO PORT
1.3.3 GLOBAL POWER OVER ETHERNET MARKET: BY APPLICATION
1.3.4 GLOBAL POWER OVER ETHERNET MARKET: BY END USER
1.3.5 GLOBAL POWER OVER ETHERNET MARKET: BY REGION
2 RESEARCH METHODOLOGY
2.1 RESEARCH TYPE
2.2 PRIMARY RESEARCHPT
2.3 SECONDARY RESEARCH
2.4 FORECAST MODEL
2.4.1 MARKET DATA COLLECTION, ANALYSIS & FORECAST
2.4.2 MARKET SIZE ESTIMATION
2.4.3 MARKET CRACKDOWN & DATA TRIANGULATION
3 MARKET DYNAMICS
3.1 INTRODUCTION
3.2 MARKET DRIVERS
3.3 MARKET CHALLENGES
3.4 MARKET OPPORTUNITIES
4 EXECUTIVE SUMMARY
5. MARKET FACTOR ANALYSIS
5.1 PORTER'S FIVE FORCES ANALYSIS
5.2 SUPPLY CHAIN ANALYSIS
6 GLOBAL POWER OVER ETHERNET MARKET
6.1 INTRODUCTION
6.2 MARKET STATISTICS
6.2.1 BY TYPES
6.2.1.1 POWER SOURCING EQUIPMENT CONTROLLERS & ICS
6.2.1.2 POWERED DEVICE CONTROLLERS & ICS
6.2.2 BY POWER TO PORT
6.2.2.1 Up to 15.4W
6.2.2.2 Up to 30W
6.2.2.3 Up to 60W
6.2.2.4 Up to 100W
6.2.3 BY APPLICATION
6.2.3.1 SECURITY & ACCESS CONTROL
6.2.3.2 CONNECTIVITY
6.2.3.3 LED LIGHTING & CONTROL
6.2.3.4 INFOTAINMENT
6.2.3.5 OTHERS
6.2.4 END USER
6.2.4.1 RESIDENTIAL
6.2.4.2 COMMERCIAL
6.2.4.3 INDUSTRIAL
6.2.5 BY GEOGRAPHY
6.2.5.1 NORTH AMERICA
6.2.5.2 EUROPE
6.2.5.3 ASIA-PACIFIC
6.2.5.4 REST OF THE WORLD
7 COMPETITIVE ANALYSIS
7.1 MARKET SHARE ANALYSIS
7.2 COMPANY PROFILES
7.2.1 AXIS COMMUNICATIONS AB (SWEDEN)
7.2.2 MAXIM INTEGRATED PRODUCTS, INC. (U.S.)
7.2.3 TEXAS INSTRUMENTS, INC. (U.S.)
7.2.4 STMICROELECTRONICS N.V. (SWITZERLAND)
7.2.5 LINEAR TECHNOLOGY CORP. (U.S.)
7.2.6 BROADCOM LTD. (U.S.)
7.2.7 MICROSEMI CORP. (U.S.)
7.2.8 ON SEMICONDUCTOR (U.S.)
7.2.9 SILICON LABORATORIES, INC. (U.S.)
7.2.10 MONOLITHIC POWER SYSTEMS, INC. (U.S.)
7.2.11 OTHERS
LIST OF TABLES
TABLE 1 GLOBAL POWER OVER ETHERNET MARKET, BY TYPES
TABLE 2 GLOBAL POWER OVER ETHERNET MARKET, BY POWER TO PORT
TABLE 3 GLOBAL POWER OVER ETHERNET MARKET, BY APPLICATION
TABLE 4 GLOBAL POWER OVER ETHERNET MARKET, BY END USER
TABLE 5 GLOBAL POWER OVER ETHERNET MARKET, BY REGIONS
TABLE 6 NORTH AMERICA POWER OVER ETHERNET MARKET, BY COUNTRY
TABLE 7 NORTH AMERICA POWER OVER ETHERNET MARKET, BY TYPES
TABLE 8 NORTH AMERICA POWER OVER ETHERNET MARKET, BY POWER TO PORT
TABLE 9 NORTH AMERICA POWER OVER ETHERNET MARKET, BY APPLICATION
TABLE 10 NORTH AMERICA POWER OVER ETHERNET MARKET, BY END USER
TABLE 11 U.S. POWER OVER ETHERNET MARKET, BY TYPES
TABLE 12 U.S. POWER OVER ETHERNET MARKET, BY POWER TO PORT
TABLE 13 U.S. POWER OVER ETHERNET MARKET, BY APPLICATION
TABLE 14 U.S. POWER OVER ETHERNET MARKET, BY END USER
TABLE 15 CANADA POWER OVER ETHERNET MARKET, BY TYPES
TABLE 16 CANADA POWER OVER ETHERNET MARKET, BY POWER TO PORT
TABLE 17 CANADA POWER OVER ETHERNET MARKET, BY APPLICATION
TABLE 18 CANADA POWER OVER ETHERNET MARKET, BY END USER
TABLE 19 EUROPE POWER OVER ETHERNET MARKET, BY COUNTRY
TABLE 20 EUROPE POWER OVER ETHERNET MARKET, BY TYPES
TABLE 21 EUROPE POWER OVER ETHERNET MARKET, BY POWER TO PORT
TABLE 22 EUROPE POWER OVER ETHERNET MARKET, BY APPLICATION
TABLE 23 EUROPE POWER OVER ETHERNET MARKET, BY END USER
TABLE 24 GERMANY POWER OVER ETHERNET MARKET, BY TYPES
TABLE 25 GERMANY POWER OVER ETHERNET MARKET, BY POWER TO PORT
TABLE 26 GERMANY POWER OVER ETHERNET MARKET, BY APPLICATION
TABLE 27 GERMANY POWER OVER ETHERNET MARKET, BY END USER
TABLE 28 FRANCE POWER OVER ETHERNET MARKET, BY TYPES
TABLE 29 FRANCE POWER OVER ETHERNET MARKET, BY POWER TO PORT
TABLE 30 FRANCE POWER OVER ETHERNET MARKET, BY APPLICATION
TABLE 31 FRANCE POWER OVER ETHERNET MARKET, BY END USER
TABLE 32 U.K. POWER OVER ETHERNET MARKET, BY TYPES
TABLE 33 U.K. POWER OVER ETHERNET MARKET, BY POWER TO PORT
TABLE 34 U.K. POWER OVER ETHERNET MARKET, BY APPLICATION
TABLE 35 U.K. POWER OVER ETHERNET MARKET, BY END USER
TABLE 36 REST OF EUROPE POWER OVER ETHERNET MARKET, BY TYPES
TABLE 37 REST OF EUROPE POWER OVER ETHERNET MARKET, BY POWER TO PORT
TABLE 38 REST OF EUROPE POWER OVER ETHERNET MARKET, BY APPLICATION
TABLE 39 REST OF EUROPE POWER OVER ETHERNET MARKET, BY END USER
TABLE 40 ASIA-PACIFIC POWER OVER ETHERNET MARKET, BY COUNTRY
TABLE 41 ASIA-PACIFIC POWER OVER ETHERNET MARKET, BY TYPES
TABLE 42 ASIA-PACIFIC POWER OVER ETHERNET MARKET, BY POWER TO PORT
TABLE 43 ASIA-PACIFIC POWER OVER ETHERNET MARKET, BY APPLICATION
TABLE 44 ASIA-PACIFIC POWER OVER ETHERNET MARKET, BY END USER
TABLE 45 CHINA POWER OVER ETHERNET MARKET, BY TYPES
TABLE 46 CHINA POWER OVER ETHERNET MARKET, BY POWER TO PORT
TABLE 47 CHINA POWER OVER ETHERNET MARKET, BY APPLICATION
TABLE 48 CHINA POWER OVER ETHERNET MARKET, BY END USER
TABLE 49 INDIA POWER OVER ETHERNET MARKET, BY TYPES
TABLE 50 INDIA POWER OVER ETHERNET MARKET, BY POWER TO PORT
TABLE 51 INDIA POWER OVER ETHERNET MARKET, BY APPLICATION
TABLE 52 INDIA POWER OVER ETHERNET MARKET, BY END USER
TABLE 53 JAPAN POWER OVER ETHERNET MARKET, BY TYPES
TABLE 54 JAPAN POWER OVER ETHERNET MARKET, BY POWER TO PORT
TABLE 55 JAPAN POWER OVER ETHERNET MARKET, BY APPLICATION
TABLE 56 JAPAN POWER OVER ETHERNET MARKET, BY END USER
TABLE 57 OTHERS POWER OVER ETHERNET MARKET, BY TYPES
TABLE 58 OTHERS POWER OVER ETHERNET MARKET, BY POWER TO PORT
TABLE 59 OTHERS POWER OVER ETHERNET MARKET, BY APPLICATION
TABLE 60 OTHERS POWER OVER ETHERNET MARKET, BY END USER
TABLE 61 REST OF THE WORLD POWER OVER ETHERNET MARKET, BY TYPES
TABLE 62 REST OF THE WORLD POWER OVER ETHERNET MARKET, BY POWER TO PORT
TABLE 63 REST OF THE WORLD POWER OVER ETHERNET MARKET, BY APPLICATION
TABLE 64 REST OF THE WORLD POWER OVER ETHERNET MARKET, BY END USER
LIST OF FIGURES
FIGURE 1 RESEARCH TYPE
FIGURE 2 GLOBAL POWER OVER ETHERNET MARKET: BY TYPES (%)
FIGURE 3 GLOBAL POWER OVER ETHERNET MARKET: BY POWER TO PORT (%)
FIGURE 4 GLOBAL POWER OVER ETHERNET MARKET: BY APPLICATION (%)
FIGURE 5 GLOBAL POWER OVER ETHERNET MARKET: BY END USER (%)
FIGURE 6 GLOBAL POWER OVER ETHERNET MARKET: BY REGION
FIGURE 7 NORTH AMERICA POWER OVER ETHERNET MARKET, BY TYPES (%)
FIGURE 8 NORTH AMERICA POWER OVER ETHERNET MARKET, BY POWER TO PORT (%)
FIGURE 9 NORTH AMERICA POWER OVER ETHERNET MARKET, BY APPLICATION (%)
FIGURE 10 NORTH AMERICA POWER OVER ETHERNET MARKET, BY END USER (%)
FIGURE 11 NORTH AMERICA POWER OVER ETHERNET MARKET, BY COUNTRIES (%)
FIGURE 12 EUROPE POWER OVER ETHERNET MARKET, BY TYPES (%)
FIGURE 13 EUROPE POWER OVER ETHERNET MARKET, BY POWER TO PORT (%)
FIGURE 14 EUROPE POWER OVER ETHERNET MARKET, BY APPLICATION (%)
FIGURE 15 EUROPE POWER OVER ETHERNET MARKET, BY END USER (%)
FIGURE 16 EUROPE POWER OVER ETHERNET MARKET, BY COUNTRIES (%)
FIGURE 17 ASIA-PACIFIC POWER OVER ETHERNET MARKET, BY TYPES (%)
FIGURE 18 ASIA-PACIFIC POWER OVER ETHERNET MARKET, BY POWER TO PORT (%)
FIGURE 19 ASIA-PACIFIC POWER OVER ETHERNET MARKET, BY APPLICATION (%)
FIGURE 20 ASIA-PACIFIC POWER OVER ETHERNET MARKET, BY END USER (%)
FIGURE 21 ASIA-PACIFIC POWER OVER ETHERNET MARKET, BY COUNTRIES (%)
FIGURE 22 ROW POWER OVER ETHERNET MARKET, BY TYPES (%)
FIGURE 23 ROW POWER OVER ETHERNET MARKET, BY POWER TO PORT (%)
FIGURE 24 ROW POWER OVER ETHERNET MARKET, BY APPLICATION (%)
FIGURE 25 ROW POWER OVER ETHERNET MARKET, BY END USER (%)