Market Snapshot
According to the MRFR analysis, the Global Portable Spectrometer Market registered a market value of USD 1,548.6 Million in 2019 and is expected to register a CAGR of 10.29% during the forecast period of 2019–2025.
Spectrometers are used in forensics, microbiology, medical health, biochemistry, physics, and other verticals. These instruments play a vital role in life science as they are used for measuring some ingredients which are present within a drug to make sure it is effective and safe for consumers. Similarly, these instruments are used for the measurement of bacterial growth or the detection of the amount of uric acid in the patient's urine. The portable or handheld spectrometer is witnessing a rapid demand due to its low cost and portability. Technological developments such as smartphone spectrometers are one of the biggest milestones in spectroscopy. A mini spectrometer can be connected to a smartphone, which immediately turns the latter into a light spectrometer that can easily measure, record, and import or export spectral data. The device is compatible with smartphones and tablets and can be used for testing of displays, LED, and other light sources, traceability, and counterfeit, and characterizing optical filters, crystals, and gems, among other applications.
Based on region, the portable spectrometer market has been segmented into North America, Europe, Asia-Pacific, and the rest of the world. North America held the largest share of 36.45% in the global portable spectrometer market in 2019 and is likely to dominate the market throughout the study period, registering a CAGR of 8.91%.
Global Portable Spectrometer Market, by Type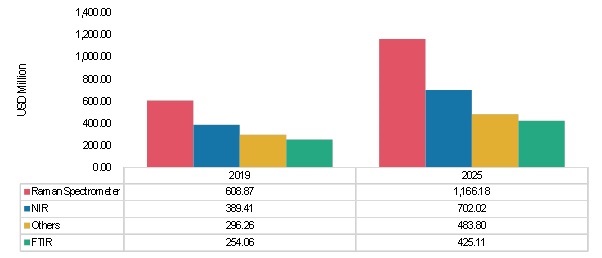 Source: MRFR Analysis
Raman spectroscopy is a type of non-destructive chemical analysis technique that provides detailed information about chemical structure, phase, crystallinity, and molecular interactions of molecules. Raman is a light scattering technique, in which a molecule scatters incident light from a high-intensity laser light source. This spectrometer consists of the following components:



Lasers that act as a light source and produces light at 224 and 248 nm




Lenses to focus the light onto the sample and collect the scattered light




Filters to allow Raman scattered light (Stokes) and filter out the Raleigh and Anti-Stokes light




A diffraction grating or prism




A detector to detect weak light



Portable spectrometers are rugged, lightweight devices that deliver full-range spectral measurements. The major applications of these spectrometers are observed in forensics and research, which requires real-time analysis of compounds and molecules. Hence, portable spectrometers integrated with audio recorder and GPS are expected to create opportunities for the manufacturers of portable spectrometers. Typically, a portable spectrometer comprises an integrated internal light source, internal white reference for hands-free optimization and calibration, batteries, automated internal wavelength validation, an integrated computer, and an LCD. An audio voice recorder helps in recording notes and memos. The voice recorder can also record a description of data points in real-time, which helps for better investigation. The GPS integrated into these devices can provide accurate co-ordinates for every data measured. For instance, Analytik Ltd developed a portable spectrometer that delivers a full range of spectral measurements using a wireless handheld system. The devices are integrated with GPS to provide accurate spectral results in seconds. This helps researchers optimize spectral collection workflow and save time required for analysis on the field.
Regional Analysis
The presence of manufacturers such as Agilent Technologies, Inc., research laboratories, and the strong food industry in the region, which is developing and using various types of spectrometers for different applications, are some of the major factors driving the portable spectrometer market in North America. For instance, in 2020, Agilent Technologies, Inc. launched a new product line of Raman spectrometers named Agilent Vaya Raman. The new Agilent Vaya Raman raw material identity verification system is a handheld instrument that accelerates the quality control testing in the pharmaceutical and biopharmaceutical industries. Asia-Pacific is expected to be the fastest-growing regional market during the forecast period at a CAGR of 13.08% due to increasing developments in the region in terms of medical science. The increasing investments in healthcare by the government is expected to fuel market growth
Companies Covered
There are various key players such as Thermo Fisher Scientific, Inc., Agilent Technologies, Inc., ABB Group, PerkinElmer, Inc., Metrohm, Bruker Corporation, Hitachi High-Technologies Corporation, Jasco, Newport Corporation, Anton Paar GmbH, Texas Instruments Incorporated, Oxford Instruments, and Renishaw PLC that manufacture and provide spectrometers and other associated accessories across the globe.
Key Developments


In March 2020, Agilent Technologies launched its new Raman technology portfolio named Agilent Vaya Raman. The new Agilent Vaya Raman raw material identity verification system is a handheld instrument that accelerates the quality control testing in the pharmaceutical and biopharmaceutical industries.




In September 2019, Thermo Fisher launched the next-generation Thermo Scientific DXR3 Family of Raman Spectrometers. It features advanced imaging and work-flow capabilities to provide users with Raman analysis at the speed they need.




In July 2017, Agilent Technologies Inc. acquired the UK Cobalt Light Systems, a Raman spectroscopic instrument provider for the pharmaceutical and public safety markets. The acquisition helped Agilent Technologies to enter one of the fastest-growing spectroscopy segments, i.e., Raman spectroscopy. Furthermore, it also helped Agilent expand its customer base, regional presence, and product offerings, thereby helping it gain a competitive advantage.




In September 2016, Bruker Corporation launched TRACER 5i, a handheld XRF elemental analyzer system, for advanced applications and research purposes. The new product is more sensitive, flexible, and field interactive. It has an analytical software and incorporates a more powerful tube and detector, along with other capabilities which helps cover a wide range of applications and materials such as everyday point-and-shoot testing and the ever-changing complexities of advanced applications.


Segmentation



By Type: Raman Spectrometer, NIR, FTIR, and Others




By Application: Life Sciences, Material Chemistry, Food and Agriculture, Environmental Testing, Forensics, Nanotechnology, Drug Discovery, and Others




By Region: North America, Europe, Asia-Pacific, and the Rest of the World.



Key Questions Addressed by the Report



What was the historic market size (2017)?




Which segmentation (Type/Application) is driving the market?




What will be the growth rate by 2025?




Who are the key players in this market?




What are the strategies adopted by key players?



Frequently Asked Questions (FAQ) :
---