Market Overview
The global polyps market is expected to reach US$ 18.3 billion by 2023, and the market is projected to grow at a CAGR of ~ 9.2 % during the forecast period 2017-2023. A polyp is an abnormal growth of tissue projecting from a mucous membrane commonly found in the colon, stomach, nose, ear, sinus, urinary bladder, uterus etc. although they may occur elsewhere in the body where mucous membranes exist. Most polyps are benign or non-cancerous while a few are premalignant. Premalignant polyps can be a trigger factors for cancer and in general, the larger the polyp, the greater the risk of cancer, especially with pre-malignant polyps. Most polyps have no symptoms and screening is the only reliable measure to detect them. Symptoms, when evident, are irregular periods and vaginal bleeding in women, dysmenorrhea, pain, diarrhoea, constipation, nausea, vomiting etc. depending on the location of the polyp.
Screening is the most important driver for the global polyp market. Polyp are the most important risk factors for colon cancer and most colorectal cancers begin as a polyp, a growth in the tissue that lines the inner surface of the colon or rectum. A certain type of polyp known as an adenoma may have a higher risk of becoming a cancer and colorectal cancer is the third most common type of non-skin cancer in both men and women and is the second leading cause of cancer death in the United States after lung cancer. The U.S. Department of Health and Human Services estimates that in 2016, an estimated 134,490 people in the United States were diagnosed with colorectal cancer and 49,190 people died from contracting it.
The market drivers for polyp market are increasing geriatric population, growing screening, rising awareness and their potentially cancerous nature. The market restraints are risks such as bleeding and infection during surgery, low healthcare expenditure in developing regions, costs considerations especially for minimally invasive surgeries, no symptoms of most polyps, personal or family history of polyps etc.
Research Methodology: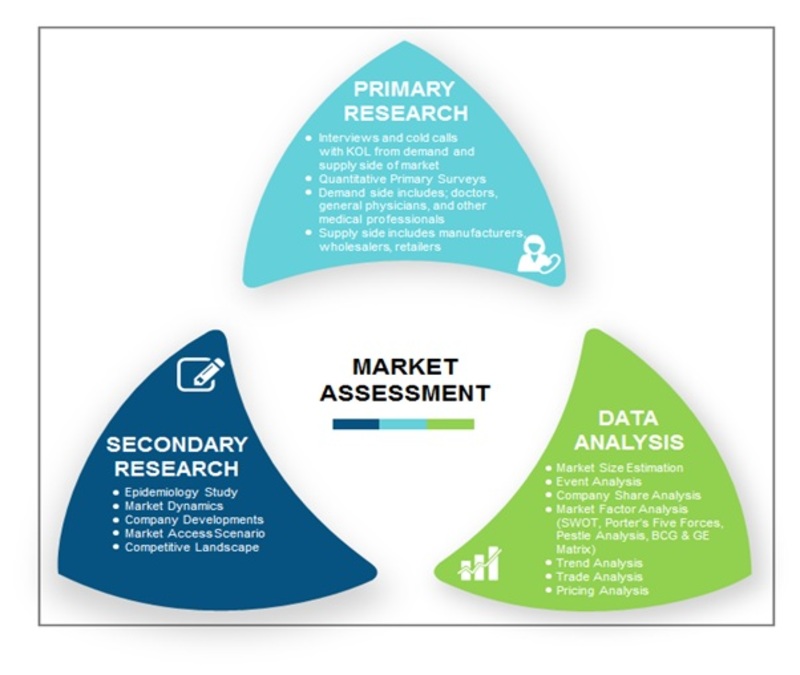 Sources: Mayo Clinic, Healthline Media, U.S. Department of Health and Human Services MRFR Analysis
Intended Audience



Global Polyps treatment manufacturers & suppliers




Research and development (R&D) companies




Hospitals and clinics




Academic institutes and universities



Global Polyps Market by Stage, 2016 (% market share)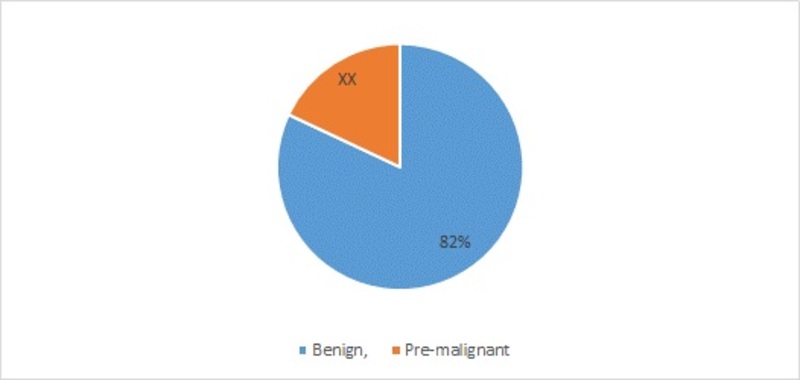 Segments:
The global polyps market has been segmented on the basis of stage, types, diagnosis, surgery and end users.
Based on stage, the market has been segmented as benign and pre-malignant.
Based on types, the market has been segmented as digestive polyps, endometrial polyp, cervical polyp, nasal polyps, laryngeal polyps and pre-malignant.
Based on diagnosis, the market has been segmented as occult blood and stool test, colonoscopy, sigmoidoscopy, double contrast barium enema, computed tomography and others.
Based on treatment, the market has been segmented as drugs which is further sub segmented into hormonal drugs, pain killers and others and surgery which is further sub segmented into polypectomy, minimally invasive surgery, colon and rectum removal and others.
Based on the end users, the market has been segmented as hospitals & clinics, academic and research and others.
Regional analysis:
The Americas account for a significant market share owing to extensive use of medications and high expenditure on the health care. Additionally, the fastest uptake of new technology in the US drives the global polyps market. Also, concentration of major research companies and cancer research sector in the developed countries of this region is adding fuel to the market growth.
Europe is the second largest market in the world due to high income and healthcare penetration.
Asia Pacific region is expected to grow rapidly and China and India are likely to lead this market due to fast growing healthcare sector during the forecast period.
Gulf nations such as Saudi Arabia and the UAE are estimated to drive the Middle East & African market. The African region is expected to witness a moderate growth owing to poor economic and political conditions and poor healthcare development.
Key Players in the Global Polyps Market
Some of key players profiled in the report are Millennium Surgical Corp., Black Smith Surgical, B. Braun Melsungen AG, Medtronic, Cook Medical, Endo Pharmaceuticals Inc., Pfizer Inc., Teva Pharmaceutical Industries Ltd., Novartis AG, Mylan Inc., Sun Pharmaceuticals and others. The report for Global Polyps market by Market Research Future comprises of extensive primary research along with the detailed analysis of qualitative as well as quantitative aspects by various industry experts, key opinion leaders to gain a deeper insight of the market and industry performance. The report gives a clear picture of the current market scenario which includes past and estimated future market size with respect to value and volume, technological advancement, macro economical and governing factors in the market. The report provides detail information about and strategies used by top key players in the industry. The report also gives a broad study of the different market segments and regions.
Frequently Asked Questions (FAQ) :
---