Polyolefin Fiber Market- Segmentation
The global polyolefin fiber market has been segmented into type, end-use industry, and region.
On the basis of type, the market is divided into polypropylene, polyethylene, and others.
Based on end-use industry, the market is segmented into textile, medical, automobile, packaging, and others.
Geographically, the market is divided into five key regions, including North America, Europe, Asia Pacific, Latin America, and the Middle East & Africa.
Key Players
Some of the key players in the global polyolefin market are 3M (U.S.), ES FiberVisions (Thailand), Trevira GmbH (Germany), Bauder Ltd (UK), Dorken GmbH & Co.KG (Germany), Polyglass (U.S.), Alpek S.A.B. de C.V (Mexico), Biobent Polymers (U.S.), Durafiber (U.S.), Honeywell International Inc. (U.S.), Welspun India Ltd (India), Beijing Tongyizhong Speciality Fiber Technology & Development Co., Ltd (China), Anhui Elite Industrial Co., Ltd (China), and others
Market Overview

Polyolefin fibers are synthetic fibers, widely used in the manufacturing of carpets and rugs due to high tensile strength, abrasion resistance, and inertness. These fibers are classified into two types namely polypropylene (PP) and polyethylene (PE) with PP being the preferred choice in textile applications. Polyolefin fibers find application in nonwovens fabric, filament yarn, and ropes. Polyethylene is being increasingly used in packaging industry due to high crystallinity, high ductility, and low strength.
Escalating demand for nonwoven fabrics from the textile industry as a result of superior properties such as flame retardant, resilience and softness are boosting the market growth. Use of nonwoven fabric by medical industry is increasing at a very fast pace. Rising health concerns among the consumers are driving the demand for hygiene products. Additionally, FiberVision and ES FiberVision have introduced biocomponent & trilobal polypropylene fiber for hygiene products using air bonding technology to improve softness and opacity of the product. Usage of polypropylene has augmented in tapestries due to advances in weaving technology and its widening application scope in decoration. The demand for the synthetic turf at the sports fields, residential areas, and public places is propelling the market growth. Changing fashion trends and high disposable income is driving the market growth of apparel industry across the globe. Growing use in automotive industry as a result of lightweight which enhances the fuel efficiency is fuelling the product demand across the globe.
Furthermore, Kelheim fiber, a key player in the market, has been granted the certificate of biobased product label for its polyolefin fiber product range by the U.S. Department of Agriculture (USDA) in 2018 for the products under the brand name DANUFIL, GALAXY, and VILOFT. These products will help in reducing the level of carbon emissions.
Global Polyolefin Fiber Market Share, by end-use industry (%)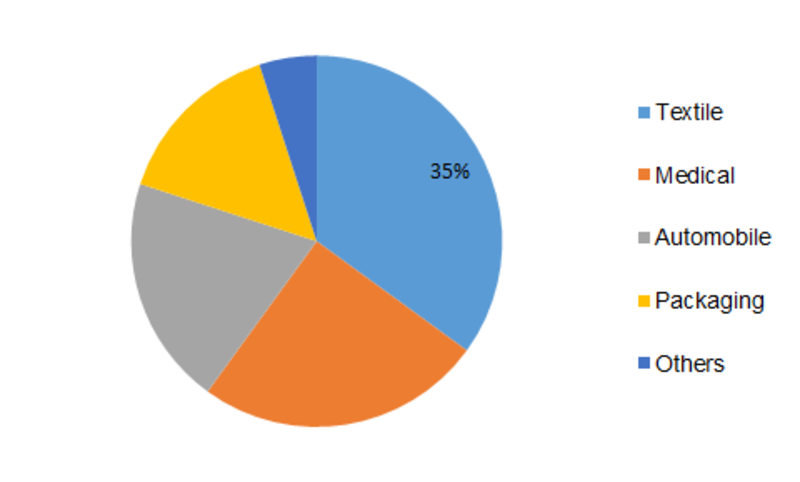 Regional Analysis
The Asia Pacific accounted for the largest market share in the global polyolefin fiber market due to rapidly expanding textile industry in the developing economies such as India, China, and Thailand. The demand for the product is growing in China due to the existence of developed infrastructure and cost competitiveness in terms of raw material and manufacturing process. However, in recent years labor cost has increased in China due to decline in the number of people migrating to the urban areas, which may affect the growth of the textile industry over the coming years. Increasing online apparel sales due to access to huge variety of products, discounts, and convenience is stimulating the product demand in India coupled with a rise in aspiration based purchase by the young population. For instance, in 2017, the U.S. based FiberVision and Japan-based JNC Corporation formed a joint venture company named as ES FiberVision in Thailand. This joint venture emphasizes on the manufacturing of high-quality biocomponent fiber by virtue of the existence of largest fiber facility and hygienic environment in Thailand
North America is another prominent market owing to development in the textile industry in the recent years as a result of steps taken by the U.S. government to promote domestic manufacturing in the U.S. Furthermore, according to the National Council of Textile Organizations, the value of shipments for U.S. textile and apparel rose to USD 77.9 billion in the year 2017 from USD 66.58 billion in 2009.
Europe is witnessing significant market growth due to rising development in technical textiles which is further used in automobile, medical and agrochemicals-market-1267'>agrochemical textiles. Polypropylene is extensively used in the manufacturing of automobile parts such as headliners, trunk liners and insulating fabric due to its lightweight.
Intended Audience



Polyolefin fiber Manufacturers




Traders and distributors of polyolefin fiber




Research and development institutes




Potential investors




Raw material suppliers




Nationalized laboratory



Report Scope:
| Report Attribute/Metric | Details |
| --- | --- |
| Market Size | 2027: Significant Value |
| CAGR | Substantial Value |
| Base Year | 2019 |
| Forecast Period | 2020-2027 |
| Historical Data | 2018 |
| Forecast Units | Value (USD Million) |
| Report Coverage | Revenue Forecast, Competitive Landscape, Growth Factors, and Trends |
| Segments Covered | Type, and End-Use |
| Geographies Covered | North America, Europe, Asia-Pacific, and Rest of the World (RoW) |
| Key Vendors | 3M (U.S.), ES FiberVisions (Thailand), Trevira GmbH (Germany), Bauder Ltd (UK), Dorken GmbH & Co.KG (Germany), Polyglass (U.S.), Alpek S.A.B. de C.V (Mexico), Biobent Polymers (U.S.), Durafiber (U.S.), Honeywell International Inc. (U.S.), Welspun India Ltd (India), Beijing Tongyizhong Speciality Fiber Technology & Development Co., Ltd (China), Anhui Elite Industrial Co., Ltd (China) |
| Key Market Opportunities | The demand for the synthetic turf at the sports fields, residential areas, and public places is propelling the market growth. |
| Key Market Drivers | Escalating demand for nonwoven fabrics from the textile industry as a result of superior properties such as flame retardant, resilience and softness are boosting the market growth |
Frequently Asked Questions (FAQ) :
---