Organ Transplantation Market Research Report, By Type Of Organ (Heart, Kidney, Others), By Products (Organ Preservation Solutions, Transplant Diagnostics, Tissue Products), By Type Of Transplant (Autograft, Allograft And Others), By Treatment (Analgesic, Immunosuppressant And Other), By End Users (Hospitals, Transplant Centers And Other) - Global Forecast Till 2023
Intended Audience



Pharmaceutical companies




Research and Development (R&D) companies




Independent research laboratories




Market research and consulting service providers




Medical research laboratories




Academic medical institutes and universities




Figure 1- Global organ transplantation market, by type of organ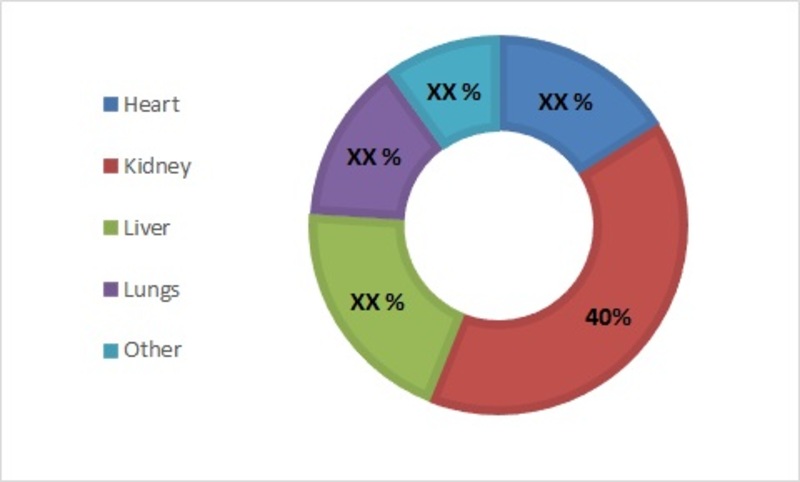 Source- Annual reports, Press release, White paper, Company Presentation ,Council of Europe, MRFR Analysis
Market scenario:
Organ transplantation is one of the great advances in the modern day medicine. Organ transplantation is a medical procedures in which an organ is removed from one body and transferred to another body, to replace the missing or damaged organ. One of the most important aspect of the organ transplantation is the consent of the patient himself or the family of the patient. Organ harvesting without proper consent is illegal and a massive crime. Organ transplantation is mostly carried out with the brain dead patient who's other organs are healthy and can be used to save another person's life. The process of organ transplantation needs to be done right after the death of the patient until couple of hours. This procedure is performed to treat organ failures in lungs, liver, kidney and many more. Kidney is the most widely transplanted organ which is followed by liver. Unfortunately, the need for organ donors is much higher than the number of people who donate organs. According to National Kidney Foundation, more than 3,000 new patients are added to the kidney waiting list each month worldwide. According to United Network for organ sharing, in United States everyday 21 people die waiting for an organ, and more than 120,000 men, women, and children await lifesaving organ transplants.
The major driving factor for the organ transplantation market are increasing prevalence of number of chronic diseases and organ failure. Increasing prevalence of renal diseases, over consumption of alcohol and unhealthy diet has provided push for the growth of the market. Whereas, high cost of transplantation, limited number of donor and increasing incident of organ failure has restrained the growth of the market.
Global organ transplantation market is expected to grow at a CAGR of 9.8% during forecasted period 2017-2023.
Segmentation
Global organ transplantation market is segmented on the basis of type of organ, into heart, kidney, liver, lungs, and other. On the basis of products, they are segmented into organ preservation solutions, transplant diagnostics, tissue products and other. On the basis of type of transplant the market is segmented into autograft, allograft and allotransplantation, xenograft and xenotransplantation and other.
On the basis of treatment the market is segmented into analgesic, immunosuppressant and other. Immunosuppressant is further segmented into calcineurin inhibitors, mTOR inhibitor, antiproliferative agents, steroids and other. Calcineurin Inhibitors are sub segmented into tacrolimus and cyclosporine. mTOR inhibitor is sub segmented into sirolimus and everolimus.
On the basis of end users, the market is sub segmented into hospitals, transplant centers and other.
Regional analysis
Geographically, America dominate the global organ transplantation market. Increasing prevalence of organ failure, rapid development in the medical sector, well developed healthcare sectors and higher healthcare expenditure are the major factors for the growth of American market. Europe is the second largest organ transplantation, which is followed by Asia Pacific. Asia Pacific is the fastest growing region for this market. Presence of rapidly developing economies, and large population pole suffering from chronic diseases is the major driving factor for Asia Pacific market
Market Assessment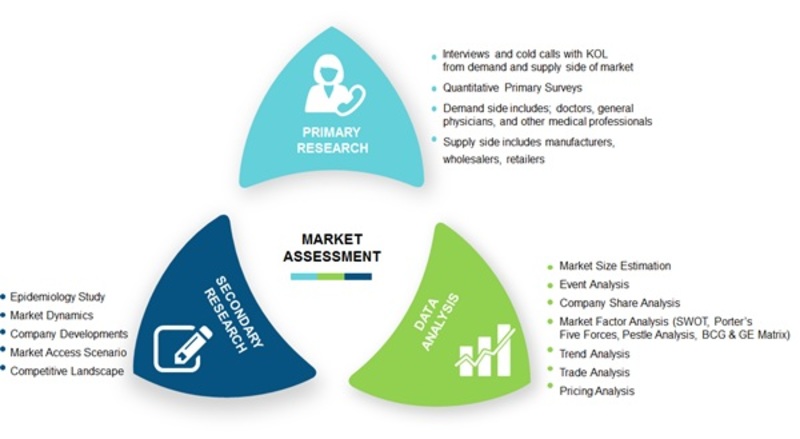 Source- World Health Organization (WHO), American Heart Association, National Kidney Foundation, Children's Organ Transplant Association, Annual reports, White paper, Company Presentation
Key players for global organ transplantation market
Novartis International AG (Switzerland), Terumo Medical Corporation (US), Transonic (US), F. Hoffmann-La Roche Ltd. (Switzerland), Astellas Pharma, Inc (Japan), Preservation Solutions, Inc. (US), OrganOX Limited (UK), Bio Med Pvt. Ltd. (US), Transplant Biomedical (UK), TransMedic, Inc. (US), Accord Healthcare GmbH (Spain), Sanofi (France), Pfizer, Inc. (US), Veloxis Pharmaceuticals A/S (Denmark), GlaxoSmithKline Plc. (UK)


TABLE OF CONTENTS
1 Introduction

1.1 Definition

1.2 Scope Of Study

1.2.1 Research Objective

1.2.2 Assumptions & Limitations

1.2.2.1 Assumptions

1.2.2.2 Limitations

1.3 Market Structure

2 Research Methodology

2.1 Research Process

2.2 Primary Research

2.3 Secondary Research

3 Market Dynamics

3.1 Drivers

3.2 Restraints

3.3 Opportunities

3.4 Macroeconomic Indicators

4 Market Factor Analysis

4.1 Porters Five Forces Model

4.2 Bargaining Power Of Suppliers

4.3 Bargaining Power Of Buyers

4.4 Threat Of New Entrants

4.5 Threat Of Substitutes

4.6 Intensity Of Rivalry
5. Global Organ Transplantation Market, By Type of Organ

5.1 Heart

5.2 Kidney

5.3. Liver

5.4 Lungs

5.5 Other

6. Global Organ Transplantation Market, By Products

6.1 Organ Preservation Solutions

6.2 Transplant Diagnostics

6.3 Tissue Products

6.4 Other

7. Global Organ Transplantation Market, By Type of Transplant

7.1 Autograft

7.2 Allograft and Allotransplantation

7.3 Xenograft and Xenotransplantation

7.4 Other

8. Global Organ Transplantation Market, By Treatment

8.1 Analgesic

8.2 Immunosuppressant

8.2.1 Alcineurin Inhibitors

8.2.1.1 Tacrolimus

8.2.1.2 Cyclosporine

8.2.2 Mtor Inhibitor

8.2.2.1 Sirolimus

8.2.2.2 Everolimus

8.2.3 Antiproliferative Agents

8.2.4 Steroids

8.2.5 Other

8.3 Other

9. Global Organ Transplantation Market, By End User

9.1 Hospitals

9.2 Transplant Centers

9.3 Other

10. Global Organ Transplantation Market, By Region

10.1 Introduction

10.2 America

10.2.1 North America

10.2.1.1 U.S.

10.2.1.2 Canada

10.2.2 South America

10.3 Europe

10.3.1 Western Europe

10.3.1.1 Germany

10.3.1.2 France

10.3.1.3 Italy

10.3.1.3 Spain

10.3.1.5 UK

10.3.1.6 Rest of Western Europe

10.3.2 Eastern Europe

10.4 Asia Pacific

10.4.1 Japan

10.4.2 China

10.4.3 India

10.4.4 Australia

10.4.5 Republic Of Korea

10.4.6 Rest of Asia Pacific

10.5 Middle East & Africa

10.5.1 United Arab Emirates

10.5.2 Saudi Arabia

10.5.3 Oman

10.5.4 Kuwait

10.5.5 Qatar

10.5.6 Rest of Middle East & Africa

11. Competitive Landscape

11.1 Major Strategies Adopted By Market Players

11.1.1 Strategic Partnership

11.1.2 Merger & Acquisition

12 Company Profile

12.1 NOVARTIS INTERNATIONAL AG

12.1.1 Overview

12.1.2 Product Overview

12.1.3 Financials

12.1.4 Key Developments

12.2 TERUMO

12.2.1 Overview

12.2.2 Product Overview

12.2.3 Financials

12.2.4 Key Developments

12.3 F. HOFFMANN-LA ROCHE LTD

12.3.1 Overview

12.3.2 Product Overview

12.3.3 Financials

12.3.4 Key Development

12.4 ASTELLAS PHARMA, INC

12.4.1 Overview

12.4.2 Product Overview

12.4.3 Financials

12.4.4 Key Developments

12.5 PRESERVATION SOLUTIONS, INC

12.5.1 Overview

12.5.2 Product Overview

12.5.3 Financials

12.5.4 Key Developments

12.6 TRANSMEDIC

12.6.1 Overview

12.6.2 Product Overview

12.6.3 Financials

12.6.4 Key Developments

12.7 PFIZER, INC

12.7.1 Overview

12.7.2 Product Overview

12.7.3 Financials

12.7.4 Key Developments

12.8 SANOFI

12.8.1 Overview

12.8.2 Product Overview

12.8.3 Financials

12.8.4 Key Development

12.9 VELOXIS PHARMACEUTICALS A/S

12.9.1 Overview

12.9.2 Product Overview

12.9.3 Financials

12.9.4 Key Development

12.10 Others

13 Conclusion

13.1 Key Findings

13.1.1 From CEO's Viewpoint

13.1.2 Unmet Needs of the Market

13.2 Key Companies to Watch

13.3 Prediction of Organ Transplant Industry

14 Appendix


LIST OF TABLES

Table 1 Organ Transplantation Industry Synopsis, 2017 – 2023

Table 2 Global Organ Transplantation Market Estimates and Forecast, 2017 – 2023, (USD Million)

Table 3 Global Organ Transplantation Market by Region, 2017 – 2023, (USD Million)

Table 4 Global Organ Transplantation Market by Type of Organ, 2017 – 2023, (USD Million)

Table 5 Global Organ Transplantation Market by Product, 2017 – 2023, (USD Million)

Table 6 Global Organ Transplantation Market by Type of Transplant, 2017 – 2023, (USD Million)

Table 7 Global Organ Transplantation Market by Treatment, 2017 – 2023, (USD Million)

Table 8 Global Organ Transplantation Market by End Users, 2017 – 2023, (USD Million)

Table 9 Americas Organ Transplantation Market by Type of Organ, 2017 – 2023, (USD Million)

Table 10 Americas Organ Transplantation Market by Product, 2017 – 2023, (USD Million)

Table 11 Americas Organ Transplantation Market by Type of Transplant, 2017 – 2023, (USD Million)

Table 12 Americas Organ Transplantation Market by Treatment, 2017 – 2023, (USD Million)

Table 13 Americas Organ Transplantation Market by End Users, 2017 – 2023, (USD Million)

Table 14 North America Organ Transplantation Market by Type of Organ, 2017 – 2023, (USD Million)

Table 15 North America Organ Transplantation Market by Product, 2017 – 2023, (USD Million)

Table 16 North America Organ Transplantation Market by Type of Transplant, 2017 – 2023, (USD Million)

Table 17 North America Organ Transplantation Market by Treatment, 2017 – 2023, (USD Million)

Table 18 North America Organ Transplantation Market by End Users, 2017 – 2023, (USD Million)

Table 19 U.S. Market by Type of Organ, 2017 – 2023, (USD Million)

Table 20 U.S. Organ Transplantation Market by Product, 2017 – 2023, (USD Million)

Table 21 U.S. Market by Type of Transplant, 2017 – 2023, (USD Million)

Table 22 U.S. Organ Transplantation Market by Treatment, 2017 – 2023, (USD Million)

Table 23 U.S Organ Transplantation Market by End Users, 2017 – 2023, (USD Million)

Table 24 Canada Market by Type of Organ, 2017 – 2023, (USD Million)

Table 25 Canada Organ Transplantation Market by Product, 2017 – 2023, (USD Million)

Table 26 Canada Market by Type of Transplant, 2017 – 2023, (USD Million)

Table 27 Canada Organ Transplantation Market by Treatment, 2017 – 2023, (USD Million)

Table 28 Canada Organ Transplantation Market by End Users, 2017 – 2023, (USD Million)

Table 29 South America Market by Type of Organ, 2017 – 2023, (USD Million)

Table 30 South America Organ Transplantation Market by Product, 2017 – 2023, (USD Million)

Table 31 South America Market by Type of Transplant, 2017 – 2023, (USD Million)

Table 32 South America Organ Transplantation Market by Treatment, 2017 – 2023, (USD Million)

Table 33 South America Organ Transplantation Market by End Users, 2017 – 2023, (USD Million)

Table 34 Europe Market by Type of Organ, 2017 – 2023, (USD Million)

Table 35 Europe Organ Transplantation Market by Product, 2017 – 2023, (USD Million)

Table 36 Europe Market by Type of Transplant, 2017 – 2023, (USD Million)

Table 37 Europe Organ Transplantation Market by Treatment, 2017 – 2023, (USD Million)

Table 38 Europe Organ Transplantation Market by End Users, 2017 – 2023, (USD Million)

Table 39 Western Europe Market by Type of Organ, 2017 – 2023, (USD Million)

Table 40 Western Europe Organ Transplantation Market by Product, 2017 – 2023, (USD Million)

Table 41 Western Europe Market by Type of Transplant, 2017 – 2023, (USD Million)

Table 42 Western Europe Organ Transplantation Market by Treatment, 2017 – 2023, (USD Million)

Table 43 Western Europe Organ Transplantation Market by End Users, 2017 – 2023, (USD Million)

Table 44 Eastern Europe Market by Type of Organ, 2017 – 2023, (USD Million)

Table 45 Eastern Europe Organ Transplantation Market by Product, 2017 – 2023, (USD Million)

Table 46 Eastern Europe Market by Type of Transplant, 2017 – 2023, (USD Million)

Table 47 Eastern Europe Organ Transplantation Market by Treatment, 2017 – 2023, (USD Million)

Table 48 Eastern Europe Organ Transplantation Market by End Users, 2017 – 2023, (USD Million)

Table 49 Asia Pacific Market by Type of Organ, 2017 – 2023, (USD Million)

Table 50 Asia Pacific Organ Transplantation Market by Product, 2017 – 2023, (USD Million)

Table 51 Asia Pacific Market by Type of Transplant, 2017 – 2023, (USD Million)

Table 52 Asia Pacific Organ Transplantation Market by Treatment, 2017 – 2023, (USD Million)

Table 53 Asia Pacific Organ Transplantation Market by End Users, 2017 – 2023, (USD Million)

Table 54 Middle East & Africa Market by Type of Organ, 2017 – 2023, (USD Million)

Table 55 Middle East & Africa Organ Transplantation Market by Product, 2017 – 2023, (USD Million)

Table 56 Middle East & Africa Market by Type of Transplant, 2017 – 2023, (USD Million)

Table 57 Middle East & Africa Organ Transplantation Market by Treatment, 2017 – 2023, (USD Million)

Table 58 Middle East & Africa Organ Transplantation Market by End Users, 2017 – 2023, (USD Million)
LIST OF FIGURES

Figure 1 Research Process

Figure 2 Segmentation for Global Organ Transplantation Market

Figure 3 Segmentation Market Dynamics for Global Organ Transplantation Market

Figure 4 Global Organ Transplantation market Share, by Type of Organ, 2014 to 2023 (USD Million)

Figure 5 Global Organ Transplantation market Share, by Product, 2014 to 2023 (USD Million)

Figure 4 Global Organ Transplantation market Share, by Type of Transplant, 2014 to 2023 (USD Million)

Figure 5 Global Organ Transplantation market Share, by Treatment, 2014 to 2023 (USD Million)

Figure 6 Global Organ Transplantation Market Share, by End Users, 2014 to 2023 (USD Million)

Figure 7 Global Organ Transplantation Market Share, by Region, 2016 (%)

Figure 8 America Organ Transplantation Market Share, by Region, 2016 (%)

Figure 9 North America Organ Transplantation Market Share, by Country, 2016 (%)

Figure 10 Europe Organ Transplantation Market Share, by Country, 2016 (%)

Figure 11 Asia Pacific Organ Transplantation Market Share, by Country, 2016 (%)

Figure 12 Middle East & Africa Organ Transplantation Market Share, by Country, 2016 (%)

Figure 13 Global Organ Transplantation Market: Company Share Analysis, 2016 (%)

Figure 14 Novartis International AG: Key Financials

Figure 15 Novartis International AG: Segmental Revenue

Figure 16 Novartis International AG: Geographical Revenue

Figure 17 F. HOFFMANN-LA ROCHE LTD: Key Financials

Figure 18 F. HOFFMANN-LA ROCHE LTD: Segmental Revenue

Figure 19 F. HOFFMANN-LA ROCHE LTD: Geographical Revenue

Figure 20 Pfizer Inc: Key Financials

Figure 21 Pfizer Inc: Segmental Revenue

Figure 22 Pfizer Inc: Geographical Revenue

Figure 23 SANOFI: Key Financials

Figure 24 SANOFI: Segmental Revenue

Figure 25 SANOFI: Geographical Revenue

Figure 26 Astellas Pharma, Inc: Key Financials

Figure 27 Astellas Pharma, Inc: Segmental Revenue

Figure 28 Astellas Pharma, Inc: Geographical Revenue