Mud Pumps Market Scenario
Mud pumps market is projected to have a CAGR of more than ~8.0% during the forecast period.

A mud pump is large, high pressure (up to 7500 psi) single acting triplex reciprocating pump used to circulate mud in well with pressure and certain flow rate (varying from 100 to 1300 gallons/minute). Occasionally, double acting two-cylinder reciprocating pump is also used as mud pump rather than triplex reciprocating pump. Generally, rig operator stores two or three mud pumps, one of which is operational and the rest are on standby for any emergency requirements. During drilling operation, mud is picked with the help of mud pumps that use suction and circulate the mud from the wellbore to the surface.
The main drivers for the growth of this market are the increased demand for directional and horizonal drilling, higher pressure handling capabilities, and a number of new oil discoveries. The global rise in demand for energy boosts the global mud pumps market. However, high cost of drilling, environmental risks, and changing government regulations for energy and power may hinder the growth of the market.
Innovation in technology is the key for further growth for example, MTeq uses Energy Recovery's Pressure exchanger technology in the drilling industry, as the ultimate engineered solution to increase productivity and reduce operating costs in pumping process by rerouting rough fluids away from high-pressure pumps, which helps reduce the cost of maintenance for operators.
The global mud pumps market is segmented on the basis of type (duplex pump, triplex pump, and others), component (fluid end and power end), application (oil & gas industry and building industry), and Region (North America, Europe, Asia Pacific, and Rest of the World).
Key Players
The major key player in global mud pumps market are Flowserve (U.S.), Grundfos (Denmark), Halliburton (U.S.), Sulzer (Switzerland), KSB Group (Germany), Ebara Corporation (Japan), Weir Group (U.K), and SRS Crisafulli, Inc (U.S.). Tsurumi Pump (Japan), Shijiazhuang Industrial Pump Factory Co. Ltd (China), Excellence Pump Industry Co.,Ltd (China), Kirloskar Ebara Pumps Limited (India), Xylem Inc (U.S.), and Goulds Pumps (U.S.) are among others.
Market Segmentation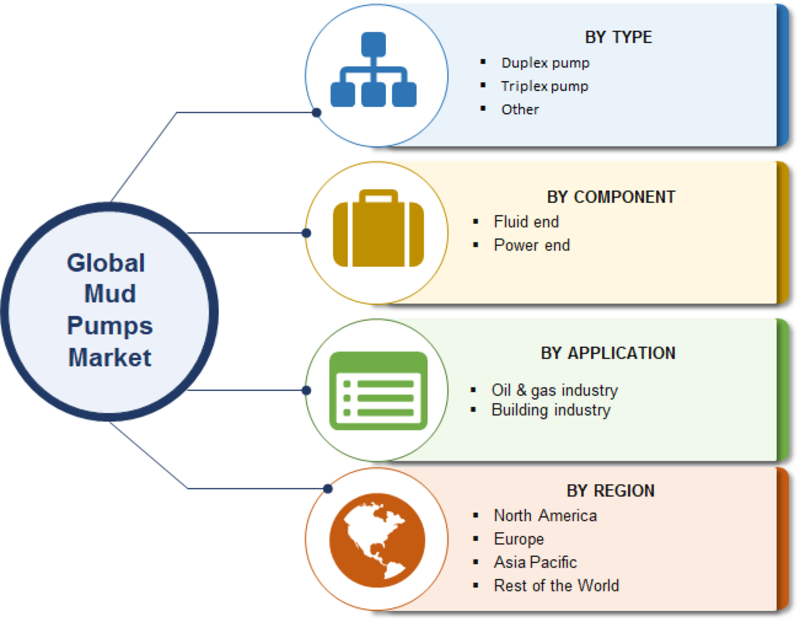 Global Mud Pumps Market
The global mud pumps market is projected a CAGR of more than ~8.0% during the forecast period. This market is broadly driven by oil and gas industry as mud pumps are used to move massive amount of sludge and mud at the time of drilling. Countries such as China, Russia, Saudi Arabia, and the U.S. have the largest number of oil wells. The demand for mud pumps will increase with the number of oil wells, across the globe.
Based on type, mud pumps can be segmented as duplex and triplex pumps. Triplex pumps are expected to progress because of the ~30.0% lesser weight than duplex pumps offering similar efficiency. The pump transfers the fluids with the help of mechanical movements.
Based on component, mud pumps can be segmented as fluid end and power end.
Based on application, mud pumps can be segmented as oil & gas industry and building industry. As oil and gas fields going mature, operators must drill wells with large offset, high laterals, widening their applicability by using mud motors, and high-pressure pumps. To fulfill the demand drilling companies increase their mud pumping installation capacity, with higher flexibility. For instance, LEWCO has developed W-3000 mud pump model for oil drilling, which can handle power up to 3000 HP.
Based on region, North America is predominant because of tight oil and shale gas sources, followed by Asia-Pacific due to the increased number of wells in the regions, especially in countries such as China and India due to the rapid urbanization and industrialization. Authorities in countries such as India, China are working on enhancing their production capacities for reducing the import bills, which ultimately help in the growth of mud pumps market.
Report Scope:
Report Attribute/Metric
Details
Market Size
2027: Significant Value
CAGR
8.0%CAGR (2020-2027)
Base Year
2019
Forecast Period
2020-2027
Historical Data
2018
Forecast Units
Value (USD Million)
Report Coverage
Revenue Forecast, Competitive Landscape, Growth Factors, and Trends
Segments Covered
Type, Component and Application
Geographies Covered
North America, Europe, Asia-Pacific, and Rest of the World (RoW)
Key Vendors
Flowserve (U.S.), Grundfos (Denmark), Halliburton (U.S.), Sulzer (Switzerland), KSB Group (Germany), Ebara Corporation (Japan), Weir Group (U.K), and SRS Crisafulli, Inc (U.S.). Tsurumi Pump (Japan), Shijiazhuang Industrial Pump Factory Co. Ltd (China), Excellence Pump Industry Co.,Ltd (China), Kirloskar Ebara Pumps Limited (India), Xylem Inc (U.S.), and Goulds Pumps (U.S.) are among others.
Key Market Opportunities
Global rise in demand for energy boosts
Key Market Drivers
Increased demand for directional and horizonal drilling
Higher pressure handling capabilities
Frequently Asked Questions (FAQ) :
---