Market Synopsis of Global Mitochondrial Myopathies Market:
Market scenario:
Mitochondrial myopathy is an umbrella term for rare genetic diseases caused due to defective mitochondria in cells which results in inability of the mitochondria to consume normal levels of oxygen and produce energy. The disease manifests itself from infancy to adulthood.
The market driving factors for global mitochondrial myopathy market are the growing number of cases that are detected, rising number of screening for genetic diseases, incentives provided by governments for rare genetic diseases etc. The market restraints are the poor number of treatment options due to rare nature of the disease, absence of curative treatment etc.
Considering all these factors the market for mitochondrial myopathies is expected to reach $ 600 million by the end of 2023, this market is projected to growing at a CAGR of ~ 3.2 % during 2017-2023.
Study objectives:



To provide a detailed analysis of the market structure along with estimated future growth forecast for the next 6 years about various segments and sub-segments of the global mitochondrial myopathies market.




To provide insights about factors affecting the market growth.




To analyze the global mitochondrial myopathies market based on various factors - Price Analysis, Supply Chain Analysis, Porters Five Force analysis etc.




To provide past and estimated future revenue of the market's segments and sub-segments with respect to four main geographies and their countries - Americas, Europe, Asia Pacific along with Middle East & Africa.




To provide country level analysis of the market with respect to the current market size and future growth prospects.




To provide country level analysis of the market which includes segmentation by type, diagnosis tests and therapies.




To provide overview of key players and their strategic profiling in the market, comprehensively analyzing their core competencies, and drawing a competitive landscape of the market.




To track and analyze developments which are competitive in nature such as joint ventures, strategic alliances, mergers and acquisitions, new product developments along with research and developments that are currently taking place in the global mitochondrial myopathies markets.



Research methodology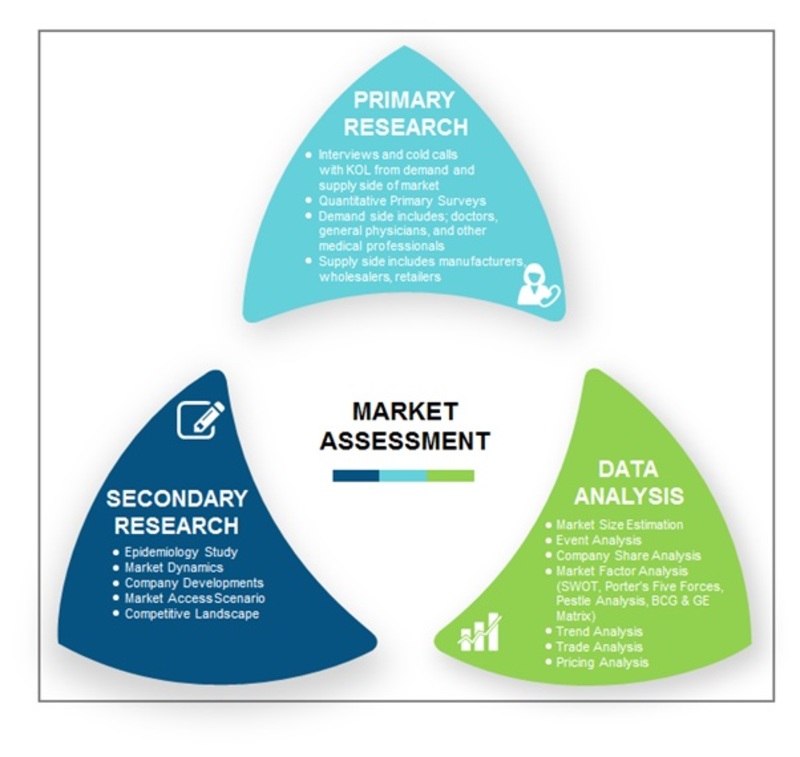 Intended Audience



Global mitochondrial myopathies solution providers, manufacturers & suppliers




Research and development (R&D) companies




Market research and consulting service providers




Academic institutes and universities



Figure 1 Global Mitochondrial myopathies Market by Type, 2016 (% Market Share)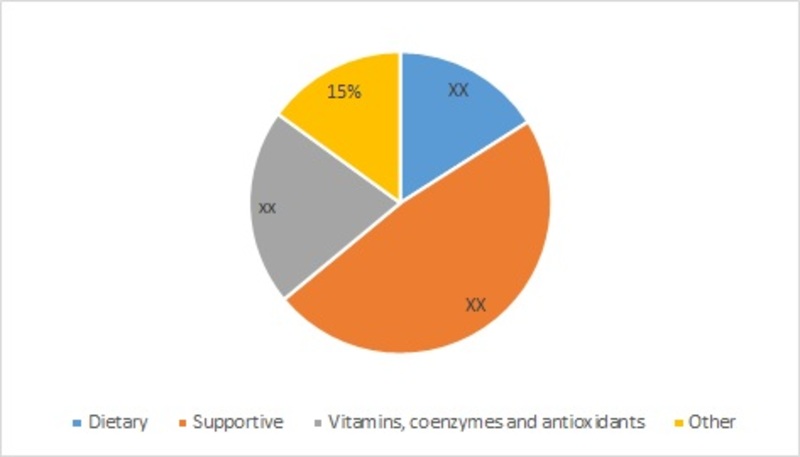 Segments:
The global mitochondrial myopathies market is segmented on the basis of type and therapies. Based on type, the market has been segmented as Kearns-Sayre syndrome (KSS), Leigh syndrome, Mitochondrial DNA depletion syndrome (MDS), Mitochondrial encephalomyopathy, Mitochondrial neuro-gastrointestinal encephalomyopathy (MNGIE), Myoclonus epilepsy with ragged red fibers (MERRF), Neuropathy, ataxia and retinitis pigmentosa (NARP), Pearson syndrome, Progressive external ophthalmoplegia (PEO). Based on the therapies, the market has been segmented as dietary, supportive, vitamins, coenzymes and antioxidants and other.
Regional analysis
US accounts for the maximum market share due to favorable reimbursement scenario and greater expenditure on healthcare. Europe is the second largest market due to large disposable income and rising awareness. Asia Pacific region is the fastest region because of large unmet needs which is led by China and India. The Middle East and Africa market is led by the gulf nations particularly Saudi Arabia and UAE. The poor regions of Africa are expected to be a laggard due to poor economic and political conditions.
Key players of Global Mitochondrial myopathies Market:
Key players profiled in the report are Reata Pharmaceuticals, Inc., Stealth BioTherapeutics, Raptor Pharmaceutical Corp., GeneDx, NeuroVive Pharmaceutical AB, and others.

The report for Global mitochondrial myopathies market by Market Research Future comprises of extensive primary research along with the detail analysis of qualitative as well as quantitative aspects by various industry experts, key opinion leaders to gain a deeper insight of the market and industry performance. The report gives a clear picture of current market scenario which includes past and estimated future market size with respect to value and volume, technological advancement, macro economical and governing factors in the market. The report provides detail information about and strategies used by top key players in the industry. The report also gives a broad study of the different market segments and regions.
Frequently Asked Questions (FAQ) :
---
Table of Contents

1. INTRODUCTION

1.1 DEFINITION

1.2 SCOPE OF STUDY

1.2.1 RESEARCH OBJECTIVE

1.2.2 ASSUMPTIONS & LIMITATIONS

1.2.2.1 ASSUMPTIONS

1.2.2.2 LIMITATIONS

1.3 MARKET STRUCTURE:

2. RESEARCH METHODOLOGY

2.1 RESEARCH PROCESS:

2.2 PRIMARY RESEARCH

2.3 SECONDARY RESEARCH:

3. MARKET DYNAMICS

3.1 DRIVERS

3.2 RESTRAINTS

3.3 OPPORTUNITIES

3.4 MACROECONOMIC INDICATORS

4. MARKET FACTOR ANALYSIS

4.1 PORTERS FIVE FORCES MODEL

4.2 BARGAINING POWER OF SUPPLIERS

4.3 BARGAINING POWER OF BUYERS

4.4 THREAT OF NEW ENTRANTS

4.5 THREAT OF SUBSTITUTES

4.6 INTENSITY OF RIVALRY

5. GLOBAL FLEXIBLE SPINAL IMPLANTS MARKET, BY TYPE

5.1 TYPE

5.2 KEARNS-SAYRE SYNDROME (KSS)

5.3 LEIGH SYNDROME

5.4 MITOCHONDRIAL DNA DEPLETION SYNDROME (MDS)

5.5 MITOCHONDRIAL ENCEPHALOMYOPATHY

5.6 MITOCHONDRIAL NEURO-GASTROINTESTINAL ENCEPHALOMYOPATHY (MNGIE)

5.7 MYOCLONUS EPILEPSY WITH RAGGED RED FIBERS (MERRF)

5.8 NEUROPATHY, ATAXIA AND RETINITIS PIGMENTOSA (NARP)

5.9 PEARSON SYNDROME, PROGRESSIVE EXTERNAL OPHTHALMOPLEGIA (PEO)

6. GLOBAL FLEXIBLE SPINAL IMPLANTS MARKET, BY THERAPIES

6.1 DIETARY

6.2 SUPPORTIVE

6.3 VITAMINS, COENZYMES AND ANTIOXIDANTS

6.4 OTHER

7. GLOBAL FLEXIBLE SPINAL IMPLANTS MARKET, BY DIAGNOSTIC TESTS

7.1 MUSCLE BIOPSY

7.2 BLOOD ENZYME TEST

7.3 GENETIC TEST

8. GLOBAL FLEXIBLE SPINAL IMPLANTS MARKET, BY REGION

8.1 NORTH AMERICA

8.1.1 INTRODUCTION

8.2 EUROPE

8.2.1 INTRODUCTION

8.3 ASIA-PACIFIC

8.3.1 INTRODUCTION

8.4 MIDDLE EAST & AFRICA

8.4.1 INTRODUCTION

9. COMPETITIVE LANDSCAPE

9.1 MAJOR STRATEGIES ADOPTED BY MARKET PLAYERS

9.1.1 STRATEGIC PARTNERSHIP

9.1.2 MERGER & ACQUISITION

10. COMPANY PROFILE

10.1 REATA PHARMACEUTICALS, INC.

10.1.1 OVERVIEW

10.1.2 PRODUCT OVERVIEW

10.1.3 FINANCIALS

10.1.4 KEY DEVELOPMENTS

10.2 STEALTH BIOTHERAPEUTICS

10.2.1 OVERVIEW

10.2.2 PRODUCT OVERVIEW

10.2.3 FINANCIALS

10.2.4 KEY DEVELOPMENTS

10.3 RAPTOR PHARMACEUTICAL CORP.

10.3.1 OVERVIEW

10.3.2 PRODUCT OVERVIEW

10.3.3 FINANCIALS

10.3.4 KEY DEVELOPMENT

10.4 RAYM GENEDX

10.4.1 OVERVIEW

10.4.2 PRODUCT OVERVIEW

10.4.3 FINANCIALS

10.4.4 KEY DEVELOPMENTS

10.5 NEUROVIVE PHARMACEUTICAL AB

10.5.1 OVERVIEW

10.5.2 PRODUCT OVERVIEW

10.5.3 FINANCIALS

10.5.4 KEY DEVELOPMENTS

10.6 OTHERS

CONCLUSION

11.1 KEY FINDINGS

11.1.1 FROM CEO'S VIEWPOINT

11.1.2 UNMET NEEDS OF THE MARKET

11.2 KEY COMPANIES TO WATCH

11.3 PREDICTION OF FLEXIBLE SPINAL IMPLANTS INDUSTRY

12. APPENDIX