Market Synopsis
This study of the Global Mining Automation Market provides detailed information about industry trends and dynamics, market size, competitive landscape, and growth opportunities. Global Mining Automation Market was valued at USD 2.31 Billion in 2019; it is expected to reach USD 4.03 Billion by the end of the forecast period at a CAGR of 8.6%. The scope of the global mining automation market study includes market size analysis and a detailed analysis of the manufacturer's products and strategies. The market has been segmented based on offering, operation, and region.
The process of automation utilizes various devices such as control systems, computers, robots, technology sets, and programmable controllers to carry out industrial operations without human intervention. Mining automation is a part of industrial automation which involves the use of autonomous machines and process controls for reducing human labor in the mining process. Mining automation automates processes such as drilling, loading, hauling, and transporting among others. At the automation control level, devices such as PCs, programmable logic controllers (PLCs), and distributed control systems (DCS) provide industrial process control. The use of supervisory control and data acquisition (SCADA) or the supervision level includes the acquisition of data from various control devices which is displayed through human-machine interfaces (HMIs) that interact with field devices. The government authorities play a crucial role in the adoption of mining automation in various countries. Digitalization is increasing in the manufacturing sector to produce cost-effective and quality consumer products. Uncertain and volatile economic conditions have forced manufacturers to modernize and upgrade their production methods. The manufacturing sector forms the backbone of the economy of a country. Moreover, the safety of employees, visitors, vendors, and contractors remains a top priority for many organizations. Automation helps to reduce various injuries to workers from physical strain, repetitive motion, exposure to hazardous substances, overexertion, slipping, and other accidents.
Segmentation
Global Mining Automation Market has been segmented based on offering, operation and region.
By offering, the market has been segmented into hardware (autonomous mining truck, autonomous drilling rig, mining load-haul-dump (LHD), pumping stations, tunneling equipment, others), software (fleet management, workforce management, remote operations and monitoring, temperature monitoring system, others), communication system (navigation systems, wireless mesh networks, others)
By operation, the market has been segmented into mining process (autonomous haulage, autonomous drilling), maintenance (HVAC, mine dewatering), development (tunnel boring, access road construction, others)
By region, the mining automation market has been segmented into North America, Europe, Asia-Pacific, the Middle East & Africa, and South America.
Regional Analysis
Globally, the mining automation market has been categorized into five regions—North America, Europe, Asia-Pacific, the Middle East & Africa, and South America. Among these regions, North America dominated the market in 2019 owing to the high demand for advanced manufacturing robotic technologies, favorable government policies to encourage factory automation and increased demand for intelligent and automated manufacturing systems. The US is the major contributor to mining automation in the North American region. The major factor that helps fuel the growth of the US market is the presence of key market players in the automation market. However, the lack of skilled workforce and limited awareness regarding the advantages of factory automation technologies and changes in laws and regulations is hampering the market growth. On the other hand, the Asia-Pacific region is expected to showcase the highest CAGR during the forecast period.
Global Mining Automation Market, USD Billion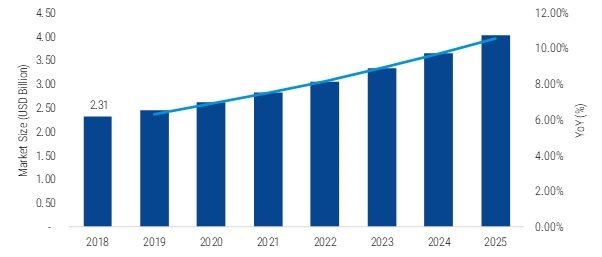 Source: MRFR Analysis
Competitive landscape
Market Research Future includes the following key players in the mining automation market research study: Mitsubishi Electric Corporation, Emerson Electric Co., Siemens AG, Schneider Electric SE, ABB Ltd, Rockwell Automation Inc, Honeywell International Inc among others. Intense market competition, advances in technology, and dynamic government policies are key factors that fuel market growth. The vendors compete based on product quality, cost, reliability, and aftermarket services. General Electric is a technology and financial services company that develops and manufactures products for the generation, transmission, distribution, control, and utilization of electricity. The company's automation systems enable its customers to connect their machines for better, faster, safer, and reliable performance. Mitsubishi Electric Corporation is another leading manufacturer and developer of electric and electronic equipment. Emerson Electric Co. also manufactures process control systems, valves, and analytical instruments.
Key Players
The key players in the Mining Automation Market are identified across all the major regions based on their country of origin, presence, recent key developments, product diversification, and industry expertise. Some of them are MST Global, ABB Limited, Komatsu Limited, Hexagon AB, Hitachi Limited, Trimble Inc, Rockwell Automation, Emerson Electric Co, Mitsubishi Electric Corporation, Schneider Electric SE, Wabtec Corporation, Honeywell International Inc, Siemens AG, Atlas Copco AB, Caterpillar Inc., Sandvik AB, Yokogawa Electric Corporation, among others. These players contribute significantly to market growth. Apart from the top key players, the other players contribute nearly 35–40% in the mining automation market.
Intended Audience



System Integrators




OEMs




Electronic Component Manufacturers




Resellers and Distributors




Consultancy and advisory firms




Research Institutes and Organizations




Technology Standards Organizations



Report Scope:
Report Attribute/Metric
Details
Market Size
2026: USD 4.03 Billion
CAGR
8.6% (2020-2027)
Base Year
2019
Forecast Period
2020-2027
Historical Data
2018
Forecast Units
Value (USD Billion)
Report Coverage
Revenue Forecast, Competitive Landscape, Growth Factors, and Trends
Segments Covered
Offering, Software, Communication System, Operations, Maintenance, Development
Geographies Covered
North America, Europe, Asia-Pacific, and Rest of the World (RoW)
Key Vendors
MST Global, ABB Limited, Komatsu Limited, Hexagon AB, Hitachi Limited, Trimble Inc, Rockwell Automation, Emerson Electric Co, Mitsubishi Electric Corporation, Schneider Electric SE, Wabtec Corporation, Honeywell International Inc, Siemens AG, Atlas Copco AB, Caterpillar Inc., Sandvik AB, Yokogawa Electric Corporation
Key Market Opportunities
high demand for advanced manufacturing robotic technologies
favorable government policies
Uncertain and volatile economic conditions
Key Market Drivers
Digitalization
government authorities
Frequently Asked Questions (FAQ) :
---