Mild Hybrid Vehicles Market Synopsis:
The automotive industry is continuously evolving owing to the rapid advancements in technology. The continuous change in technology inside a vehicle with every new model introduced in the market significantly affects the future of the automotive industry. Most of the vehicles in use worldwide are being operated and powered by internal combustion engines. However, electrification in vehicles over the next decade is expected to witness substantial growth owing to stringent steps towards the reduction of carbon emissions and exhaust gas toxic emissions, along with the improvement of powertrain dynamics.
A hybrid electric vehicle (HEV) has two sources of power for propulsion– internal combustion engine (ICE) and electric motor. Mild hybrid vehicles offer an effective powertrain solution that helps in improving the driving experience and fuel economy, thereby reducing engine load. A mild hybrid vehicle combines an internal combustion engine, a 48-volt battery, an electric motor, and a converter. Moreover, mild hybrids are primarily conventional vehicles that allow engines to turn off in case of braking, coasting, and car stoppage, yet restarting cleanly and quickly. This restart is due to the incorporation of a larger motor, which spins the engine to operating RPM speeds before fuel injection. Mild hybrid vehicles provide a readily available, cost-effective, and consumer pleasing platform to align with stringent steps for safer, cleaner, and more fuel-efficient vehicles.
Prominent Players
The Prominent Players in the global mild hybrid vehicles industry are Daimler Ag (Germany), Fiat Spa (Italy), Ford Motor Company (US), General Motors Company (US), Honda Motor Company Limited (Japan), Peugeot Sa (France), Suzuki Motor Corporation (Japan), Volkswagen Ag (Germany), Tesla Motors Incorporated (US), Toyota Motor Corporation (Japan), Renault–Nissan–Mitsubishi Alliance (Netherlands) Groupe PSA (France), Hyundai Motor Company (South Korea), BYD Co. Ltd (China), and AB Volvo (Sweden).
SEGMENTATION: GLOBAL MILD HYBRID VEHICLE MARKET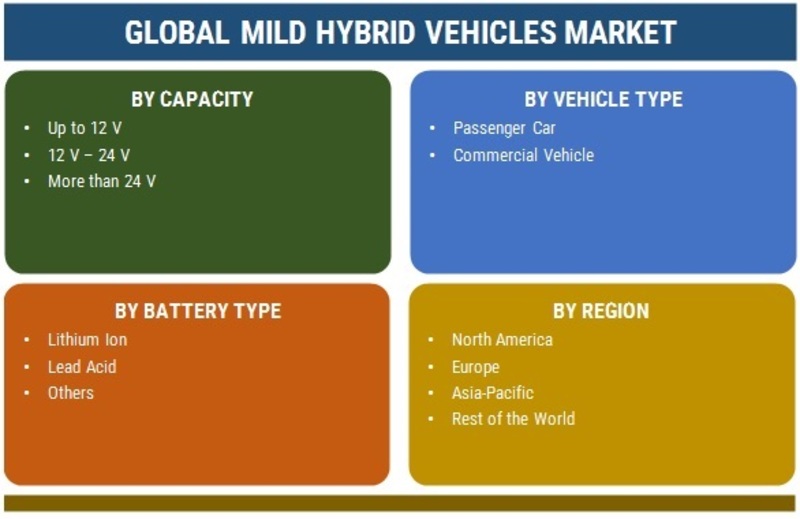 The global mild hybrid vehicles market is segmented based on capacity, vehicle type, battery type, and region. On the basis of capacity, the global mild hybrid vehicles industy has been segmented into 12 V, 12 V to 24 V, and more than 24 V. The more than 24 V segment majorly includes 48 V mild hybrid cars. On the basis of vehicle type, the mild hybrid vehicle industry has been divided into passenger cars and commercial vehicle. On the basis of battery type, the global mild hybrid vehicle market has been segmented into lithium-ion, lead-acid, and others.
Geographically, the global mild hybrid vehicles market has been segmented into four major regions, which are North America, Europe, Asia-Pacific, and the rest of the world. Europe mild hybrid car market has witnessed significant growth owing to the adoption of hybrid vehicles in countries such as Germany, Norway, the Netherlands, and France. Asia-Pacific is expected to register substantial growth in the global mildhybrid vehicles market due to government subsidiaries for purchasing mild hybrid electric vehicles to achieve optimal reduction level in carbon emissions across the region. Furthermore, the shifting trend from conventional to hybrid or electric vehicles is projected to propel the growth of the global market over the forecast period. Moreover, North America is expected to register substantial growth over the next decade owing to rising adoption of electric cars and stringent government regulations and standards to reduce emissions across the region.
The Market Research Future report on the global mild hybrid car market covers extensive primary research. This is accompanied by a detailed analysis of qualitative and quantitative aspects by various industry experts and key opinion leaders to gain deeper insights into the market and industry performance. The report gives a clear picture of the current market scenario, which includes the historical and forecasted market size, in terms of value and volume, technological advancement, macroeconomic, and governing factors of the market. The report provides comprehensive information about the strategies of the top companies in the industry, along with a broad study of the different market segments and regions.
Intended Audience
Report Scope:
Report Attribute/Metric
Details
Market Size
2027: Significant Value
CAGR
Substantial CAGR (2020-2027)
Base Year
2019
Forecast Period
2020-2027
Historical Data
2018
Forecast Units
Value (USD Million)
Report Coverage
Revenue Forecast, Competitive Landscape, Growth Factors, and Trends
Segments Covered
Capacity Type, Vehicle Type, Battery Type, Region
Geographies Covered
North America, Europe, Asia-Pacific, and Rest of the World (RoW)
Key Vendors
Daimler Ag (Germany), Fiat Spa (Italy), Ford Motor Company (US), General Motors Company (US), Honda Motor Company Limited (Japan), Peugeot Sa (France), Suzuki Motor Corporation (Japan), Volkswagen Ag (Germany), Tesla Motors Incorporated (US), Toyota Motor Corporation (Japan), Renault–Nissan–Mitsubishi Alliance (Netherlands) Groupe PSA (France), Hyundai Motor Company (South Korea), BYD Co. Ltd (China), and AB Volvo (Sweden).
Key Market Opportunities
Increasing environmental awareness regarding the impact of exhaust emissions, continuous reduction in battery price, and government standards and regulations
Key Market Drivers
Advances in vehicle technologies and the rising sales
Growing operational costs of the conventional vehicles
Frequently Asked Questions (FAQ) :
---