Microbial Fuel Cell Market Scenario
Microbial fuel cell market is expected to grow at ~9.00% CAGR during the forecast period.
Global Microbial Fuel Cell Market
Global Microbial Fuel Cell market is expected to witness a significant growth during the forecast period due to increasing demand for portable water. MFC technology is considered as the prominent technology for electricity generation and concomitant wastewater treatment. But, the high cost of the components related to microbial fuel cells and low efficiency are hindering the commercialization of microbial fuel cells when compared with other energy generating systems. The performance of an MFC hugely rely on the reactor design and electrode materials. On the way to improve the efficiency of an MFC, significant practices have been carried out to discover new electrode materials and reactor designs in recent times. All these factors are expected to drive the market of microbial fuel cells.
Key Players
The key players of global microbial fuel cell market Pilus Energy LLC (US), Fluence Corporation Limited (US), Triqua International BV (The Netherlands), Electrochem Solutions and Emefcy Ltd (US), MICROrganic Technologies Inc. (US), Prongineer R&D Ltd (Canada), Vinpro Technologies (India), and Sainergy Tech (US).
Global microbial fuel cell market has been segmented based on type, application, end-user, and region. Based on type, the market has been classified into mediator and non-mediator. Mediator fuel cells dominates the market as these fuel cells use different electrolytes. These kind of fuel cells are non-toxic.
Market Segmentation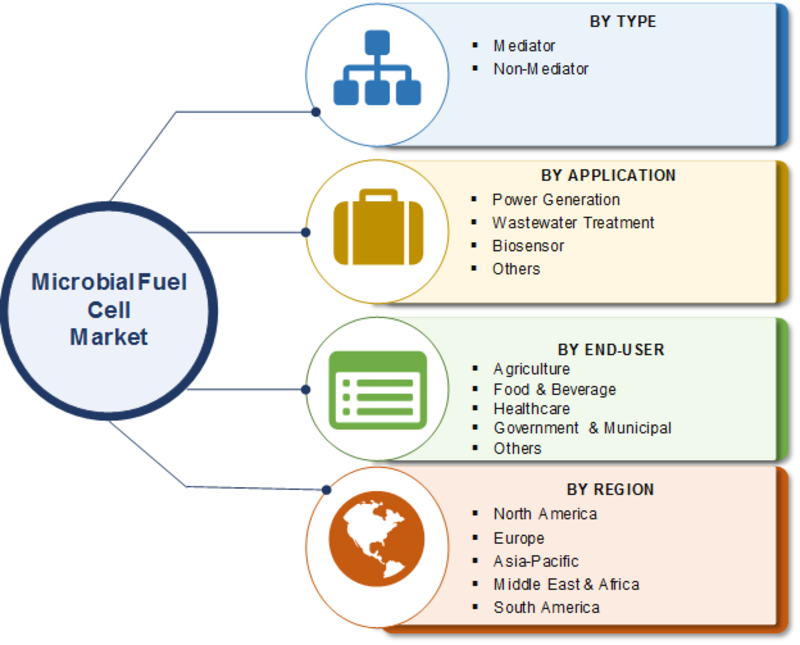 Microbial fuel cell is a bio-electrochemical device that uses bacteria as the catalysts to oxidize organic and inorganic matter and generate current. Also, microbial is a fuel cell which transforms chemical energy into electricity using oxidation reduction reactions. MFC consists of an two electrodes (anode and cathode) and membrane (a area that separates two electrodes). Microbes at anode oxidizes the organic fuel generating proton and electrons. Protons passes through membrane to cathode and electrons passes through anode to external circuit in order to generate current. MFC has gained attention due to its ability to generate power from organic or inorganic compounds through microorganisms.
Increasing demand for portable water and government initiatives for environmental sustainability will drive the microbial fuel cell market. Moreover, increasing focus on wastewater treatment present significant opportunities for microbial fuel cell market. Also, North America is expected to dominate the global microbial fuel cell market as this market is driven by significant amount of investments and R&D initiatives from the government and various enterprises. It is also anticipated, that microbial fuel cell technology would be cost-effective as compared to other alternatives including renewable energy production from biomass.
The global microbial fuel cell market is projected to grow at a significant rate during the forecast period, due to increasing government initiatives worldwide for environmental sustainability.
Moreover, the increasing focus on wastewater treatment poses lucrative business opportunities in the microbial fuel cell market as wastewater is a source of innumerable microbial flora. So, generation of electricity from degradation of wastewater with the help of microbial flora is expected to offer opportunities to microbial fuel cell market.
Report Scope:
| Report Attribute/Metric | Details |
| --- | --- |
| Market Size | 2027: Significant Value |
| CAGR | 9.00% CAGR (2020-2027) |
| Base Year | 2019 |
| Forecast Period | 2020-2027 |
| Historical Data | 2018 |
| Forecast Units | Value (USD Million) |
| Report Coverage | Revenue Forecast, Competitive Landscape, Growth Factors, and Trends |
| Segments Covered | Type, Application, End-User |
| Geographies Covered | North America, Europe, Asia-Pacific, and Rest of the World (RoW) |
| Key Vendors | Pilus Energy LLC (US), Fluence Corporation Limited (US), Triqua International BV (The Netherlands), Electrochem Solutions and Emefcy Ltd (US), MICROrganic Technologies Inc. (US), Prongineer R&D Ltd (Canada), Vinpro Technologies (India), and Sainergy Tech (US) |
| Key Market Opportunities | New product launches and R&D Amongst major key Players |
| Key Market Drivers | Increasing government initiatives worldwide for environmental sustainability |
Frequently Asked Questions (FAQ) :
---